Jan. 01, 2015 11:00PM EST
It was a routine that'll go down in "Dancing with the Stars" history: Witney Carson gave her partner, Alfonso Ribeiro, a sweet kiss on the cheek, which prompted Ribeiro to bust out his signature "Carlton dance," a holdover from his years as Carlton Banks on "The Fresh Prince of Bel-Air." The audience went wild, especially when Carson began Carlton-ing herself. By the following morning, the clip had gone viral—thanks to both Ribeiro's charisma and Carson's spot-on choreography.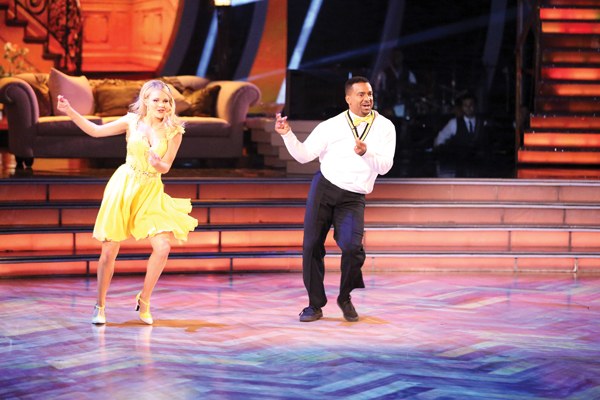 Carson and Alfonso Ribeiro nailing the "Carlton dance" on "Dancing with the Stars" (photo by Adam Taylor, courtesy ABC)
While the dance world already knew Carson from her Top 6 run on Season 9 of "So You Think You Can Dance," the 21-year-old's partnership with Ribeiro on "DWTS" this past fall made her a household name. But even before that boost in recognition, Carson, who's been involved with "DWTS" for four seasons now, was having the time of her life. "When I was younger, 'DWTS' was the show I really wanted to be on," she says. "This whole experience has been a dream come true. Sometimes I take a step back and think, 'Wow, I did it!' And I'm so grateful."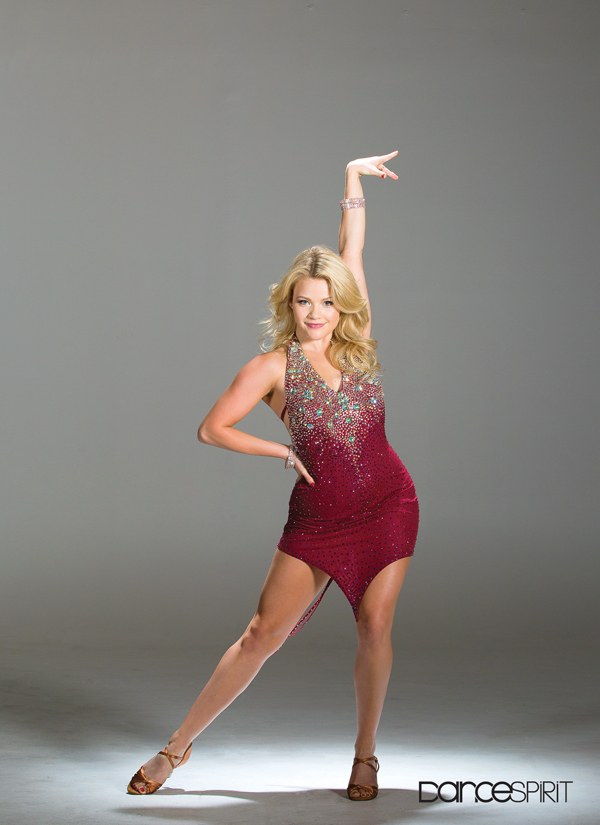 (Photo by Joe Toreno)
A Solid Foundation
Carson took her first dance class at age 3 at Center Stage Performing Arts Studio in Orem, UT. She started with tap and jazz, and later added ballet and hip hop. At age 9, she found her way to the ballroom. "I remember watching ballroom dancers on TV and thinking, 'I want to do that,' " she says. "I liked that it allowed me to express myself in a different way. I could be soft and gentle, or exciting and upbeat."
When her teacher Rick Robinson—who also trained Julianne and Derek Hough and Mark Ballas—left Center Stage to start VIBE Dance Studio in Lindon, UT, Carson followed him there. But even as she became more serious about ballroom in middle school and high school, she continued studying and competing in other styles. "VIBE was a very versatile studio," she explains. "We went to competitions like New York City Dance Alliance, JUMP and NUVO, as well as ballroom competitions around the world." Her student company also performed in China for Chinese New Year and competed on Paula Abdul's 2011 reality TV show, "Live to Dance." Those experiences cemented Carson's love for her art form, and led her to a life-changing moment: In 2012, she decided to audition for Season 9 of "SYTYCD." She ended up making it all the way to the Top 6.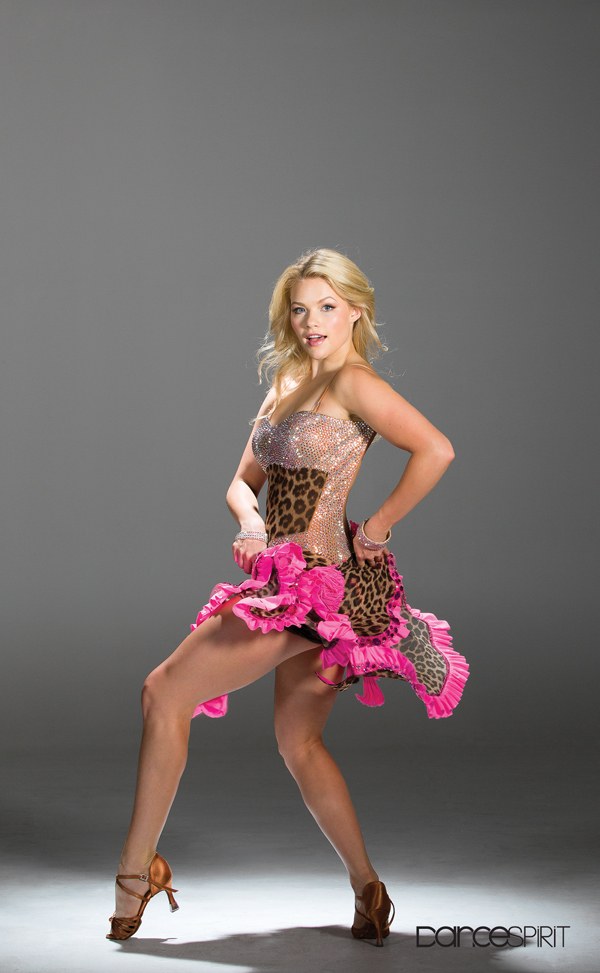 (Photo by Joe Toreno)
A National Stage
Just 18 years old and fresh out of high school, Carson found herself in a whole new world. "I'd never experienced anything like 'SYTYCD,' " she says. "It was so stressful, but it also helped me mature and grow. It made me more independent. I was used to competing with a team or a partner, but now I was trying to launch myself into the professional dance world on my own."
Carson was partnered with eventual winner Chehon Wespi-Tschopp for the first half of the live shows. One of her highlights was when the two of them performed a Stacey Tookey contemporary routine to "I Will Always Love You." "That piece showed America that I could do more than just ballroom," she says. "People knew me as that fiery cha-cha girl, so it was really special to show that I could also be vulnerable."
A Dream Job Offer
"DWTS" came calling as soon as Carson finished the "SYTYCD" Season 9 tour. She performed with the show's dance troupe for two seasons before being promoted to professional status in Season 18, when she danced with Australian pop singer Cody Simpson. "Cody and I had a great time," she says. "I learned so much about teaching. I'd never really taught before, and 'DWTS' is all about turning someone into a dancer."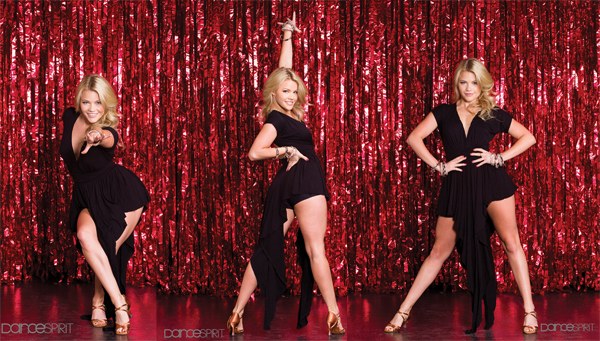 (Photos by Joe Toreno)
Her positive experience paid off the following season, when she was paired with fan favorite Alfonso Ribeiro, a front-runner from Week 1. "When he walked into the studio that first day, I was like, 'Oh, my gosh, it's Carlton!' " she remembers. "I was so thrilled to work with Alfonso. Every day, he inspired me with his work ethic and his natural ability. We grew to have a brother/sister relationship: I would teach him about dance, and he would teach me about life."
Ribeiro has nothing but praise for his partner. "We had a blast working together," he says. "The best teachers can adapt their teaching style to the way their students learn, and Witney was able to do that for me. I'm very visual and analytical, so she learned how to demonstrate the male side of each dance for me, all the way through." That hard work, as well as the sheer joy they brought to the stage, propelled the couple to the top of the leaderboard week after week.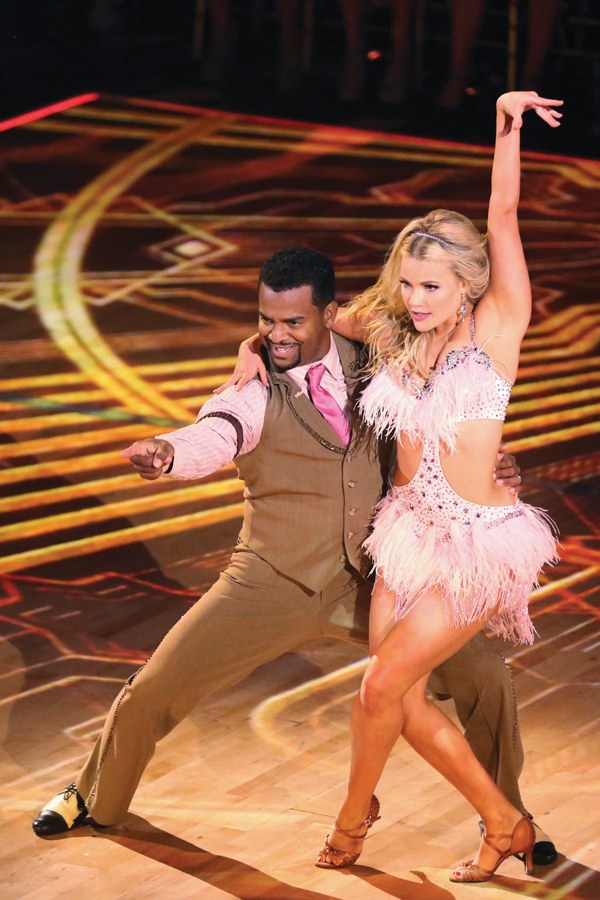 Carson and Ribeiro rocking their first routine on "DWTS" (photo by Adam Taylor, courtesy ABC)
A Bright Future
Carson's blend of talent, dedication and magnetic stage presence has earned her the admiration of fans and fellow dancers alike. So what's next for the breakout ballroom star? Carson has begun taking acting classes, after catching the drama bug while starring in the independent film Dancin' It's On last year (with Wespi-Tschopp as her co-star and love interest). But mostly, she's happy to live in the moment. " 'DWTS' has been my dream as long as I can remember," she says, "so while I'm here, I want to make the most of it!"
Fast Facts
Birthday: October 17, 1993
Middle name: Capri
Favorite color: blue
Favorite foods: sushi and steak
What she's listening to: "Currently, it's all country songs and music for 'DWTS.' "
Hidden talents: "I can make my tongue into a flower…and I can kind of sing."
Favorite book: "I just finished reading The Fault in Our Stars. It was amazing!"
Signature dance step: "You can never go wrong with a good hair whip."
Advice for Dance Spirit readers: "Stay true to who you are. So many people in this world will try to change you, but stand firm in what you believe in and live the life you want."
Ballroom BFFLs
On Season 9 of "So You Think You Can Dance," America fell in love not just with Witney Carson but also with another blonde ballroom beauty: Lindsay Arnold, who made it to the Top 8. The kicker? Arnold and Carson have been good friends since training together at Lindon, UT's VIBE Dance Studio as kids. "We've known each other since we were 5!" Carson says. "She's my dance sister." Today, the dynamic duo are still dancing side by side as pros on "Dancing with the Stars." "Having Lindsay with me through this whole journey has been such a blessing," Carson says. "When things get stressful, she knows exactly what to do—and understands that, usually, the remedy is taco soup and a movie!"—Margaret Fuhrer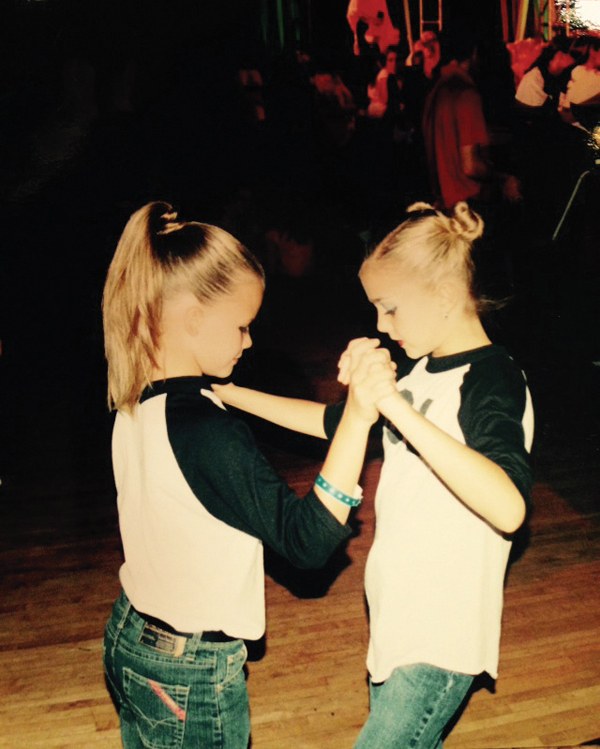 Carson and Lindsay Arnold as baby ballroomers (photo courtesy Witney Carson)
Lindsay on Witney:
"I love watching Witney because she's always so full-out. She brings a ton of personality to every dance style she does, which means she really stands out in a crowd."
Witney on Lindsay: "Lindsay is unbelievably gorgeous—an amazing dancer and performer. She also choreographs almost every 'bumper' routine—the pieces that frame commercial breaks—on 'DWTS.' She has a great eye for choreography."
From "SYTYCD" to "DWTS"
Witney Carson isn't the only familiar "So You Think You Can Dance" face now on "Dancing with the Stars." The ballroom show's Season 19 alone featured "SYTYCD" alums Lindsay Arnold, Allison Holker, Artem Chigvintsev, Jenna Johnson and Brittany Cherry, and "SYT" vets Lacey Schwimmer, Chelsie Hightower and Dmitry Chaplin are also former "DWTS" pros.
Why is there so much crossover between the two shows? In part, it's because being on "SYTYCD" prepares dancers for other television gigs. "By the time I finished 'SYT,' I was in the mindset of working hard and learning things fast, picking up new dances each week," says Arnold, who partnered with boxer Victor Ortiz in "DWTS" Season 16 and has performed in the "DWTS" troupe. " 'SYTYCD' also prepared me for things like TV interviews. I learned a lot of skills that translated."
Still, the two shows offer different experiences. "On 'SYTYCD,' you're trying to make sure you look good," Carson says. "But on 'DWTS,' your job is to make a celebrity look good, even if he's never danced before. It's not only about dance, but also about the celebrity's journey."
While worrying about a non-dancer partner can be challenging, Carson and Arnold are quick to emphasize that "DWTS" is still a dream job. "It's a lucky thing as a dancer to be able to showcase your talent and have fan support on a weekly basis," Arnold says. "It's an amazing, unique experience." —KH
American Ballet Theatre principal dancers Sarah Lane and Daniil Simkin (courtesy ABT)
Last May, we told you about a special exhibition of the Mark Ryden artwork that sparked Alexei Ratmansky's sweet-treat of a ballet, Whipped Cream. Well, hold on to your tiaras, bunheads, because there's a brand-new exhibit featuring actual costumes from this megahit production. The Nutcracker's Land of Sweets has some serious competition!
Keep reading...
Show less
via @kyle_vanny on Instagram competing on World Of Dance
Kyle Van Newkirk is a tap dancer you probably remember from the premiere season of NBC's World of Dance. In case you missed it, he is also one of Showstopper's incredible convention teachers. What makes Kyle stand apart from some of today's other incredible tappers? He isn't afraid to change what tap means to his audience and even himself. This modern view of tap dancing is important because it shows us that tap dancers are just as versatile and dynamic as dancers of any other genre. We sat down with Kyle to get his advice on bringing tap dancing into the 21st century.
Keep reading...
Show less
What did I just hear you say? You think all dancers are weak and delicate? PLEASE SAUT DE CHAT OUT OF MY LIFE. (Giphy)
Sure, dancers definitely have some unique identifying characteristics. (We're all obsessed with Center Stage? FACT.) But we're also subjected to all kinds of annoying, inaccurate stereotyping. Here are 10 dancer stereotypes that we never want to hear again.
Keep reading...
Show less
University of Minnesota Dance Team (courtesy University of Minnesota)
They say there's no "I" in "team"—and nowhere is that truer than the world of college dance teams, where precision reigns, uniformity is key, and a single misstep from any given "I" can cost a group a championship trophy. So it's unsurprising that securing a spot on one of the best dance teams in the country is no easy feat.
Members of these highly athletic teams rehearse for hours every week—on top of academic classes and commitments—and perform at football and basketball games, annual concerts, and nationally televised competitions (hi, ESPN). And "no I" rule notwithstanding, each of these top teams is made up of highly trained, highly technical, highly hard-core individuals, who come together to create a ready-for-victory pack.
These six teams aren't one-off success stories—they're consistently strong, and earn the top spots at major competitions like UDA and NDA nearly every year. Up for the challenge? Here's what to know before you go to auditions.
Keep reading...
Show less
Lol, same. (Screenshot via YouTube)
Picture this: You've scored tickets to Ellen DeGeneres' hit show, "Ellen." The day has come, the show is as hysterical as ever, Ellen is debating the biggest hot-button issue since the blue/black or white/gold dress, "Laurel vs. Yanny" (side note: it's LAUREL, people), and tWitch is killing it over at the DJ booth, as always. Ellen decides it's the perfect time to single out an audience member and, lo and behold, that person is "SYTYCD" champ ( and December 2017 cover star!) Lex Ishimoto.
Keep reading...
Show less
May. 16, 2018 02:26PM EST
Ema Peter
The Glorya Kaufman International Dance Center is the 54,000 square foot home of the USC Glorya Kaufman School of Dance, one of the largest facilities dedicated to dance on a private university campus. Designed for their innovative new curriculum, that supports a range of dance styles, the school's staff designated Harlequin to provide wall-to-wall flooring for the large 3,500 square foot Performance Studio as well as five dance studios in their new state-of-the-art building.
Keep reading...
Show less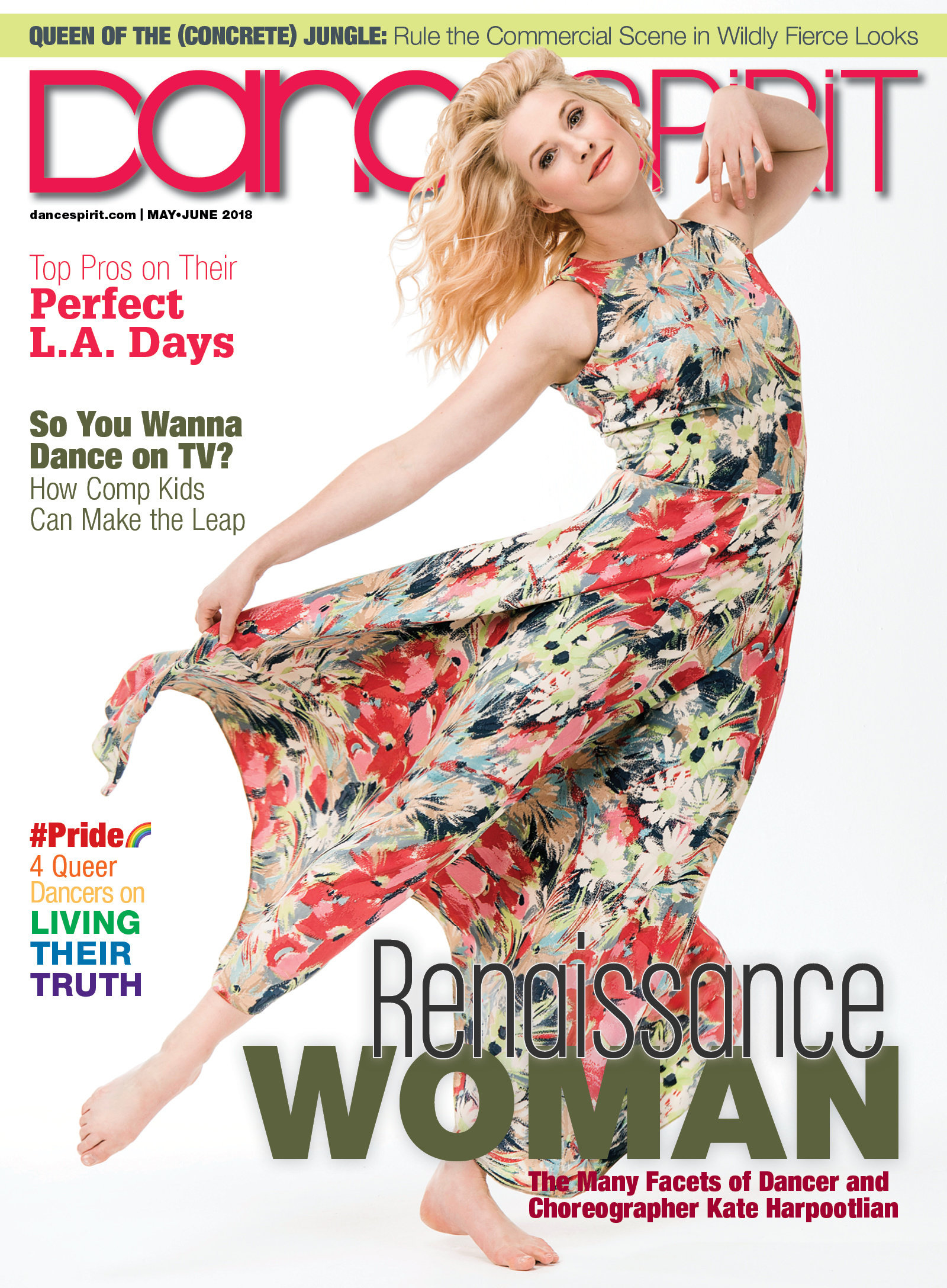 Get Dance Spirit in your inbox