Dec. 07, 2010 05:05PM EST
Black Swan: Behind the Scenes
Ballerina Holly Lynn Fusco has a long history with Swan Lake. As a young dancer training in West Bloomfield, MI, she played a court page in American Ballet Theatre's production when the company made a tour stop in Detroit. Later, she danced the Swan Lake pas de trois when she was a student apprentice with Miami City Ballet. Today, Holly's in the corps at Pennsylvania Ballet, where she will be in Christopher Wheeldon's take on the classic ballet this spring. So it seems only fitting that she would be one of 19 dancers to land a role in Black Swan, a movie that uses Swan Lake as its backdrop.
In the movie, Natalie Portman and Mila Kunis play two NYC ballerinas vying for the lead role in their company's Swan Lake production. In the ballet, the White Swan, Odette, is a princess who's been transformed into a swan by an evil sorcerer, a spell she can break only by receiving a pledge of eternal love; the Black Swan, Odile, is the sorcerer's daughter, whom Odette's suitor mistakes for his true love. Portman's character, Nina, has Odette's innocence and earnestness while Kunis' character, Lily, is cunning and fiery like Odile. The ballet unfolds throughout the movie, alongside the battle between Nina and Lily.
Holly kept a diary of her time on set. Read on to get a behind-the-scenes look at Black Swan. —Katie Rolnick
December 9, 2009
Today the news arrived: I've been cast with 13 other Pennsylvania Ballet dancers in Black Swan! I'll be a background extra and performance dancer. I'm not quite sure what that means, so I'll have to wait and see.
December 22, 2009
Two nights ago, the PAB dancers set out for SUNY Purchase, where parts of the movie are being filmed. We got to the set early yesterday morning for our first day of work. There was a whirlwind of activity: crew members bustling, people shouting instructions and large film equipment being carted around.
We were told to bring our own dance attire within a palette of blacks, grays and whites; Natalie Portman and Mila Kunis, the lead actresses, would be wearing brighter colors. After the wardrobe department approved my outfit, I did my own hair and makeup and headed up to "holding," which is a large room filled with tables (including the craft services food table) where the crew and actors wait until they're needed.
In the film, I'm a member of the corps de ballet, and the scene for the day was the first company class after summer vacation. Before the camera started rolling, we learned and rehearsed a few combinations at the barre. Then filming started. They first shot us doing barre exercises, and then we progressed into the center. I thought to myself, "This is easy! I do this every day." Boy, was I wrong. The director said, "Cut," and we returned to the barre—and then performed the same fondu exercise for nearly eight hours! Because of the studio mirrors, the scene had to be shot from many angles, and we had to keep our clothes, hair and movements exactly the same for each take. We worked through the night and finished filming the scene at about 4 am.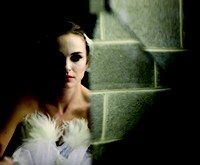 Natalie Portman in "Black Swan." Photo by Niko Tavernise.
January 17, 2010
As filming has progressed, we've had the opportunity to work more closely with the lead actresses and the professionals playing their dance doubles. American Ballet Theatre soloists Sarah Lane and Maria Riccetto are dancing for Portman and Kunis, respectively. This means that every scene with the lead actresses is filmed twice: once with the actors and once with their dancer doubles. Portman amazes me. She has beautiful port de bras and a passion for ballet that could rival any professional dancer's.
January 20, 2010
The last 10 days have been devoted to filming the movie's performance scenes. Just like real ballet performances, we're in full costume, hair and makeup. The costumes are on loan from ABT and they're gorgeous! And unlike before, professionals have been doing our hair and makeup. After transforming into the corps of white swans, we often sit in holding for up to seven hours before they're ready for us on set. On days with a lot of waiting, we pass the time playing games, reading books and stretching because we always have to be warm and ready to go.
These have been some of the hardest scenes to shoot. Prior to any filming, we rehearse in a basement studio at SUNY Purchase with New York City Ballet principal and Black Swan choreographer Benjamin Millepied, former NYCB corps member and associate choreographer Kurt Froman and on-set ballet consultant Olga Kostritzky, a former School of American Ballet teacher. Olga epitomizes "tough love" and whips us into shape. But once we're on set, everything changes. Because of the cameramen and equipment, the choreography often has to be altered to prevent collisions. Such is Hollywood!
January 24, 2010
Today was my final day on set. The last scene we shot was simple: The corps de ballet walked up the stairs while Portman, dressed as the Black Swan, came down the stairs. Her tutu, created by Kate and Laura Mulleavy (the sisters behind the high fashion line Rodarte), gleamed under the lights. Her makeup and hair were immaculate, her poise incomparable.
It was bittersweet when I heard "That's a wrap" echoing in the stairwell. I've come to realize that the film world is not that different from the ballet world. We have crews, directors, actors and actresses, if you will, all working toward the same goal: the performance. And in both forms, the process leading up to the performance is crucial. In ballet, that process is the countless hours in the studio, the obstacles you had to overcome to nail a tough moment in your variation. Actors put a lot of energy into their roles, too. Portman and Kunis spent months training with Olga, Manhattan Youth Ballet faculty member Marina Stavitskaya, former NYCB dancer Mary Helen Bowers and former ABT ballet mistress and coach Georgina Parkinson (who, sadly, passed away shortly after filming began) to finesse their technique. Being a part of Black Swan has taught me to appreciate that process in my own career, and to live in the moment—you can never get it back!
Look for Holly in Black Swan when it opens on December 1, 2010.
Dancer to Dancer
Jun. 15, 2019 10:12AM EST
(From left) Darriel Johnakin, Diego Pasillas, and Emma Sutherland (all photos by Erin Baiano)
Congratulations to Dance Spirit's 2019 Cover Model Search finalists: Darriel Johnakin, Diego Pasillas, and Emma Sutherland! One of them will win a spot on Dance Spirit's Fall 2019 cover. Learn more about the dancers on their profile pages, and then vote for your favorite below. You can vote once a day now through July 15.
We also want you to get social! We'll be factoring social media likes and shares into our final tallies. Be sure to show your favorite finalist some love on Facebook, Instagram, and Twitter, sharing their profile pages and using the hashtag #DanceSpiritCMS.
Cover Model Search
Jun. 13, 2019 02:20PM EST
Photo by Erin Baiano
Imagine attending American Ballet Theatre's prestigious NYC summer intensive, training among classical ballet legends. Imagine taking the stage at New York City Dance Alliance Nationals, competing against some of the country's best contemporary dancers. Now, imagine doing both—at the same time.
Welcome to Madison Brown's world. This summer, she's in her third year as a National Training Scholar with ABT, while also competing for NYCDA's Teen Outstanding Dancer title. (She's already won Outstanding Dancer in the Mini and Junior categories.) The logistics are complicated—ABT's five-week intensive overlaps with the weeklong NYCDA Nationals, which translates to a lot of cabs back and forth across Manhattan—but Maddie is committed to making the most of each opportunity. "I love contemporary and ballet equally," she says. "While I'm able to do both, I want to do as much as I can."
Maddie has an expressive face, endless extensions, and a quiet command of the stage. She dances with remarkable maturity—a trait noted by none other than Jennifer Lopez, one of the judges on NBC's "World of Dance," on which Maddie competed in Season 2. Although Maddie didn't take home the show's top prize, she was proud to be the youngest remaining soloist when she was eliminated, and saw the whole experience as an opportunity to grow. After all, she's just getting started. Oh, that's right—did we mention Maddie's only 14?
Cover Story
Jun. 16, 2019 07:00AM EST
Corbin Bleu in rehearsal for "Kiss Me, Kate" (Jenny Anderson, courtesy Roundabout Theatre Company)
If you're a hardcore Broadway baby, today is the worst Sunday of the year. Why, you ask? The Tony Awards were last Sunday, so basically there's nothing to look forward to in life anymore—no James Corden being James Corden, no teary acceptance speeches from newly minted stars, no thrilling excerpts from the hottest new shows. Oh yeah, and there are 50 more Sundays to go before our humdrum lives are once again blessed with the next annual iteration of Broadway's biggest night.
Musical Theater