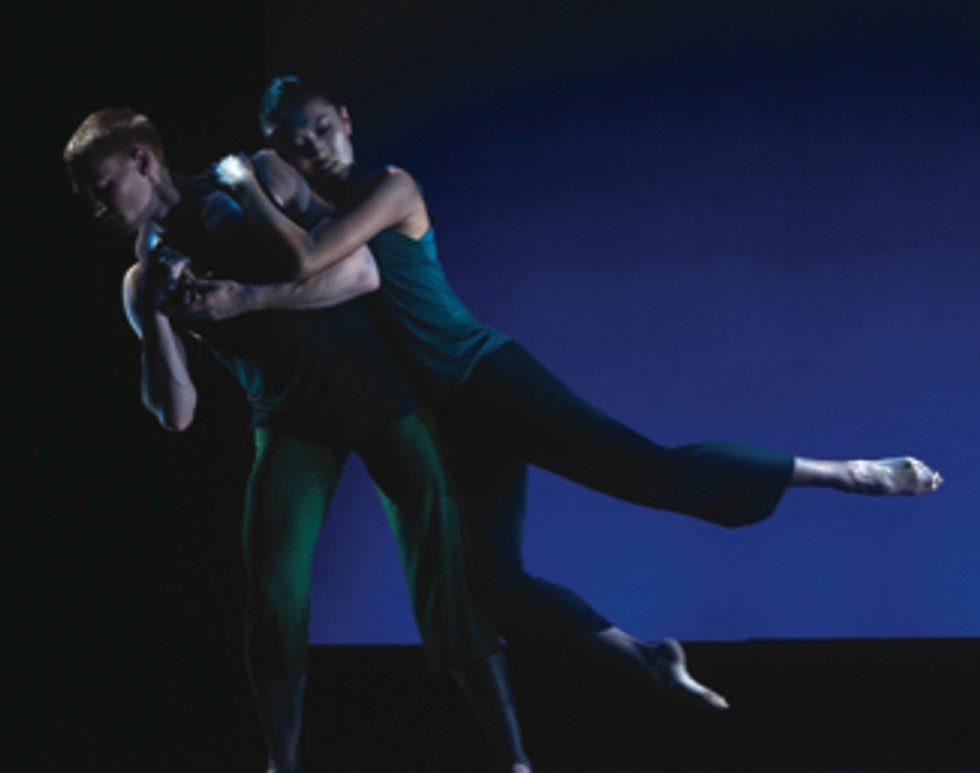 Nico Li and Jere Hunt in Kate St. Amand's "Toward Home." Photo by Christopher Duggan.
Nico Li is living a modern dancer's dream. She spends her days rehearsing with NYC-based SYREN Modern Dance. In the evenings, the 26-year-old often rents studio space on her own to choreograph and experiment with new material. She also frequently performs at the New York Chinese Cultural Center. But as a talented dancer growing up in China, Nico wasn't always able to plan her own life. Here, she shares her story with DS.  —Kathryn Holmes
I was born in Dalian, a beautiful seaside city in northeastern China. My parents sent me to boarding school when I was 3, and I started taking daily classes in Chinese dance there. As a child, I enjoyed dance, but it was a hobby. I didn't think I'd ever take it too seriously.
When I was 10, I was selected to audition for the Performing Arts College of the Chinese People's Liberation Army, an academy in Beijing that's funded and run by the government. There were more than 3,000 kids from all over the country at the audition. They measured our bodies and tested our basic dance skills and flexibility. They also gave us rhythms to repeat and had us improvise to music to test our musicality. They almost didn't accept me; some of the teachers hesitated because my body isn't the "perfect" type for ballet or Chinese dance. But one teacher said, "I can see that she really loves dancing. Let's take her."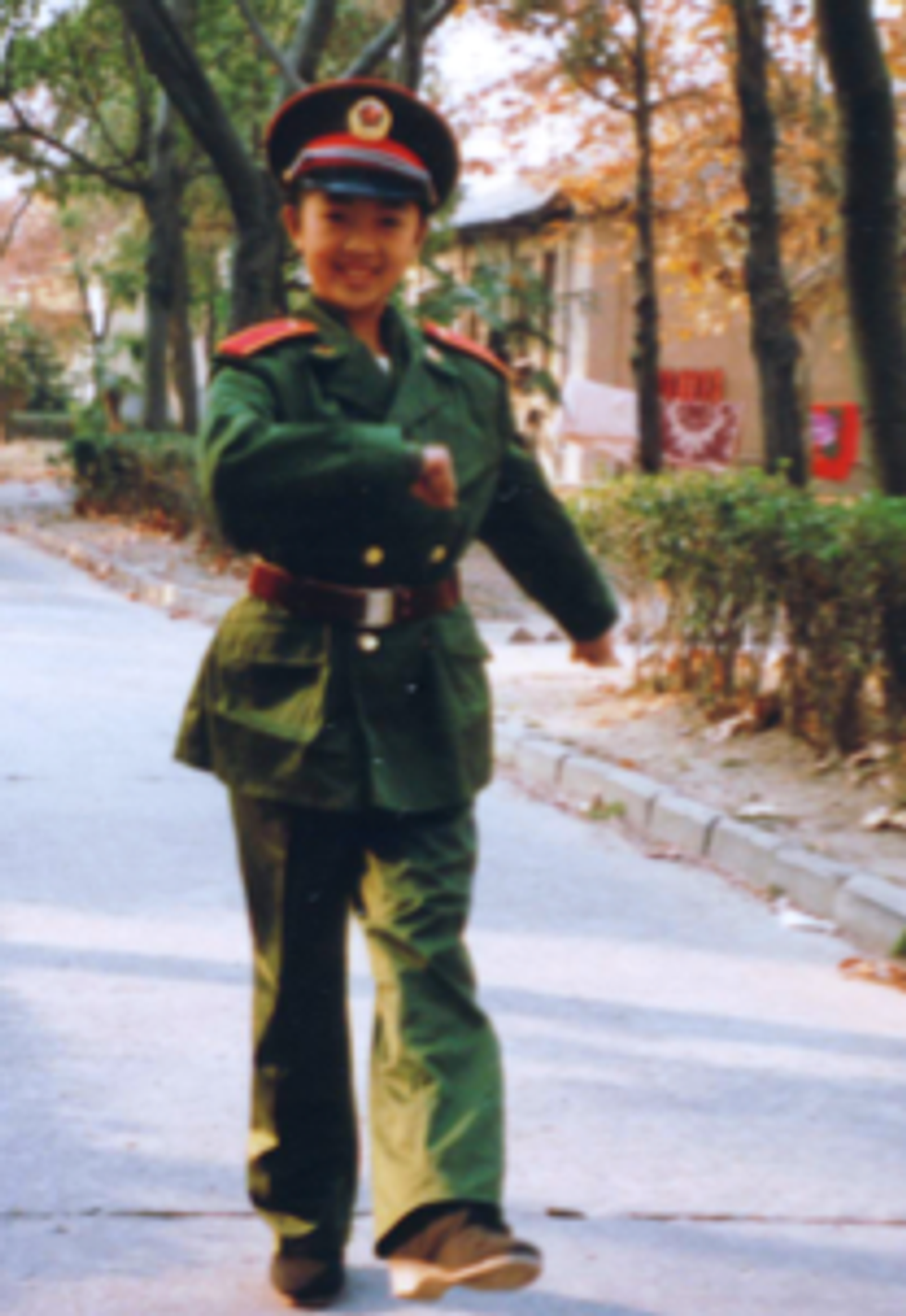 Nico wearing her military uniform for the first time in 1995. Photo courtesy Nico Li.
It was an honor to be asked to attend the school and I accepted. But attending the academy also meant that I actually joined the army—I wore a uniform and everything. Even though we weren't expected to see combat, we had to learn drills to perform at official military and government functions.
At the Performing Arts College, we woke up at 5:30 am and ran (in our army uniforms) for half an hour. Then we went to the dance studio to practice without teachers for an hour to learn self-discipline. After that, we had breakfast and returned to the dance studios. For the next six to eight hours, we studied ballet, Chinese classical and folk dance [see sidebar] and gymnastics, with a break from 11:30 am to 2:00 pm for lunch and a nap. Finally, after dinner, we had academic classes until 9 and we were in bed by 10.
To a lot of people, I had the perfect life. My parents were happy and proud. But after five years at the academy, I wanted more. I felt like I was too young to be settled into a routine. I wanted to see the world.
When I graduated from the academy, I was selected to perform with the Qianxian Dance Troupe of the Nanjing Military Region of the Chinese People's Liberation Army. At the same time, I started writing weekly letters to the Qianxian Dance Troupe directors explaining the reasons I wanted to leave China. I told them that I appreciated everything the government had given me and I was honored to serve the country with my talent, but I had the right to choose what kind of life I wanted to live. I told them I wanted to see what dance was like in other countries. But the company officials kept saying, "You just graduated. We gave you the best education and now it's time for you to give your talent back to us."
It took a year for the company's executive director to even meet with me. When he did he said, "You want to pursue your dream and see the world? That's your choice. But it's a complicated process because we're in the army." So I kept writing to the company directors and the government, explaining why I wanted to move on.
After two years of writing letters, when I was 20 years old, I finally received permission to leave. The artistic director told me, "I see how determined you are. If this is your passion, you should go for it. We're all proud of you for having the heart to pursue your dream."
I didn't waste any time. I auditioned for the Nanyang Academy of Fine Arts, a three-year, college-level program in Singapore. I got in and started the next fall, in 2005. My major was modern dance and choreography. I took Graham and Cunningham classes. I saw that modern dance is free—you free yourself. My heart immediately went there. I wanted to learn more.
While I was at school, faculty members from Purchase College Conservatory of Dance in Purchase, NY, came to Singapore to teach and choreograph work for us. They also held auditions for a new program that allowed one NAFA graduate to attend Purchase for a year to complete a BFA. I was honored to be the first student chosen. I came to the U.S. in the fall of 2008 and joined the senior class at Purchase. I didn't know anybody and I immediately had to start choreographing a piece on my peers for my senior project! But they were friendly and helpful, and we learned about each other through movement.
I graduated from Purchase with a BFA in May 2009, and that summer, I went to a three-day workshop with SYREN at Dance Theater Workshop in NYC. At the end, I told them, "If you ever need an understudy, I would love to dance with you again." A week later I got an e-mail asking me to cometo company rehearsals and be an understudy. I was thrilled! A month later, when a dancer injured her knee, I had to jump in for a performance. I've been a member of SYREN ever since. I've also worked with the New York Chinese Cultural Center, performing Chinese dance. It's exciting to use my background to contribute to the Chinese and Chinese-American community.
When I was little, dance was something I did because it was a way to honor my parents. It wasn't really my decision. But I came to the U.S. because I want to be here, because dancing in NYC is what I want to do. I came here for myself.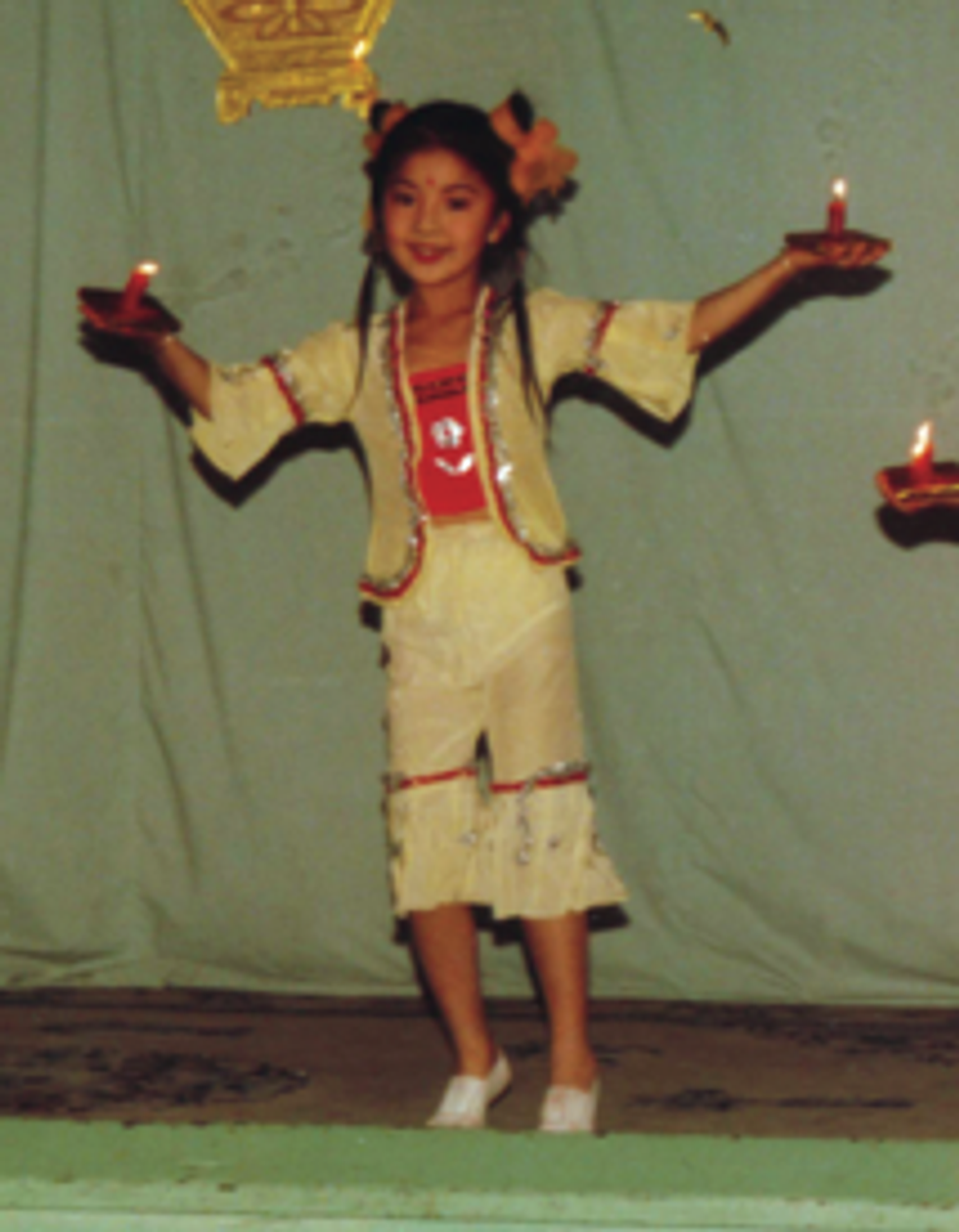 Nico performing in a New Year concert in her hometown in 1990. Photo courtesy Nico Li.
What Is Chinese Dance?
Chinese classical dance incorporates movements from the different dynasties of ancient China. It's very elegant, fluid and graceful; the women wear costumes with long, flowing sleeves, and dance with fans, scarves and other props.
There are 56 different ethnicities in China and each one has its own distinct style of folk dance. A Tibetan folk dance, for instance, may be very different from a Mongolian folk dance. In general, folk dancers dress in a regional costume for performances. Their movements may be more percussive and unison-based than in Chinese classical dance.
Go to dancespirit.com//videos to see examples of both styles of dance.