Find Out What Inspires Choreographer Cat Cogliandro
Photo by Gage Crismond, courtesy Cogliandro
Cat Cogliandro's genius is turning paradoxes into powerful art. In her gestural contemporary choreography, vulnerability becomes strength and imperfection is beauty. Born and raised in Houston, TX, Cogliandro earned a BFA in dance from SUNY Purchase before moving to L.A. Cogliandro now teaches in L.A. and nationally, and choreographs for her company CATASTROPHE!, which was the second runner-up at the 2015 Capezio A.C.E. Awards. Here, Cogliandro tells DS where she finds inspiration. —Helen Rolfe
---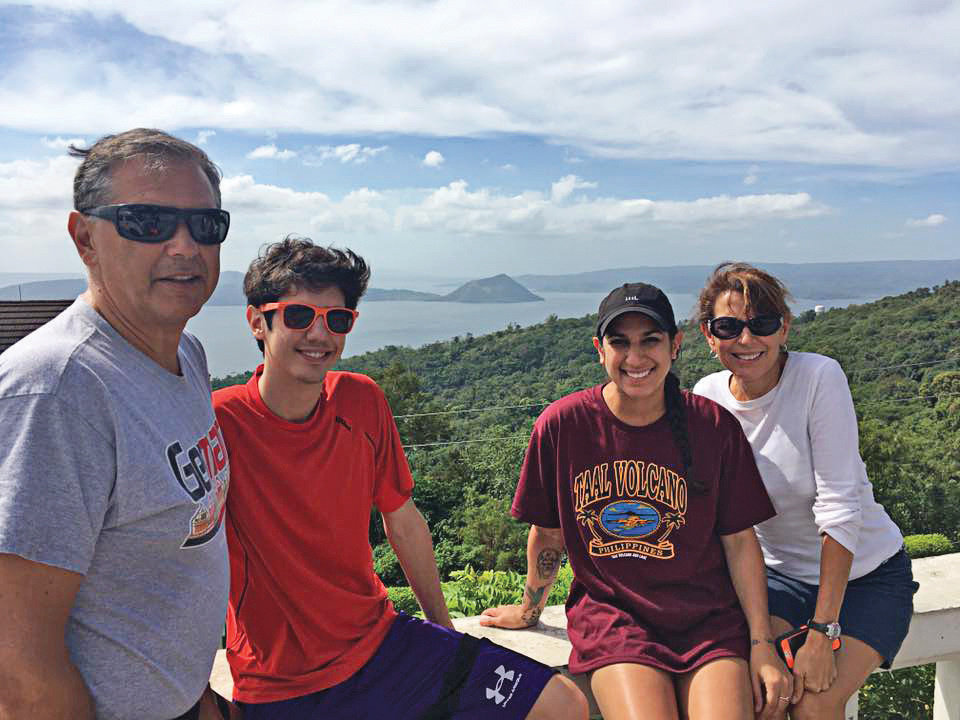 Traveling with family (courtesy Cogliandro)
Three years ago, I went on this great cruise around Asia with my parents. It was the first time I'd really traveled with my parents as an adult. I wasn't with any dancers; I was just being a totally normal human. I remember looking off the back of the ship into the water and being so inspired. I'm a Pisces, so it's my calling to be by the water. That was when I started to create to the indie rock group alt-J. I made a piece right after that trip, called Esmeralda, that was in my A.C.E. Awards show. It was about drowning, and probably one of the most powerful pieces that I've ever created.
Usually, it's that first moment of 'This song is talking to me!' that convinces me to choreograph. Sam Melo, the lead singer of my favorite alt/indie band Rainbow Kitten Surprise, is a dancer, too. There's something about their music where I'm like, 'Yeah, I know what he's talking about.' That's the music I connect to most, where I feel like the artist and I have experienced something very similar, or like they're singing to me. I also love Regina Spektor and old-school Ani DiFranco—just anyone poetic who speaks to me.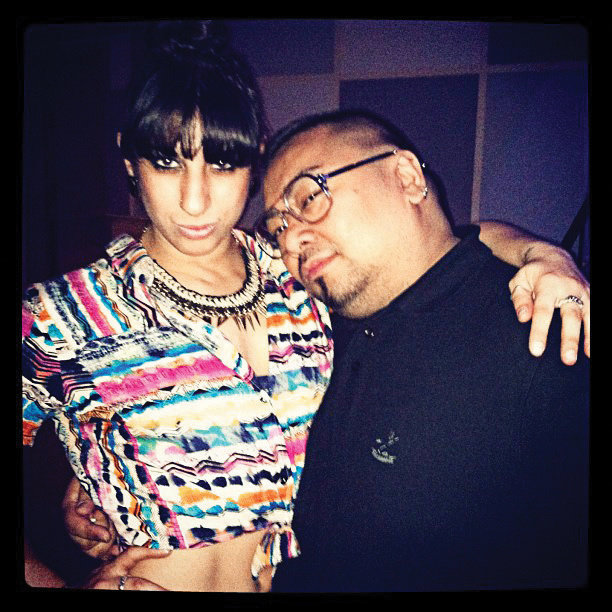 With Mike Esperanza (courtesy Cogliandro)
My favorite choreographer I ever worked with as a dancer was Mike Esperanza. I love the way he treats his dancers, inside and outside the studio. I bring snacks for dancers now, because that was something he did. We worked harder for him because he cared so much about us as dancers. I don't like to scare dancers. I've learned I can push them without making them question who they are as people. I want to up their self-esteem as much as possible.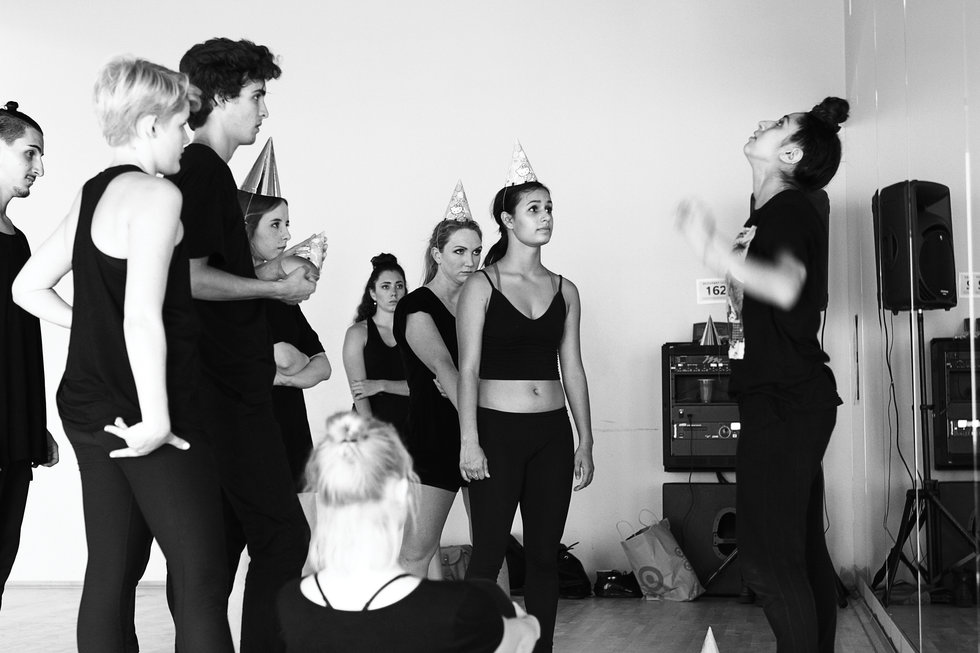 Rehearsing "RIPE&RUIN" (photo by Joseph Spelman, courtesy Cogliandro)
Comedy really inspires me. My favorite movie right now is Just Friends. I love how kooky and weird Anna Faris' performance is. And I actually made RIPE&RUIN right around when I saw Wet Hot American Summer. The movie's quirky humor fed right into the opening of RIPE, where they're chanting and running around in the birthday hats.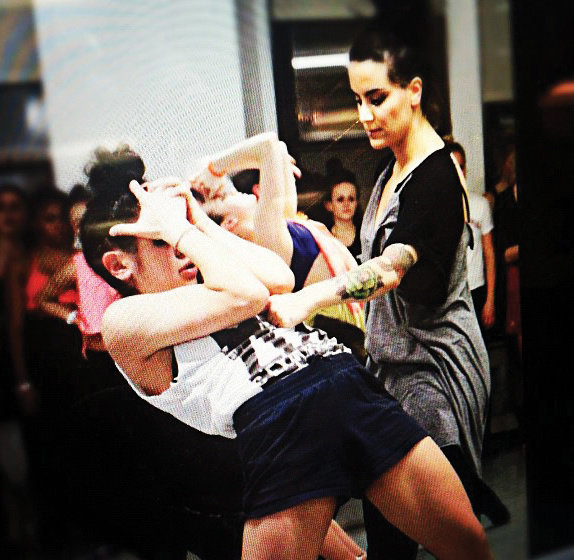 Assisting Sonya Tayeh (courtesy Broadway Dance Center)
I have to give so much credit to Sonya Tayeh for where I am today. She taught me so much about how to be a professional choreographer: how to prepare, how to treat and push your dancers. Watching how she'd talk to and prep herself during "So You Think You Can Dance" was really inspiring. Working as her assistant was definitely one of the hardest and most educational moments of my career. I'd never really seen the commercial world before because I'd never been to L.A.­—I was a born-and-raised ballet, modern, and jazz dancer. I love her so much for what she taught me.
A version of this story appeared in the December 2018 issue of Dance Spirit with the title "Choreographer's Collage: Cat Cogliandro."
Related Articles Around the Web
It started with an Instagram and a leap of faith. Lucy Vallely was only 15 when she created a post voicing her desire to choreograph solos for the 2018 competition season. "I wasn't really sure what would come of it," remembers the comp-circuit standout. Soliciting choreographic opportunities via Instagram might sound like a gamble, but it's also very much in character for this now-17-year-old from Long Beach, CA. "She thrives on risks, on breaking boundaries she's previously created for herself," says Jessie Riley, Lucy's dance teacher and the owner of Westside Dance Project in Laguna Hills, CA.
In the end, the gamble paid off. Madison Taylor, who trains at The Project @ HTX in Houston, TX, was one of many dancers who jumped at the Insta post, and after a few hours in a studio together, Lucy's first professional choreographic endeavor was born. The solo, "All of Me," was an impressive debut, filled with seamless, fluid transitions and infused with an innate sense of musicality. (It was also refreshingly free of flashy tilts and turn sequences.) "All of Me" perfectly complemented Madison's sweeping movement quality—she ended up clinching first place at Radix—and it showcased Lucy's choreographic chops.
Fast-forward nearly 12 months, and the success of "All of Me" has led to an influx of choreographic opportunities. Lucy spent this past fall state- and studio-hopping, setting dozens of solos and group dances. And as she wraps up her yearlong reign as The Dance Awards' Senior Female Best Dancer, Lucy finds herself at a unique crossroads. She's still a comp kid, yet she's also on the brink of an exciting professional career. But if there's one thing this California girl knows how to do, it's go with the flow.
Keep reading...
Show less
Just for Fun
Jan. 18, 2019 02:15PM EST
Season 15's Top 10 in a Luther Brown number (Michael Becker/FOX)
"So You Think You Can Dance" is back for a 16th season, and we are SO HERE FOR IT! Especially because there are tons of gorgeous dancers we're obsessed with RN and would love to see up on that "SYTYCD" stage. Here are nine people we hope are planning to audition.
Keep reading...
Show less
Are you a college student curious about what goes on behind the scenes at your favorite magazine? You're in luck—because Dance Spirit is searching for an editorial intern for summer 2019!
We'll be accepting applications through March 1. Internships require a minimum two-day-a-week, onsite commitment in our NYC office from June to August.
Keep reading...
Show less
via joffreyballetschool.com
Summer is a great time to make new friends, broaden your horizons and get tons of dancing in at a summer intensive. As you get closer to college-age, it can also be a great time to get valuable information and extra training that can come in handy later when you're thinking about college auditions. With 19 summer programs running throughout the U.S. (plus a ballet intensive in Genoa, Italy, and a musical theater intensive in London), Joffrey Ballet School offers a wide variety of experiences that give you both top-notch dance training and a taste of what college life will be like:
Keep reading...
Show less
How To
Jan. 18, 2019 12:29PM EST
Photo by Joe Toreno
With over one thousand Instagram posts showcasing her latest improv practice or snippet of competition choreo, it's safe to say Lucy Vallely is never not creating. But how does she avoid burnout? Here, she shares her key tactics for staying inspired and energized, in and out of the studio.
Keep reading...
Show less
See photo credits below
What inspires you most as a dancer? What keeps you going on the days when the motivation just isn't there, and makes you feel like all the hard work, rejection and sacrifice is worth it for the pursuit of your dream? What makes you want to run into an empty studio and create something new?
Cindy Clough, executive director of Just For Kix and a studio owner with over four decades of experience, often hangs posters with dance-related quotes on the walls of her studio, on everything from creativity to the hustle to the importance of teamwork. Sometimes the right words from dancers who have been there are just the push you need to spark your imagination and remind yourself why you love what you do.
In that spirit, here are 10 inspiring quotes from dancers on what their art form means to them, and why it's worth fighting through the hard parts:
Keep reading...
Show less
A still from one of the Dance in Paradise videos
Forget everything you thought you knew about Polynesian dance. French filmmaker Nyko PK16, who's based in Tahiti, has created a video series that showcases the beauty of the under-appreciated form in a unique way.
Keep reading...
Show less
Via @chelshightower on Instagram
From competing on "So You Think You Can Dance" to performing on "Dancing with the Stars" for seven seasons (and earning an Emmy nomination for her work on the latter), Chelsie Hightower has lived the pro dance dream. Though Hightower retired from "DWTS" several years ago and now teaches and choreographs in her home state of Utah, she admits that her dance career exceeded even her own high expectations. "I've accomplished things that I didn't know were possible," she says.
But most fans of "DWTS" would never have guessed that while filming, the talented and seemingly fearless ballroom pro was facing her fiercest competitor off-camera. Hightower has struggled with anxiety for most of her life, but the issue became especially severe during her years on the show.
With the help of therapy and other coping exercises, Hightower has found healthy ways to manage her anxiety. Now, she hopes that sharing her experience will inspire other dancers struggling with mental illness to get help.
Keep reading...
Show less
Get Dance Spirit in your inbox
Just for Fun
Jun. 29, 2018 10:00AM EST
Colder weather is (finally) here, which means it's time for a good dance movie binge. But which iconic films should you put on? To narrow your search, we went ahead and ranked 30 of the greatest dance movies of all time.
Of course, we know a list like this is bound to be controversial—so if you disagree with our lineup, have at it in the comments!
Keep reading...
Show less
Just for Fun
Jan. 18, 2019 02:15PM EST
Season 15's Top 10 in a Luther Brown number (Michael Becker/FOX)
"So You Think You Can Dance" is back for a 16th season, and we are SO HERE FOR IT! Especially because there are tons of gorgeous dancers we're obsessed with RN and would love to see up on that "SYTYCD" stage. Here are nine people we hope are planning to audition.
Keep reading...
Show less
What did I just hear you say? You think all dancers are weak and delicate? PLEASE SAUT DE CHAT OUT OF MY LIFE. (Giphy)
Sure, dancers definitely have some unique identifying characteristics. (We're all obsessed with Center Stage? FACT.) But we're also subjected to all kinds of annoying, inaccurate stereotyping. Here are 10 dancer stereotypes that we never want to hear again.
Keep reading...
Show less
Trending-posts
Jan. 15, 2019 12:01PM EST
Past "SYTYCD" hopefuls at The Academy (Adam Rose/FOX)
More fabulous TWall routines. More passengers on the Hot Tamale Train. MORE CAT DEELEY BEING DELIGHTFUL.
That's right, y'all: "So You Think You Can Dance" was just renewed for a 16th (!) season, to air this summer on Fox. And audition dates have already been announced.
Keep reading...
Show less
It includes this familiar face! (Erin Baiano)
Something's coming, I don't know when
But it's soon...maybe tonight?
Those iconic lyrics have basically been our #mood ever since we first heard a remake of the West Side Story film, directed by Steven Spielberg and choreographed by Justin Peck, was in the works. THE CASTING. THE CASTING WAS COMING.
Well, last night—after an extensive search process that focused on finding the best actors within the Puerto Rican/Latinx community—the WSS team finally revealed who'll be playing Maria, Anita, Bernardo, and Chino (joining Ansel Elgort, who was cast as Tony last fall). And you guys: It is a truly epic group.
Keep reading...
Show less
Dancer Tony Bellissimo on the field at Super Bowl LII (via Instagram)
The Super Bowl is America's most-watched television event. Last year, when the incomparable Justin Timberlake took center field for the halftime show, more than 106 million viewers were watching his every move—and that's not even a record!
What's it like to perform for such an incredibly huge audience? Dancer Tony Bellissimo has plenty of experience with high-pressure dance gigs, having worked with artists including Rihanna, Britney Spears, John Legend, and Chris Brown. But stepping out alongside Timberlake during last year's halftime show was a next-level experience. We talked to Bellissimo about how he scored such a coveted job—and how he handled the pressure.
Keep reading...
Show less
screenshot via @donte.colley on Instagram
Y'all, it's time to call a spade a spade: The first month of any New Year kind of sucks. It's way too cold, you're probs failing at one or two of those ambitious resolutions, and spring (with its exciting performing opportunities) feels so very far away. And yet, in the midst of so much darkness, a hero has emerged. His name is Donté Colley, and you're about to double-tap every single thing he's ever posted.
Keep reading...
Show less
Photo by Joe Toreno
It's almost 2019 and the ballroom dance scene is positively booming! From prestigious world championships to TV shows, kids are at the core of all this hip-shaking action—and we're so here for it. These eight up-and-comers in particular are shaping the field. They're the next generation of superstars to make the leap from technically exquisite ballroom-ites to bona fide celebrities.
Keep reading...
Show less
Just for Fun
Jan. 11, 2019 02:28PM EST