Mar. 29, 2017 03:41PM EST
Catching Up with Ailey II's Gabriel Hyman
You may remember meeting Gabriel Hyman in 2015, when he was a student in The Ailey School Summer Intensive Program. He had a lot of wisdom back then, offering up some great advice on dealing with injuries (which still holds true today!). It should come as no surprise, then, that Hyman's now dancing with Ailey II. Dance Spirit caught up with him as he prepares for the company's season, talking about everything from the rehearsal process to pre-performance rituals (and doling out even more great advice).
---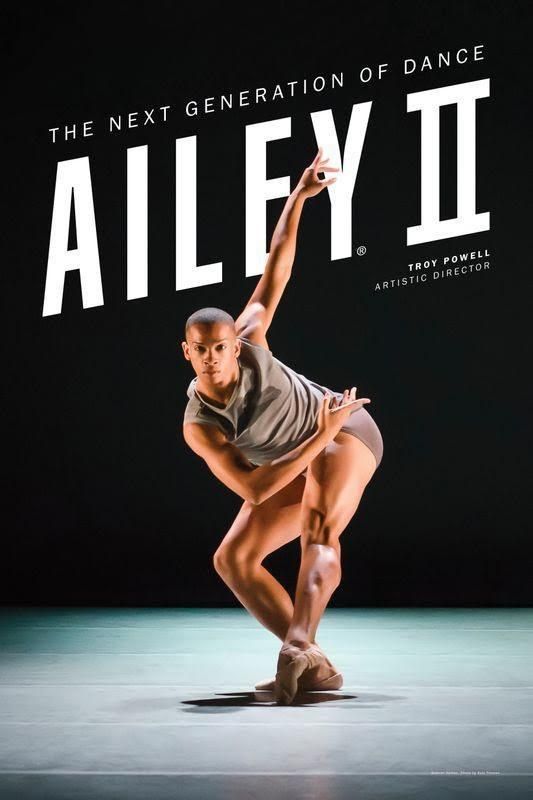 Hyman giving us life on the company's promotional poster (photo by Kyle Froman, courtesy Ailey)
Tell us a little bit about this season! What kinds of pieces will you perform?

This season you can expect to see two exciting, diverse, and powerful programs. The first program includes three world premieres: Circular, choreographed by Jae Man Joo; Stream of Consciousness, choreographed by Marcus Jarrell Willis; and Sketches of Flames, choreographed by Bridget L. Moore. The second program, "Contemporary Favorites", includes a new work, Meika, choreographed by Leila Da Rocha, and returning works from last year's season: Jean Emile's In & Out, Jamar Roberts' Gêmeos, and Ray Mercer's Something Tangible.
What has the rehearsal process been like for this season's world premieres?
It's been very fun and very challenging! Jae Man Joo, who choreographed Circular, has a very quick, specific and detailed movement vocabulary. Initially, it was difficult to grasp his unique and quirky style. But the company learned to have "heartfelt conversations through movement" as an ensemble, which is similar to the theme of the piece.
Stream of Consciousness choreographer Marcus Jarrell Willis was a breath of fresh air. His movement is gestural and his piece challenged us to explore the different aspects of the mind. He encouraged us to make his movement as genuine and as personal to us as possible, which made the process so enjoyable. It also makes the piece fresh and a little different every time it's performed.
Bridget L. Moore's Sketches of Flames is fast, fiery and passionate. It's a flamenco-influenced work, and this process was different than our past processes—Bridget assigned several movement tasks, including "sketching": In the early stages of the process, she has us "sketch" out our names in the space through our own movements. She transformed these into several phrases throughout the piece. She incorporated these assignments throughout the piece, which really made the work feel like it was ours. She challenged us to really utilize space through movement, and used the idea of passion and love in a series of duets and ensemble work—in turn, this piece is very fun and very romantic.
What's the best part about dancing with Ailey II?
Having the incredible opportunity to travel domestically and internationally, and perform on stages around the world! I have had the chance to see parts of the world that I never imagined: Canada, Italy, Spain and France, among many. We've even had the opportunity to perform for former President Barack Obama in Hanover, Germany!
What are you most excited about for this season's performances?
I'm most excited to perform Jae Man Joo's Circular. In this work, we feel most connected as an ensemble. At the very end of the piece, there's a moment where I circle around the stage and have the opportunity to look each company member in the eye. This is followed by a group phrase danced in unison, ending with the company breathing in one accord. I always get emotional, because the company moving and working together as a family is truly beautiful—I look forward to it every night.
Is there anything you're nervous about?
Probably opening night. It's always a nerve-wracking performance because it's the first time performing the new works in NYC, Ailey II's home city. The audience is filled with family, friends and dance critics, and these are some of the hardest audience members to perform for. But this extra healthy nervousness keeps me on my toes and helps me perform my best.
What do you think audiences will take away from this season?
They'll take away a well-rounded and diverse evening of contemporary ballet, flamenco-inspired, jazz and contemporary dance performed by a powerful, energetic, mature, fresh and versatile group of young talented dancers!
If you could describe this season in three emojis which would you pick?
What's your pre-performance ritual like? How do you calm any butterflies?
While putting on my makeup before a performance, I like to listen to Frank Ocean, Beyoncé, Sam Smith or Drake, to get in the "zone." As a company, before every performance we circle up and breathe in and out together, then say a prayer. This calms any butterflies I might have and really prepares my mind for the performance.
What's a piece of advice you want to share with our readers?
Never give up and always work hard to follow your dreams, no matter how difficult it gets. Being a part of Ailey II has impacted my career significantly. It's taught me some of the most important lessons about being a professional dancer and being a part of a professional company. Having the opportunity to travel has also allowed me to learn about different cultures and arts around the world. But none of this would be possible had I decided to give up or choose a career that was "more promising" or "conventional." If you put in unconditional effort and work extremely hard, you're capable of achieving anything you put your mind to.
For more info on Ailey II's NYC season, head to their website!
Dancer to Dancer
Jun. 15, 2019 10:12AM EST
(From left) Darriel Johnakin, Diego Pasillas, and Emma Sutherland (all photos by Erin Baiano)
Congratulations to Dance Spirit's 2019 Cover Model Search finalists: Darriel Johnakin, Diego Pasillas, and Emma Sutherland! One of them will win a spot on Dance Spirit's Fall 2019 cover. Learn more about the dancers on their profile pages, and then vote for your favorite below. You can vote once a day now through July 15.
We also want you to get social! We'll be factoring social media likes and shares into our final tallies. Be sure to show your favorite finalist some love on Facebook, Instagram, and Twitter, sharing their profile pages and using the hashtag #DanceSpiritCMS.
Cover Model Search
Jun. 13, 2019 02:20PM EST
Photo by Erin Baiano
Imagine attending American Ballet Theatre's prestigious NYC summer intensive, training among classical ballet legends. Imagine taking the stage at New York City Dance Alliance Nationals, competing against some of the country's best contemporary dancers. Now, imagine doing both—at the same time.
Welcome to Madison Brown's world. This summer, she's in her third year as a National Training Scholar with ABT, while also competing for NYCDA's Teen Outstanding Dancer title. (She's already won Outstanding Dancer in the Mini and Junior categories.) The logistics are complicated—ABT's five-week intensive overlaps with the weeklong NYCDA Nationals, which translates to a lot of cabs back and forth across Manhattan—but Maddie is committed to making the most of each opportunity. "I love contemporary and ballet equally," she says. "While I'm able to do both, I want to do as much as I can."
Maddie has an expressive face, endless extensions, and a quiet command of the stage. She dances with remarkable maturity—a trait noted by none other than Jennifer Lopez, one of the judges on NBC's "World of Dance," on which Maddie competed in Season 2. Although Maddie didn't take home the show's top prize, she was proud to be the youngest remaining soloist when she was eliminated, and saw the whole experience as an opportunity to grow. After all, she's just getting started. Oh, that's right—did we mention Maddie's only 14?
Cover Story
Jun. 16, 2019 07:00AM EST
Corbin Bleu in rehearsal for "Kiss Me, Kate" (Jenny Anderson, courtesy Roundabout Theatre Company)
If you're a hardcore Broadway baby, today is the worst Sunday of the year. Why, you ask? The Tony Awards were last Sunday, so basically there's nothing to look forward to in life anymore—no James Corden being James Corden, no teary acceptance speeches from newly minted stars, no thrilling excerpts from the hottest new shows. Oh yeah, and there are 50 more Sundays to go before our humdrum lives are once again blessed with the next annual iteration of Broadway's biggest night.
Musical Theater