Chloe Misseldine Is Living the ABT Studio Company Dream
Photo by Nathan Sayers
Chloe Misseldine has every reason to be nervous as she and her partner run through the challenging wedding pas de deux from Don Quixote. Their performance is just days away and the two American Ballet Theatre Studio Company dancers have only had a week to prepare. Add to that the fact that ABT principal Gillian Murphy, one of the world's most famous ballerinas, is at the front of the studio taking notes.
---
But 17-year-old Chloe looks right at home, unfurling her long legs into beautiful extensions and quickly bouncing back after an overhead lift goes haywire. Chloe's Kitri has both sophistication and sass, and when it comes time for her fouettés, she whips out a string of single-single-doubles. After the out-of-breath pair finish, Murphy pushes them to keep going. "Practice your bows here," she says seriously. "They're part of the dance, and you're still in character."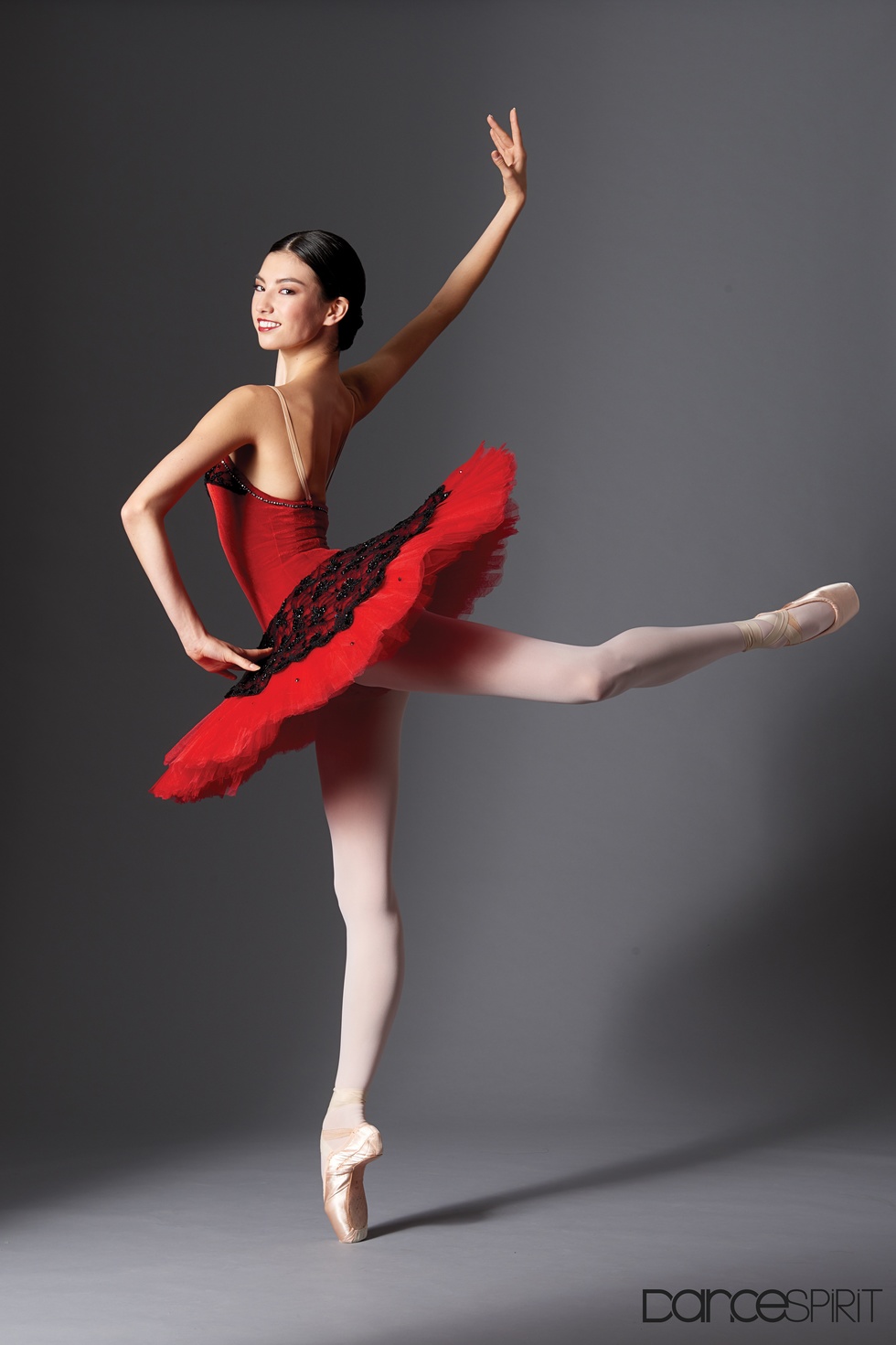 Photo by Nathan Sayers
Bowing may seem like an afterthought, but when your dream is to dance in a company like ABT, those small details matter. And Chloe is soaking them all up. "What impresses me most is her capacity to receive and apply coaching," says ABT Studio Company director Sascha Radetsky. "Chloe is a sponge—always growing, always giving her best, always eager to try new things. She's never complacent."

In a way, Chloe's journey to the Studio Company seems fitting: Her mom, Yan Chen, was a soloist with the company and teaches at ABT's summer program. But this tall, lyrical dancer has gotten there on her own merits. "She has such a strong work ethic," says close friend and fellow Studio Company dancer Leah Baylin. "She's always paying attention and practicing over and over again." Now, Chloe is navigating the high-stakes professional dance world, all while juggling high school and living on her own for the first time.
A Late Bloomer
Chloe grew up in Orlando, FL—and, one could say, in the studio. Chen is a ballet mistress at Orlando Ballet, and as a young girl Chloe would take classes at Orlando Ballet School while her mom worked. But her family wasn't dance-obsessed—Chloe's dad, an entrepreneur who owns his own business, and her two brothers kept things balanced. And Chloe herself found ballet boring. "I was too impatient. Also," she says, laughing, "I didn't really show much potential."
Around sixth grade, however, something clicked. "Her focus was different, she worked differently, and you could see she was falling in love with ballet," says Kim Marsh, OBS's assistant school director. Chloe started taking more classes, and before long she was a full-on bunhead.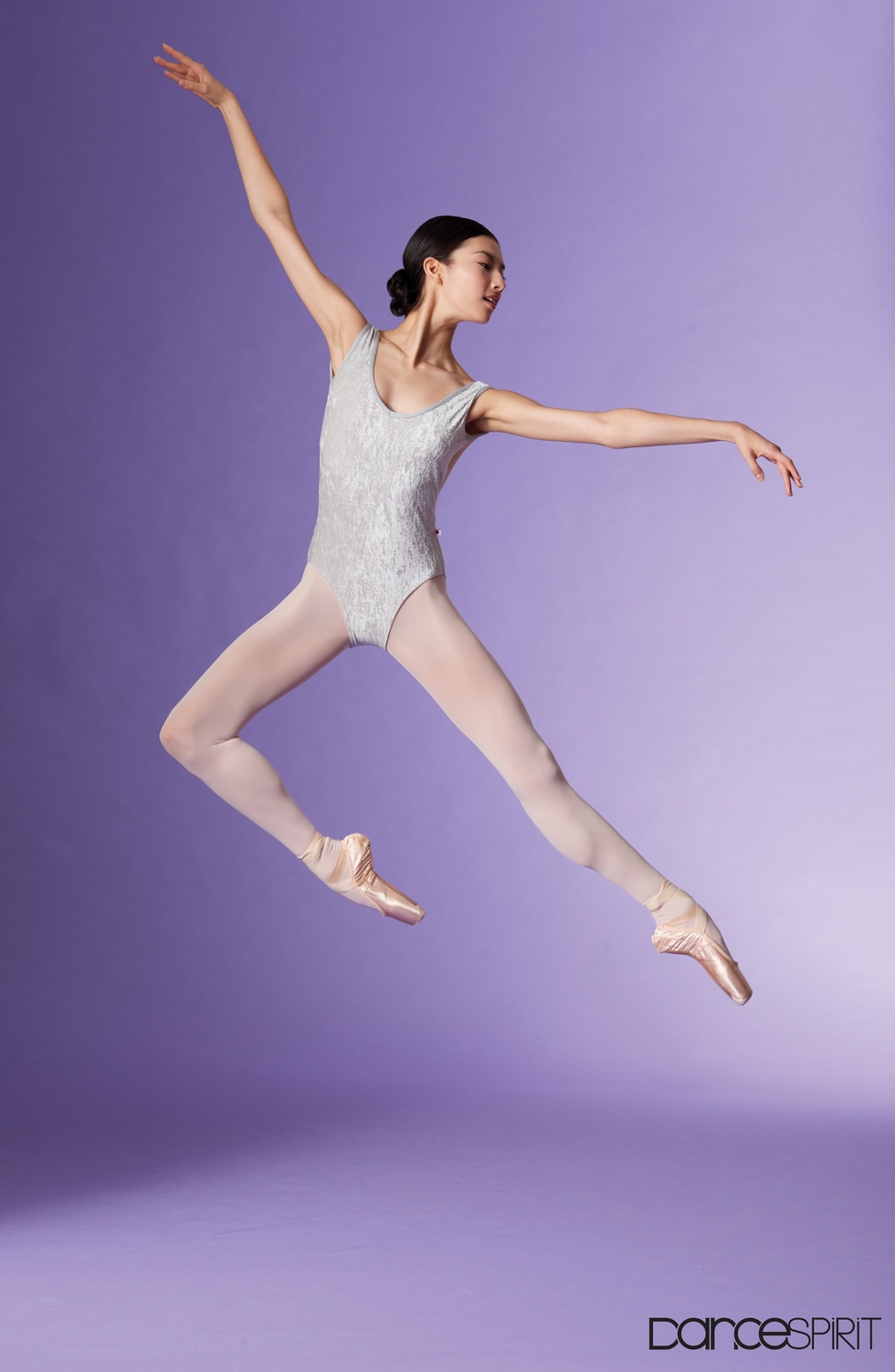 Photo by Nathan Sayers
Her teachers worked with her to strengthen her pointework and coordinate her coltish limbs. "She was one of those students that, as a teacher, you dream of having," Marsh says. "She absorbed every note and applied it almost immediately." Chen also pushed her, but never to the point of being a stage mom.

Over the next few years, Chloe attended ABT's summer intensives, and started dreaming about becoming a company member someday. She also started entering ballet competitions, and says the one-on-one coaching she received from Marsh and Olivier Munoz helped push her to the next level. The long hours in the studio paid off. She eventually won second place in the 2017 YAGP senior women's finals, and her performance there earned her an invitation to the 2018 Prix de Lausanne in Switzerland (most other dancers have to audition by video)—an experience she says was life-changing. "It was my first time going to Europe," Chloe says. "I met so many dancers and teachers from all over the world."
Chloe didn't win a prize at the Prix, but it didn't matter. Cynthia Harvey, the director of ABT's Jacqueline Kennedy Onassis School, approached her and offered her a Studio Company contract, starting that fall. Chloe, then 16, was elated. Two weeks later, her phone rang: A spot had opened up at the last minute. Could she start right away?
A New Life
Almost overnight, Chloe's life changed. She moved to New York City and was thrown into rehearsals for upcoming performances in St. Louis. Not long after, the company toured to London and Greece. The teenager was also living on her own for the first time, in a community apartment with other members of the Studio Company. She and Leah Baylin bonded quickly—they were the youngest dancers of the bunch. Surprisingly, though, Chloe didn't find the adjustment too difficult. "I missed my family," she says. "But I think with moving to a new city and all the new ballets I was learning, I was more excited than anything else."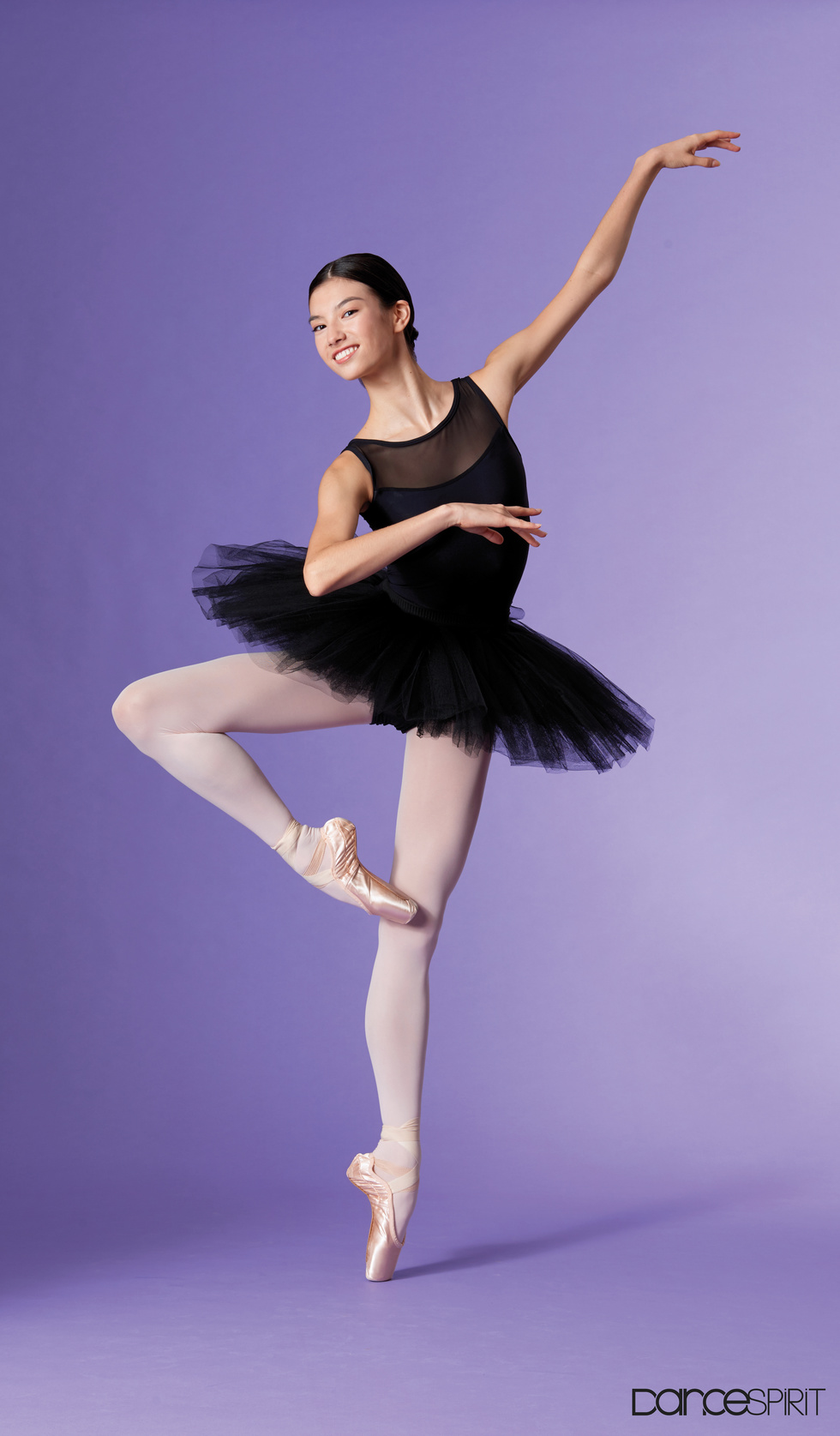 Photo by Nathan Sayers
Studio Company members start their day with technique class, followed by pointe or partnering. (They also have classes in conditioning, character, music, and dance history throughout the week.) The second half of their day consists of rehearsals. Sometimes they work on established rep, but other times choreographers, including Gemma Bond, Lauren Lovette, and Claudia Schreier, create new work on the dancers.

Chloe says adjusting to each choreographer's movement style is challenging. "I never really did contemporary growing up," she says. "I want to be able to do different types of dance, because when you get into a company, you won't just be doing classical ballet." She's also enjoying being part of an ensemble. "In Orlando I was mostly working on solos. Here I'm learning how to work within a group."
Chloe got her first taste of major corps de ballet work in December, when Studio Company members supplement the corps in ABT's Nutcracker, in the snow scene and "Waltz of the Flowers." She admits she was nervous to rehearse alongside company members, and that Alexei Ratmansky's choreography is tough. "But the dancers were all really nice, especially our alternates," says Chloe, who danced in the second cast. "They've all done it before and helped us with questions."
Best of all, her mom is always a phone call away, and she frequently offers advice. "She tells me to always be listening and to know all your steps, be gracious to the staff and dancers, and make sure to give the company members enough space."
It's hard to imagine that, given her whirlwind life, Chloe still needs to go home at night and finish her homework. She had enrolled in an online high school program back in Orlando, giving her more time in the studio. Chloe admits that the setup has been challenging ("It's hard to stay on track and do everything on time"), but she'll graduate in a year. When she's not dancing, she's hanging out with Leah, shopping, trying new restaurants, and otherwise soaking up all that NYC has to offer.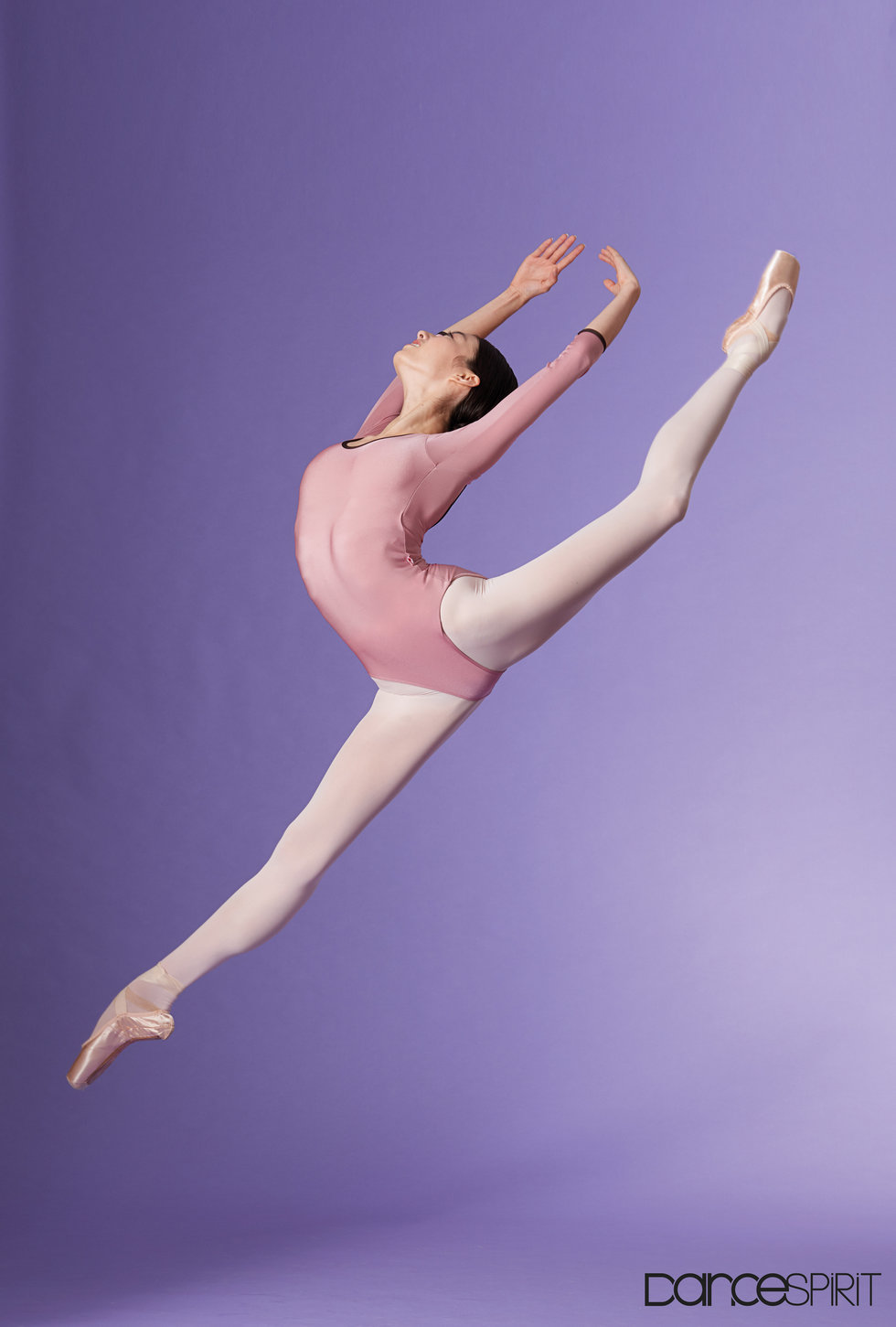 Photo by Nathan Sayers
Of course, Chloe dreams of following her mother's example and joining ABT. But as comfortable as she feels there, she says she owes much of her success to her teachers—and that she still has work to do. "I'm just so grateful to everyone who's helped me get here."

A version of this story appeared in the March 2019 issue of Dance Spirit with the title "Living the Dream."
Getty Images
Ever since starting her professional career, Broadway dancer Amber Ardolino has cupped. Using the holistic wellness practice to improve performance and take care of her body, Ardolino cupped before it was cool—even beating the 2016 Rio Olympics' purple polka-dotted athletes to the punch. But Ardolino's only one dancer who has put this therapy to regular use. Dance Spirit asked Carrie Gaerte, PT, DPT, ATC, and performance rehab specialist with St. Vincent Sports Performance who works with Indianapolis' Dance Kaleidoscope; and Thomas Droge, Chinese-medicine doctor and founder of Pathfinder Institute in NYC, to explain the ins and outs of cupping therapy.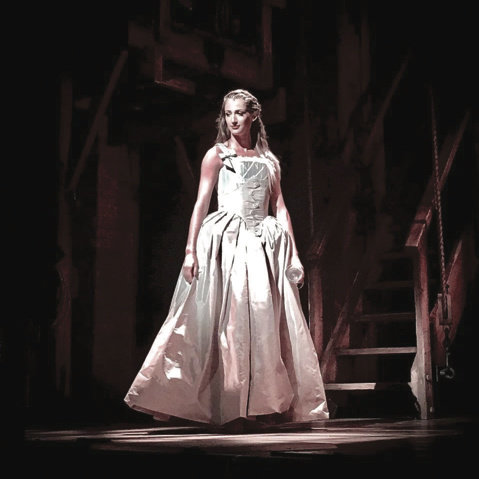 Amber Ardolino in "Hamilton" (courtesy Ardolino)
Keep reading...
Show less
via joffreyballetschool.com
It's never too early to start thinking about your dream job. And summer intensives are an essential step down the road to achieving your dance dreams—whether you want to perform in music videos, ballet companies or Broadway shows.
With 19 programs across the U.S. (plus additional international programs) Joffrey Ballet School offers options for all types of dancers with all types of goals. Whatever you may be working toward this summer, there's a program that will help you get that much closer. We put together a guide to help you find the right one, based on your dream job:
Keep reading...
Show less
Just for Fun
Feb. 15, 2019 02:40PM EST
Inside a Rockette audition (Amanda Schwab/Starpix)
Let's be real: Auditions can be rough. No matter how prepared you are, a lot of variables go into every audition—which means even the best of us mess up sometimes! Here are 7 audition fails every dancer has experienced at one point or another.
Keep reading...
Show less
Via YouTube
Oh, baby I'm a wreck (wreck) after watching Kinjaz's new music video.
Set to Post Malone's "Sunflower," the lead single from the Spider-Man: Into the Spider-Verse soundtrack, the vid features the dance crew's ever-fabulous men—who appear to have Spidey senses, because seriously, how else do they stay down-to-the-fingertips in sync?—performing Vinh Nguyen's super-tight choreography, with an overlay of comic-book-esque graphics by editor Jonathan Shih.
Keep reading...
Show less
See photo credits below
What inspires you most as a dancer? What keeps you going on the days when the motivation just isn't there, and makes you feel like all the hard work, rejection and sacrifice is worth it for the pursuit of your dream? What makes you want to run into an empty studio and create something new?
Cindy Clough, executive director of Just For Kix and a studio owner with over four decades of experience, often hangs posters with dance-related quotes on the walls of her studio, on everything from creativity to the hustle to the importance of teamwork. Sometimes the right words from dancers who have been there are just the push you need to spark your imagination and remind yourself why you love what you do.
In that spirit, here are 10 inspiring quotes from dancers on what their art form means to them, and why it's worth fighting through the hard parts:
Keep reading...
Show less
Body Buzz
Feb. 14, 2019 07:00AM EST
Getty Images
If you haven't followed through on your New Year's resolution to practice more self-care, then Valentine's Day is the perfect time to start. Below, we rounded up the best ways to pamper, indulge, and heal everything from your muscles, to your skin, to your mind. Your body (and your dancing) will thank you.
Keep reading...
Show less
State Ballet of Siberia dancer Yury Kudriavtsev wearing Siberian Swan shoes (courtesy Siberian Swan)
As ballet's gender roles grow increasingly blurred, more men than ever are reaching new heights: the tips of their toes.
It's no longer just Les Ballets Trockadero de Monte Carlo and the few pointe-clad male character parts, like in Cinderella or Alexei Ratmansky's The Bright Stream. Some male dancers are starting to experiment with pointe shoes to strengthen their feet or expand their artistry. Michelle Dorrance even challenged the men in her cast at American Ballet Theatre to perform on pointe last season (although only Tyler Maloney ended up actually doing it onstage).
The one problem? Pointe shoes have traditionally only been designed for women. Until now.
Keep reading...
Show less
Get Dance Spirit in your inbox
via joffreyballetschool.com
It's never too early to start thinking about your dream job. And summer intensives are an essential step down the road to achieving your dance dreams—whether you want to perform in music videos, ballet companies or Broadway shows.
With 19 programs across the U.S. (plus additional international programs) Joffrey Ballet School offers options for all types of dancers with all types of goals. Whatever you may be working toward this summer, there's a program that will help you get that much closer. We put together a guide to help you find the right one, based on your dream job:
Keep reading...
Show less
"SYTYCD" hopefuls at The Academy (Adam Rose/FOX)
"So You Think You Can Dance" just kicked off Season 15 with a fabulous audition episode. Unfortunately, as always, some of the gifted dancers we just met won't make it to the live shows. In fact, so many talented artists have tried out for "SYT," it can be hard to remember standout auditionees from the past who didn't reach the Top 20. But many of them have gone on to have fantastic careers. Here are five amazing dancers who you probably don't remember auditioning for "SYTYCD."
Keep reading...
Show less
Just for Fun
Jun. 29, 2018 10:00AM EST
Colder weather is (finally) here, which means it's time for a good dance movie binge. But which iconic films should you put on? To narrow your search, we went ahead and ranked 30 of the greatest dance movies of all time.
Of course, we know a list like this is bound to be controversial—so if you disagree with our lineup, have at it in the comments!
Keep reading...
Show less
Are you a college student curious about what goes on behind the scenes at your favorite magazine? You're in luck—because Dance Spirit is searching for an editorial intern for summer 2019!
We'll be accepting applications through March 1. Internships pay an hourly stipend and require a minimum two-day-a-week, onsite commitment in our NYC office from June to August. (We do not provide assistance securing housing.)
If you're interested, please send a cover letter, resumé and two writing samples to Margaret Fuhrer at mfuhrer@dancemedia.com. Be sure to put "Summer Internship Application" in the subject line. All attachments must be formatted as PDFs.
We will interview selected candidates in March in person or by phone, and let candidates know by mid-April if they have been chosen. Please note that we do not accept high school students, or any students under 18, and that we give preference to college juniors and seniors.
We can't wait to meet you!
Rising Stars
Feb. 09, 2019 07:00AM EST
Images by Norelle, courtesy Jennifer Falcione
When we asked what her proudest accomplishment so far is, Kiarra Waidelich paused for a moment. That's because she has so many to choose from: In the past two years, Kiarra's earned Mini and Junior Female Best Dancer at The Dance Awards, snagged Youth America Grand Prix's Hope Award, and made it to the divisional finals on Season 2 of "World of Dance." Equally gifted in ballet ("I love the mental and physical challenge") and contemporary, it's the latter that made Kiarra realize dance was her passion. "If something bad or stressful happens in my day, I use contemporary as a way to express and release what I'm feeling," she says. "Dance is a way for me to emote and let things go."
Keep reading...
Show less
Branch Out
Feb. 12, 2019 05:16PM EST
Adrienne Gregorek working on physical therapy exercises with a patient (courtesy Gregorek)
When Adrienne Gregorek was 14, she injured her hamstring and was sent to physical therapy. "I was super frustrated," she remembers. "I went to a clinic where there were mostly older people being treated and felt like the staff didn't understand the needs of a dancer. When they were re-testing me at the end, they said, 'You're good,' even though I really wasn't where I needed to be for optimal strength and flexibility."
For many dancers looking for their next step beyond the stage, a career that continues to connect them to the art is a no-brainer. In Gregorek's case, her interest in the human body, coupled with her passion for dance, led her to a career in physical therapy and landed her a job at Westside Dance Physical Therapy in NYC, where she treats dancers, including members of New York City Ballet and students at the School of American Ballet.
Keep reading...
Show less
Musical Theater
Feb. 13, 2019 12:13PM EST
Kelli O'Hara as Kate/Lilli Vanessi with the cast of the Kiss Me, Kate revival (courtesy Polk & Co.)
The classic Cole Porter musical Kiss Me, Kate dazzled audiences when it first opened on The Great White Way in 1948. It went on to win the very first Tony Award for Best Musical, and it's seen London and NYC revivals almost every decade since. Tomorrow (Valentine's Day!), previews begin for its latest Broadway revival, this time by Roundabout Theatre Company. The high-energy romantic comedy based on Shakespeare's The Taming of the Shrew features iconic tunes, including "Too Darn Hot," "So In Love," and "Another Op'nin, Another Show," and the revival will star Broadway veteran Kelli O'Hara as Kate/Lilli Vanessi, Will Chase as Petruchio/Fred Graham, and Corbin Bleu as Lucentio/Bill Calhoun. There will also be brand-new choreography by Warren Carlyle. Dance Spirit got the inside scoop on the production from dancer Christine Cornish Smith, who will also be understudying the role of Lois Lane/Bianca.
Keep reading...
Show less