How To
Mar. 08, 2016 02:32PM EST
Choreographer's Collage: Al Blackstone
Lee Cherry (courtesy Break the Floor Productions)
Al Blackstone is one of the fastest-rising choreographers in the industry, creating one successful piece after another. After making his Broadway debut as a dancer in Wicked, Blackstone won the 2011 Capezio A.C.E. Award for Choreographic Excellence, which gave him the opportunity to direct and choreograph a full-length production, Happy We'll Be. For the last three years, he's worked as Sonya Tayeh's associate choreographer, and his work, which often has a musical-theater slant, has also been featured on "So You Think You Can Dance." DS caught up with Blackstone to see what inspires his thoughtful and dynamic choreography.
---
"Jason Parsons made me want to become a dancer. I left high school in New Jersey early on Tuesdays and Thursdays to go to NYC and take his class at Broadway Dance Center."
Blackstone with Jason Parsons (courtesy Al Blackstone)
"Matthew Bourne's Swan Lake changed my life. I saw it three times. It made me want to be a choreographer, and showed me what was possible in storytelling without dialogue."
Mathew Bourne's "Swan Lake," performed by New Adventurers (Bill Cooper, courtesy Raw PR)
"Just before the A.C.E. Awards, I was performing in Wicked on Broadway. The girls in the dressing room were always talking about online dating—it was starting to get really big around then. My work is usually derived from things happening in my personal life. So when I was creating my A.C.E. Awards piece, I was inspired by the dressing room conversations—and by the fact that I'd just fallen in love."
Ryan Kelly (courtesy Al Blackstone)
"My full-length piece, Happy We'll Be, explores the highs and lows of our universal search for happiness. I used music and dance from lots of different genres, and the stories that unfolded reflected the joy of connection to the world and to each other."

"I knew early on that I wanted the venue for Happy We'll Be to be the Roseland Ballroom in NYC, and was ecstatic when it was presented to me as an option. It has a certain rawness and history—there are ghosts within that space. My parents used to go there all the time. My dad was a ballroom dancer, and I grew up listening to stories about his times at Roseland."
Blackstone's parents at the Roseland Ballroom (courtesy Al
"When creating Happy We'll Be, I had a giant queue of songs I wanted to use during the production. 'Hyperballad' by Björk was one of them. To me, it represented a return to my contemporary roots. And I was set on ending with Louis Armstrong's rendition of 'La Vie en Rose.' I'd also wanted to use 'Chicago' by Sufjan Stevens, but had to cut it because it just didn't fit."
Matthew Murphy (courtesy Al Blackstone)
"'SYTYCD' was a crash course in trusting my instincts. The routines I created for Season 12 were exercises in making quick decisions. Nine times out of 10, your gut is right. For Jaja and Ricky's routine to 'Let's Face the Music and Dance' by Nat King Cole, I knew I wanted Jaja's character to be bold and feminine. She's an amazing actress, so she played the feisty wife of a smooth-talking mobster perfectly."
Jaja and Ricky performing their routine (Mike Yarish/FOX, courtesy Fox)
"I'm really inspired by filmmakers Woody Allen and Wes Anderson, especially Anderson's Rushmore and The Royal Tenenbaums. Allen's Everyone Says I Love You and Mighty Aphrodite feature choreography by Graciela Daniele—she uses humor in a way that's really stayed with me."
Woody Allen (Thinkstock)
Fraser dancing in the NYC Subway (photo by Underground NYC, courtesy Fraser)
Paige Fraser has performed on world-class stages and alongside Beyoncé—yet some of her most meaningful dance moments happened in tiny classrooms on a small island 1,000 miles from America. This past spring, Fraser, who's danced with Ailey II and is a founding member of Visceral Dance Chicago, teamed up with the non-profit Milk Carton on a String to bring dance to underprivileged children in Haiti. Fraser taught daily ballet and modern dance classes and used YouTube videos and social media to introduce the students to other aspects of dance they hadn't been exposed to.
Now, Fraser plans to continue to use dance to give back through her own newly-funded non-profit, The Paige Fraser Foundation. But instead of traveling outside the country, Fraiser will be helping kids in her childhood home: the Bronx. She wants her foundation to assist aspiring dancers no matter their color or abilities.
Read our interview with the dancer and do-gooder—and discover the life-changing diagnosis that inspired her to help other dancers achieve their dreams.
Keep reading...
Show less
via @kyle_vanny on Instagram competing on World Of Dance
Kyle Van Newkirk is a tap dancer you probably remember from the premiere season of NBC's World of Dance. In case you missed it, he is also one of Showstopper's incredible convention teachers. What makes Kyle stand apart from some of today's other incredible tappers? He isn't afraid to change what tap means to his audience and even himself. This modern view of tap dancing is important because it shows us that tap dancers are just as versatile and dynamic as dancers of any other genre. We sat down with Kyle to get his advice on bringing tap dancing into the 21st century.
Keep reading...
Show less
What did I just hear you say? You think all dancers are weak and delicate? PLEASE SAUT DE CHAT OUT OF MY LIFE. (Giphy)
Sure, dancers definitely have some unique identifying characteristics. (We're all obsessed with Center Stage? FACT.) But we're also subjected to all kinds of annoying, inaccurate stereotyping. Here are 10 dancer stereotypes that we never want to hear again.
Keep reading...
Show less
University of Minnesota Dance Team (courtesy University of Minnesota)
They say there's no "I" in "team"—and nowhere is that truer than the world of college dance teams, where precision reigns, uniformity is key, and a single misstep from any given "I" can cost a group a championship trophy. So it's unsurprising that securing a spot on one of the best dance teams in the country is no easy feat.
Members of these highly athletic teams rehearse for hours every week—on top of academic classes and commitments—and perform at football and basketball games, annual concerts, and nationally televised competitions (hi, ESPN). And "no I" rule notwithstanding, each of these top teams is made up of highly trained, highly technical, highly hard-core individuals, who come together to create a ready-for-victory pack.
These six teams aren't one-off success stories—they're consistently strong, and earn the top spots at major competitions like UDA and NDA nearly every year. Up for the challenge? Here's what to know before you go to auditions.
Keep reading...
Show less
You can never go wrong with a classic black leotard. Discount Dance's long-sleeve mesh leo will add a sleek edge to your studio style. Pair it with tights and a skirt for ballet class, or layer some leggings and sweats for contemporary class. Enter below for your chance to win it!
Keep reading...
Show less
May. 16, 2018 02:26PM EST
Ema Peter
The Glorya Kaufman International Dance Center is the 54,000 square foot home of the USC Glorya Kaufman School of Dance, one of the largest facilities dedicated to dance on a private university campus. Designed for their innovative new curriculum, that supports a range of dance styles, the school's staff designated Harlequin to provide wall-to-wall flooring for the large 3,500 square foot Performance Studio as well as five dance studios in their new state-of-the-art building.
Keep reading...
Show less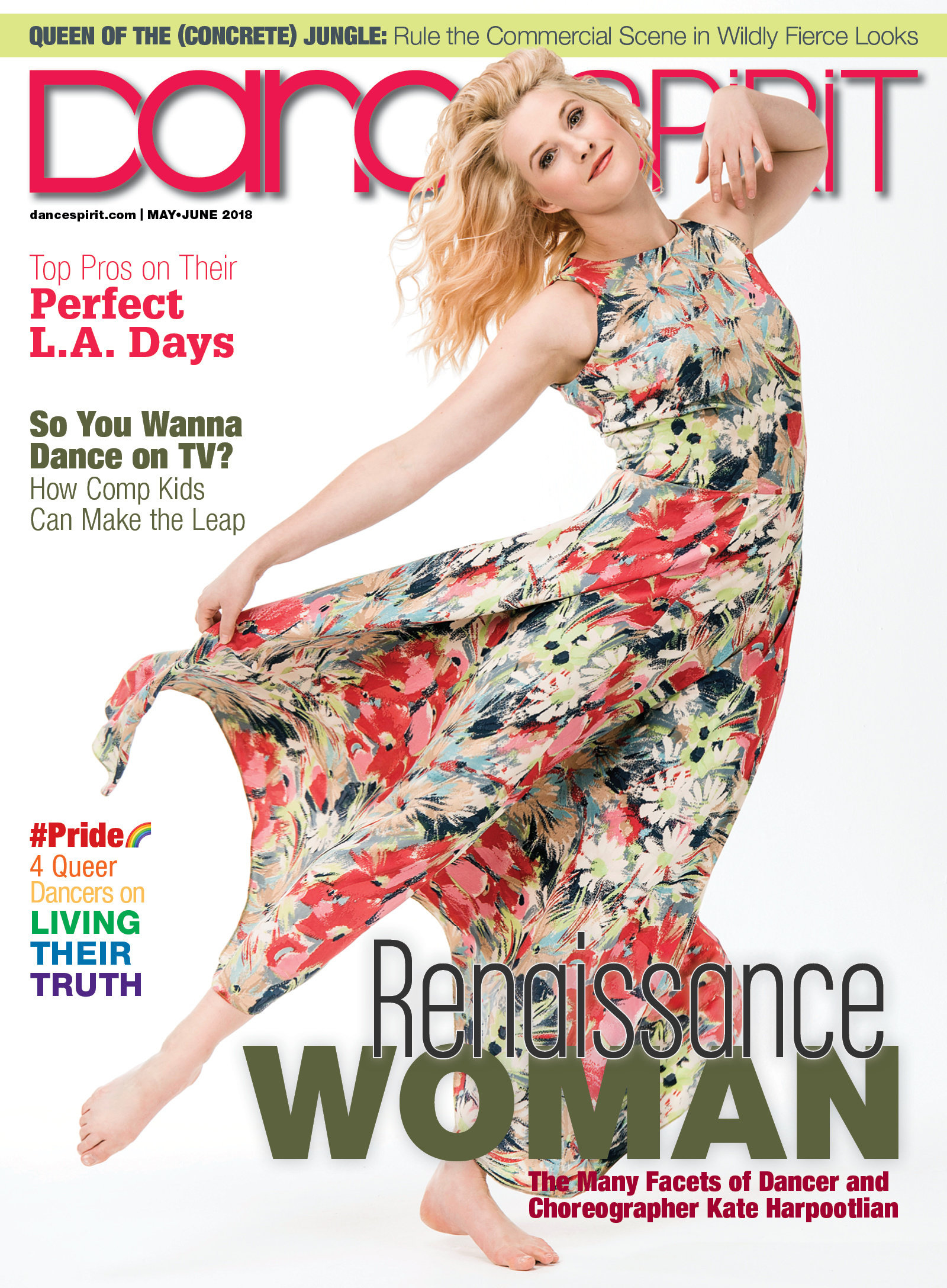 Get Dance Spirit in your inbox