Choreography
Mar. 23, 2017 12:00PM EST
Choreographer's Collage: Kyle Abraham
Kyle Abraham is on fire. In the past few years, he's been named a 2013 MacArthur Fellow and honored by Jacob's Pillow Dance Festival and the Ford Foundation. College dance departments across the country can't get enough of the young choreographer—and neither can major dance companies: Alvin Ailey American Dance Theater, The Martha Graham Dance Company and Hubbard Street Dance Chicago have all commissioned work from Abraham. He was even the resident commissioned artist at New York Live Arts, NYC's postmodern dance hub. Dance Spirit caught up with Abraham to find out what drives his historically  and emotionally charged work. —Jenny Dalzell
"Many of my works have some sort of Pittsburgh influence in them, since that's where I'm from."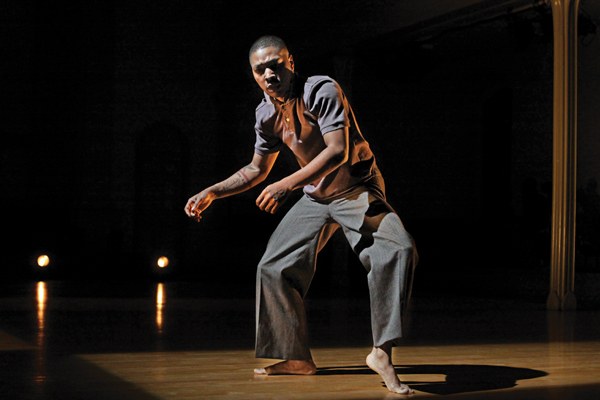 (Photo by Steven Schreiber, courtesy Kyle Abraham/Abraham.In.Motion)
"The Radio Show was initially inspired by two things: the one urban radio station in Pittsburgh going off the air, and my father, who had Alzheimer's and aphasia. I was thinking about what happens when a community loses its voice, as well as my memories of the songs I grew up listening to. The radio station had both AM and FM feeds—the AM station played old soul music, by artists like The Shirelles, and the FM station played music by Jay-Z and Kanye West. So my work was broken in two parts, using music from both stations."
"David Dorfman, whose company I danced with, always said to live in the uncomfortable and divorce the familiar when improvising or choreographing. Sometimes choreographic block hits—and when nothing is coming, you can't force it. You just have to be patient. That can be frustrating when you're paying for studio space, but patience can also be really rewarding in the long run."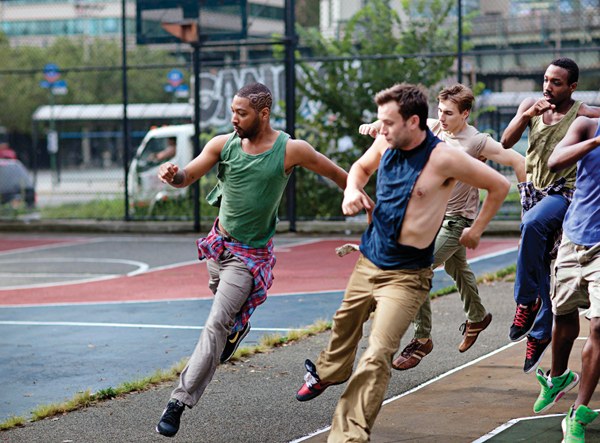 Kyle Abraham/Abraham.In.Motion dancers in Pavement (Photo by Steven Schreiber, courtesy Kyle Abraham/Abraham.In.Motion)
"Pavement evolved from looking at the 1991 film Boyz N the Hood; reading W.E.B. Du Bois' The Souls of Black Folk; and thinking about my experience in Pittsburgh in 1991, which was my freshman year of high school. I wanted to create a work that explored the time period between the film and the book, as well as the history of Pittsburgh's black community."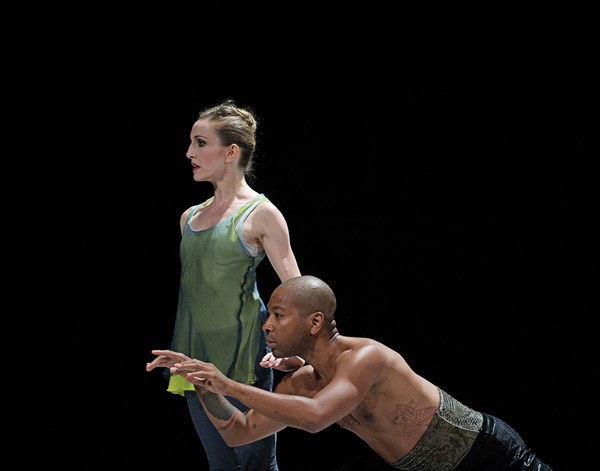 Wendy Whelan and Abraham in Restless Creature (Photo by Christopher Duggan, courtesy Kyle Abraham/Abraham.In.Motion)
"I'm a big fan of mythology, and I've been a history geek since elementary school. The piece I created for Wendy Whelan's Restless Creature, 'The Serpent and the Smoke,' came from a myth I thought I'd heard: A snake becomes enchanted with smoke and thinks it's seeing another snake. As it turns out, this myth doesn't actually exist—I made it up."
"I love working with Chalvar Monteiro, who was in my company for a little over four years, and with one of my current dancers, Tamisha Guy. I love their versatility: They're trained in Cunningham and Graham techniques, and they've worked with Kevin Wynn, who's a huge influence on my work. They're great movement generators, too."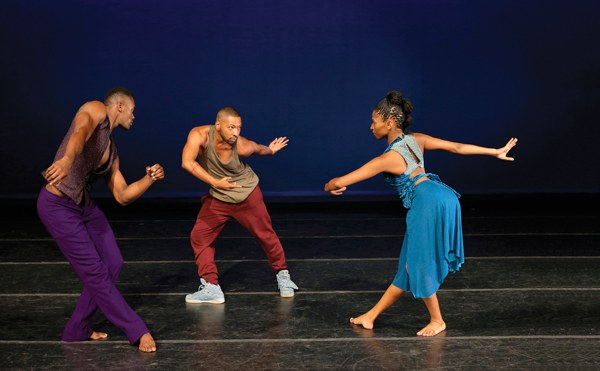 Abraham (center) rehearsing Another Night with AAADT's Jamar Roberts and Jacqueline Green (photo by Paul Kolnik, courtesy courtesy Kyle Abraham/Abraham.In.Motion)
"I created Another Night for Alvin Ailey American Dance Theater while I was making Pavement. It all stemmed from the same ideas. But Another Night was much lighter. It addressed the vitality and the community of an earlier era—the time when jazz artists like Art Blakey and Billy Strayhorn were performing in Pittsburgh."
"I was initially inspired to dance by Joffrey Ballet's Billboards, with music by Prince. I was a huge Prince fan, and I identified with the music first—that's what pulled me in to dance. I'd never experienced that before, and it stuck with me."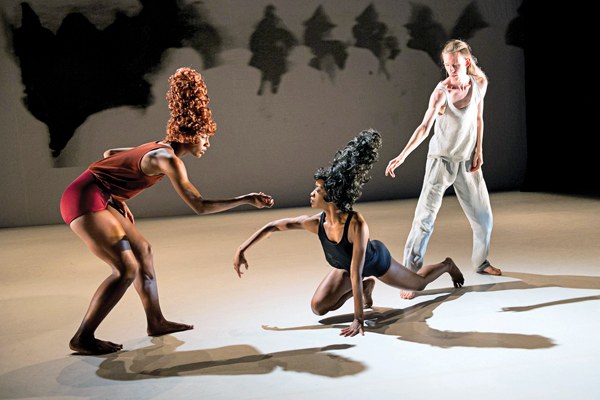 When the Wolves Came In (photo by Ian Douglas courtesy Kyle Abraham/Abraham.In.Motion)
"The repertory program When the Wolves Came In and the evening-length The Watershed were both inspired by Max Roach's album We Insist! Max Roach's Freedom Now Suite. The subject matter—the civil-rights movement, the Emancipation Proclamation and apartheid in South Africa—was tricky. I didn't want to tap into all of that too literally. Instead, I wanted to create work that nodded to the album."
via YouTube
Keep reading...
Show less
via @kyle_vanny on Instagram competing on World Of Dance
Kyle Van Newkirk is a tap dancer you probably remember from the premiere season of NBC's World of Dance. In case you missed it, he is also one of Showstopper's incredible convention teachers. What makes Kyle stand apart from some of today's other incredible tappers? He isn't afraid to change what tap means to his audience and even himself. This modern view of tap dancing is important because it shows us that tap dancers are just as versatile and dynamic as dancers of any other genre. We sat down with Kyle to get his advice on bringing tap dancing into the 21st century.
Keep reading...
Show less
What did I just hear you say? You think all dancers are weak and delicate? PLEASE SAUT DE CHAT OUT OF MY LIFE. (Giphy)
Sure, dancers definitely have some unique identifying characteristics. (We're all obsessed with Center Stage? FACT.) But we're also subjected to all kinds of annoying, inaccurate stereotyping. Here are 10 dancer stereotypes that we never want to hear again.
Keep reading...
Show less
University of Minnesota Dance Team (courtesy University of Minnesota)
They say there's no "I" in "team"—and nowhere is that truer than the world of college dance teams, where precision reigns, uniformity is key, and a single misstep from any given "I" can cost a group a championship trophy. So it's unsurprising that securing a spot on one of the best dance teams in the country is no easy feat.
Members of these highly athletic teams rehearse for hours every week—on top of academic classes and commitments—and perform at football and basketball games, annual concerts, and nationally televised competitions (hi, ESPN). And "no I" rule notwithstanding, each of these top teams is made up of highly trained, highly technical, highly hard-core individuals, who come together to create a ready-for-victory pack.
These six teams aren't one-off success stories—they're consistently strong, and earn the top spots at major competitions like UDA and NDA nearly every year. Up for the challenge? Here's what to know before you go to auditions.
Keep reading...
Show less
They got to live out their dreams onstage with Jackson during last night's Billboard Awards. (NBC)
When Janet Jackson puts out a call for new dancers, basically the ENTIRE WORLD responds. More than 75,000 people entered Jackson's epic #DanceWithJanet contest, announced earlier this spring, which let hopefuls from around the globe audition via social media for a chance to perform with the icon.
So, out of those tens of thousands, who became the newest members of the #JTribe? Meet Phillip Galbert and L'Vala "Lala" Moss, the winners of the competition. Last night, they joined Janet onstage at the Billboard Music Awards. And they more than earned their place in the spotlight.
Keep reading...
Show less
May. 16, 2018 02:26PM EST
Ema Peter
The Glorya Kaufman International Dance Center is the 54,000 square foot home of the USC Glorya Kaufman School of Dance, one of the largest facilities dedicated to dance on a private university campus. Designed for their innovative new curriculum, that supports a range of dance styles, the school's staff designated Harlequin to provide wall-to-wall flooring for the large 3,500 square foot Performance Studio as well as five dance studios in their new state-of-the-art building.
Keep reading...
Show less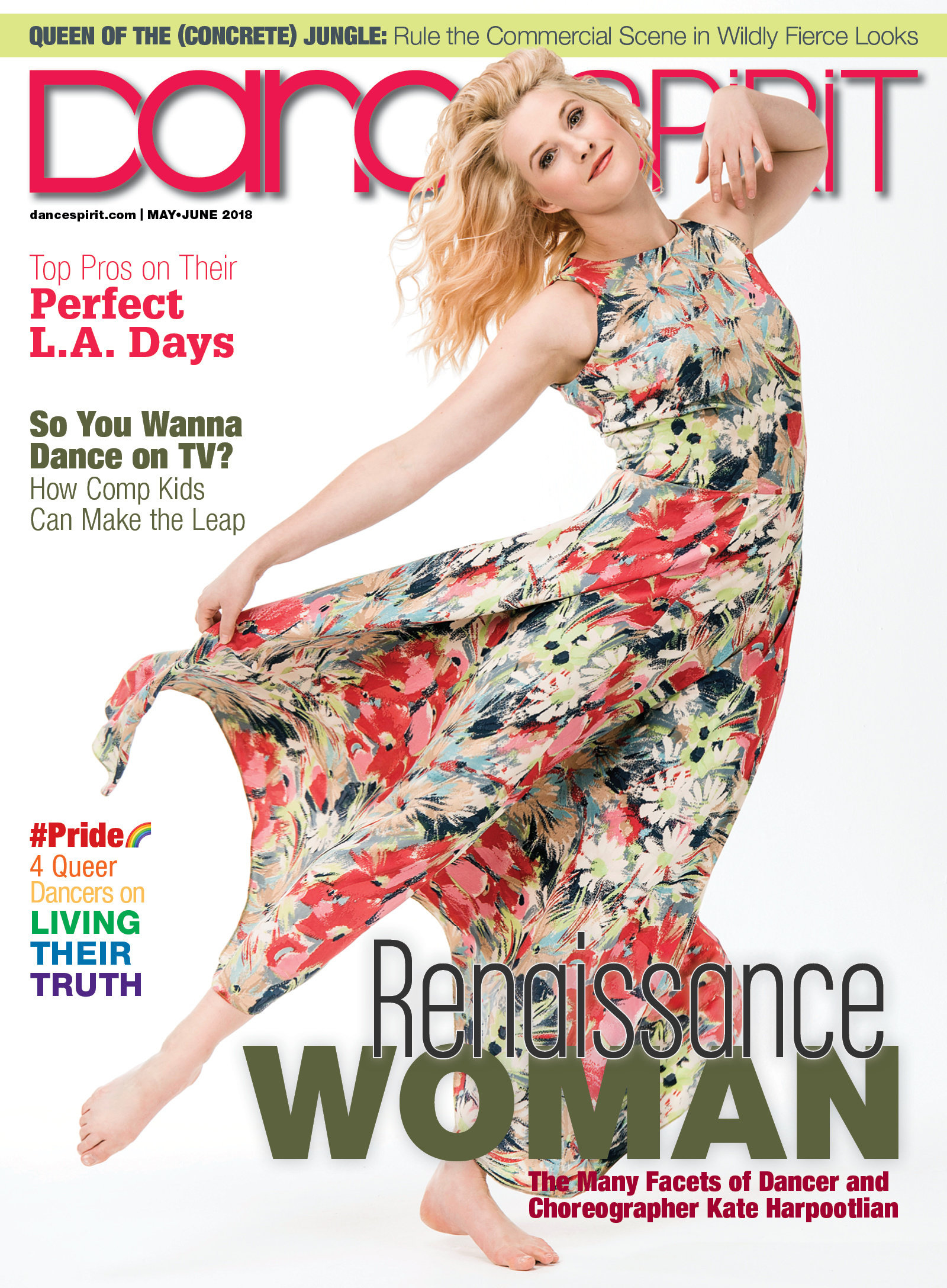 Get Dance Spirit in your inbox