Sep. 28, 2017 10:52AM EST
Beyond Bollywood: The Inside Scoop on Bharatanatyam
Bharatanatyam dancer Sarika Bhattacharjee (photo by David Glasofer, courtesy Bhattacharjee)

You may already have an idea of what Indian dance looks like: vibrant costumes, exuberant energy, intricate hand gestures, constant level changes—in short, Bollywood dance. For many in the U.S. and beyond, Bollywood is their sole exposure to Indian dance. But this modern, cinematic form never would have made its way to the big screen without centuries of practice in classical Indian dance. The seven classical forms (some argue there are even more) are as varied as tap and ballet, but none bear quite the same influence as the first, bharatanatyam.
---
A Dance of Devotion
Bharatanatyam, which originated in South India, in the area now known as Tamil Nadu, is linked to the ancient Sanskrit text of the performing arts, the Natya Shastra (written in 200 BCE). "A traditional practitioner will tell you that Lord Shiva asked the Sage Bharata, father of Indian dramatic art, to make the vedas [religious texts of Hinduism] more accessible to the people through natyam, or dance theater," says Mumbai-based artist Savitha Sastry. Originally an art of devotion, the dance form was initially practiced exclusively in Hindu temples. "It has evolved tremendously from its mythological origin," Sastry says.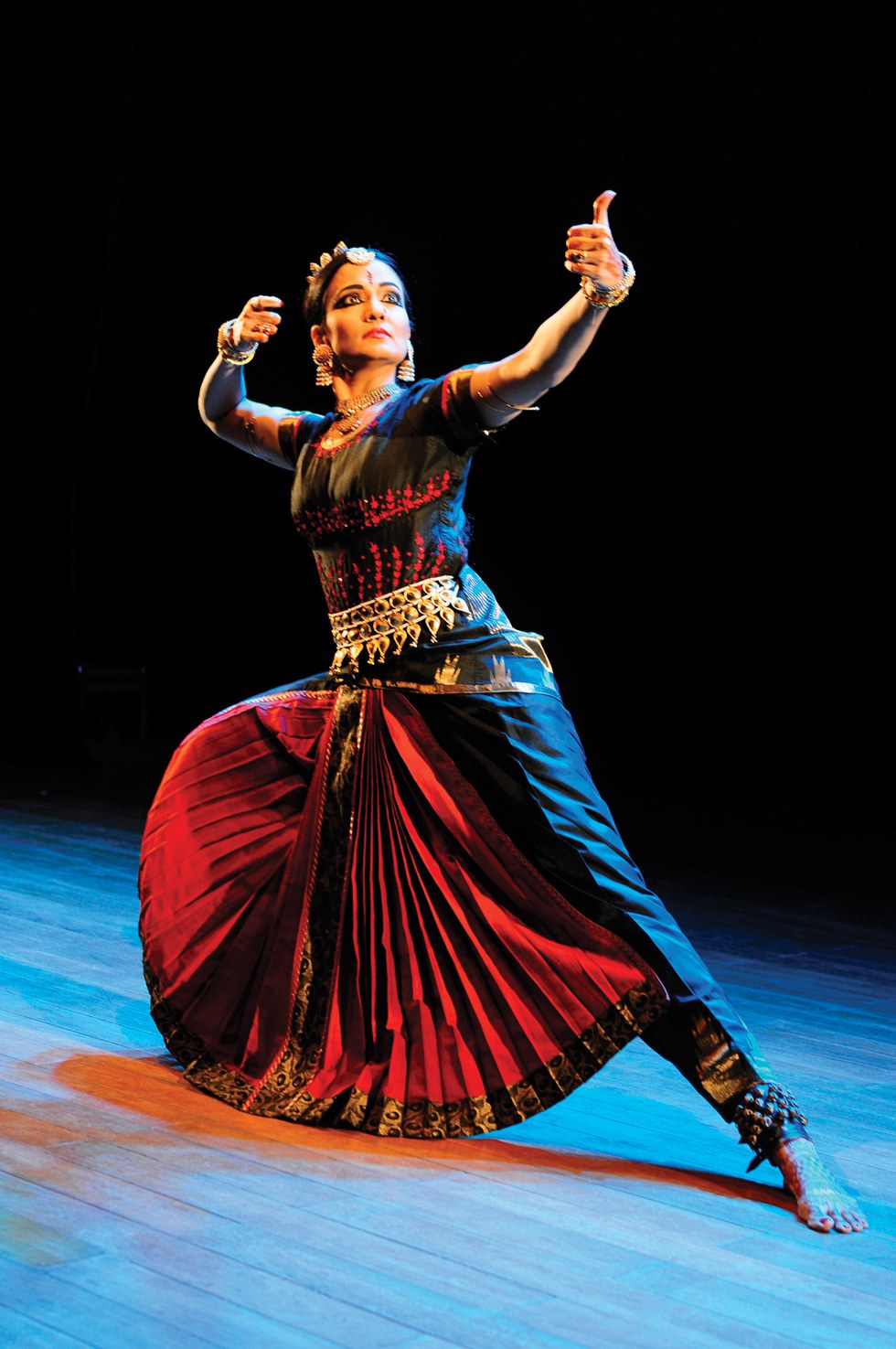 Savitha Sastry performing (photo by Aditya Sastry, courtesy Savitha Sastry)
Creating Visual Poetry
The bharatanatyam dancer is first and foremost a storyteller, and the stories often come from Indian mythology. While emotive elements—facial expressions and hand gestures—are common in all classical Indian dance, they are especially detailed in bharatanatyam. "It has the most evolved language of mudras, or hand gestures," says Queens-based artist and guru (teacher) Malini Srinivasan. There are 28 single-hand mudras and 24 double-hand mudras, and each gesture has an accompanying sloka, or poem, to describe its usage. "You put that together, and you have a whole dictionary at your disposal as an artist," Srinivasan says. While the gestures are taken from day-to-day life, they are highly stylized and would be difficult for the untrained dancer to mimic. "This stylization means they can be appreciated aesthetically as movement, even by those who don't know the language," she says.
A Geometry of Power
The bharatanatyam dancer derives her power from the earth, and the distinguishing araimandi posture—which Srinivasan compares to the diamond shape of a grand plié in first—enhances that connection. "It is a dance of strength," says Sarika Bhattacharjee, anadvanced student of the form, "and the posture requires an agility uncommon to most dance forms." From this position, the dancer strikes her feet into the floor to create rhythms, which are enhanced by ankle bells.
The lifted torso and the extended position of the arms, called natyarambhe, contrasts with the groundedness of the lower body. And the arms move dynamically in angular, geometric patterns. "That is not to say it doesn't have grace," Sastry says. "The grace is structured within this angularity."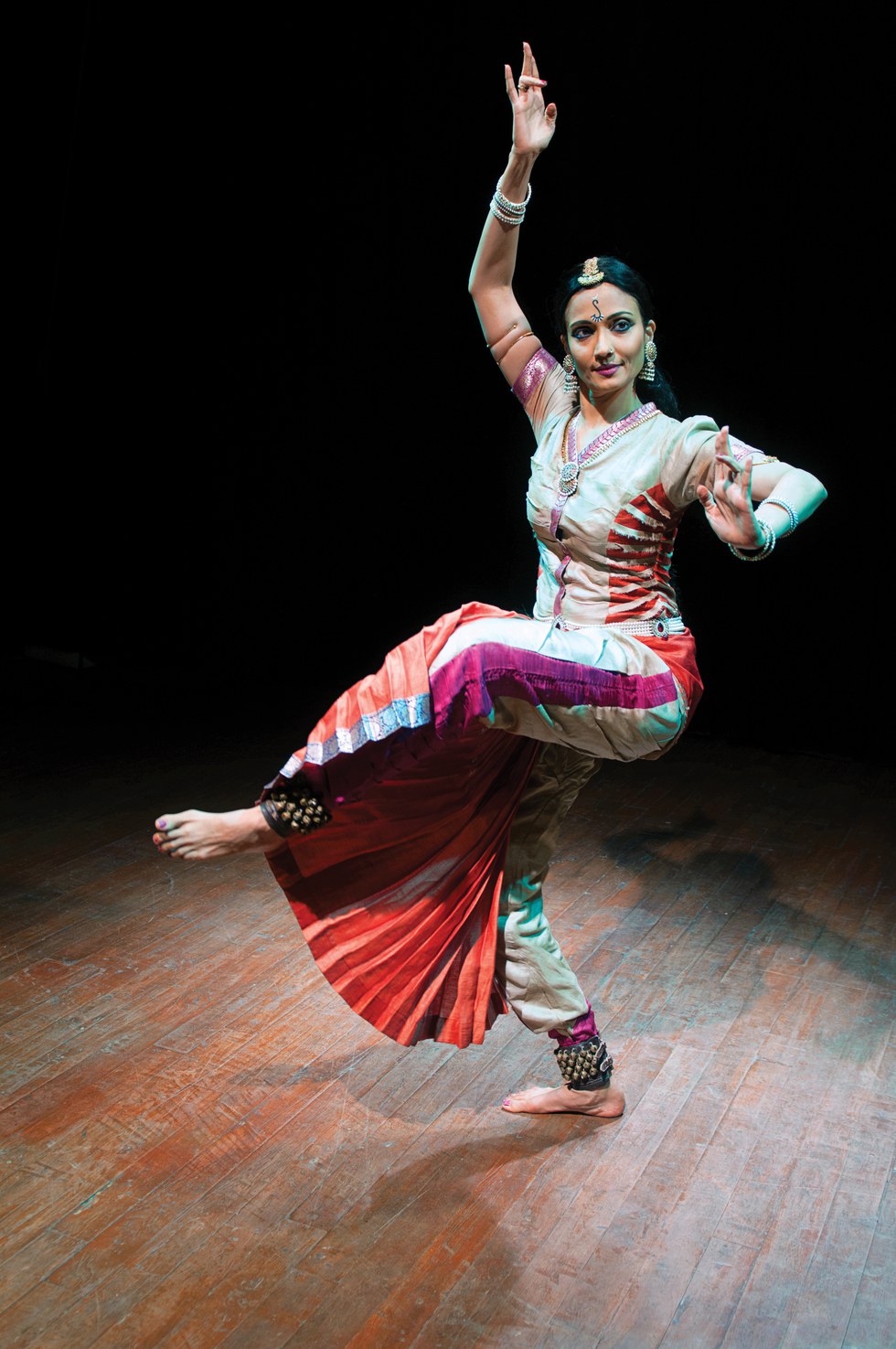 Sastry performing (photo by Aditya Sastry, courtesy Savitha Sastry)
A Debut Performance

Most serious bharatanatyam dancers begin training with a guru between ages 5 and 7. Bhattacharjee's guru, Sudha Shekhar Devulapalli, who runs Kalanjali School of Dance in New Jersey, only accepts students 7 and older. "They need to be old enough to handle the intensity of training," Bhattacharjee says. "A lot of kids hate it at first. It's hard and you get a lot of bruises." But Bhattacharjee fell in love with the practice right away. "It made me feel powerful," she says.
This past July, following 10 years of intense training, Bhattacharjee completed her solo debut performance, called the arangetram. "In this four-hour solo performance, dancers demonstrate their proficiency in the basic repertoire, beginning from the first to the last piece," Sastry says. While it's often treated as a graduation performance, it's actually meant to mark the beginning of the dancer's professional career. "'Arangetram' translates to 'ascendance to the stage,'" Sastry says.
A version of this story appeared in the October 2017 issue of Dance Spirit with the title "Bharatanatyam: A Story For The Gods."
Sofia Wylie (photo by Dave Brewer, courtesy Disney Channel)
Last week Disney Channel star Sofia Wylie released a behind-the-scenes look at the making of her YouTube dance series. Along with some stellar dancing, the video shows the dance community featured in her "4k Dance Series" and the things they've learned from being a part of the dance project. And though the project features dance, we love that it also emphasizes supporting and building up fellow dancers.

Keep reading...
Show less
Popular
Apr. 02, 2018 10:14AM EST
Showstopper's National Finals Opening Number Performance
Showstopper has been making its impact on the dance world since 1978. Before then, dancers didn't have a stage to perform on, the opportunity to learn from peers, or a competitive outlet like most sports. Debbie Roberts recognized this missing piece in the dance community and that is how America's first and longest running dance competition, Showstopper, was born. Debbie taught dance for over 26 years and owned and operated her own dance studio for 20 years. She is now the owner and National Director of Showstopper, along side her husband, Dave Roberts. Dancer, teacher, business owner, author, and mother, Debbie has made dance her life's career.
Keep reading...
Show less
Apr. 17, 2018 10:27AM EST
Oh, hi, EVERYBODY. (Screenshots via YouTube)
Sometimes, you hear talk about an upcoming class video and it sounds too good to be real. Wait: Todrick Hall made a track featuring RuPaul, and then Todrick personally asked Brian Friedman to choreograph it, and then Brian got Maddie and Charlize and Jade and Kaycee and Sean and Gabe and Larsen and Bailey to come out for the class? I just...that can't be right. Can it?
It is right, friends. It is SO RIGHT.
Keep reading...
Show less
A-DAM RIP-PON [clap, clap, clap clap clap] (with his equally gorgeous partner Jenna Johnson; Craig Sjodin/ABC)
Team USA is totally taking over "Dancing with the Stars" this season! Casting for the upcoming athletes-only "DWTS" cycle, which kicks off April 30, was just announced. And the roster includes a whole bunch of Olympic favorites—including not one, not two, but three figure-skating standouts.
Keep reading...
Show less
Popular
Mar. 26, 2018 09:50AM EST
Winter is drawing to a close and you know what that means -- It's time to really kick this year into gear! Move U has done the research so you can find your best match, look good, and feel great this season with a twist unique to your team! Here are five looks to put your performance on the map in 2018.
Keep reading...
Show less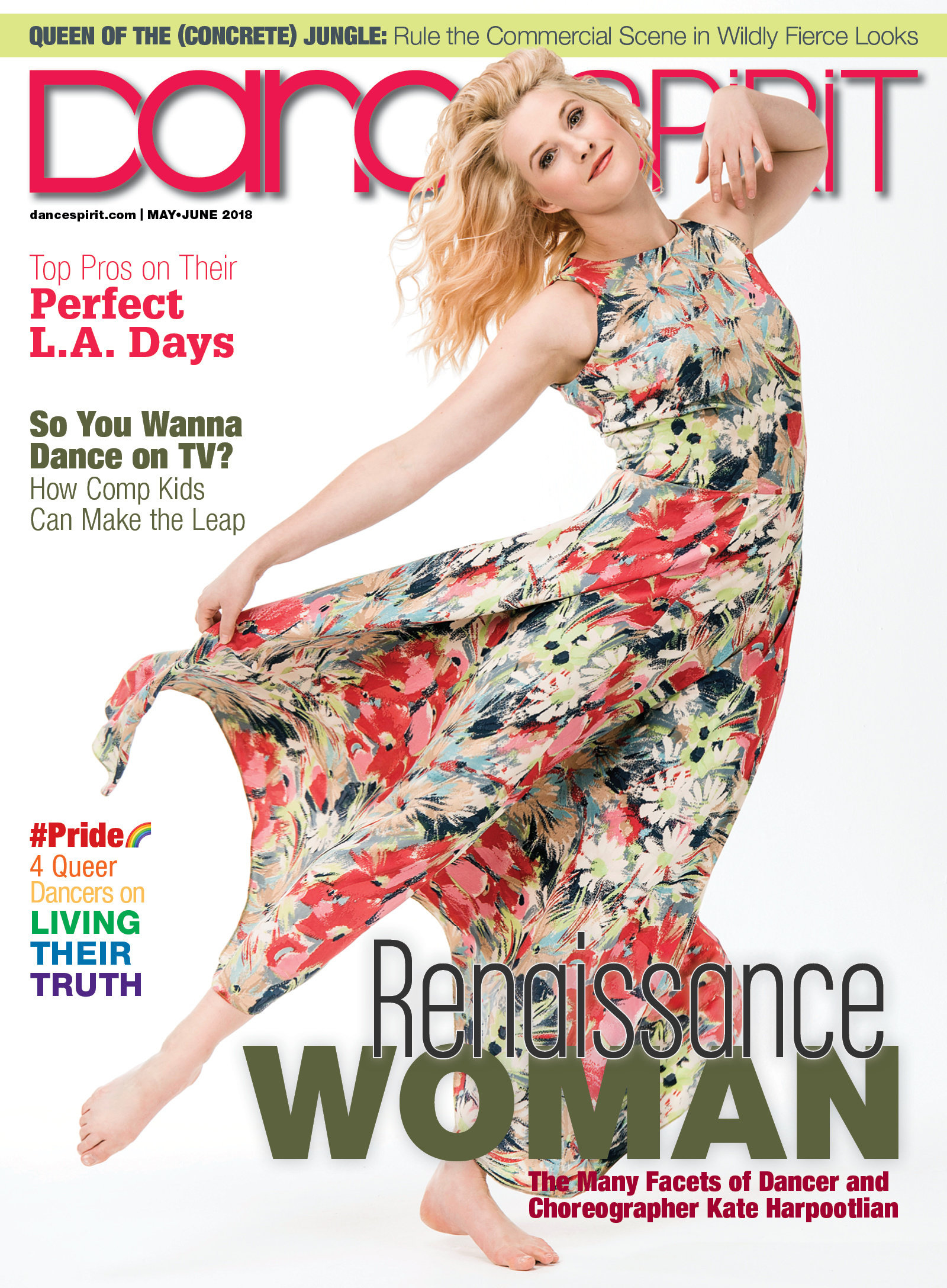 Get Dance Spirit in your inbox