How To
May. 09, 2018 04:12PM EST
Collaborative Choreo: How to Make Work with Another Choreographer
Choreographic partners Audrey Lane Ellis (right) and Sarah Capua of a+s works (courtesy a+s works)
Choreographing a dance means standing alone at the front of the studio…right? Not necessarily! Many choreographers prefer making work with a partner. Two heads can definitely be better than one, but creating collaboratively does come with some strings attached. Whether you're working in a duo or group by choice or you've been assigned to develop a piece with someone else, try these tips to foster a positive process.
---
Prepare Together
Brainstorming in advance can start your project off on the right foot. For Audrey Lane Ellis and Sarah Capua, contemporary dancers who choreograph jointly as a+s works, the creation of a new piece starts long before they enter the studio. "Our process often begins with a tiny seed—like a quote or an image—that sparks a dialogue," Ellis says. They'll continue talking and sending snippets of inspiration back and forth until rehearsals actually begin. Then, Ellis explains, "studio time becomes playtime for how those elements we've discussed can be expressed through movement."
Preparation can also help you avoid unnecessary conflict during rehearsals. "Once dancers are in the room with you, it's a higher-stress environment," says Elizabeth Petrin, who choreographs commercial projects with Mandy Korpinen; the two have had routines featured on the last two seasons of "So You Think You Can Dance." "It's better to hash things out beforehand, if you can."
Explore Everything
One of the best parts of collaborating? "Bouncing ideas off each other," says Korpinen. "When one of us gets stuck, the other is there to help out." You won't be able to take full advantage of this perk unless you approach the entire process with an open mind.
Most collaborations are launched because you share a movement style, an artistic philosophy, or a personal relationship. But even with those commonalities, things won't always click in the studio. You might have to resort to a bit of trial and error to merge your individual voices into something fresh.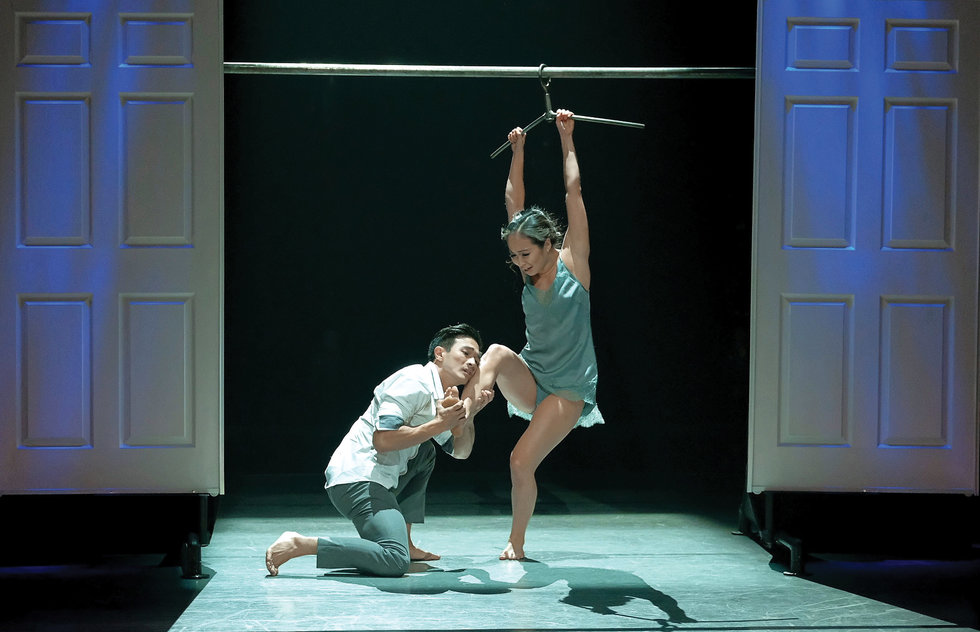 Marko Germar (left) and Koine Iwasaki in You're The Last Thing On My Mind, choreographed by Mandy Korpinen and Elizabeth Petrin, on "So You Think You Can Dance" (photo by Adam Rose, courtesy Fox)
Sara Hook, who teaches composition at the University of Illinois, offers a few exercises that might help. "For duos," she says, "have one person perform a phrase, while the other tries to interfere." Or you might assign each other to make a sequence with specific limitations: "Say you have to touch the whole time, or travel in ways that don't include running or walking," Hook says. As you explore possibilities together, don't be afraid of what Ellis calls "productive failure." Sometimes you have to push past what isn't going to work in order to reach what's right.
Play to Your Strengths
Think about how you and your collaborator complement each other. For example, Ellis says she tends to rely on Capua to find the right music for their work, while Capua praises Ellis' ability to distill many ideas into a cohesive vision. Petrin says that she's a bit more conceptual, while her partner Korpinen has stronger musicality.
Keep in mind that if you collaborate long-term, the dynamic might shift from project to project. Brothers Rich and Tone Talauega, of Rich + Tone Productions, who have choreographed together since they were teenagers, have a client roster that includes Madonna, Pink, and Jennifer Lopez. Rich says that Tone often gets the ball rolling, and then he develops the concept further, but "sometimes it's vice versa. It all depends on who comes in with the strongest idea at the start—that person usually takes the lead." Know what you each have to offer, but be flexible, too.
Trust the Process
In a true collaboration, everyone's voice gets heard. "When you're working in this way, it's not about you," Capua says. "If your partner has a different vision, you can't take it personally. There's never a reason not to give something a try. You're choosing to value process as much as product."
"When you're working with a partner, you have to stay humble," agrees Rich Talauega. "Ego will only get in the way."
Of course, it's easier to feel comfortable—and to let yourself be vulnerable—when you've known each other a long time. But that doesn't mean you can't build a strong bond with someone new. Hook's co-choreographers have included David Parker and Paul Matteson, both artists whose work she admired, but whom she didn't know well prior to teaming up.
Ready to leap into your first choreographic collaboration? Look for someone you feel in sync with, artistically and/or personally, but be ready to take risks—and to disagree. Bring your own ideas to the table, but find compromises when you can. Above all, enjoy having another person on this creative journey with you. If you're lucky, you'll find someone you want by your side in the studio for years to come.
A version of this story appeared in the May/June 2018 issue of Dance Spirit with the title "Collaborative Choreo."
Oct. 21, 2018 07:00AM EST
Actual footage of us reading this cast list.
He got our heads in the game in High School Musical. He pushed it to the limit in Jump In! He welcomed us to Holiday Inn. And now, curly-haired dancing heartthrob Corbin Bleu will be back on Broadway in the spring of 2019 with one of the season's most anticipated productions.
Keep reading...
Show less
It's contest time! You could win your choice of Apolla Shocks (up to 100 pairs) for your whole studio! Apolla Performance believes dancers are Artists AND Athletes—wearing Apolla Shocks helps you be both! Apolla Shocks are footwear for dancers infused with sports science technology while maintaining a dancer's traditions and lines. They provide support, protection, and traction that doesn't exist anywhere else for dancers, helping them dance longer and stronger. Apolla wants to get your ENTIRE studio protected and supported in Apolla Shocks! How? Follow these steps:
Keep reading...
Show less
Mahak Naiwal, foreground, in Kathak class (screenshot via YouTube)
Keep reading...
Show less
Quinn Starner performing a variation from Paquita at the USA International Ballet Competition in Jackson, MS (photo by Richard Finkelstein, courtesy USA International Ballet Competition)
Quinn Starner is no stranger to competitions. The 16-year-old "So You Think You Can Dance: The Next Generation" alum has been slaying the contemporary circuit for years, winning Best Teen Dancer at The Dance Awards in 2017. But lately she's been more focused on ballet, relocating from Florida to train at the Indiana Ballet Conservatory two years ago. And while she's won awards at ballet competitions like ADC|IBC and Youth America Grand Prix, in June she upped the stakes by going to the USA International Ballet Competition in Jackson, MS—an audition-only event that's one of the world's most prestigious comps. We followed Quinn on her Jackson journey.
Keep reading...
Show less
@sab_nyc via Instagram
Halloween is almost here and that means its time to get serious about finding the perfect costume. A lot of you dancers need costumes that are both fun and functional so that you can go straight from dance class to the streets, without missing a beat. Here are nine of the most creative, yet versatile ensembles that'll allow you to enjoy Halloween festivities without compromising your dance training.

Keep reading...
Show less
(photo by Jim Lafferty)
Amanda LaCount was born to move. The second the music comes on at her Dance Spirit cover shoot, the bubbly 17-year-old is shimmying her shoulders and tossing her hair. When she launches into a full-out freestyle to Whitney Houston's "It's Not Right But It's Okay," you can't take your eyes off her.
And yet with every gig she lands, Amanda is challenging some of the dance world's longest-held biases. "I'm curvy," she says, "and I like being curvy. My body is not a bad thing. It's who I am." Here's how Amanda went from talented tot to hardworking pro—and from insecure preteen to body-positive role model.
Keep reading...
Show less
Al Blacksone teaching class at JUMP (courtesy Break the Floor Productions)
Is there anything better than a dance convention? Frankly, we don't think so. Although we love getting a guest teacher to come to our studio for a masterclass every so often, there's just something so exciting about packing up our leotards and dance shoes and heading to a convention for the weekend. Here are 7 reasons why dance conventions are, without a doubt, the greatest things ever.
Keep reading...
Show less
Get Dance Spirit in your inbox
Jim Lafferty
This story originally appeared on dancemagazine.com.
"So why did you quit?"
It's a question I've been asked hundreds of times since I stopped dancing over a decade ago. My answer has changed over the years as my own understanding of what lead me to walk away from greatest love of my life has become clearer.
"I had some injures," I would mutter nervously for the first few years. This seemed like the answer people understood most. Then it became, "I was just not very happy." Finally, as I passed into my 30s, I began telling the uncomfortable truth: "I quit dancing because of untreated depression."
Keep reading...
Show less
Giphy
It's the age-old debate: Is dance a sport? The answer is, without a doubt, YES. Of course, dance is much more than just a sport. But when we get down to the logistics of it all, it's impossible not to recognize it as the athletic endeavor it is. Here are 10 reasons why dance absolutely qualifies as a sport.
Keep reading...
Show less
Just for Fun
Jun. 29, 2018 10:00AM EST
Colder weather is (finally) here, which means it's time for a good dance movie binge. But which iconic films should you put on? To narrow your search, we went ahead and ranked 30 of the greatest dance movies of all time.
Of course, we know a list like this is bound to be controversial—so if you disagree with our lineup, have at it in the comments!
Keep reading...
Show less
Ashley Ellis in Mikko Nissinen's The Nutcracker (photo by Liza Voll, courtesy Boston Ballet)
Boston Ballet principal Ashley Ellis' dancing is the perfect pairing of ethereal grace and punchy musicality. The Torrance, CA, native began training at South Bay Ballet at age 6, and attended the School of American Ballet summer program in 1998. In 2001, she was accepted into American Ballet Theatre's Studio Company, and the following year, she joined ABT's corps de ballet. In 2007, she became a founding member of Corella Ballet Castilla y León in Spain, under the direction of Angel Corella. Three years later, she headed back to the States and danced with Sarasota Ballet before joining Boston Ballet as a second soloist in 2011. In 2013, she was promoted to principal dancer. Catch her performing this season in the company's Nutcracker. —Courtney Bowers
Keep reading...
Show less
Hands down the coolest assistant principal we've ever seen. (Screenshot via YouTube)
Let's take a walk down memory lane to this past September, when the #LevelUpChallenge was in full-blown viral mode. Literally thousands of videos of people dancing to Ciara's song "Level Up" flooded the Internet, but only one truly broke it: an amazing clip of the Wilson Central High School Dance Team—and their Assistant Principal, Ranesa Shipman. Never one to miss out on a viral dance challenge, Ellen DeGeneres decided to have Shipman and the team perform on "The Ellen Show"—and the fun didn't stop there.
Keep reading...
Show less
Thinkstock
You and your phone have more in common than you might guess, says Dr. Rafael Pelayo, pediatrician and clinical professor at the Stanford Center for Sleep Sciences and Medicine. "If you charge your phone halfway, it works for a few hours," he explains. "But it's not performing at its full potential, and you have to be careful about how you use that energy."
It'd be nice to just plug into the wall for nine hours until you hit 100 percent battery, but for (human) dancers, it's not that simple. So DS asked Dr. Pelayo and Dr. Argelinda Baroni, co-director of the Child and Adolescent Sleep Program in the department of child and adolescent psychiatry at NYU Langone Health, how to maximize your own battery life—ensuring you'll dance better and more safely in the process.
Keep reading...
Show less
Dance BFFs Findlay McConnell (left) and Payton Johnson (courtesy McConnell and Johnson)
Two dancers from different studios on opposite ends of the country meeting at a dance competition may sound like the formula for a cheesy teen-rivalry movie. But it's actually real life for lots of dancers on the comp circuit. Meet four sets of adorable BFFs who found winning friendships at a competition.
Keep reading...
Show less
Rylee Arnold and Miles Brown were standouts this week. (via YouTube)
We still can't get over the talent on "Dancing with the Stars: Juniors"—like how many YouTube tutorials do we have to watch to become half as good as these mini dancing machines? And just in case you forgot how skilled these prodigies are, this week's theme was sure to remind you: Last night, the ten couples performed to songs that came out the year they were born. (But let's be real, most of these songs aren't really that much of a throwback.)
Keep reading...
Show less
Ava and Emma Blaser performing their duet to Coldplay's "Fix You." (via ellentube)
It's safe to say that the bond between dancing siblings is one of the strongest out there. But for sisters Emma, 16, and Ava Blaser, 10, that bond runs deeper than most can even fathom: The pair continued to dance together throughout Ava's treatment for kidney cancer remission, and they say it helped them heal.
Keep reading...
Show less


Get Dance Spirit in your inbox