(Clockwise from top left) Jacalyn Tatro, Shelby Patterson, and Sydney Burtis (all photos by Erin Baiano)
Congratulations to Dance Spirit's 2018 Cover Model Search finalists: Sydney Burtis, Shelby Patterson, and Jacalyn Tatro! One of them will win a spot on Dance Spirit's October 2018 cover. Learn more about the dancers on their profile pages, and then vote for your favorite below. You can vote once a day now through July 15.
We also want you to get social! We'll be factoring social media likes and shares into our final tallies. Be sure to show your favorite finalist some love on Facebook, Instagram, and Twitter, sharing their profile pages and using the hashtag #DanceSpiritCMS.
The contest is now closed. Look for the winner on our October cover!
Jun. 14, 2018 09:34PM EST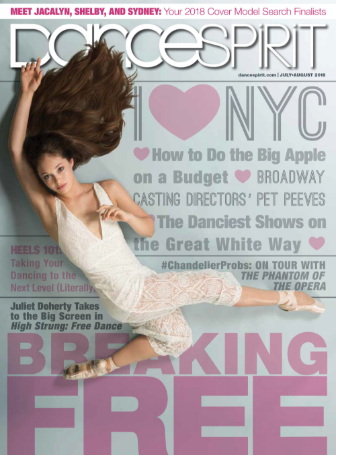 Sky High
High Strung: Free Dance, the sequel to 2016's epic High Strung, is about to hit theaters. We've got all the details on the super-dancy film—and its drop-dead-gorgeous star, ballerina Juliet Doherty.
The Big Apple on a Bite-Sized Budget

Follow your NYC dance dreams without breaking the bank.
Presenting Dance Spirit's Annual Jazz Hand Awards
We rate the hottest new Broadway shows according to danciness.
Broadway Casting Director's Pet Peeves
Four directors share their biggest audition "don'ts"—and what to do instead.
Let's Take This Show on the Road

The intricate behind-the-scenes logistics of The Phantom of the Opera's North American tour.
Living the High (Heels) Life
Dancing confidently in heels isn't just fun—it's also one of the keys to a successful commercial career.
Meet the 2018 Cover Model Search Finalists
Introducing Sydney Burtis, Shelby Patterson, and Jacalyn Tatro.
The Buzz
The scoop on Isabella Boylston's Ballet Sun Valley Festival.
The Dirt
Carousel's Jess LeProtto.
Letter to My Teenage Self
Norwegian National Ballet soloist Whitney Jensen.
Dear Katie
Kathryn Morgan answers your pressing dance questions.
Diary
We went behind the scenes of NBC's live taping of Jesus Christ Superstar.
Body Buzz
Everything you need to know about knee pain.
Fitness
Exercises to strengthen and stretch your quads.
Fashion
Groovy jazz looks that channel the 1970s.
Spotlight: Modern
The keys to mastering release technique.

College Corner

What happens when your college doesn't have a dance department.
Branch Out
How Kelly Schmutte of PerfectFit Pointe created an innovative pointe shoe pad solution.
You Should Know
Contemporary standout Bella Klassen.
Get Dance Spirit in your inbox
May. 23, 2018 06:05PM EST
You can never go wrong with a classic black leotard. Discount Dance's long-sleeve mesh leo will add a sleek edge to your studio style. Pair it with tights and a skirt for ballet class, or layer some leggings and sweats for contemporary class. Enter below for your chance to win it!
Keep reading...
Show less
Popular
May. 15, 2018 07:03PM EST
Mackenzie Ziegler's new book (courtesy Simon and Schuster)
Mackenzie Ziegler's new book, Mackenzie's Rules for Life: How to be Happy, Healthy, and Dance to Your Own Beat, gives advice and tips on friends, family, fitness, personal style, and a whole lot more. Enter here to win a free copy and discover life lessons from this talented dancer.
Keep reading...
Show less
Apr. 19, 2018 07:20PM EST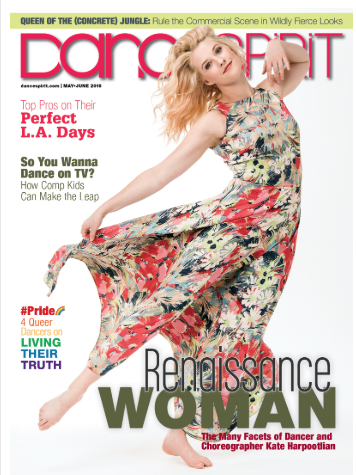 Kate the Great
Chameleonlike dancer and choreographer Kate Harpootlian approaches her career with equal parts humor, heart, and hard work.
From the Comp Stage to the Small Screen
Why so many competition kids are making their way to the world of reality TV contests.
50 My Dream L.A. Day
We asked four pros living in L.A. to craft their ideal itineraries for all things dance and more.
It Gets Better—Really
Five queer dance pros talk about what it was like for them to come out.
Up Front: Buzz
A sneak peek at Mia Michaels' new book.
The Dirt
New York City Ballet's Indiana Woodward.
Letter to My Teenage Self

Alvin Ailey American Dance Theater's Fana Tesfagiorgis.
Dear Katie
Kathryn Morgan answers your pressing dance questions.
Off the Record
Sydney Magruder Washington shares her journey with depression and anxiety.
Body: Buzz
The performance-enhancing benefits of spices and herbs.
Mind
What happens when you and your partner don't see eye to eye?
Health
Clear up common misconceptions about your period.
The Look: Fashion
Get wild in jungle-inspired commercial outfits.
Style Lab
The prettiest watercolor gear.
Choreography
Tips for creating collaboratively.


Spotlight: Tap
Troubleshooting turning in tap shoes.
College Corner
What to consider before taking a gap year.
Apr. 17, 2018 06:10PM EST
Sometimes something as simple as a new dance outfit can help you take your dancing from drab to fab. Soffe's new lightweight dance tee and metallic leggings might be just the thing to give you the confidence to kill it on the dance floor. Enter below for a chance to spice up your dance wardrobe!
Keep reading...
Show less
Magazines
Apr. 12, 2018 08:10PM EST
Some of our past Cover Model Search winners. Could you be next?
Dance Spirit discovers and introduces up-and-coming talent. Now it's your turn to get noticed by entering our Cover Model Search contest!
THE RULES
Dancers ages 12 to 18: Click the button below to upload a video (no longer than 5 minutes) of your best solo performance. All genres of dance are welcome. Please include your full name, age, and the title of the piece (if applicable).
Round 1: A semi-finalist will be chosen each month by the Dance Spirit editors.
Round 2: Three finalists will win an all-expenses paid trip to NYC, where they'll take classes with the city's top teachers and participate in a professional photo shoot.
Grand Prize: The winner (chosen by readers!) will be featured on the October cover of Dance Spirit.