Julie Diana Hench
A former principal with Pennsylvania Ballet, Julie Diana is the executive director of Juneau Dance Theatre in Alaska.
How To
Dec. 24, 2018 03:15PM EST
How To
Dec. 14, 2018 05:56PM EST
Photo by Kaitlin Marino, courtesy American Repertory Ballet
"Lame duck." It sounds like nothing else in the classical ballet vocabulary, right? Also known as step-up turns or step-over turns—or, more technically, as piqués en dehors—these tricky pirouettes show up all over the classical ballet repertoire, perhaps most famously in Odette's Act II variation in Swan Lake. Here's how to keep your lame ducks from looking, well, lame.
Keep reading...
Show less
How To
Aug. 31, 2018 05:04PM EST
Boston Ballet's Misa Kuranga suggests picking different places to spot along your manège's route. (photo by Liza Voll Photography, courtesy Boston Ballet)
A beautifully executed manège—a whirlwind series of steps performed in a circular pattern around the stage—can create a powerful, dramatic climax onstage. But while a manège is always impressive to watch, it isn't always easy to perfect. Even the pros struggle with them: Boston Ballet principal Misa Kuranaga remembers one rehearsal of John Cranko's Romeo and Juliet where she "cut through center stage, and didn't even realize it!" during a manège of sauts de basque and step-up turns.
So, how can you master manèges? The secret lies in figuring out how to keep your balance while constantly changing direction.
Keep reading...
Show less
Branch Out
Jul. 09, 2018 06:17PM EST
Kelly Schmutte fitting Sasha De Sola, a principal with San Francisco Ballet,for PerfectFit Pointe molds (photo by Jason Henry, courtesy Schmutte)
When Kelly Schmutte started dancing on pointe in fifth grade, she felt like there had to be a way to make it feel more natural. Right away she began thinking about how to improve the experience. "I wondered if there was a way to make it more enjoyable, so that a dancer could focus on technique and artistry, rather than what her shoe was doing," she says. Fast-forward to today, and Schmutte is founder and CEO of the wildly successful PerfectFit Pointe, a company that makes molded fitting solutions. Some of the biggest stars in ballet, like New York City Ballet's Sara Mearns and Lauren Lovette, say Schmutte's molds have been "game changing."
Keep reading...
Show less
ABT JKO School student Miuka Kadoi shoiwng off her beautiful line (photo by Kenneth Edwards)
Contemporary phenom Christina Ricucci has super-flexible hips, which means she can stretch her legs to unbelievable heights. But when she noticed herself making contorted positions in class, Ricucci realized she was approaching her extensions all wrong. "I went back to the basics in class, squaring my hips and using my turnout," Ricucci says. "I learned to create proper positions, rather than whacked-out versions of them."
Some dancers are so wonky they have a hard time supporting their high legs, while others struggle with limited flexibility. But no matter your facility, you can find a balance of stretch and strength to achieve your fullest range of extension. It's not about how high (or not) your legs can go: It's the quality of the movement, and how you get those legs up, that counts.
Keep reading...
Show less
Matthew Bourne's "Nutcracker" (photo by Simon Annand, courtesy Raw PR)
When most of us think of The Nutcracker, we imagine a growing Christmas tree, dancing mice, and a little girl named Clara (or Marie) traveling to the Land of Sweets. But companies around the world have been reinventing the holiday classic, changing the storyline or adding their own spectacular sets and characters. To get in the Nutcracker spirit this season, check out these out-of-the-box productions.
Keep reading...
Show less
Alvin Ailey AmericanDance Theater in Ailey's (photo by Paul Kolink, courtesy Alvin Ailey American Dance Theater)
There's an iconic moment in Kenneth MacMillan's Romeo and Juliet when Juliet sits on the edge of her bed, staring into the audience. She's completely still—thinking long and hard about her tragic situation—while the emotion of Sergei Prokofiev's score washes over her. If the dancer does it well, this dance-less scene can speak volumes.
As dancers, we tend to focus on mastering steps and speaking through movement. Yet the way we hold ourselves when we're not moving can also be a powerful way to communicate with an audience.
How can you make the most of those quiet moments onstage—and what happens if your muscles cramp, you have a crazy itch, or your mind starts to wander? We gathered tips from industry professionals to help guide you through.
Keep reading...
Show less
Oct. 06, 2017 02:38PM EST
Jessica Lee Goldyn as Cassie in A Chorus Line (courtesy Goldyn)
Is there a part you desperately want to do, something that makes your heart sing? What would it be like to get the chance to perform it? For some lucky people, dancing a coveted role is a dream that comes true. We asked four top dancers how it felt when they got the opportunity to do a cherished part.
Keep reading...
Show less
Many dancers are deciding to go meat-free (vegetarian) or animal-product–free (vegan) because they want to fuel their bodies with plant-based foods. These diets can be beneficial, but they can also cause problems if you don't make thoughtful and healthy choices. Here are a few basic tips for dancers curious about a vegan or vegetarian lifestyle.
Keep reading...
Show less
How To
May. 11, 2017 08:04PM EST
Kansas City Ballet's Kelsey Hellebuyck cringes when she thinks back to her first few months in pointe shoes. "I started out wearing no padding," she remembers. "I had all these open blisters, so then I tried paper towels." But the towels would shred, and her blisters just got worse. After a lot of trial and error, Hellebuyck found that a thin gel padding took some pressure off her foot and still let her toes feel the edge of the shoe. "It was definitely a learning curve," she says.

It can take years—and many blisters!—to find the right pointe shoe padding for your unique feet. But that's not for lack of choices, from old-school lambswool to high-tech gel pads. Here's a breakdown of popular padding options that might give you some new ideas—and, hopefully, happier toes.

Keep reading...
Show less
Get Dance Spirit in your inbox
Michelle Fleet (center) and Company in Paul Taylor's Also Playing (Paul B. Goode, courtesy PTAMD)
When dancers audition for Paul Taylor Dance Company, they're often thrown by one particular request: to walk across the studio by themselves. "Paul can see a lot about a person by the way they walk," says Michelle Fleet, a veteran Taylor dancer. "But many people get cut at that point, because they're terrified—a walk can be so revealing."
Keep reading...
Show less
Students of the Jacqueline Kennedy Onassis School at ABT working at the barre (Rosalie O'Connor, courtesy ABT)
She just retired as a principal with Pacific Northwest Ballet, but as a teenager, Maria Chapman struggled to gain control of her flexibility. "I looked pretty good at the barre," she says, "but I was relying on it way too much, and focusing exclusively on what my legs and feet were doing." Without the barre's support, she became a wobbly mess. "It wasn't until I figured out how to use my back and core that I was able to be successful in center, too," she says.
Keep reading...
Show less
Dec. 13, 2016 11:03PM EST
Juneau Dance Theatre student Anna McDowell filming an audition video with Bridget Lujan (courtesy Juneau Dance Theatre)
Auditioning for summer intensives in person may be the ideal—but for Anna McDowell, a 16-year-old student at Juneau Dance Theatre in Juneau, AK, it's rarely possible. "Living in Alaska, it's difficult to travel to auditions," she says. "It gets way too expensive!" Instead, each year, with help from her teachers and a videographer, she puts together a well-crafted video and submits it to schools around the country. Last year, her high-quality video helped her earn acceptance to nearly every program she applied for. Most summer intensive programs, eager to attract students from far and wide, will accept video auditions from those who can't travel to take class. But major schools look at hundreds of submissions each year, which means video auditioners have just a few minutes—or even seconds—to make a great impression. If you're about to create an audition video, follow these tips from the professionals to put your best digital foot forward.
Keep reading...
Show less
Mishay Petronelli onstage in Janet Jackson's Unbreakable world tour (Solaiman Fazel, courtesy Petronelli)
In 2015, Mishay Petronelli was one of nine dancers to book a spot on Janet Jackson's Unbreakable world tour. After a grueling audition process, the group learned iconic choreography, traveled and performed with one of the greatest pop divas of all time.
"It was my dream job," says Petronelli. "Not only was it crazy to be onstage with Janet, but I also never expected our group to become such a unit, too. We called ourselves the 'J Tribe.' "
When you train so intensively to stand out in a crowd, getting cast as one in a large group can feel like a blow. But, as Petronelli, who's also performed in groups on "Lip Sync Battle" and "Saturday Night Live," will say, the payoffs can be pretty great, too. And while few ensemble gigs seem as glamorous as being a member of the prestigious J Tribe, they all come with a few similarities. For one, being in an ensemble isn't easy: It requires an extraordinary amount of precision, teamwork and stamina. Whether you're backing up Jackson's iconic "Black Cat," working it second from the right in a world-famous kick-line, or shielding Odette in a line of white swans, your presence onstage can mean just as much as the artist's in front. Read on to find out how and why dancing in an ensemble can be so rewarding.
Improve Your Technique
While being one of two dozen Wilis in Act II of Giselle may not seem too challenging, Houston Ballet's Natalie Varnum disagrees: "Don't let standing on the side fool you," she says. "It might look simple, but it requires extreme focus and precision." Corps members might not always get to perform the most virtuosic steps, but that meticulous attention to detail—an exact tilt of the head, or an arm placement on a specific count—can be a boon for a dancer's artistry. "Paying attention to these little things has really refined my dancing," says Varnum, who, as a seven-year corps member, regularly steps into soloist roles. "Having danced as a snowflake in our production of The Nutcracker for so long, I felt like I had an extra edge when I was given the opportunity to finally do Snow Queen," she continues. "The sets, lighting and formations were all familiar, so I was able to focus on performing my new role and getting into character."
Make Connections
Being part of a group can also improve your ability to connect with others onstage. While most roles often require dancers to rely on their peripheral vision to ensure they're in the right spot at the right time, sometimes, says Paul Taylor Dance Company's Sean Mahoney, "it's OK to really look at each other. When we're all dancing together, there's a sense of community onstage—unity. It's less about showmanship and more about what we're doing as a group." This kind of work doesn't go unnoticed: Audiences often recognize and appreciate a group of dancers who can move as one and look like they enjoy doing it. And for a dancer, the opportunity to make those connections can improve partnering and storytelling—all traits that will help in a future soloist role, too.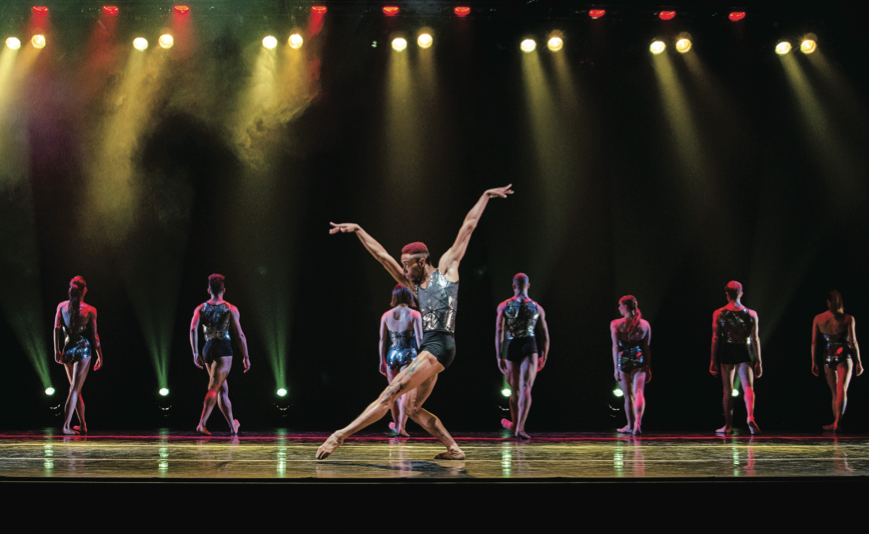 Addison Ector takes center stage in Dwight Rhoden's Strum with Complexions Contemporary Ballet (courtesy Complexions Contemporary Ballet)
Stand Out While Blending In
Dancing in an ensemble doesn't always mean you have to relinquish your artistic individuality. Complexions Contemporary Ballet's Addison Ector loves how the troupe's 15 members have varied dance backgrounds and how that can shine through the choreography. "Sometimes, we have the freedom onstage to smile and let our personalities out, even though we're all doing the same thing," he says.
Petronelli loves the opportunity to learn from her colleagues in an ensemble. Jackson's tour group, for example, was all female, but the dancers shared little else in common. "We were such individuals, and were all able to give something unique," Petronelli says, noting that performing with the crew was a constant source of inspiration. "It made me want to push myself further as an artist."
Build Relationships
Emma Love Suddarth, who joined Pacific Northwest Ballet's corps de ballet in 2009, loves the atmosphere in her theater dressing room. "There's no place like it," she says. "The laughs, the tears. We're all in the same boat and support each other through everything." If a PNB program doesn't require much corps work, the dancers actually miss it, says Suddarth. "It's about the dynamic, that dependability. We spend 90 percent of our time together, and there's comfort in that." Even if you're ultimately setting your sights on star status, don't diminish the value of a group experience. "Dancing in an ensemble is about learning to function well with other people," says Suddarth. "Embrace it, because you won't get that experience elsewhere."
Ellison Ballet students showing off their Vaganova training (Rachel Neville, courtesy Ellison Ballet)
In today's ballet world, dancers need to be adaptable. Long gone are the days when a few big companies would dance the classics, while others specialized in contemporary rep; now, everyone does a bit of everything. "You have to be able to put on different styles like you're putting on jackets," says Parrish Maynard, a faculty member at San Francisco Ballet School. "As a professional, one minute you'll be doing a piece by George Balanchine, the next a contemporary William Forsythe work and then a week later Swan Lake."
Keep reading...
Show less
Students at the School of American Ballet (Rosalie O'Connor, courtesy School of American Ballet)
Vaganova
History: The legendary Russian ballerina and teacher Agrippina Vaganova combined elements of French, Italian and early Russian techniques to create this method. The syllabus is broken down into eight years of training—a slow, steady and deliberate progression.
Emphases: Use of the upper body and placement of the head. "Arms are not just for decoration," says Yuliya Rakova, a teacher at the Vaganova-based Kirov Academy of Ballet in Washington, DC. "They support the jumps and turns, and have to be very expressive."
Affiliated company: Mariinsky Ballet in St. Petersburg, Russia
Balanchine
History: George Balanchine, who trained at the Imperial Ballet School (beforeit was renamed the Vaganova Ballet Academy), developed a unique style that was based on his Russian roots but influenced by his adopted American home. "He didn't change the technique, but he stretched it and made it more modern-looking," says Susan Pilarre, faculty member at the School of American Ballet in New York City.
Emphases: Deep plié, the use of épaulement and keen musicality. "Beautiful arms and hands and the shaping and placing of the feet are important," says Pilarre. "Balanchine dancers can move quickly because they dance on the balls of their feet."
Affiliated companies: New York City Ballet, Miami City Ballet
Bournonville
History: Developed by August Bournonville, a Danish dancer who also performed with the Paris Opéra Ballet, this technique has both Danish and French influences. It's the foundation of Bournonville's many famous ballets, such as La Sylphide and Napoli.
Emphases: Light, fast footwork and a quiet upper body. The head and shoulders follow the working leg, and jumps are strong and buoyant.
Affiliated company: Royal Danish Ballet in Copenhagen, Denmark
Cecchetti
History: Established by Italian master teacher Enrico Cecchetti, this technique
is maintained in the U.S. by the Cecchetti Council of America, through which students and teachers can complete several grades of exams. There are planned exercises for each day, with a focus on anatomy.
Emphases: Coordination of the head and arms, with smooth transitions between steps. Students are encouraged to work both sides of their bodies equally.
Royal Academy of Dance (RAD)
History: RAD was developed in 1920 by a group of leading dance professionals, who created a series of exams to help raise the level of dance education among students and teachers. The syllabus is influenced by the Cecchetti and Vaganova techniques.
Emphases: Attention to detail, particularly in port de bras and épaulement. Arms tend to be held low and rounded.