(Rachel Papo)
It's the day of competition. You've practiced your solo hundreds of times; you hum the music constantly, and you dream about the steps. But as you approach the wings, an unsettling feeling begins to set in. Suddenly you can't remember what comes immediately after the aerial. You can remember, all too clearly, that week of rehearsals where you couldn't nail the final pirouette. Your stomach starts to churn and your heart pounds like crazy.
It's natural to feel nervous before a performance. But there are varying degrees of stage fright, and what manifests as the tickle of butterflies in some can be debilitating panic in others. Whether you feel mild uneasiness or serious anxiety, here's how to manage your fears so you can get back to the thrill of performing.
---
Mild Stage Fright
What you might experience: butterflies in your stomach, increased heart rate, mild muscle tension.
Nearly every dancer gets a "fight or flight" spike in adrenaline as she prepares to perform, according to Dr. Kate Hays, a performance psychologist in Toronto, Canada. That spike revs up your heart rate and heightens your senses. "There are basic changes that happen in your body that tell you you're ready to be on," she says.
When you feel the adrenaline hit, take a deep breath. In fact, take several, filling up your abdomen as you inhale. That's diaphragmatic breathing, or "belly breathing," and it'll help you get as much oxygen as possible to your muscles and brain. "Diaphragmatic breathing calms you down rapidly and effectively," Hays says. If you don't want to breathe in a way that makes your stomach protrude, try "side breathing," which can be just as effective. Place your hands on your sides just below your ribs and exhale. As you inhale, keep your belly flat and expand your lower ribs and waist, sideways, into your hands.
Moderate Stage Fright
What you might experience: fear, anxiety, distractedness, queasiness.
For some dancers, stage fright goes beyond physical cues and becomes a mental hurdle. If you're feeling afraid, Stars Dance Company artistic director Victor Smalley suggests focusing on why you're standing in the wings in the first place. "Let your love of dance be the armor that protects you," he says. Hays suggests a perspective check, too. "Ask yourself, What is it that I'm really scared of?" she says. Remember how prepared and well rehearsed you are.
In fact, for some dancers, the key to managing moderate stage fright lies in the rehearsal studio. Houston Ballet soloist Nao Kusuzaki, who struggled with stage fright as a teenager, was recently given the lead in Madame Butterfly, which features difficult choreography, complicated props and quick changes (some of them onstage). "From day one of rehearsal, I practiced with the props and the costumes, and the studio was set up like the stage," she recalls. "I wanted to use my studio time to eliminate any worries that could spring up during the performance."
If you feel your mind beginning to spin, focus on what you can control—your breathing, your warm-up—rather than what you can't. "When you start to worry about something outside of yourself, that opens a door for fear," Smalley says. You can't dictate the lighting cues, or the audience's reaction, or the judges' thoughts—let them go. All you can do is dance your best.
Severe Stage Fright
What you might experience: intense anxiety or panic attacks, vomiting, a feeling of being paralyzed.
If the way you're feeling is interfering with your ability to perform, you're suffering from severe stage fright. And that's a problem you need to address quickly and aggressively. "One of the things about anxiety is that it feeds on itself—the more it hangs around, the worse it gets," Hays says. At this level, consider enlisting a professional. "A therapist can show you techniques to handle your stage fright, and in the longer term, help you explore its origins and resolve some of its triggers," Hays says. If possible, seek out a therapist who specializes in dance, performance or sports psychology. If there isn't a specialist in your area, a psychologist who works with anxiety disorders should be able to help, though he or she may need to be educated on the specifics of the dance world.
No matter what level of stage fright you deal with, spend some time after each show to think about your reaction to the situation. Identify your body's unique response to adrenaline and stress. "Then, when it happens again, you'll understand it better," Hays says. "You'll be able to tell yourself, This is how my body reacts to performance"—and to implement your coping strategies more quickly.
Ayo &Teo incorporate cotton swabs in their dancing to bring awareness to blood caner (courtesy DoSomething.org)
Rapping, dance duo Ayo & Teo may still want "ice on their wrists so (they) look better when (they) dance," as they're 2017 chart topping song, "Rolex" says, but the two are featuring a more unusual accessory in their recent dance routine: The cotton swab. After teaming up with DoSomething.org for the Give A Spit About Cancer campaign, Ayo & Teo are encouraging people to join the national bone marrow registry and donate marrow for those suffering from blood cancer.
Keep reading...
Show less
Looking for your next audition shoe? Shot at and in collaboration with Broadway Dance Center, Só Dança has launched a new collection of shoes working with some pretty famous faces of the musical theater world! Offered in two different styles and either 2.5" or 3" heels, top industry professionals are loving how versatile and supportive these shoes are! Pro tip: The heel is centered under the body so you can feel confident and stable!
Lealand Eve
As a teenager, contemporary dancer Eveline Kleinjans felt like nothing she did was good enough. Auditioning for university dance programs paralyzed her: "I was so focused on every move I made and what people would think that I wasn't able to be free, to be myself," she says. And her intense perfectionism had real repercussions. "I'd get negative feedback saying, 'We don't see you.' "
Perfectionism is extremely common in the dance world, because dancers hold themselves to terrifically high standards. It's easy to get a little discouraged when you aren't improving as quickly as you want. But there's a difference between healthy self-criticism and an unhealthy obsession with perfection. How can you tell when your drive to be better has crossed the line—and what can you do to get back on track?
Keep reading...
Show less
Partnering is hard enough as it is: You're trying to untangle technical snafus and synchronize your movements with those of another dancer, not to mention building the delicate trust required to catch and be caught, lift and be lifted. Throw a hostile or uncooperative partner into the mix, and you might wish you could take a pass on pas de deux. But don't give up! We asked the experts for tips on how to solve partnering's "relationship problems" as gracefully as possible.
Keep reading...
Show less
Artyon Celestine and Paige Glenn showing their lift skills (photo by Kristin Glenn, courtesy Glenn)
Yes, they're quite possibly the cutest dance duo since, well, ever. But put Paige Glenn and Artyon Celestine onstage, and it's immediately clear they mean business. That was apparent to millions across the country last summer, when Artyon and Paige's unbelievable extensions, fearless turning, and infectious energy propelled them to the quarterfinals of "America's Got Talent." They've also appeared (together or individually) on "Little Big Shots," "Lip Sync Battle Shorties," "The Ellen DeGeneres Show," and "Access Hollywood Live"—not to mention the competition titles they've won as a pair.
"Simon Cowell came backstage during 'AGT' and told us, 'Go out there and do your best. They're going to like you.' "—Artyon
Keep reading...
Show less
Popular
Apr. 02, 2018 10:14AM EST
Showstopper's National Finals Opening Number Performance
Showstopper has been making its impact on the dance world since 1978. Before then, dancers didn't have a stage to perform on, the opportunity to learn from peers, or a competitive outlet like most sports. Debbie Roberts recognized this missing piece in the dance community and that is how America's first and longest running dance competition, Showstopper, was born. Debbie taught dance for over 26 years and owned and operated her own dance studio for 20 years. She is now the owner and National Director of Showstopper, along side her husband, Dave Roberts. Dancer, teacher, business owner, author, and mother, Debbie has made dance her life's career.
Keep reading...
Show less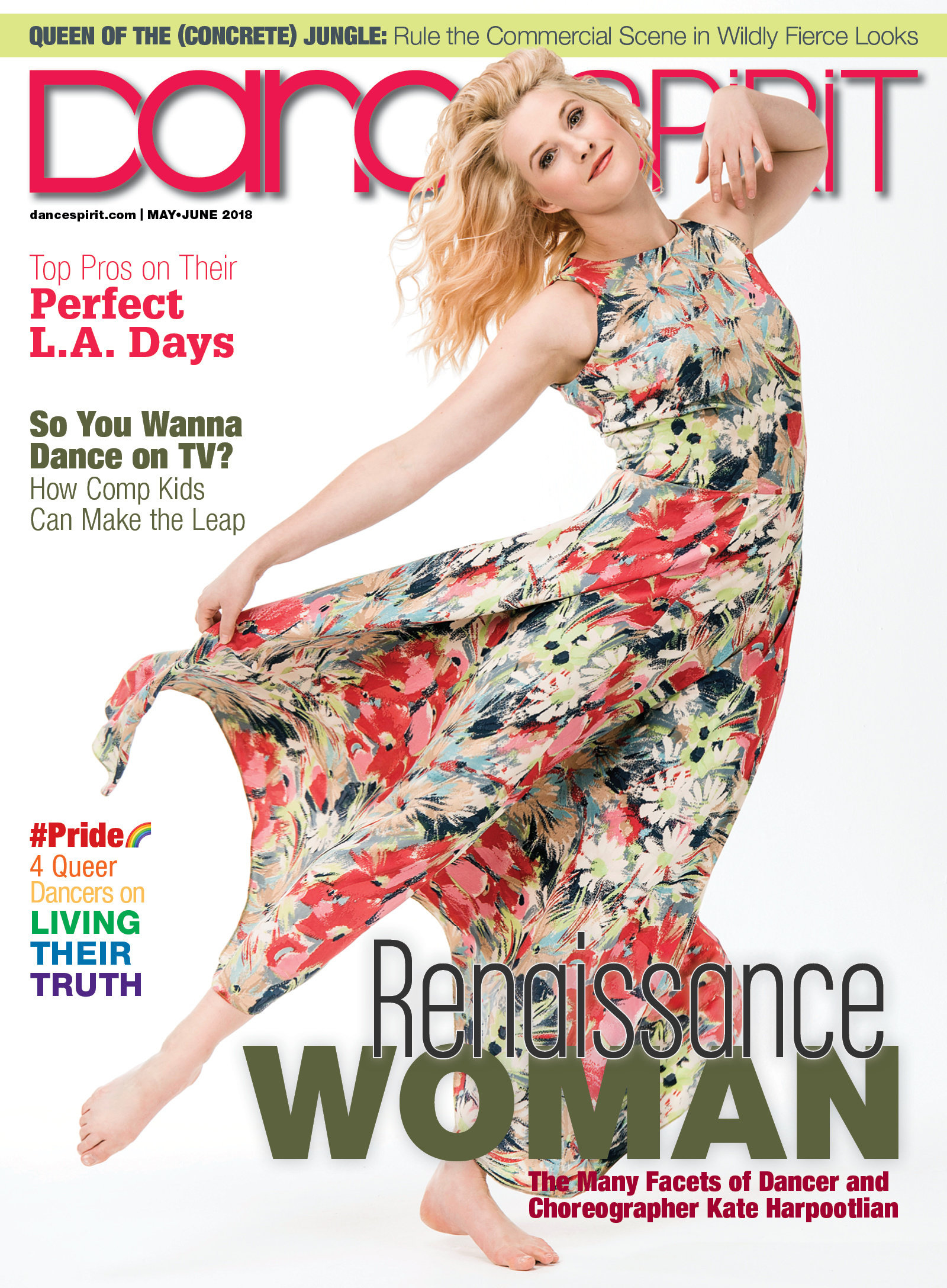 Get Dance Spirit in your inbox