10 Corrections Your Dance Teacher Is Tired of Giving Over and Over
Getting corrections from our dance instructors is how we grow, and as students, it's important that we do our best to apply every correction right away. But sometimes—whether it's because we're in physical pain, or have a lot on our minds, or are just not paying attention—those corrections don't sink in. And from a teacher's standpoint, giving the same corrections time and time again gets old very fast. Here are 10 important corrections dance teachers are tired of giving. Take them to heart!
---
1. Don't Hold Back
It doesn't matter whether you're in the studio or onstage: Give your teachers the 110 percent they deserve. "Always dance to your fullest potential," says Mitchell Jackson, owner of On The Floor and artistic director of Intrepid Dance Company. "Don't hold back, and definitely don't mark it."
2. Get Out of the Mirror
It's easy to fall into the mirror trap. While the mirror can help you refine your technique, at a certain point, it's time to look away. "The mirror is a tool for self-adjudication, and is rarely all that useful when it comes time to fully express the movement," says Josh Prince, Broadway Choreographer and Founder/Artistic Director of Broadway Dance Lab.
3. Emote, Emote, Emote
It's one thing to nail each step; it's another to do it with feeling. Don't become so concerned with hitting every mark that you forget the story you're telling. "Emotion has to come from a natural place, and even when you're learning the steps, you should be getting into the storyline and intention behind your movement," says Derek Piquette, artistic director of Intrepid Dance Company and dancer on Season 12 of "So You Think You Can Dance."
4. Practice at Home
You've gotta do it. It doesn't matter if you nail the combination in one class: Your teacher will notice in the next one if you take the time to practice at home. "[You have to be] taking the tools you learn in class and working on them on your own," says Jackson.
5. Watch Your Shoulders
Many of us tend to carry tension in our shoulders, especially when doing difficult steps or combinations. Don't let it become a bad habit. "I find myself constantly repeating in class or when setting choreography not to let the shoulders slide forward off the spine and detach from the back," says Brooke Wendle, a fall 2017 Broadway Dance Lab choreographer.
6. Stay Focused
After a long day of school, three or more hours of dance class may not seem too appealing. But no matter your mood, you must stay engaged all class. "Always be working on something dance-related, even if you're on the sides waiting to go across the floor," Jackson says.
7. Straighten Your Knees
Piquette is always reminding dancers to make sure their knees, feet, and body are stretched throughout the entire class.
8. Aim for Success
Even if you're falling behind in a combination, don't give up! Your teacher can see whether or not you're giving it your all, and won't be happy if she constantly has to push you to keep going. "My biggest correction has been about setting yourself up for success, not failure," says Frankie Soldevere, a tap dancer and choreographer at who teaches at various studios in NYC. "This applies physically as well as mentally. You can't shuffle with your foot still on the ground. You can't pullback without a plié."
9. Listen and Apply
Your teacher should only have to give you a correction once. Listen to them carefully and do your best to fix the problem. Don't forget to apply corrections given to other dancers, too.
10. Point Your Feet
Seriously, POINT THEM. 'Nuff said.
Fraser dancing in the NYC Subway (photo by Underground NYC, courtesy Fraser)
Paige Fraser has performed on world-class stages and alongside Beyoncé—yet some of her most meaningful dance moments happened in tiny classrooms on a small island 1,000 miles from America. This past spring, Fraser, who's danced with Ailey II and is a founding member of Visceral Dance Chicago, teamed up with the non-profit Milk Carton on a String to bring dance to underprivileged children in Haiti. Fraser taught daily ballet and modern dance classes and used YouTube videos and social media to introduce the students to other aspects of dance they hadn't been exposed to.
Now, Fraser plans to continue to use dance to give back through her own newly-funded non-profit, The Paige Fraser Foundation. But instead of traveling outside the country, Fraiser will be helping kids in her childhood home: the Bronx. She wants her foundation to assist aspiring dancers no matter their color or abilities.
Read our interview with the dancer and do-gooder—and discover the life-changing diagnosis that inspired her to help other dancers achieve their dreams.
Keep reading...
Show less
via @kyle_vanny on Instagram competing on World Of Dance
Kyle Van Newkirk is a tap dancer you probably remember from the premiere season of NBC's World of Dance. In case you missed it, he is also one of Showstopper's incredible convention teachers. What makes Kyle stand apart from some of today's other incredible tappers? He isn't afraid to change what tap means to his audience and even himself. This modern view of tap dancing is important because it shows us that tap dancers are just as versatile and dynamic as dancers of any other genre. We sat down with Kyle to get his advice on bringing tap dancing into the 21st century.
Keep reading...
Show less
What did I just hear you say? You think all dancers are weak and delicate? PLEASE SAUT DE CHAT OUT OF MY LIFE. (Giphy)
Sure, dancers definitely have some unique identifying characteristics. (We're all obsessed with Center Stage? FACT.) But we're also subjected to all kinds of annoying, inaccurate stereotyping. Here are 10 dancer stereotypes that we never want to hear again.
Keep reading...
Show less
University of Minnesota Dance Team (courtesy University of Minnesota)
They say there's no "I" in "team"—and nowhere is that truer than the world of college dance teams, where precision reigns, uniformity is key, and a single misstep from any given "I" can cost a group a championship trophy. So it's unsurprising that securing a spot on one of the best dance teams in the country is no easy feat.
Members of these highly athletic teams rehearse for hours every week—on top of academic classes and commitments—and perform at football and basketball games, annual concerts, and nationally televised competitions (hi, ESPN). And "no I" rule notwithstanding, each of these top teams is made up of highly trained, highly technical, highly hard-core individuals, who come together to create a ready-for-victory pack.
These six teams aren't one-off success stories—they're consistently strong, and earn the top spots at major competitions like UDA and NDA nearly every year. Up for the challenge? Here's what to know before you go to auditions.
Keep reading...
Show less
You can never go wrong with a classic black leotard. Discount Dance's long-sleeve mesh leo will add a sleek edge to your studio style. Pair it with tights and a skirt for ballet class, or layer some leggings and sweats for contemporary class. Enter below for your chance to win it!
Keep reading...
Show less
May. 16, 2018 02:26PM EST
Ema Peter
The Glorya Kaufman International Dance Center is the 54,000 square foot home of the USC Glorya Kaufman School of Dance, one of the largest facilities dedicated to dance on a private university campus. Designed for their innovative new curriculum, that supports a range of dance styles, the school's staff designated Harlequin to provide wall-to-wall flooring for the large 3,500 square foot Performance Studio as well as five dance studios in their new state-of-the-art building.
Keep reading...
Show less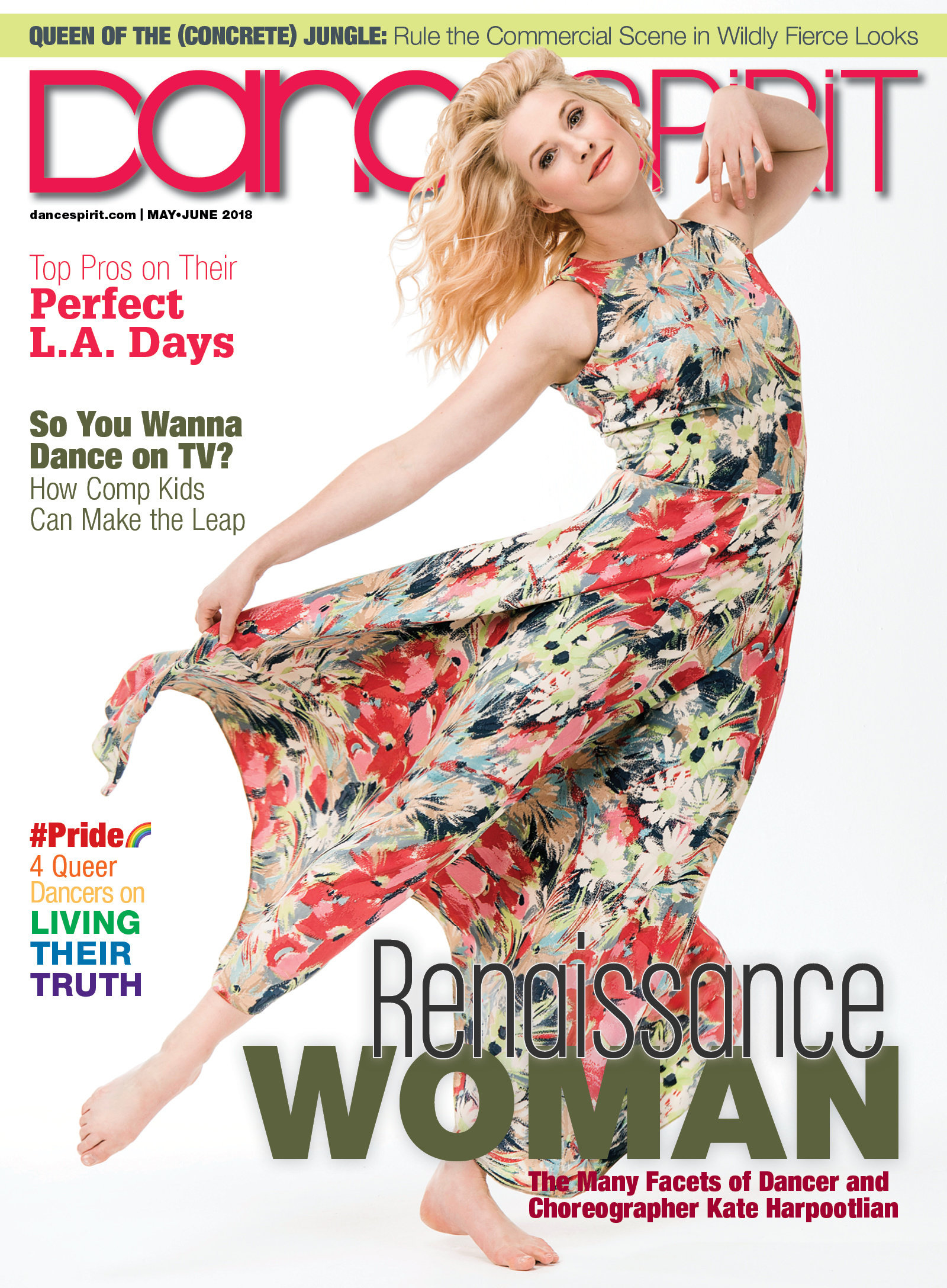 Get Dance Spirit in your inbox