Ballet
Apr. 13, 2016 05:35PM EST
9 Crazy Moments in Pointe Shoe History
Nathan Sayers
Ah, pointe shoes: We love those beautiful, glamorous torture devices! But pointework didn't always look or feel the way it does today. In fact, pointe shoes evolved over the course of several centuries—with many fascinating (and some straight-up bizarre) stops along the way. Here are a few highlights of pointe shoe history.
---
1796:
French dancer and choreographer Charles Didelot was the first to put ballerinas "on pointe"—but his dancers weren't wearing pointe shoes. Instead, Didelot used a flying machine, with hidden wires that held dancers on the tips of their toes before whizzing them up into the air. Similar machines are still used today in ballets like Peter Pan and A Midsummer Night's Dream.
Circa 1820:
The first dancers to actually stand on their toes didn't have Didelot's fairylike effect in mind. Italian grotteschi dancers, who performed in opera houses throughout the 18th century, specialized in exaggerated pantomime and humorous acrobatic tricks—and in the 1820s, grotteschi dancer Amalia Brugnoli became one of the first people to hoist herself up on pointe.
1832:
Not to be outdone, French ballerina Marie Taglioni made it her mission to learn the art of "toe dancing" and to transform it into something graceful and beautiful. In 1832 she performed on pointe in La Sylphide—though she actually danced on a very high half-pointe, because her shoes were soft satin, with no box to stand on. She wore them a few sizes too small so that they squeezed her metatarsals, which provided a little extra support. (Ouch!)
A lithograph of Marie Taglioni (courtesy Dance Magazine Archives)
Circa 1840:

Taglioni's contemporary, Austrian ballerina Fanny Elssler, was wildly popular in America—President Martin van Buren was an especially big fan. During one of her visits to Washington, DC, legislators toasted Elssler with champagne at a formal banquet in the Capitol building. The glass? One of Elssler's pointe shoes.
1842:
Fans also went crazy for Taglioni, thanks in no small part to her pointework. In 1842, after she gave her final performance in Russia, a group of enthusiastic devotees purchased a pair of her shoes for 200 rubles, cooked them in a stew and ate them.
Nathan Sayers
1940s:

During World War II, Japanese pointe shoe manufacturers tried to use balsa wood for the stiff boxes of pointe shoes, rather than the traditional layers of paper, fabric and glue, as those materials were needed urgently for the war effort. Unfortunately, the experiment didn't go well—the wood ended up crumbling under the dancers' bodies.
1948:
The Red Shoes, one of the first blockbuster dance films, premiered to huge audiences in 1948. It tells the story of a young ballerina whose cursed red pointe shoes cause her to go mad and eventually commit suicide. And you thought your shoes were tormenting you.
1974:
Les Ballets Trockadero de Monte Carlo ("the Trocks," for short) arrived on the scene in 1974, bringing pointe dancing to a whole new group of people: men! The all-male company, which is still around today, parodies classical ballets and their delicate female roles—pointe shoes and all.
2000:
Center Stage became everyone's favorite dance movie when it was released in 2000—despite the fact that it included one of the most suspicious moments in pointe shoe history. During the film's climactic final dance number, heroine Jody Sawyer's pointe shoes magically change color, from ballet pink to rocker-chick red, in a split second. Physically impossible? Definitely. Delightfully cheesy? Totally.
(From left) Ethan Stiefel, Amanda Schull and Sascha Radetsky in "Center Stage'"s grand finale. (Barry Wetcher, courtesy Columbia Tristar)
Sofia Wylie (photo by Dave Brewer, courtesy Disney Channel)
Last week Disney Channel star Sofia Wylie released a behind-the-scenes look at the making of her YouTube dance series. Along with some stellar dancing, the video shows the dance community featured in her "4k Dance Series" and the things they've learned from being a part of the dance project. And though the project features dance, we love that it also emphasizes supporting and building up fellow dancers.

Keep reading...
Show less
Popular
Apr. 02, 2018 10:14AM EST
Showstopper's National Finals Opening Number Performance
Showstopper has been making its impact on the dance world since 1978. Before then, dancers didn't have a stage to perform on, the opportunity to learn from peers, or a competitive outlet like most sports. Debbie Roberts recognized this missing piece in the dance community and that is how America's first and longest running dance competition, Showstopper, was born. Debbie taught dance for over 26 years and owned and operated her own dance studio for 20 years. She is now the owner and National Director of Showstopper, along side her husband, Dave Roberts. Dancer, teacher, business owner, author, and mother, Debbie has made dance her life's career.
Keep reading...
Show less
Apr. 17, 2018 10:27AM EST
Oh, hi, EVERYBODY. (Screenshots via YouTube)
Sometimes, you hear talk about an upcoming class video and it sounds too good to be real. Wait: Todrick Hall made a track featuring RuPaul, and then Todrick personally asked Brian Friedman to choreograph it, and then Brian got Maddie and Charlize and Jade and Kaycee and Sean and Gabe and Larsen and Bailey to come out for the class? I just...that can't be right. Can it?
It is right, friends. It is SO RIGHT.
Keep reading...
Show less
A-DAM RIP-PON [clap, clap, clap clap clap] (with his equally gorgeous partner Jenna Johnson; Craig Sjodin/ABC)
Team USA is totally taking over "Dancing with the Stars" this season! Casting for the upcoming athletes-only "DWTS" cycle, which kicks off April 30, was just announced. And the roster includes a whole bunch of Olympic favorites—including not one, not two, but three figure-skating standouts.
Keep reading...
Show less
Popular
Mar. 26, 2018 09:50AM EST
Winter is drawing to a close and you know what that means -- It's time to really kick this year into gear! Move U has done the research so you can find your best match, look good, and feel great this season with a twist unique to your team! Here are five looks to put your performance on the map in 2018.
Keep reading...
Show less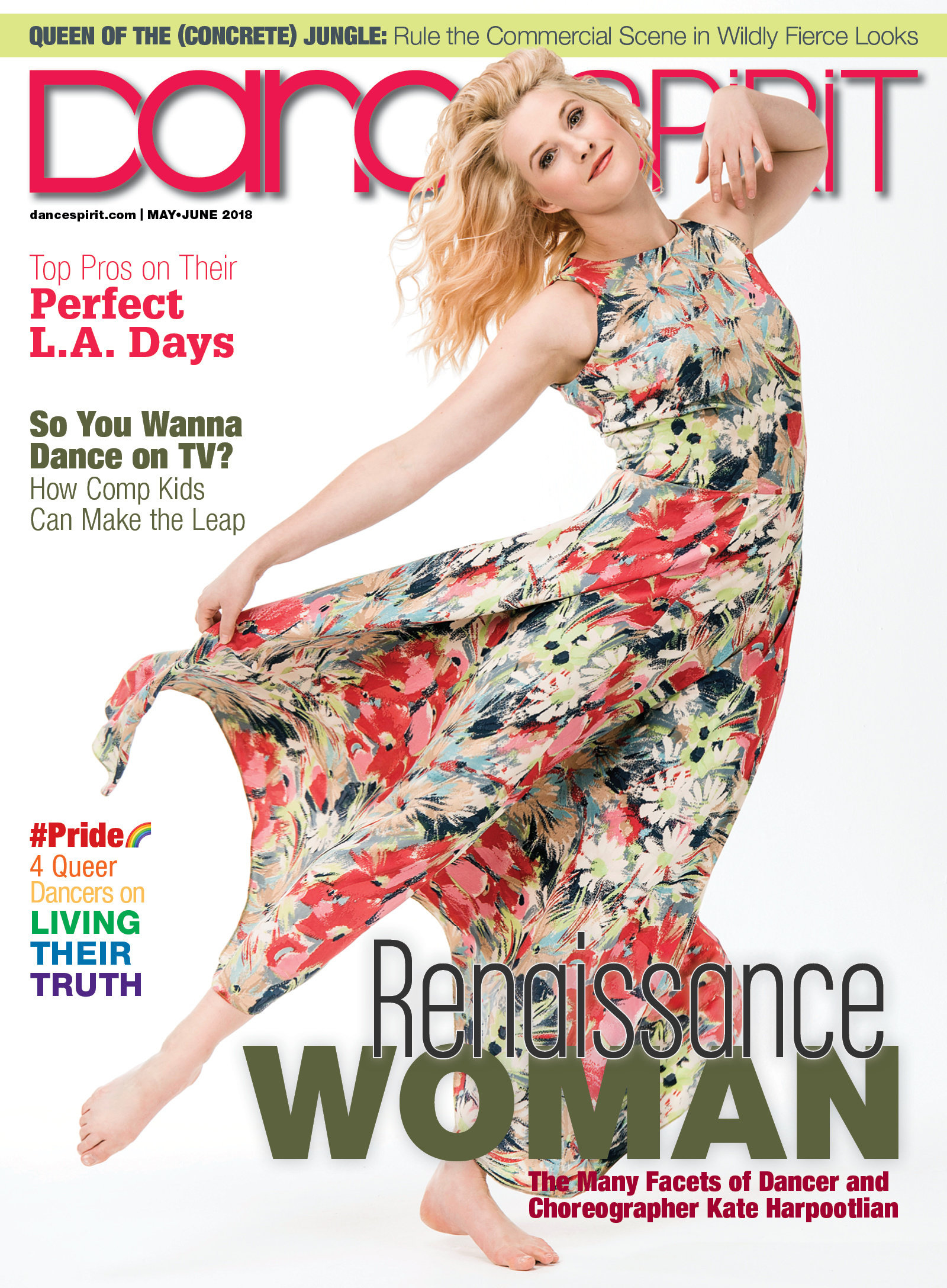 Get Dance Spirit in your inbox