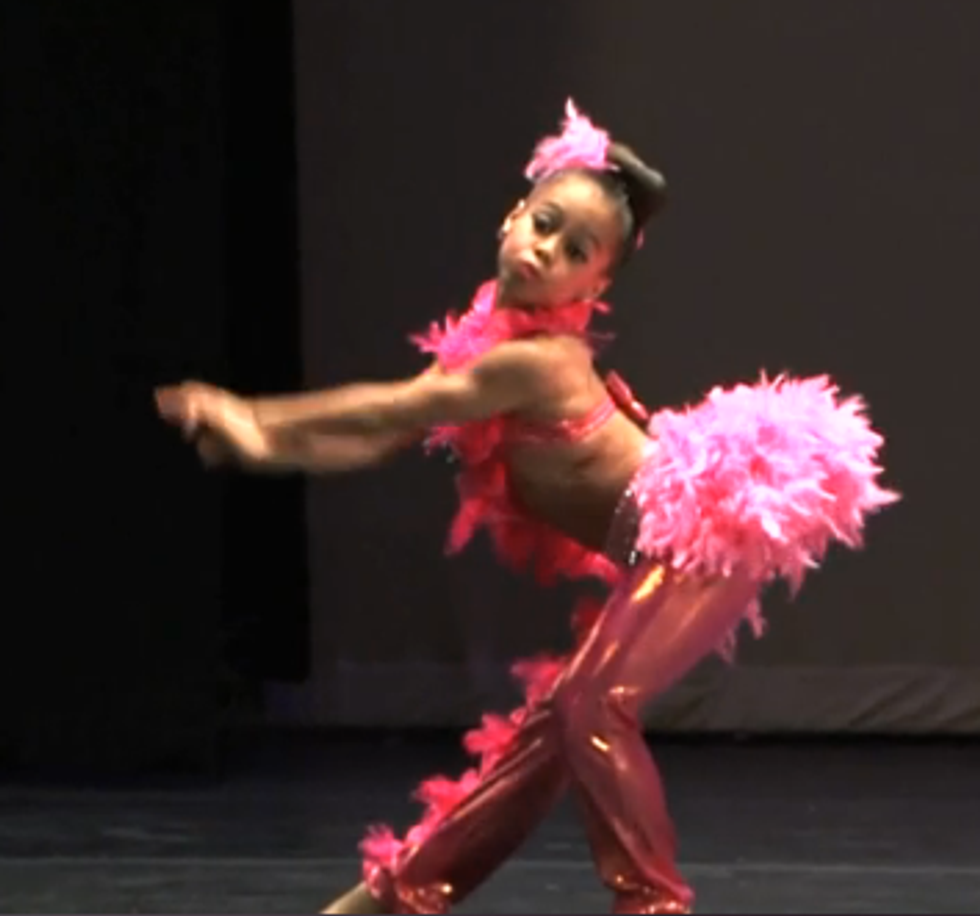 So glad she put her super-cute pants on the right way this week!
It's Vegas Week! Oh wait, wrong show. But the "Dance Moms" crew did head to Sin City for this week's installment—the last competition before Nationals. Here are my most AWESOME and AWKWARD moments:
AWKWARD: Mackenzie wasn't with the team this week. I hate this.
AWESOME: Asia's solo. This pink-flamingo persona suited Asia's personality far more than the little puppy dog she had to play on her first episode. (Remember that? That outfit was so Mackenzie.) Say what you will about Asia's choreography being mostly fouettés. I say, if you can fouetté like that, who needs anything else? Just kidding, Asia, stay in class. But your turns were fierce and so was your attitude. First place, baby!
AWKWARD: The whole Ricky Palomino debacle. Abby told Brooke and Paige that none of the ALDC teachers wanted to work with them—probably because Abby threatened to fire them—so outsider Ricky would be coming in to choreograph their solos. That's all fine and good (I'm all about guest teachers!), but this Ricky character didn't seem to have a good grasp on the girls' styles. Brooke's solo was pretty dull, and Paige's solo had a whole lot of undulating. At least Paige had a $500 costume, because that's what's really important.
AWKWARD: Paige had a very hard time this week. First, she had a panic attack when asked to do the group routine by herself. Then, she was beyond terrified before going onstage. Poor thing. As we knew from the previews (Stop ruining things, "Dance Moms"!), she froze mid routine, cried and ran offstage. Rough. Abby made it clear afterward that she had nothing to do with this routine and that this wouldn't have happened if Ricky hadn't been choreographing for her. Wait, Abby, whose idea was it to have Ricky choreograph for the Hylands? Oh yeah, it was yours. Awk-ward.
AWESOME: The Brat Pack. Abby challenged the kiddos to be "cool" instead of "cute" for their group routine. But then she put them in the cutest little costumes ever, contradicting herself yet again. I'm just happy Brooke and Paige got to join in. The result was an awesome, age-appropriate and quirky number. I loved it—so did the judges. Another first place win!
AWESOME: Next week on "Dance Moms": Dance Spirit spends a day on set! No spoilers here, but let's just say it will be eventful.
And finally, the QUOTE OF THE WEEK:
"Remember: Whatever happens in Vegas stays in Vegas." —Abby comforting Paige after she messed up her solo. See, people, she's not all bad!