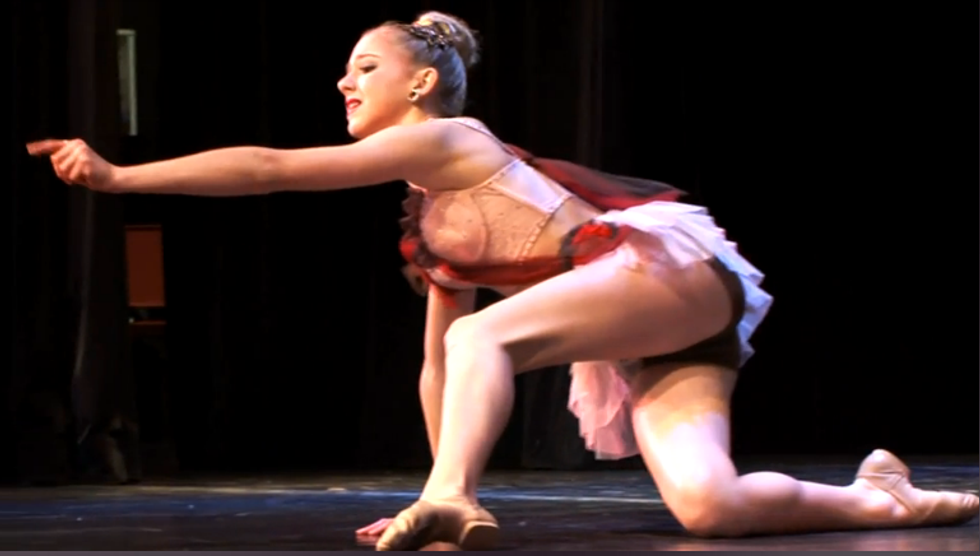 Chloe and Gianna clearly make a good team.
When we left the ALDC last week, the team was celebrating a clean sweep pulled off in Abby's absence. Uncertain about when they could expect their leader's return, the moms were fixated on Abby's whereabouts and intentions this week. Luckily, Gianna came back to the rescue, and lead her team through another very successful competition. Here are my top AWKWARD and AWESOME moments from this week.
AWKWARD: Melissa pays a visit to Abby's home to discuss the fast-approaching Nationals. She voiced her concerns about Abby's absence, Mrs. Miller's health and Maddie's need for her teacher's instruction. Abby makes it clear that she will be putting her family first (rightfully so), but reassures Melissa that she need not worry about Maddie performing a solo at Nationals this year. As Maddie has been winning first place trophies all season, this makes a lot of sense, but Melissa knows the other moms won't see it that way. When they ask about her visit, she chooses not to mention those details…as if they wouldn't come out on national TV in a few weeks.
AWESOME: No Abby means more Gianna, and that's something I can get on board with. As I mentioned last week, Gia's relationship with the girls is healthy, supportive and constructive—and produces incredible results. Without Abby to lead Pyramid, Gia calmly and quickly told the moms who would be dancing what numbers. Each routine was memorable—not to mention, she worked under the added pressure of facing the dreaded Candy Apples. Gia for President!
AWKWARD: Last week, Abby made it clear that she had no desire to see Brooke and Paige at the studio when she returned. So when she finally arrived at rehearsal this week, you could see the fear wash over the Hyland girls' faces. Unsurprisingly, Abby gave them a hard time, and warned them that they'd be doing solos every week and learning them in the same amount of time that Maddie learns hers. On the bright side, Brooke and Paige performed with their team for a second consecutive week, so let's hope they're here to stay.
AWESOME: With all the drama between Abby and the moms, it can be hard to remember that Abby has independent relationships with her students. After awards, the moms pressured Melissa to call Abby to deliver the results; Abby dismissed them, explaining she'd already spoken to the girls (who hadn't even made it back to their dressing room). This moment showed that, whether she's physically present or not, Abby supports her team. I guess we can't believe everything we see on TV...
AWKWARD: Over at Candy Apples, choreographer Anthony has pulled the plug on his time with the team. Cathy brags that she is "perfectly capable of leading her own team," but that's clearly not the case at all. Lucky for her (or not), she had Mom Yvette to step up and take charge. When the troupe encountered their rival ALDC moms at competition, they bragged that Cathy did everything herself, a statement that caused Yvette to have a serious meltdown. Sobbing and screaming, "I hate it, I hate it, I hate it," she escaped to the wings. Mom Holly probably summed it up best on her Twitter account (@DanceMomHolly): "Do you think Yvette hates it?" Yes, I think she does. We'll see if she returns for another week.
AWESOME: Cathy's main concern this week was choosing a soloist who could beat ALDC rep, Chloe. She selected Zack, a very technical dancer who has beaten Chloe at previous competitions. Chloe has a history of being neck-in-neck for first place with a Candy Apple boy (throwback to the Justice days), but with Gia choreographing a lyrical solo for her, she was ready for the challenge. Both dancers performed beautifully, but Chloe outdid herself this week. The choreography was challenging both technically and emotionally, and Chloe danced so well that she had every Mom standing (not just her own!). After what felt like years, Chloe earned that first place slot, proving that she, too, can beat the boys.
QUOTE OF THE WEEK:
"I'm ready for Abby to just walk into rehearsal and be like, 'You're doing this wrong. You're doing this wrong!' " —Kendall
Next week, it looks like more Hyland drama (Don't cry, Paige!), but Abby seems to be back in action. With Nationals around the corner, we can certainly expect the drama!