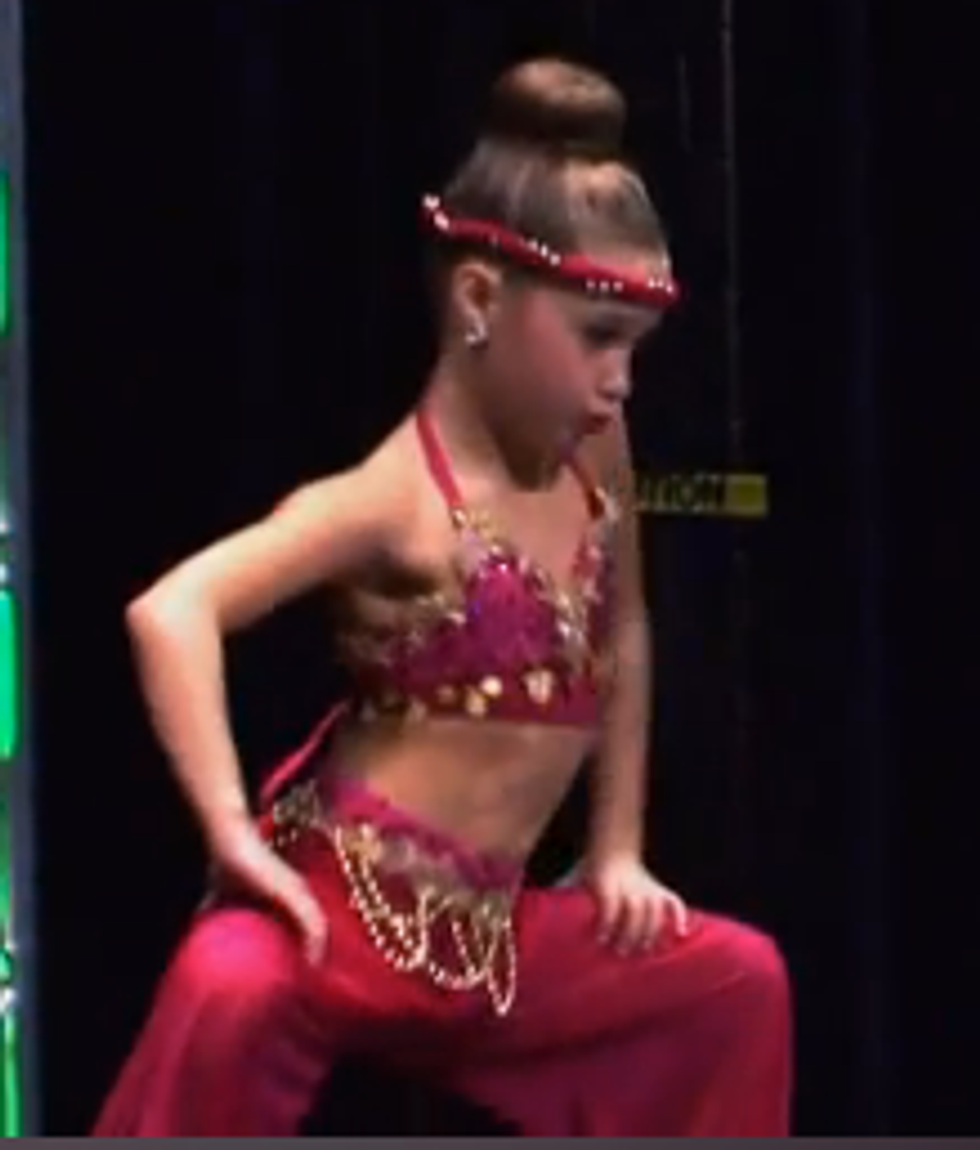 Whoa! This episode of "Dance Moms" opens with a shocker. Turns out, Maddie and Kendall's duet "Sugar and Spice" didn't win at last week's competition—it was just a miscalculation. Is that allowed? It shouldn't be. Especially when Abby's involved. And that was only the beginning of the drama. Read on for my three most AWESOME and three most AWKWARD moments from last night's show.
AWKWARD. So. Much. Crying. Maddie still hasn't had a solo, so Mom Melissa asks for one. Abby says Maddie should ask herself, so Maddie cries. This makes me sad. But it doesn't end there. Abby announces that the group number is acro, and that is not Chloe's forté. Now Chloe's crying. I sense a theme. In the next shot, Mackenzie's crying, too, but we're not sure why. Oh no, we're not done with the water works yet. Maddie mans up and asks Abby for a solo. While they're talking, Maddie cries again, and then Abby cries! What is going on?
AWESOME. The pyramid. OK, so this didn't exactly start out awesome. First, Abby tells the girls that they're supposed to step it up in Sophia's absence (she's still in L.A.). I don't think it counts as an absence if you were only around for one week, but whatever. Maddie's on the bottom (WHAT?!) with Kendall because of the miscalculation, and—drum roll please—MACKENZIE'S ON TOP! She's back in the group routine, and she gets a solo. Life is good.
AWKWARD Why is Chloe wearing that babushka in her solo? Her dancing is solid, but nowhere near where it usually is. I think the babushka was throwing her off. She gets first runner up. But then comes the really awkward part (yes, more awkward than the babushka). Back in the dressing room, Christi says she's not going to say anything bad about Abby. Then she screams the word "fat" at her like twelve times. Christi, please, just stop it.
AWESOME I really liked this group routine! (And not just because I always like the group routines.) "Arabian Nights" was a little different than our usual emotional numbers, the costumes were just precious and it was nice to see the girls showing off their acro chops. Plus, there's a strong possibility that I was just watching Mackenzie the whole time. You rock that solo spot! But then, they get fourth place. Fourth place?! Oh no. Abby Lee Dance Company does not get fourth place. I'm uncomfortable. But I still liked it!
AWKWARD Oh little Mac, I apologize for putting you in the awkward category, but "Dancing Barefoot" was just not your solo. Apparently Abby has decided that since she's 8 now, she can't do the kissy face anymore. (She's winning national championships with that face! Why would she give it up?) Anyway, this dance is tricky and Mac thinks she's going to forget it. I'm scared because in the previews for this episode, we already saw that she would, in fact, forget it. But then…look at her being all mature! Is that Maddie? No it's Mackenzie! And then she forgets. I love her anyway, but Mom Melissa announces, "She is not Maddie," which is an awful thing to say. I blame that third place win on the "mature" choreography.
AWESOME Now we have another competition studio to keep track of, Studio Bleu. That's where the temporary team replacements Bella and Kaeli actually dance. There's a very uncomfortable moment where Bella can't remember how old she's supposed to be. (Uh oh. Is someone cheating?) But all in all, it's nice to see the ALDC go against dancers who can actually give them a run for their money. Bella and Kaeli both deliver good solos. And while their group dance left me yawning, the judges were impressed, and they stole that first place trophy right out from under Abby's nose.
And now...the most AWKWARD moment from this week's show: The previews for next week's show. Kathy's coming back. Ugh. And she's got that boy from "Abby's Ultimate Dance Competition" with her. He was great (amazing technique!), which makes me absolutely positive that Kathy didn't train him. This will either be fun and interesting or completely unbearable. Tune in next week to find out.
And don't forget to tell me what you think!