Jun. 12, 2013 10:57AM EST
"Dance Moms: Two Girls, One Solo" Recap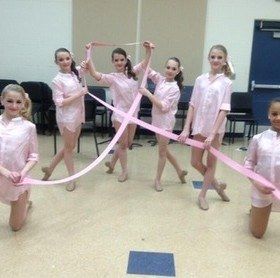 Cuties fighting cancer
Finally, an episode of "Dance Moms" that features only the ALDC! Triumphant over Cathy and the Apple Cores at last, Abby's dream team was back and better than ever. From the start, Abby's spirits were high as she greeted each girl (and mom!) with a smile as they entered the studio. I knew things had to be too good to be true—and I was right. Although lacking the CADC drama that has dictated most recent episodes, this week's "Two Girls, One Solo" took tension between the mothers (AND the girls!) to a new level. Here are my top 3 AWESOME and AWKWARD moments.
AWESOME: Brooke is at the top of the pyramid! I can't say I remember the last time this happened, but she certainly deserved it. With a breathtaking and technically astounding performance among ALDC's senior company last week (and compliance with Abby's insistence on a date with partner Kevin), Brooke truly outdid herself. (Surprise! She was not rewarded with a solo. Maybe next week?)
AWKWARD: This week, Abby had a few tricks up her sleeve…in the form of teammate showdowns. With Asia's return after a job in L.A., she's set to compete a solo against Mackenzie. And Chloe and Maddie will go head-to-head as well, which is nothing new. But, of course, Abby couldn't leave it at that. The two will be competing the same solo with identical choreography, costumes, and music—an unprecedented tactic at the ALDC (and as far as I know, everywhere.) Everything about this made me nervous and suspicious—as Mom Christi pointed out, the choreography would likely be catered to only one of the girls' strengths. After an impeccable duet performance last week, it really was a toss up...
AWESOME: The group dance. A concept piece based on fighting cancer, "Living With the Ribbon" was tasteful, unique and beautifully performed. The choreography showcased all of the girls' strengths (they're looking better every week!) and tapped into their personal experiences with the disease and loss. With such an important subject, Abby devoted as much time and energy into conveying the message to her dancers as she did teaching the choreography. A well-deserved win for the ALDC!
AWKWARD: I'm definitely a fan of Asia, but what I am not a fan of is lip-syncing during a routine. From the moment she started her solo, it was all I could focus on—and Abby agreed. Upon returning to the green room, Asia was instantly scolded for the mistake. As Mackenzie awaited her own critique, Abby asked her what she had learned from watching Asia in the wings, to which she responded, "not to lip sync." Good girl!
AWESOME: Although certainly challenging her dancers this week, Abby seems to have softened up a bit after last week's win. Yes, pitting her dancers against each other wasn't the most kind-hearted mechanism, but in rehearsal scenes, her critique is constructive, encouraging, and at a moderate volume. With a group dance based on a heavy topic, Abby opens up to her girls about her own experiences and encourages them to share their own. I'm confident this is a side of Abby that is constant, but maybe not shown in every episode, and it was a welcome change. It's clear that the relationship between Abby and her girls is one based on admiration, respect and trust—something we may forget amongst all the surrounding drama.
AWKWARD: Awards. Finally, the Maddie/Chloe showdown came to a dramatic finish. Maddie was announced second, and Chloe first (!), leaving Maddie's eyes filled to the brim with tears and Chloe grinning ear-to-ear. A proud Christi cheered from the audience while Abby whispered to Melissa, "There is no doubt Maddie should have won." Though her shining moment was already tainted, Chloe was a great sport and congratulated the other girls without flaunting her victory. Back in the green room, a competition director came in to apologize for a score discrepancy—as it turns out, Maddie actually had the higher score, making her the overall winner. Abby was beside herself with glee, and Chloe was fighting back tears as she traded in her plaque (while my heart seriously broke into a thousand pieces for her.) The moms, suspicious about the sudden alteration, asked Abby how the mistake was possible. Moments later, the director thanked Abby for bringing the situation to their attention.
Between Jill and Christi's discovery of the Ziegler girls' extra rehearsal time and a possible instance of foul play in scoring, we are certainly headed down a dramatic and probably tear-filled road this season! Though things seem to be on the mend with Christi and Kelly for the moment, we can undoubtedly expect blowouts galore in the coming weeks. Hopefully, the drama will stay among the adults, not the girls.
QUOTE OF THE WEEK:  "I thought they both did a fabulous job, so I don't think it matters who the winner is." –Paige (TRUE THAT, PAIGE!)
Dance News
Jun. 15, 2019 10:12AM EST
(From left) Darriel Johnakin, Diego Pasillas, and Emma Sutherland (all photos by Erin Baiano)
Congratulations to Dance Spirit's 2019 Cover Model Search finalists: Darriel Johnakin, Diego Pasillas, and Emma Sutherland! One of them will win a spot on Dance Spirit's Fall 2019 cover. Learn more about the dancers on their profile pages, and then vote for your favorite below. You can vote once a day now through July 15.
We also want you to get social! We'll be factoring social media likes and shares into our final tallies. Be sure to show your favorite finalist some love on Facebook, Instagram, and Twitter, sharing their profile pages and using the hashtag #DanceSpiritCMS.
Cover Model Search
Jun. 17, 2019 04:05PM EST
Jun. 13, 2019 02:20PM EST
Photo by Erin Baiano
Imagine attending American Ballet Theatre's prestigious NYC summer intensive, training among classical ballet legends. Imagine taking the stage at New York City Dance Alliance Nationals, competing against some of the country's best contemporary dancers. Now, imagine doing both—at the same time.
Welcome to Madison Brown's world. This summer, she's in her third year as a National Training Scholar with ABT, while also competing for NYCDA's Teen Outstanding Dancer title. (She's already won Outstanding Dancer in the Mini and Junior categories.) The logistics are complicated—ABT's five-week intensive overlaps with the weeklong NYCDA Nationals, which translates to a lot of cabs back and forth across Manhattan—but Maddie is committed to making the most of each opportunity. "I love contemporary and ballet equally," she says. "While I'm able to do both, I want to do as much as I can."
Maddie has an expressive face, endless extensions, and a quiet command of the stage. She dances with remarkable maturity—a trait noted by none other than Jennifer Lopez, one of the judges on NBC's "World of Dance," on which Maddie competed in Season 2. Although Maddie didn't take home the show's top prize, she was proud to be the youngest remaining soloist when she was eliminated, and saw the whole experience as an opportunity to grow. After all, she's just getting started. Oh, that's right—did we mention Maddie's only 14?
Cover Story