Exclusive: Tiffany Maher on What It's Really Like to Dance on TV
Tiffany Maher in front of her "Hit the Floor" trailer (via @tiffany.maher on Instagram)
These days, dancers are on television more than ever before. From live shows like "So You Think You Can Dance" and "Dancing with the Stars" to teen sitcoms like "Shake It Up," flip through your TV lineup and you'll see dancers in more than just music videos and award shows.
But what is it actually like to dance on TV? We caught up with Tiffany Maher from BET's hit drama series "Hit the Floor" to find out. Dance is the focal point of "Hit the Floor," which centers on the Devil Girls, dancers for the faux-NBA Los Angeles Devils. Maher (who's also a "SYTYCD" alum) took some time out between rehearsals, fittings, and catching a flight to teach at Tremaine Dance Conventions to give us the behind-the-scenes scoop—and to explain what exactly "bacting" is. Because we definitely don't know.
---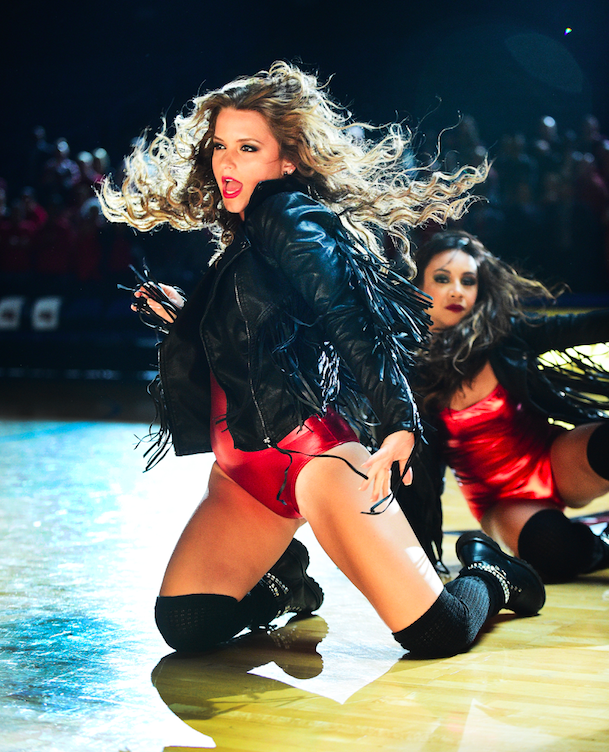 Tiffany Maher (front) on "Hit the Floor" (photo by Ron Jaffe, courtesy Sarah Fahey)
Before the Shoot
What do all professional dancers have in common? They rehearse. Dancers on "Hit the Floor" log eight-hour rehearsal days before filming even starts. "The challenge is finding a day where all three actresses who dance with us can be in rehearsal together," Maher explains. "They all have such different filming schedules. So normally the dance is prepped, taught to the dancers, and then taught to the actresses before we solidify everything. Sometimes the process takes one day. Sometimes it takes four."
The Devil Girls always have a camera blocking rehearsal as well, which is a change from typical stage performance rehearsals. "For television, sometimes you have to cheat your angles or cheat a formation to get a shot," Maher adds. "Our choreographer always goes over the steps slowly to tell us the different angles that look better on camera."
The dancers' days on set always start with hair and makeup. For the Devil Girls' smoky-eye, red-lip, curled-hair look, the whole process takes about two hours. "Specialty numbers take even longer to get ready for," Maher says. "In Season 2, we had a Bollywood number that took four hours. There's one number you'll see this season that took three to four hours for everyone to finish. But the hair and makeup was amazing!"
On Set
When the show airs, all the audience sees is a fierce two-minute number. In reality, one routine normally takes between three and four hours to shoot. First, as a warm up, the dancers run the number for the crew, so they can get an idea of how to film it before they hit record. But once the camera starts rolling, the dancers are expected to do their best work in every take.
"We always do five or six passes of the dance all the way through, and then we'll break it up into sections," Maher says. "We do that for various reasons. Sometimes it's to get a part really tight; sometimes it's to get a specific look between two characters for the storyline." Devil Girls are always serving drama!
After filming the dance routine, frequently the Devil Girls stay for "bacting."

OK, for real: What is bacting?
Since "Hit the Floor" is first and foremost a scandalous drama, the dancers aren't always just dancing on set. They're often "background acting," aka bacting. "We always have so much fun with it," Tiffany says. "And the producers give each Devil Girl a line every season, which is really sweet."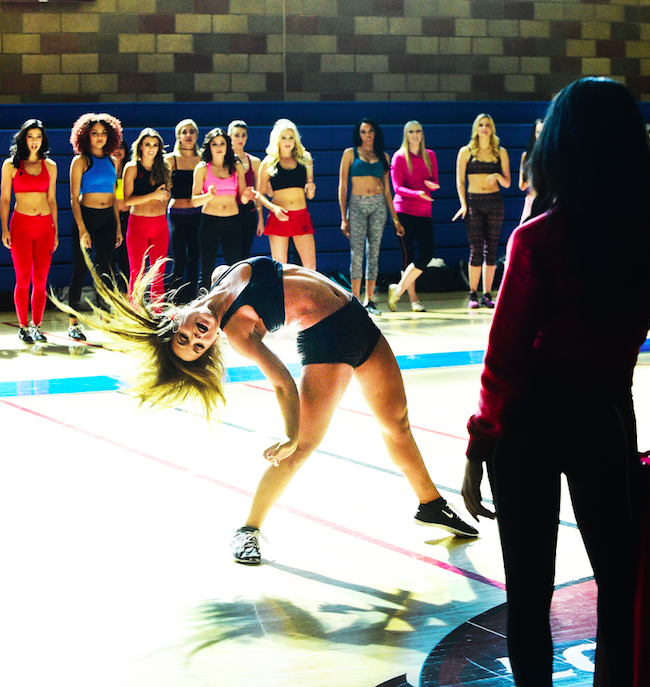 Maher (front) on "Hit the Floor"—with some serious "bacting" going on behind her (Ron Jaffe, courtesy Sarah Fahey)
What It Takes to Dance on TV
The Devil Girls dance in styles including hip hop, jazz, Bollywood, contemporary, lyrical, heels, and jazz funk, and their hot routines are choreographed by Michael Rooney (whose resumé, by the way, is six pages long). "I wasn't expecting how intense the dancing would be on the show. It's no joke," Maher laughs. "I have so much respect for the actresses who dance with us because it's not easy. Especially by the tenth take!"
Clearly, if you want to be a Devil Girl, versatility is key. Maher remembers that part of the three-day audition included reading lines for the casting director. While this can admittedly be more nerve-wracking for a dancer than just, well, dancing, having some acting chops is definitely required for a show like "Hit The Floor."
Dancing on Camera vs. Dancing Onstage
Maher admits that performing for the camera is very different from performing for a traditional audience. Dancing live is one shot; on a TV series, there are always multiple takes. In a live show, you can get your energy from the crowd; on camera, you have to pull it from within yourself. In a traditional performance, you might spend some time in the back row; in a filmed production, you'll probably have to work it for a camera right in front of your face. It takes some getting used to.
That said, filming videos has become a prominent part of taking class these days, and Maher urges young dancers to take full advantage of any opportunity to perform on film. "It's important to be comfortable getting up close and personal with the camera and looking directly into the lens," she says.
Even after all of the preparation, there's still a lot to keep in mind once filming begins. "It is important to be attentive, efficient, and follow all directions," Maher says. "Be wise about your angles. Be aware of your formations. If you can't see the camera, the camera can't see you. Always ask the director if you're looking into the lens or past the lens. If a camera looks like it might hit you or you might hit it, stop dancing! Do not hit the camera," she laughs. "It is so expensive."
via YouTube
Keep reading...
Show less
via @kyle_vanny on Instagram competing on World Of Dance
Kyle Van Newkirk is a tap dancer you probably remember from the premiere season of NBC's World of Dance. In case you missed it, he is also one of Showstopper's incredible convention teachers. What makes Kyle stand apart from some of today's other incredible tappers? He isn't afraid to change what tap means to his audience and even himself. This modern view of tap dancing is important because it shows us that tap dancers are just as versatile and dynamic as dancers of any other genre. We sat down with Kyle to get his advice on bringing tap dancing into the 21st century.
Keep reading...
Show less
What did I just hear you say? You think all dancers are weak and delicate? PLEASE SAUT DE CHAT OUT OF MY LIFE. (Giphy)
Sure, dancers definitely have some unique identifying characteristics. (We're all obsessed with Center Stage? FACT.) But we're also subjected to all kinds of annoying, inaccurate stereotyping. Here are 10 dancer stereotypes that we never want to hear again.
Keep reading...
Show less
University of Minnesota Dance Team (courtesy University of Minnesota)
They say there's no "I" in "team"—and nowhere is that truer than the world of college dance teams, where precision reigns, uniformity is key, and a single misstep from any given "I" can cost a group a championship trophy. So it's unsurprising that securing a spot on one of the best dance teams in the country is no easy feat.
Members of these highly athletic teams rehearse for hours every week—on top of academic classes and commitments—and perform at football and basketball games, annual concerts, and nationally televised competitions (hi, ESPN). And "no I" rule notwithstanding, each of these top teams is made up of highly trained, highly technical, highly hard-core individuals, who come together to create a ready-for-victory pack.
These six teams aren't one-off success stories—they're consistently strong, and earn the top spots at major competitions like UDA and NDA nearly every year. Up for the challenge? Here's what to know before you go to auditions.
Keep reading...
Show less
They got to live out their dreams onstage with Jackson during last night's Billboard Awards. (NBC)
When Janet Jackson puts out a call for new dancers, basically the ENTIRE WORLD responds. More than 75,000 people entered Jackson's epic #DanceWithJanet contest, announced earlier this spring, which let hopefuls from around the globe audition via social media for a chance to perform with the icon.
So, out of those tens of thousands, who became the newest members of the #JTribe? Meet Phillip Galbert and L'Vala "Lala" Moss, the winners of the competition. Last night, they joined Janet onstage at the Billboard Music Awards. And they more than earned their place in the spotlight.
Keep reading...
Show less
May. 16, 2018 02:26PM EST
Ema Peter
The Glorya Kaufman International Dance Center is the 54,000 square foot home of the USC Glorya Kaufman School of Dance, one of the largest facilities dedicated to dance on a private university campus. Designed for their innovative new curriculum, that supports a range of dance styles, the school's staff designated Harlequin to provide wall-to-wall flooring for the large 3,500 square foot Performance Studio as well as five dance studios in their new state-of-the-art building.
Keep reading...
Show less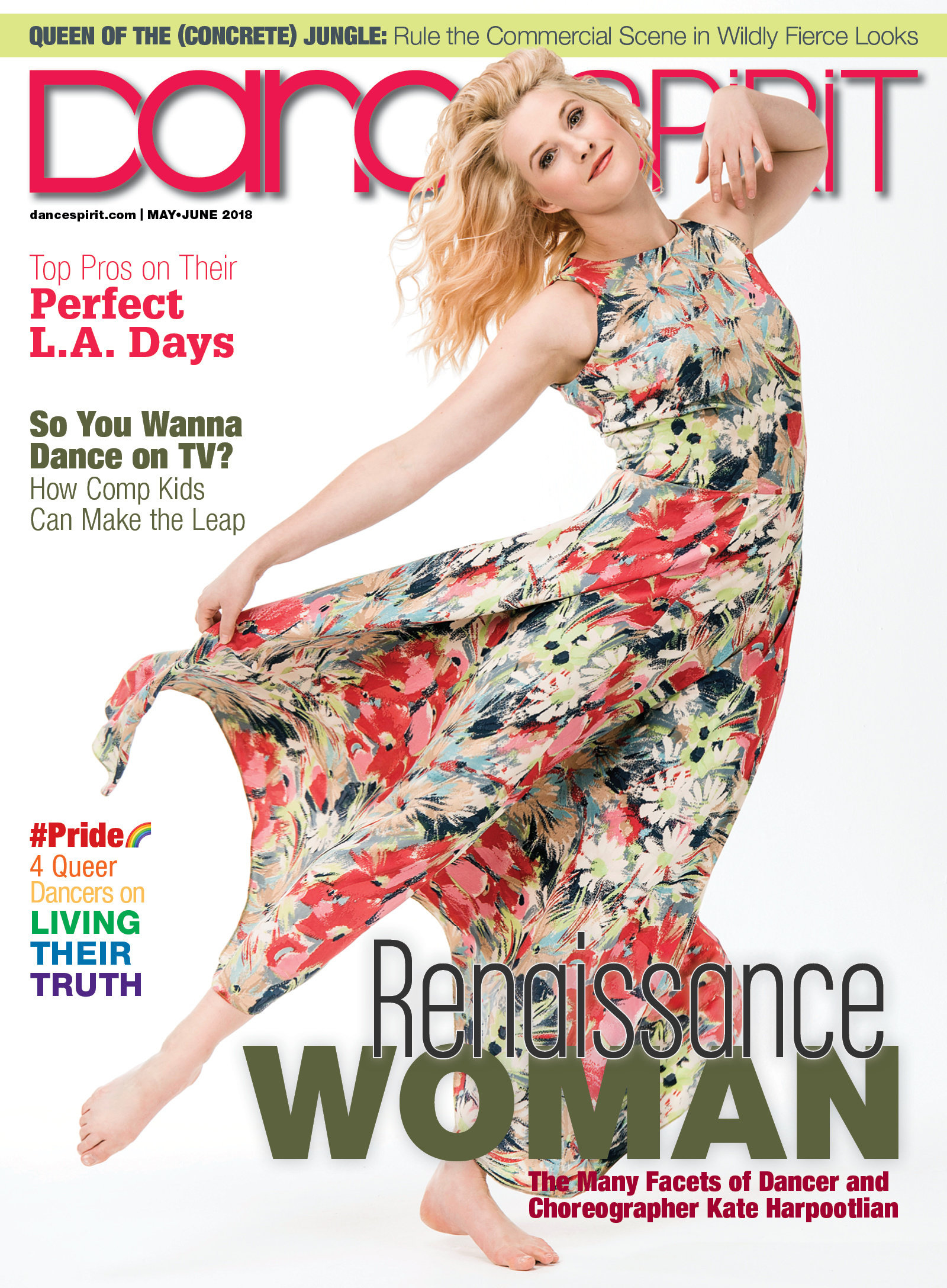 Get Dance Spirit in your inbox