Apr. 01, 2014 02:00PM EST
Chelsie Hill (photo by D + B Photography)
Dance was always my thing. I started jazz, hip-hop, contemporary and ballet classes at age 3 at Monterey Stars in Monterey, CA. We did a lot of competitions, and I consistently placed at the top. In high school, I was on the Pacific Grove High School Breaker Girls Dance Team, and I planned to continue dancing in college. I dreamed of being a backup dancer and eventually opening a dance studio. Then the accident happened.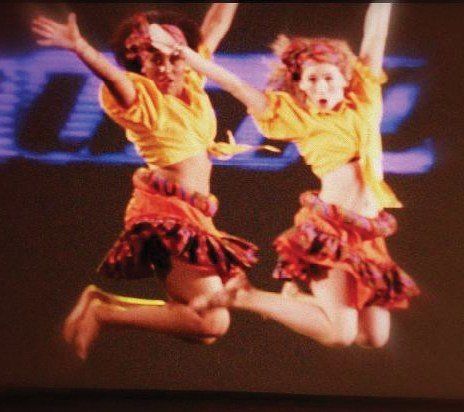 Chelsie (right) before the accident, with Mary Ojugo (courtesy Chelsie Hill)
It was February 21, 2010. I was a high school senior, and I was out at a party. When it got late, someone asked if anyone needed a ride home, and I said yes. I didn't realize how much the driver had been drinking. I sat in the middle of the backseat with my seatbelt buckled. I remember thinking we were going pretty fast, and seeing a flashing yellow traffic light. I remember making a sharp turn, hitting the side of a curb and a few seconds later, seeing a tree right in front of the car. I don't remember much after that, besides feeling scared and cold. I wanted to get out of the car, but my legs were stuck. Then everything went black.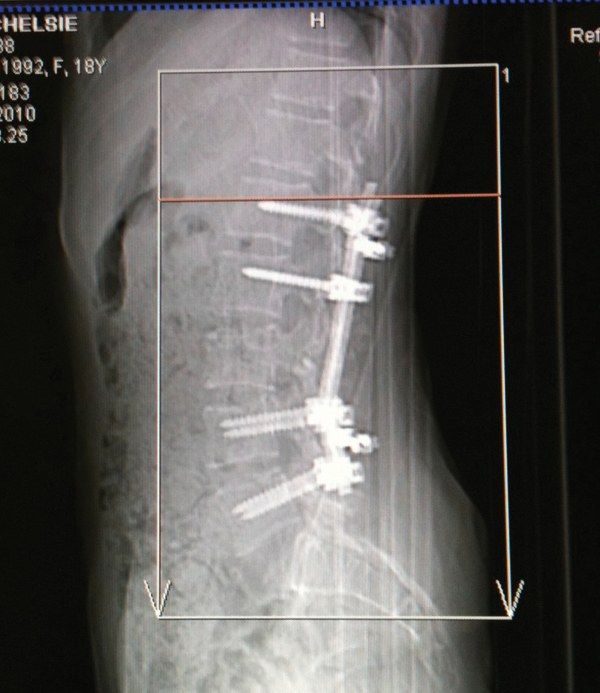 Two rods and eight screws were put in Chelsie's back (courtesy Chelsie Hill)
Processing Paralysis
When I first woke up in the hospital, I was on heavy medication, and I didn't totally understand what was going on—that I couldn't feel anything below my belly button. About two weeks after the accident, I was lucid enough for the doctor to explain what had happened.
I had a spinal cord injury and he'd had to perform surgery on my back. The doctors had opened me up from my neck to my tailbone and found a blood clot at the second thoracic vertebra and a break at the third lumbar vertebra. They released the blood clot and fused my lumbar spine with rods and screws. He said I'd never walk or dance again. I didn't believe it.
To keep me positive, my dad showed me videos of Auti Angel, a dancer and choreographer who's in a wheelchair. At that moment, though, I couldn't even process what being paralyzed meant. It wasn't until I got home, after three surgeries and 51 days in the hospital, that reality set in. I had to relearn how to do everything—from getting in and out of bed to going to the bathroom.
Finding a New Normal
Thank goodness for my friends. When I came home from the hospital, they'd redone my room to make it wheelchair-accessible. When I went back to school, they stayed by my side to make sure everything went smoothly. It was hard going through this life-changing experience and doing homework until 4:30 am. But that spring, I was able to graduate with my class. It was a big moment for me.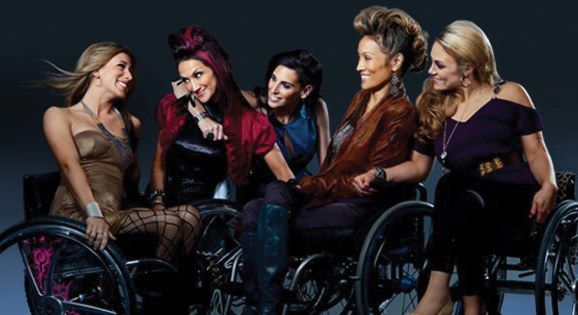 In 2010, Auti Angel introduced Chelsie to a production team planning a reality show about women in wheelchairs. Chelsie went on to be a cast member on Sundance Channel's "Push Girls" for two seasons. (Photo by Greg Zook)
The summer after graduation, determined to become more independent, I went to Project Walk, a spinal cord injury recovery facility in Carlsbad, CA. I worked tirelessly to reconnect my muscles to my brain. For example, I used a bike that gave small electrical pulses to my paralyzed muscles to improve their function. Within a month or so, I'd learned how to crawl and to stand up with assistance.
Later that year, I met Auti Angel at a fundraiser in L.A. When I told her about my dance background and how I'd watched her videos in the hospital, she invited me to join her dance team, Colours 'n' Motion. Working with the team reignited my passion for dance. Sure, there were a lot of things I couldn't do anymore, which was frustrating, but I also got to add new moves to my repertoire. Performing with Colours 'n' Motion for the first time was one of the best feelings I've ever had.
Giving Back—And Never Giving Up
Since my accident, my dad and I had been talking about starting a nonprofit to raise money for people with spinal cord injuries, and in 2011, we officially founded the Walk and Roll Foundation. That was when my new life truly started—when I realized I could do something positive with what had happened to me. My mission is to educate teens about the dangers of drunk and distracted driving and to inspire people living with spinal cord injuries.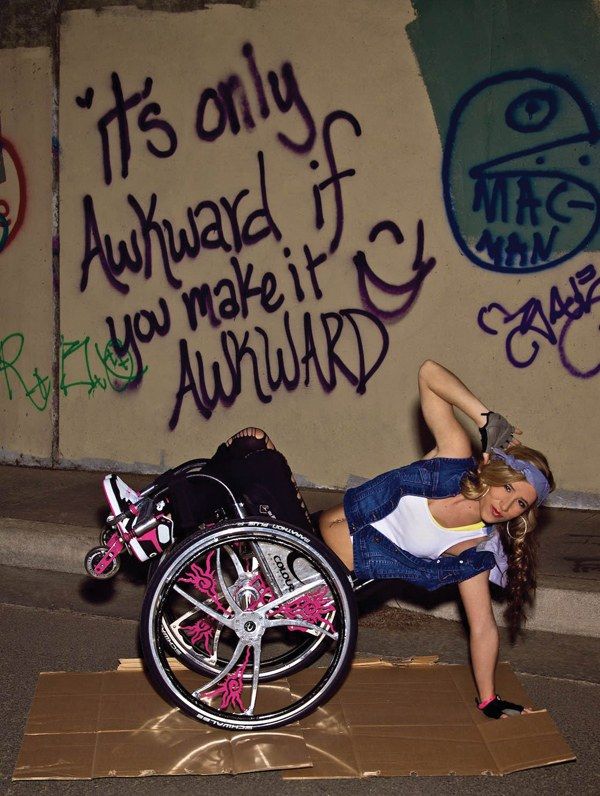 (Photo by D + B Photography)
After about a year with Colours 'n' Motion, I started my own dance team through the foundation. The Walk and Roll Dance Team travels across the country, and our wheelchair dancers perform alongside able-bodied dancers to show that dance is dance—there's nothing different about us. We learn most of our choreography from able-bodied dancers and adapt it to work for the chair.
In addition to performing, I give talks at schools about making good choices. Before my accident, I never thought that one decision could change my entire life. I'm paralyzed because I got in a car with a drunk driver. If I can stop one person from making the same mistake, this is all worth it.
I also speak about never giving up on your dreams. Dancing in a wheelchair has pushed me to do more than I ever thought I could, and it's reconnected me with my passion. As long as I have dance in my life, I'm complete.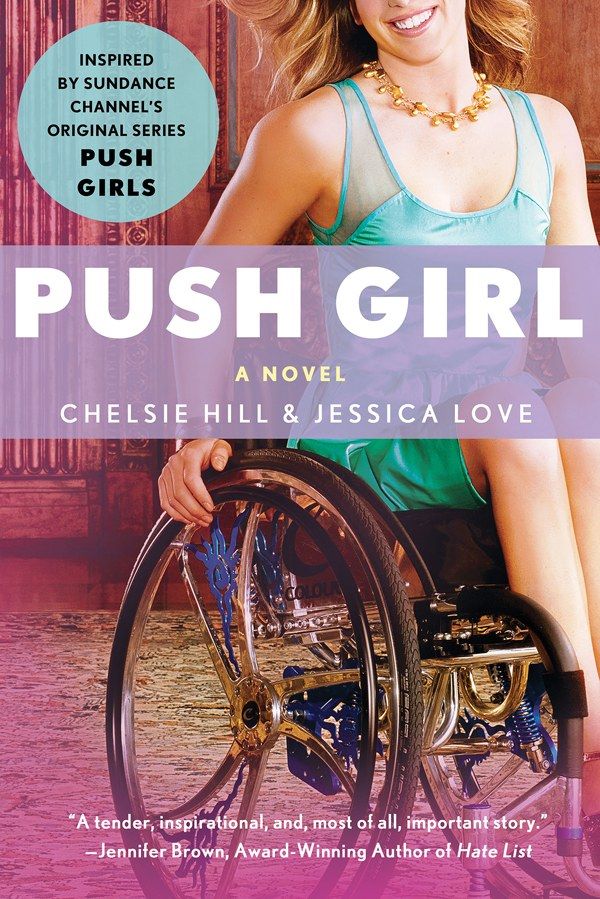 Push Girl, a novel based on Chelsie's journey, co-authored by Jessica Love, comes out June 3. Get your copy at amazon.com.
Dancer to Dancer