Jul. 01, 2014 09:57PM EST
Dance Spirit's Very Official Broadway Show Guide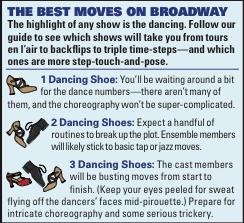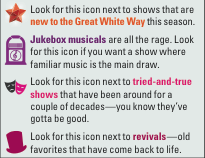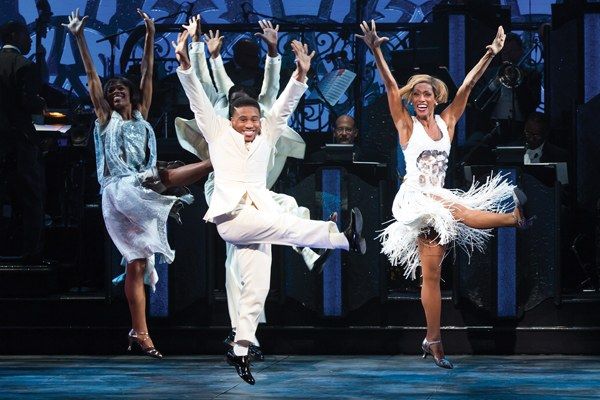 Virgil "Lil' O" Gadson (center) and Karine Plantadit (right) in After Midnight (photo by Matthew Murphy)
After Midnight

: This show is all dance, all the time. There's no complicated plot—just a ton of tap and a lot of jazz honoring the 1920s Cotton Club scene in Harlem. Hot tip: Get a seat in the balcony to really appreciate all the formations.

Aladdin: You already know the story of Disney's Aladdin and Princess Jasmine, but we promise it's even better on Broadway. The sets are lavish, the costumes are exquisite and there's high-energy dancing from start to finish. (Turn to p. 59 to go behind the curtains at this instant hit.)

Beautiful: This musical features the songs of Carole King and tells the story of her humble beginnings in Brooklyn, NY. There's not much dancing, but there's a whole lotta heart—and familiar tunes.

The Book of Mormon: Not for the easily offended, this show nevertheless tells a heartwarming tale about two missionaries serving in Uganda. It won Best Musical at the Tony Awards in 2011, thanks in part to flashy tap dancing and Casey Nicholaw's campy choreography.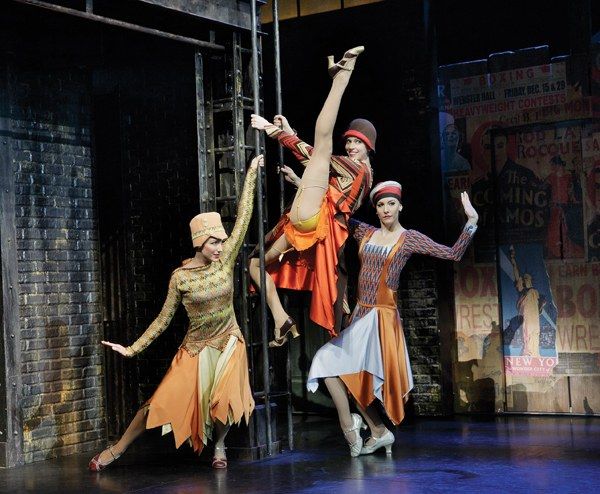 (L to R) Beth Johnson Nicely, Paige Faure and Brittany Marcin in Bullets Over Broadway (photo by Paul Kolnik)

Bullets Over Broadway: Woody Allen's crime-comedy film about a playwright, a mobster and a showgirl during the Roaring Twenties comes to the stage with choreography by Susan Stroman. Expect lots of laughs, high kicks and jaw-dropping sets.

Cabaret: Alan Cumming (as the Emcee) and Michelle Williams (as Sally Bowles) star in this revival that follows the oh-so-scandalous happenings at Berlin's beloved Kit Kat Klub in pre-World War II Germany.

Chicago: Bob Fosse fans, rejoice! This long-running revival is still holding it down on the Great White Way, complete with fishnets, murder stories and cell block tangoing.

Rogers + Hammerstein's Cinderella: You know the tale: A beautiful young girl is mistreated by her evil stepmother and stepsisters before sneaking off to the ball and dancing the night away in a pair of glass slippers. But here's an interesting fact: While the show is a longtime classic, it didn't make its Broadway debut until 2013.

A Gentleman's Guide to Love and Murder: With 10 Tony Award nominations this year (including Best Musical), this English comedy has become a smash hit. But dancers beware: There's only one big dance number, choreographed by musical theater vet (but Broadway newcomer) Peggy Hickey.

If/Then: Broadway darling Idina Menzel leads the cast as 40-year-old Elizabeth, a divorcée who moves to NYC from Arizona in pursuit of a fresh start. What she really gets, though, is an adventure in leading parallel lives. The show features choreography by Larry Keigwin.

Jersey Boys: It's the story of Frankie Valli & The Four Seasons' rise to fame, backed by a singalong-worthy soundtrack, including "Big Girls Don't Cry," "Beggin' " and "Can't Take My Eyes Off You."

Kinky Boots: What happens when an uptight shoemaker's son teams up with a cross-dressing singer? The answer involves a rockin' Cyndi Lauper score and lots of men in sky-high heels.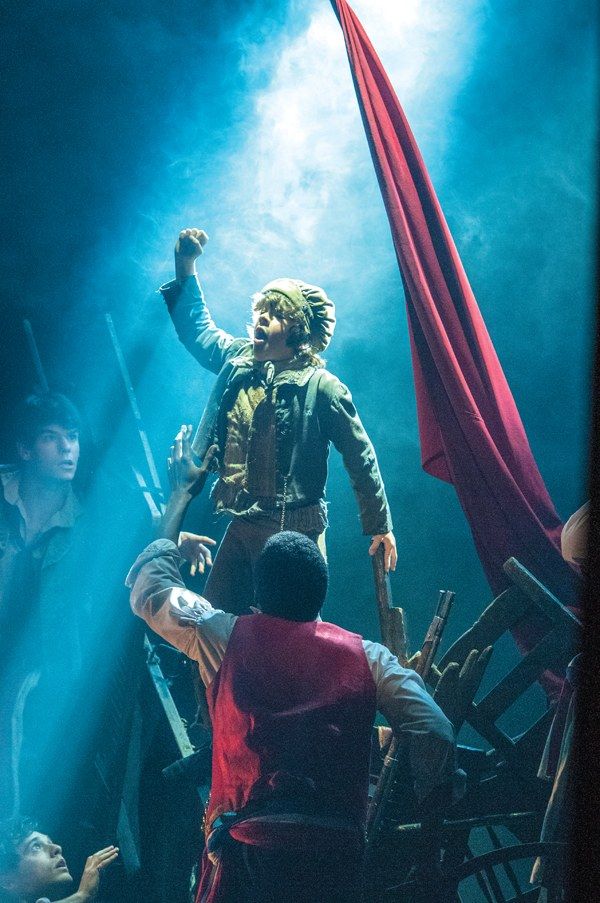 Gaten Matarazzo as Gavroche (photo by Michael Le Poer Trench)

Les Misérables: If you saw it in movie theaters, you know what to expect from the Broadway revival: an epic, passion-packed story about the French Revolution, brought to life by powerful songs such as "On My Own," "I Dreamed a Dream" and "One Day More."

The Lion King: The show opens with life-sized animal puppets parading through the aisles and proceeds to tell the Disney tale of Simba and his jungle friends. (Simba + Nala forever! R.I.P. Mufasa.)

Mamma Mia!: Just because Rocky is at the Winter Garden Theatre doesn't mean ABBA's greatest hits in musical form have left Broadway—they've just moved around the corner. Come with your family and get your dancing queen on!

Matilda: The Musical: "Even if you're little, you can do a lot," the show's title character sings—and she's right! The Roald Dahl novel comes to life as Matilda and her mischievous fellow schoolchildren learn how to outsmart their parents—and wicked headmistress Miss Trunchbull.
Mowtown: The Musical: Your parents will love this show, which uses basically all the music from "their generation" to tell the story of Berry Gordy, the man behind the careers of Diana Ross, Stevie Wonder and Michael Jackson. Try not to be embarrassed when they start karaoke-ing from their seats!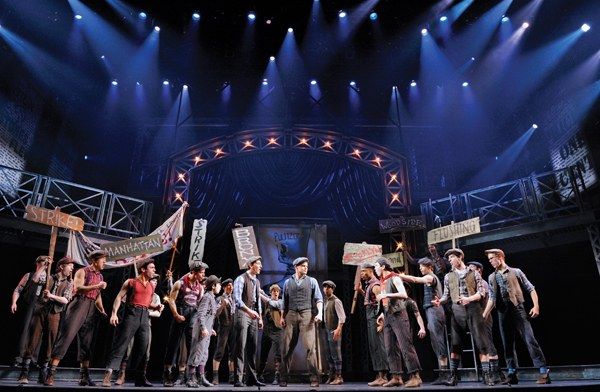 Newsies (photo courtesy Disney)

Newsies: The Newsies boys landed themselves a DS cover back in 2012 and have been earning nightly standing ovations ever since. The show features megawatt dancing from start to finish—try to resist the "seize the day" urge to join the boys onstage.

Once: A street musician in Dublin is ready to give up on his dream—but then a beautiful woman takes an interest in his love songs. All the actors in the show are also musicians who play their own instruments onstage.
The Phantom of the Opera: You get all the Broadway staples in this show: a damsel in distress who can really belt a tune, a mysterious admirer, a timeless love story and one especially big dance number ("Masquerade," which opens the second act). Unsurprisingly, it's the longest-running show on Broadway.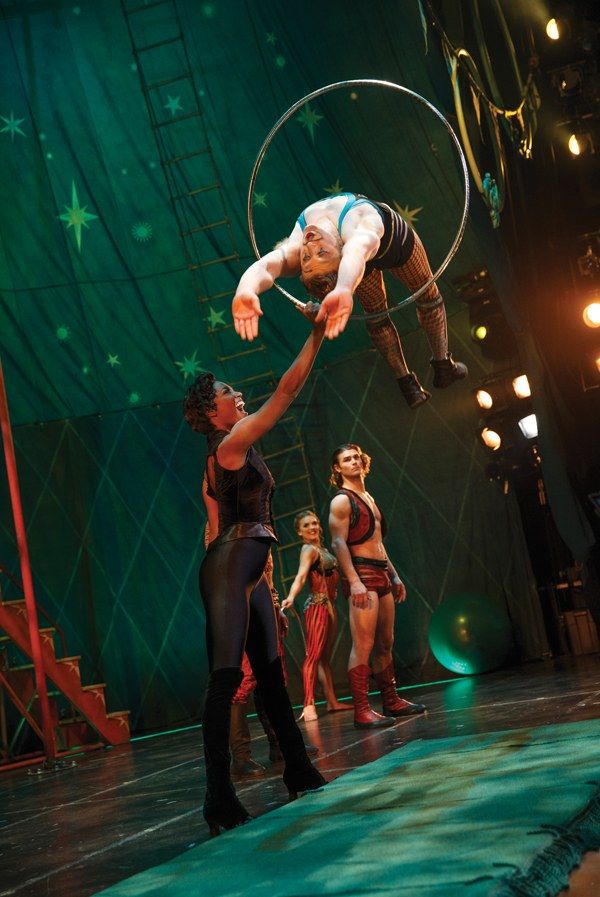 Pippin (photo by Joan Marcus)

Pippin: In this circusy remake of the 1972 Bob Fosse classic, prince Pippin takes off on a soul-searching journey—and he encounters some memorable characters along the way. High-flying action spices up Chet Walker's reimagined Fosse choreography, which earned a Tony nomination in 2013.

Rock of Ages: If you love singing along to Journey's "Don't Stop Believin'," you'll probably love this show. It's the story of how that small-town girl meets her city boy, and they rock out all along the way.

Rocky: Boxing takes Broadway! The dancing men in gloves are a major highlight of this Steven Hoggett– and Kelly Devine–choreographed show about Rocky Balboa, a down-and-out boxer in Philadelphia. The underdog story will tug at your heartstrings, but once "Eye of the Tiger" starts blasting, you'll be ready to jump in the ring.

Violet: Sutton Foster (remember her from "Bunheads"?) takes the lead as the show's title character, a young woman with a disfigured face. Violet believes a televangelist in Oklahoma can heal her, so she hops on a bus and finds true beauty along the way.

Wicked: Get comfortable on the edge of your seat, because that's where you'll be perched for most of this popular Broadway production. It's a prequel to The Wizard of Oz that tells the unusual story of how Elphaba (the Wicked Witch) and Glinda (the Good Witch) became frenemies. Watch out for the flying monkeys!
Musical Theater
Jun. 15, 2019 10:12AM EST
(From left) Darriel Johnakin, Diego Pasillas, and Emma Sutherland (all photos by Erin Baiano)
Congratulations to Dance Spirit's 2019 Cover Model Search finalists: Darriel Johnakin, Diego Pasillas, and Emma Sutherland! One of them will win a spot on Dance Spirit's Fall 2019 cover. Learn more about the dancers on their profile pages, and then vote for your favorite below. You can vote once a day now through July 15.
We also want you to get social! We'll be factoring social media likes and shares into our final tallies. Be sure to show your favorite finalist some love on Facebook, Instagram, and Twitter, sharing their profile pages and using the hashtag #DanceSpiritCMS.
Cover Model Search
Jun. 17, 2019 04:05PM EST
Jun. 13, 2019 02:20PM EST
Photo by Erin Baiano
Imagine attending American Ballet Theatre's prestigious NYC summer intensive, training among classical ballet legends. Imagine taking the stage at New York City Dance Alliance Nationals, competing against some of the country's best contemporary dancers. Now, imagine doing both—at the same time.
Welcome to Madison Brown's world. This summer, she's in her third year as a National Training Scholar with ABT, while also competing for NYCDA's Teen Outstanding Dancer title. (She's already won Outstanding Dancer in the Mini and Junior categories.) The logistics are complicated—ABT's five-week intensive overlaps with the weeklong NYCDA Nationals, which translates to a lot of cabs back and forth across Manhattan—but Maddie is committed to making the most of each opportunity. "I love contemporary and ballet equally," she says. "While I'm able to do both, I want to do as much as I can."
Maddie has an expressive face, endless extensions, and a quiet command of the stage. She dances with remarkable maturity—a trait noted by none other than Jennifer Lopez, one of the judges on NBC's "World of Dance," on which Maddie competed in Season 2. Although Maddie didn't take home the show's top prize, she was proud to be the youngest remaining soloist when she was eliminated, and saw the whole experience as an opportunity to grow. After all, she's just getting started. Oh, that's right—did we mention Maddie's only 14?
Cover Story