Presenting Our Annual Jazz Hand Awards for the Danciest Shows on Broadway
Photo by Kate Glicksberg, courtesy NYC & Company
Welcome to the fourth annual Jazz Hand Awards—aka "the Jazzies"—where we rate the danciest new shows shining on Broadway.
---
The Jazzie for Most Authentic Afro-Caribbean Moves Goes to... "Once on This Island"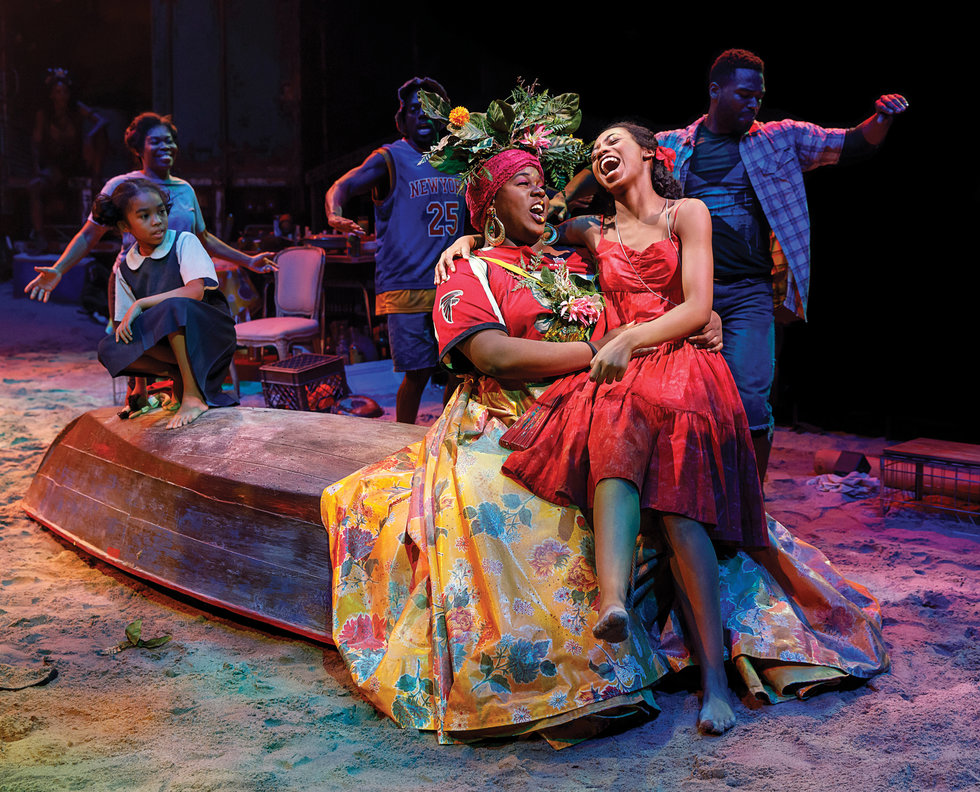 (Center, left) Alex Newell as Asaka, mother of the Earth with Hailey Kilgore as Ti Moune in "Once on This Island" (photo by Joan Marcus, courtesy Boneau/Bryan Brown)
Once on This Island, which originally opened in 1990, is back in a Broadway revival playing at Circle in the Square. Set on a vibrant island, the story follows a young peasant girl named Ti Moune (played by newcomer Hailey Kilgore). After the gods of the island spare her life during a storm, they set her off on an experiment, to see if love really does conquer death. The dancing throughout the show is a soulful mix of authentic Afro-Caribbean moves, choreographed by Camille A. Brown (artistic director of Camille A. Brown and Dancers and a four-time Princess Grace Award winner). "Specific dances we focused on here are djouba, contredanse, and rabòday (known collectively as konbit), and the Afro-Cuban Orisha dances: Eleguá, Shango, Ogun, and Oya," Brown says. "I also consulted with dancer and choreographer Maxine Montilus, who is Haitian-American and specializes in Afro-Haitian and Afro-Cuban dance."
The Jazzie for Most Classic Choreography Goes to... "My Fair Lady"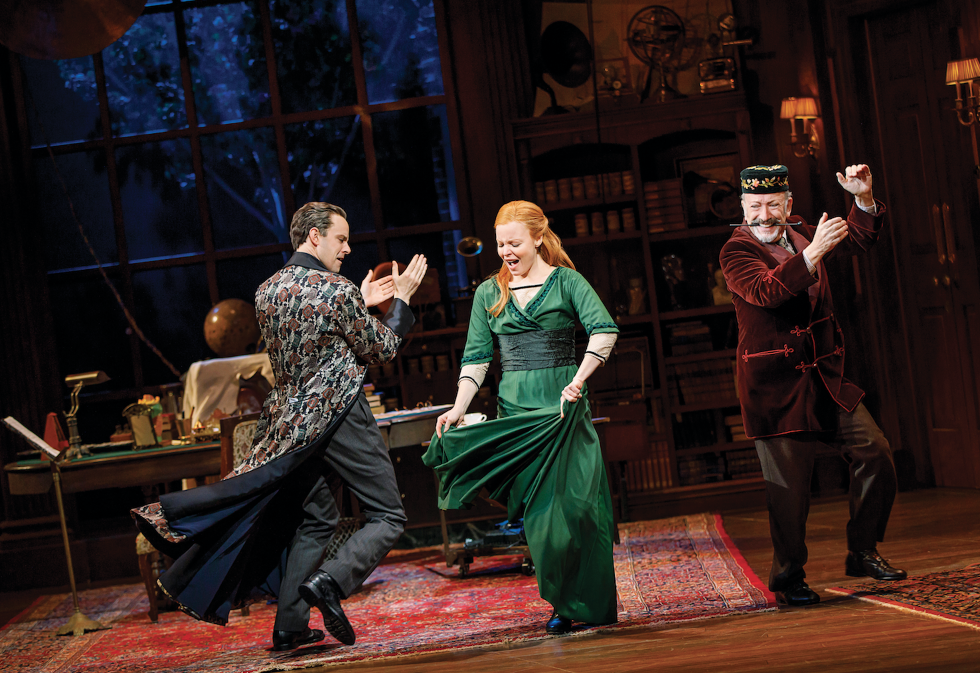 (From left) Harry Hadden-Paton as Henry Higgins, Lauren Ambrose as Eliza Doolittle, and Allan Corduner as Colonel Pickering in "My Fair Lady" (photo by Joan Marcus, courtesy Lincoln Center Theater)
The iconic 1956 Broadway musical starring Julie Andrews (which became a beloved 1964 film starring Audrey Hepburn), My Fair Lady returns to the Great White Way this season at Lincoln Center Theater with new choreography by Christopher Gattelli. Filled with lush waltzes and traditional musical theater moves, the show follows the story of Eliza Doolittle (Lauren Ambrose), a working-class girl who meets Professor Henry Higgins (Harry Hadden-Paton). Higgins takes it upon himself to teach Eliza to speak proper English and makes her over completely, in order to pass her off as a real lady. Don't expect the focus to be on choreography throughout, but the cast really gets to let loose and break out of their Victorian facades during the showstopping number "Get Me to the Church on Time," which is full of raucous dancers doing the can-can.
The Jazzie for Fetchest Hard-Hitting Hip-Hop Moves Goes to... "Mean Girls"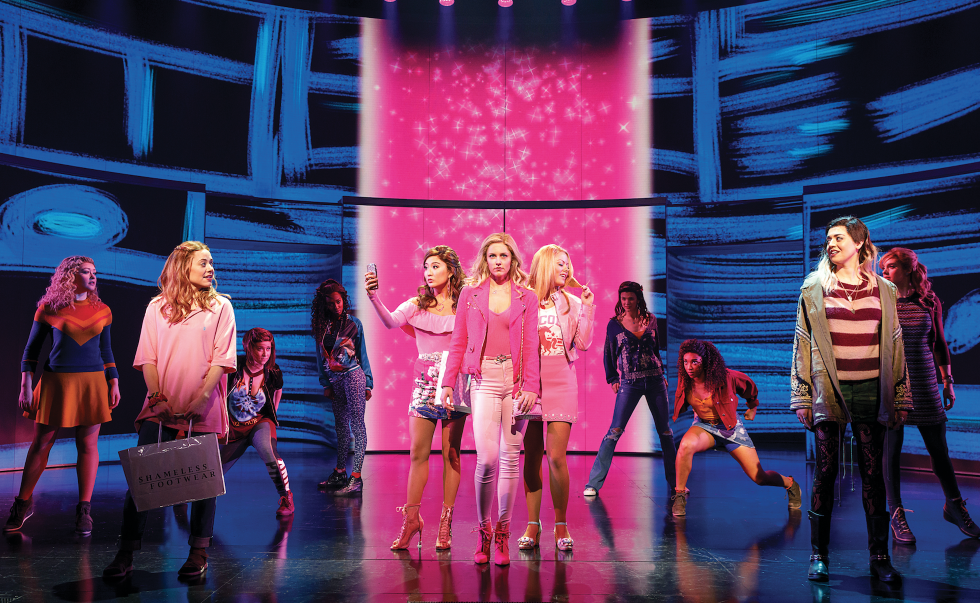 (From left) Erika Henningsen as Cady Heron, Ashley Park as Gretchen Weiners, Taylor Louderman as Regina George, Kate Rockwell as Karen Smith, and Barrett Wilbert Weed as Janis with the cast of "Mean Girls" (photo by Joan Marcus, courtesy Boneau/Bryan Brown)
Mean Girls on Broadway is just plain fun, thanks mostly to its beyond-hilarious and perfectly plastic main trio: Taylor Louderman as queen bee Regina George, Ashley Park as insecure follower Gretchen Wieners, and Kate Rockwell as airy and flighty Karen Smith. And it definitely doesn't hurt that funny woman Tina Fey wrote the book, based on her 2004 cult-classic film. As in the movie, the musical follows the naïve Cady (Erika Henningsen) as she navigates American high school life after being homeschooled in Africa by her scientist parents. On her first day, she meets Damian (Grey Henson) and Janis (Barrett Wilbert Weed), two sarcastic and witty outcasts who craft a plan to make Cady popular—for the sole purpose of ruining the evil Regina George's life. The dancing, according to director and choreographer Casey Nicholaw (known for The Book of Mormon and Something Rotten!), is an eclectic mix of hip hop, contemporary, and classic musical theater. There's even a full-on tap number called "Stop," performed masterfully by Damian and the ensemble, and some smart desk-ography whenever the kids are in class.
The Jazzie for Most Dance Genres Packed into a Single Show goes to... "SpongeBob SquarePants"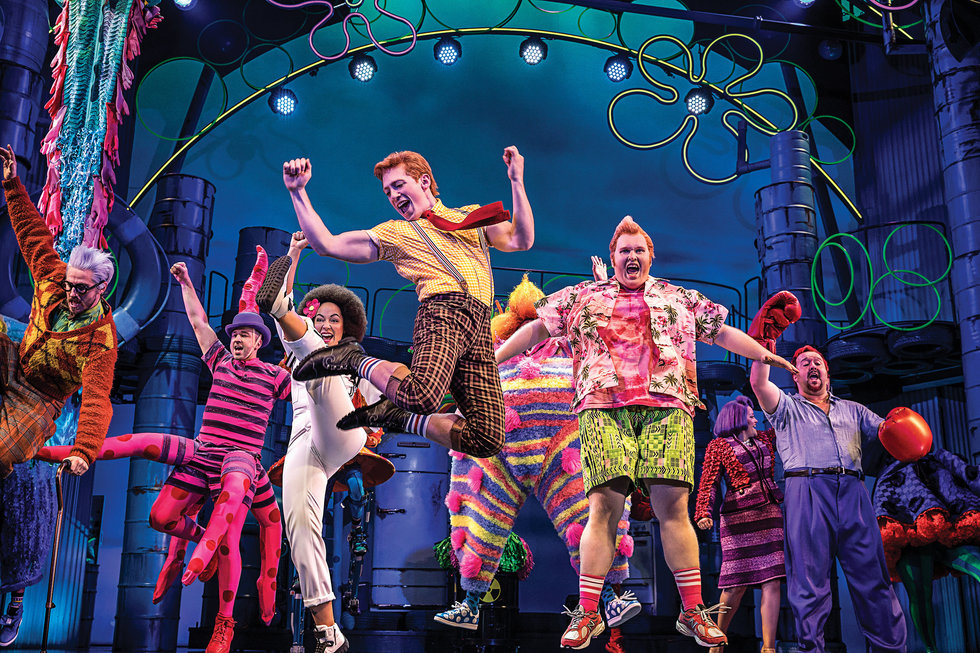 (From left) Lilli Cooper as Sandy, Ethan Slater as SpongeBob, and Danny Skinner as Patrick in "SpongeBob SquarePants" (photo by Joan Marcus, courtesy Boneau/Bryan Brown)
Mermaids with tails of rubber gloves, jellyfish made out of umbrellas, sparkling tuxedoed sea anemones: SpongeBob SquarePants has all that and more. The vibrant show follows beloved cartoon characters SpongeBob (played by Ethan Slater, who's making his Broadway debut), Patrick (Danny Skinner), Sandy (Lilli Cooper), and Squidward (Gavin Lee) through Bikini Bottom as a volcano threatens their very existence. The kooky, over-the-top production pulls out all the stops as SpongeBob and his friends try to save their town from impending doom—and the diverse choreography by Christopher Gattelli (of Newsies fame) doesn't disappoint. "Because the show has music written by so many different artists—ranging from T.I. to They Might Be Giants to Lady Antebellum to Panic! at the Disco—the physicality of each number, and the way each character moves, is vastly different," says dance captain Juliane Godfrey. "Expect a little bit of everything: There's hip hop, jazz, modern, and a full-blown tap number."
The Jazzie for Coolest Ballet at a Clambake Goes to... "Carousel"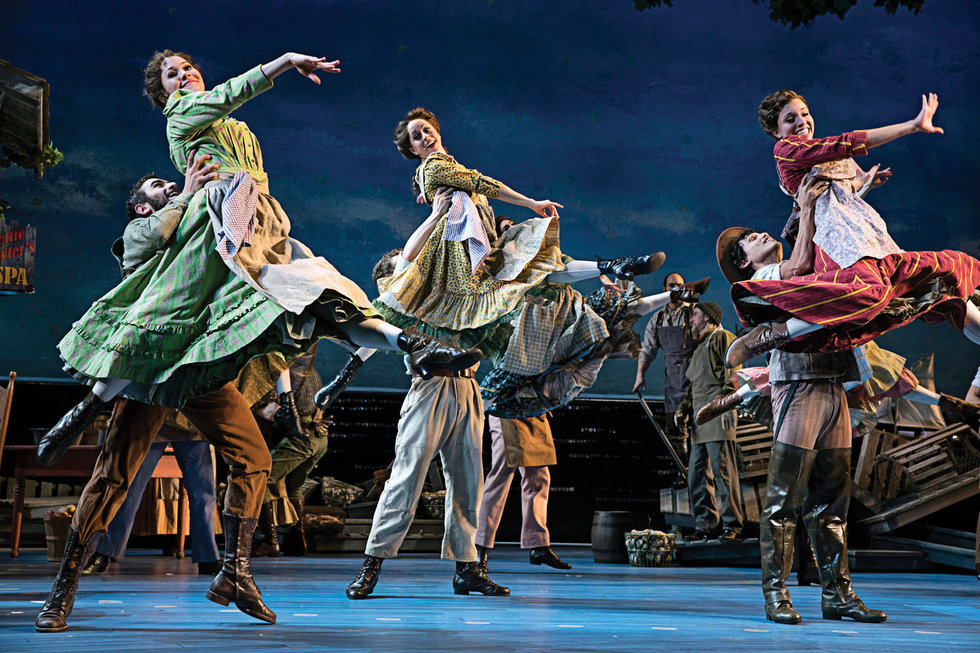 Dancers in "Carousel" (photo by Julieta Cervantes, courtesy DKC/O&M)
A huge hit when it first opened on Broadway in 1945, Carousel—the second musical written by iconic duo Richard Rodgers and Oscar Hammerstein II—follows an ill-fated couple: carousel barker Billy Bigelow (Joshua Henry) and millworker Julie Jordan (Jessie Mueller). The original was dance-heavy, with lots of sweeping ballet sequences choreographed by Agnes de Mille, so who better to update the dancing this time around than New York City Ballet resident choreographer Justin Peck? Peck's innovative movement is truly stunning, a cross between classically balletic and imaginative contemporary moves with lots of soaring jumps and turns. You'll even see the dancers actually embodying the carousel. "The dance is woven into the fabric of the show, and seems as natural as walking or breathing," says ensemble dancer Laura Feig. "The emotions of the story build until they explode into dance, the only logical next step." The cast also features two NYCB stars making their Broadway debuts: principal Amar Ramasar plays the cold-hearted criminal Jigger Craigin and soloist Brittany Pollack performs as Louise, the teenage daughter of Julie and Billy.
The Jazzie for Prettiest Dancing in a Snowstorm Goes to... "Frozen"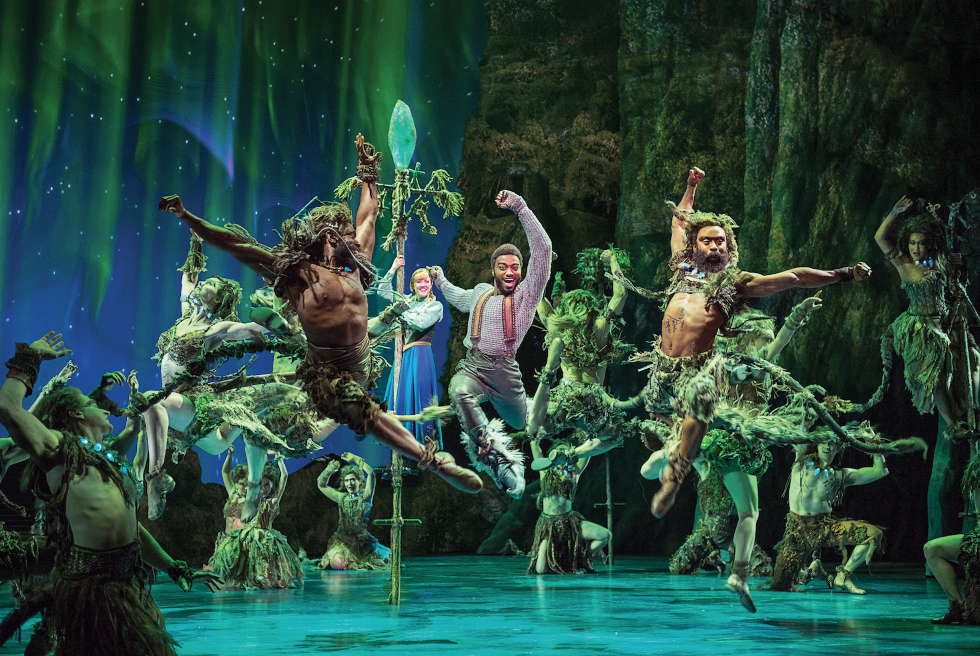 Kristoff dancing with Anna and the Hidden Folk of the Mountains in "Frozen" (photo by Deen Van Meer, courtesy Disney Theatrical Group)
Based on the hit Disney film, Frozen is one of the coolest (pun intended) new shows on Broadway. Like the movie, it follows royal sisters Anna (Patti Murin) and Elsa (Caissie Levy) as they navigate Elsa's magical wintry powers. Diehard fans will be happy to know that all the movie's best moments make appearances. (Yes, you'll hear "Do You Want to Build a Snowman?" and "Let It Go"!) But there are also lots of new additions to love, like the super-creative choreography by Rob Ashford. The dancing features beautiful waltzes in the palace, a festive maypole dance, adorably quirky moves for Anna, and a high-energy number from the kingdom's troll-like Hidden Folk of the Mountains. And be prepared for lots of jaw-dropping stage magic as Elsa creates some stunning winter scenery, including a towering ice castle.
A version of this story appeared in the July/August 2018 issue of Dance Spirit with the title "Presenting Dance Spirit's Annual Jazz Hand Awards."
Photo by Joe Toreno
It's almost 2019 and the ballroom dance scene is positively booming! From prestigious world championships to TV shows, kids are at the core of all this hip-shaking action—and we're so here for it. These eight up-and-comers in particular are shaping the field. They're the next generation of superstars to make the leap from technically exquisite ballroom-ites to bona fide celebrities.
Keep reading...
Show less
Low-quality screenshot, high-quality dancing. (via TheaterMania)
Well, we knew on an abstract level that Broadway's-golden-age guru Warren Carlyle would produce incredible choreo for the upcoming Broadway revival of Kiss Me, Kate! We just didn't know it would be THIS incredible.
Keep reading...
Show less
Photo by Camryn Elizabeth, courtesy Djouliet Amara
At age 23, Djouliet Amara is a successful professional dancer signed with a talent agency in NYC. She's studied at The Ailey School and even danced in "Memoria" with The Alvin Ailey American Dance Theatre. Having performed at City Center and appeared in numerous commercial campaigns for brands like Forever 21, Refinery29, and Danskin, it would appear that Amara is living a life most dancers only dream of. But as glamorous and successful as her career has been, Amara's journey to this point has not been an easy one. Her biggest challenge was her battle with an eating disorder that nearly cost Amara her career. Find out how this dancer found body acceptance and, in so doing, uncovered a dream she never knew she had. —Katherine Beard
Warning: This story may be triggering for those who have suffered or are suffering from disordered eating.
Keep reading...
Show less
How To
Dec. 14, 2018 12:56PM EST
Photo by Kaitlin Marin, courtesy American Repertory Ballet
"Lame duck." It sounds like nothing else in the classical ballet vocabulary, right? Also known as step-up turns or step-over turns—or, more technically, as piqués en dehors—these tricky pirouettes show up all over the classical ballet repertoire, perhaps most famously in Odette's Act II variation in Swan Lake. Here's how to keep your lame ducks from looking, well, lame.
Keep reading...
Show less
Fashion
Dec. 08, 2017 02:45PM EST
Matthew Bourne's "Nutcracker" (photo by Simon Annand, courtesy Raw PR)
When most of us think of The Nutcracker, we imagine a growing Christmas tree, dancing mice, and a little girl named Clara (or Marie) traveling to the Land of Sweets. But companies around the world have been reinventing the holiday classic, changing the storyline or adding their own spectacular sets and characters. To get in the Nutcracker spirit this season, check out these out-of-the-box productions.
Keep reading...
Show less
Jasmine Harper with Neil Haskell on "So You Think You Can Dance." (Photo by Adam Rose/FOX, courtesy FOX)
Every year, our friends over at Dance Magazine select 25 standout dancers, choreographers, and companies for their "25 to Watch" feature. The list is always overflowing with talent, but this year's iteration was especially exciting—four of the featured dancers have graced the pages of DS at one point or another: former cover star Aran Bell, DS Cover Model Search semi-finalist Sophie Miklosovic, Jasmine Harper, and "You Should Know" alum Easton Payne. It was a totally full-circle moment to see each of them score a coveted spot on this list. Check out their profiles below (which originally appeared in Dance Magazine), and major congratulations to everyone else selected this year!
Keep reading...
Show less
(screenshot via YouTube)
Maddie Ziegler is the kween of dance these days and it seems like there's no move this teen dancing machine can't do...or is there? In a recent video with Teen Vogue, Maddie shows us just how lit her dance skills are by demonstrating 10 iconic music video dance routines. From Britney Spears to Michael Jackson, the "Dance Moms" star gets her groove on as she dissects some of the most popular dances of all time. Though Maddie is a great dancer, it's pretty entertaining watching her do moves that might be a little outside of her comfort zone.
Keep reading...
Show less
Get Dance Spirit in your inbox
Giphy
It's the age-old debate: Is dance a sport? The answer is, without a doubt, YES. Of course, dance is much more than just a sport. But when we get down to the logistics of it all, it's impossible not to recognize it as the athletic endeavor it is. Here are 10 reasons why dance absolutely qualifies as a sport.
Keep reading...
Show less
Photo by Joe Toreno
It's almost 2019 and the ballroom dance scene is positively booming! From prestigious world championships to TV shows, kids are at the core of all this hip-shaking action—and we're so here for it. These eight up-and-comers in particular are shaping the field. They're the next generation of superstars to make the leap from technically exquisite ballroom-ites to bona fide celebrities.
Keep reading...
Show less
Just for Fun
Jun. 29, 2018 10:00AM EST
Colder weather is (finally) here, which means it's time for a good dance movie binge. But which iconic films should you put on? To narrow your search, we went ahead and ranked 30 of the greatest dance movies of all time.
Of course, we know a list like this is bound to be controversial—so if you disagree with our lineup, have at it in the comments!
Keep reading...
Show less
Getty Images
The Nutcracker has become an essential part of the holiday season—not to mention a part of most dancers' DNA. These days, the ballet is a beloved tradition, and the lifeblood of many dance companies, whose budgets depend on its reliably great ticket sales. But did you know that it was a flop when it first premiered in Russia? Or that George Balanchine himself once played Drosselmeyer on TV? Here's a timeline of the rich history of The Nutcracker.
Keep reading...
Show less
Courtesy MSG Entertainment
For some it's a holiday tradition, for others its an iconic spectacle, but no matter the reason, more than 1 million people will watch the Rockettes perform in the Radio City Christmas Spectacular each year. And though the production has been around since 1933, much of what goes on behind those velvety curtains and intricate sets remains a mystery. To curb our curiosity and find out what ensues when these leggy ladies aren't doling out their sky-high kicks, we got a backstage tour from the legends themselves.
From hair and makeup, to warm-up exercises, and costume quick changes (the fastest quick change in the show is a #mindblowing 75 seconds, by the way) we got a glimpse into the glamorous (and sometimes not so glamorous) world of the Rockettes.
Keep reading...
Show less
Dec. 03, 2018 04:07PM EST
Showstopper sees all different dancers from across the world at their dance competitions. They understand sometimes it can hard to know how to stand out among the 100s of dancers that perform on their stages.
Keep reading...
Show less
Photo by Donna Ward, courtesy Alvin Ailey American Dance Theater
On March 30, 1958, at the 92nd Street Y in NYC, dancer Alvin Ailey and a group of African-American dancers performed onstage together for the first time. Since then, Alvin Ailey American Dance Theater, the company Ailey formed, has become legendary in the dance world. To commemorate its 60th anniversary, Ailey has dubbed its annual City Center season "Ailey 60." From Nov. 28–Dec. 30 choreographers including Ronald K. Brown, Jessica Lang, and Rennie Harris will present premieres, alongside the works of current artistic director Robert Battle, Judith Jamison, and over two dozen pieces by Alvin Ailey himself. We asked a few of the company members to share what the anniversary means to them.
Keep reading...
Show less
When Hannahlei Cabanilla rolled up to her Dance Spirit cover shoot—just 36 hours after being named the "So You Think You Can Dance" Season 15 champion—she looked impossibly fresh-faced and well-rested. The Anaheim Hills, CA, native may have had "about eight blisters," as she joked, on her feet; she may barely have slept since the big win; and she may have just performed on "Live with Kelly and Ryan." But she jumped right on set, and quite literally didn't stop jumping for the next five hours. The fabulous technique, irresistible personality, and (especially) boundless energy that earned her the title of America's Favorite Dancer were all on full display.
So what was it actually like for Hannahlei to compete on the show she'd watched since she was a tiny dancer—and what's next for the now–19-year-old? Read on.
Keep reading...
Show less
via @wholenessmom on Instagram
The holidays are just around the corner and that means it's time to get your wish lists finalized. And while we have no doubt that stylish leos and cozy warm-ups will find their way onto your list, we think you'll want to consider adding some of these lit dance books to your holiday lineup, too. From revamped Nutcracker tales to biographies of your favorite dance stars, we've rounded up the latest and greatest books that every dancer will want to see in their stockings this season.
Keep reading...
Show less