From Comp Kid to "Pitch Perfect 3": How Skyler Semien's Dance Skills Took Her to the Silver Screen
Skyler Semien on set of the hit film Pitch Perfect 3 (courtesy Lance Semien)
Take a good look at Skyler Semien, because she's an up-and-coming commercial dancer who's primed to take Hollywood by storm. A freshman at Georgia State University, the former competition kid has already appeared in her first feature film, Pitch Perfect 3, and has two more movies in the works.
How did this dancer end up in one of the biggest films of the year? Semien says it started with her dance training. Studying everything from ballet to contemporary, Semien started competing when she was only 6 years old. But in high school, she realized hip hop was her ticket to the commercial world, and decided to shift her focus. Soon, she'd signed with Bloc talent agency, and as a senior in high school, she was cast as one of the "new Bellas" in Pitch Perfect 3.
Though Semien's found success in show biz, don't expect her to drop everything and move to Hollywood. The multi-talented dancer is keeping her options open as she concentrates on getting her education. "Dancers are no longer just dancers; they're entrepreneurs, creative directors, musicians and actors," she says. And she believes education will breed the skills she needs to pursue those kind of opportunities.
We chatted with Semien about why she thinks so many dancers are pursuing additional careers beyond the dance world.
---
Who are your dance idols?

Brian Friedman, of course! And recently, Delaney Glazer has become an idol for me. She trains out in L.A. and dances completely differently from everyone else. She stays true to her style and makes the choreography her own. Plus, I love her fashion sense!
What's your favorite dance movie?
Step Up! Can't go wrong with a classic.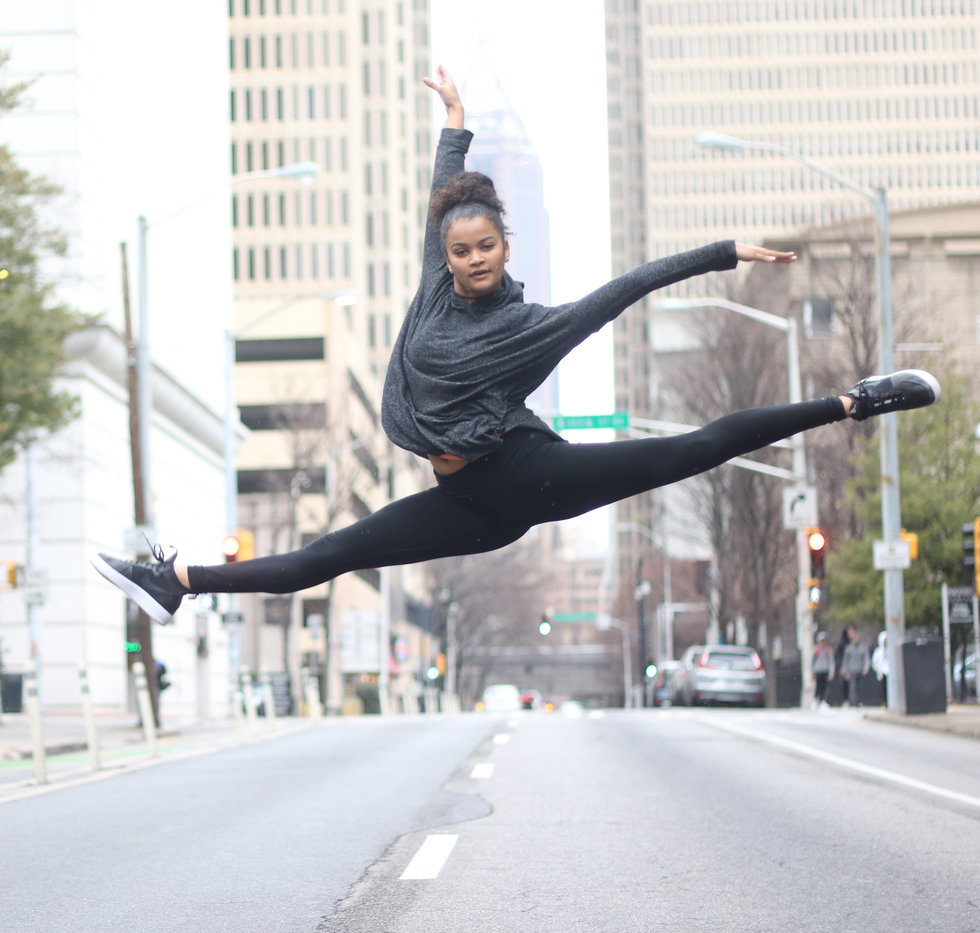 Photo by Justin Laryea, courtesy Lance Semien
What did you enjoy most about being part of Pitch Perfect 3?
Honestly, everything. Because Pitch Perfect 3 was my first professional job, it was a whirlwind. I was completely living in the moment and learning from seasoned dancers who were in my group, the "new Bellas."
How did your dance training help with your role on Pitch Perfect 3?
If it weren't for my decision to train seriously in hip hop, there's no way I would have booked it. Dancing in the professional world takes confidence, which is something I had to work on, and am continuing to build upon. There is no doubt that getting outside my comfort zone and diving into hip hop is what helped me land that job.
Were there any funny behind the scenes moments with the cast and crew?
YES! Because all of the main actors are comedians, a lot of the scenes were improvised, which made for so many funny, awkward, and downright hilarious moments. One in particular—which was actually used in the movie—was when "Fat Amy," Rebel Wilson's character, punched a balloon shark out of frustration after Emily and the "new Bellas" walk away. The first time she did that, no one saw it coming, and it was so hard not to laugh. Even the main cast behind her had a hard time keeping it together.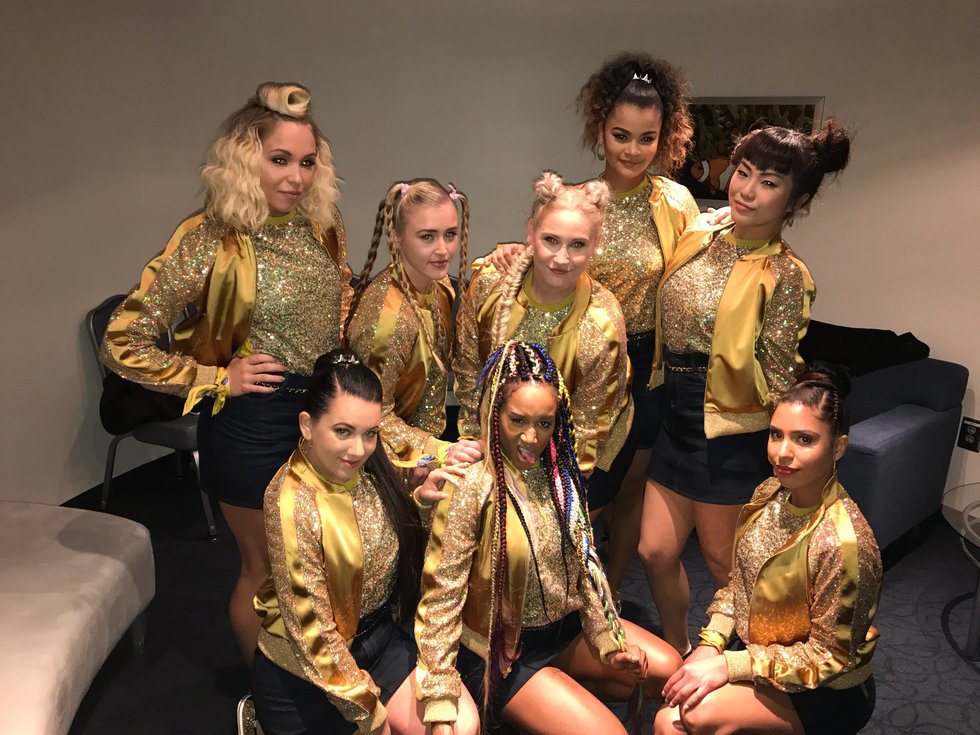 Semien (back row, second from right) with the other Bellas on the set of "Pitch Perfect 3" (courtesy Lance Semien)
Do you think dancers make good actors?
Yes and no. Yes, because when we dance, we're putting on a show; we're showcasing a different persona with our face and bodies, which is the beginning of acting. But, I think for some dancers acting comes naturally and for others it doesn't. With my background in lyrical, I love emoting to the audience. I think that's why I connect with acting so much.
How do you balance dance with your new career in acting?
As of right now, my hardest challenge is really balancing being a full time student with my dance/acting career. Not every professor understands it, which makes it difficult at times. But switching around my schedule and taking a couple online courses has been helpful.
Why do you think we're seeing this trend of young dancers who are pursuing additional careers in modeling, acting, singing, etc?
Back in the day you might have seen a breakout triple threat once in a while. But today, dancers literally do everything. I think it's because kids are getting exposed to the industry so early on, and are able to grasp what this community wants at an earlier age. I also believe social media has played a huge role in elevating dancers to where they are now, allowing them to jump into new roles than weren't previously available to them.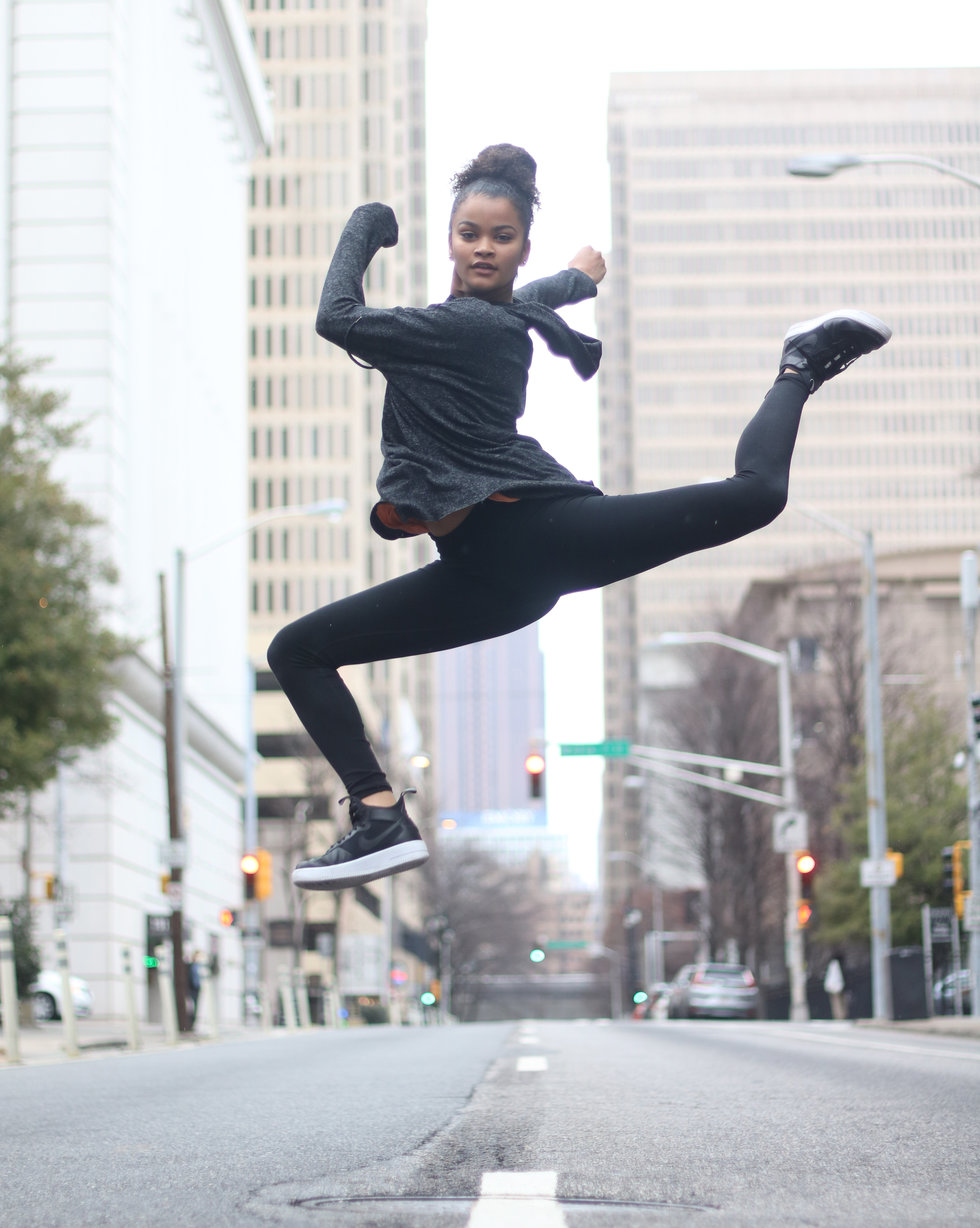 Photo by Justin Laryea, courtesy Lance Semien
What's next for you?
Earning a college degree is definitely a goal for me. I'll continue to pursue my dance/acting career, as long as I'm able to fit training and auditioning for jobs around my school schedule. Presently, I'm assisting faculty as an Elite Protégé on the Pulse Dance Experience tour. I'm so grateful to have worked as a dancer on the premiere episode of "Step Up: High Water," as well as in the upcoming feature films Dumplin' starring Jennifer Aniston, and Night School starring Kevin Hart and Tiffany Haddish.
Do you have tips for other dancers who want to pursue multiple career tracks?
I know it sounds clichéd, but stay true to yourself, hang around genuine and uplifting people who have your best interests at heart, network, and set goals for the upcoming year. Tomorrow is never promised, so don't wait on life to make the decision for you. If you want something, go after it.
American Ballet Theatre principal dancers Sarah Lane and Daniil Simkin (courtesy ABT)
Last May, we told you about a special exhibition of the Mark Ryden artwork that sparked Alexei Ratmansky's sweet-treat of a ballet, Whipped Cream. Well, hold on to your tiaras, bunheads, because there's a brand-new exhibit featuring actual costumes from this megahit production. The Nutcracker's Land of Sweets has some serious competition!
Keep reading...
Show less
via @kyle_vanny on Instagram competing on World Of Dance
Kyle Van Newkirk is a tap dancer you probably remember from the premiere season of NBC's World of Dance. In case you missed it, he is also one of Showstopper's incredible convention teachers. What makes Kyle stand apart from some of today's other incredible tappers? He isn't afraid to change what tap means to his audience and even himself. This modern view of tap dancing is important because it shows us that tap dancers are just as versatile and dynamic as dancers of any other genre. We sat down with Kyle to get his advice on bringing tap dancing into the 21st century.
Keep reading...
Show less
What did I just hear you say? You think all dancers are weak and delicate? PLEASE SAUT DE CHAT OUT OF MY LIFE. (Giphy)
Sure, dancers definitely have some unique identifying characteristics. (We're all obsessed with Center Stage? FACT.) But we're also subjected to all kinds of annoying, inaccurate stereotyping. Here are 10 dancer stereotypes that we never want to hear again.
Keep reading...
Show less
University of Minnesota Dance Team (courtesy University of Minnesota)
They say there's no "I" in "team"—and nowhere is that truer than the world of college dance teams, where precision reigns, uniformity is key, and a single misstep from any given "I" can cost a group a championship trophy. So it's unsurprising that securing a spot on one of the best dance teams in the country is no easy feat.
Members of these highly athletic teams rehearse for hours every week—on top of academic classes and commitments—and perform at football and basketball games, annual concerts, and nationally televised competitions (hi, ESPN). And "no I" rule notwithstanding, each of these top teams is made up of highly trained, highly technical, highly hard-core individuals, who come together to create a ready-for-victory pack.
These six teams aren't one-off success stories—they're consistently strong, and earn the top spots at major competitions like UDA and NDA nearly every year. Up for the challenge? Here's what to know before you go to auditions.
Keep reading...
Show less
Lol, same. (Screenshot via YouTube)
Picture this: You've scored tickets to Ellen DeGeneres' hit show, "Ellen." The day has come, the show is as hysterical as ever, Ellen is debating the biggest hot-button issue since the blue/black or white/gold dress, "Laurel vs. Yanny" (side note: it's LAUREL, people), and tWitch is killing it over at the DJ booth, as always. Ellen decides it's the perfect time to single out an audience member and, lo and behold, that person is "SYTYCD" champ ( and December 2017 cover star!) Lex Ishimoto.
Keep reading...
Show less
May. 16, 2018 02:26PM EST
Ema Peter
The Glorya Kaufman International Dance Center is the 54,000 square foot home of the USC Glorya Kaufman School of Dance, one of the largest facilities dedicated to dance on a private university campus. Designed for their innovative new curriculum, that supports a range of dance styles, the school's staff designated Harlequin to provide wall-to-wall flooring for the large 3,500 square foot Performance Studio as well as five dance studios in their new state-of-the-art building.
Keep reading...
Show less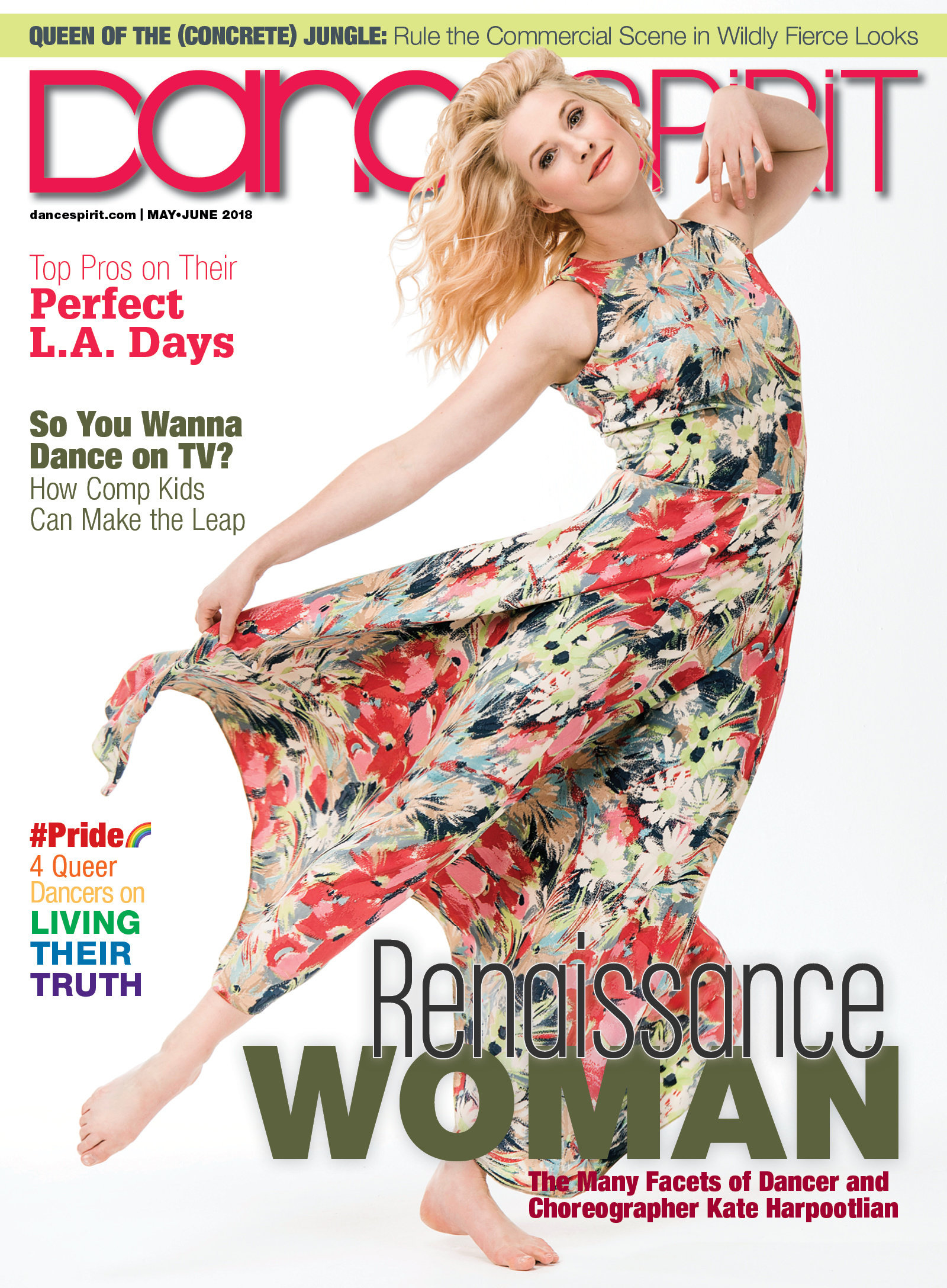 Get Dance Spirit in your inbox