Jul. 13, 2009 11:07AM EST
Dancer/Composer Aaron Severini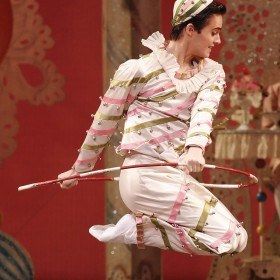 Aaron Severini as the Candy Cane in The Nutcracker. Photo by: Paul Kolnik
Aaron Severini claims the beginning of his dance career was one of those "normal, classic stories": Boy watches sister do ballet; boy does ballet himself; boy joins New York City Ballet at 17.
But when Severini, a 27-year-old corps member, took a bow this past June at the NYCB Dancers' Choice performance, it was clear he had strayed away from the "normal, classic" path. For starters, he was in a suit. His dress code usually includes tights, a tunic and ballet shoes. But as he stepped out in front of the New York State Theater's curtain, Severini bowed for a different reason: A new ballet, "Flit of Fury—The Monarch," had just been performed to music he composed.
The journey to that moment began almost 10 years ago, behind the curtain at the School of American Ballet's annual workshop. NYCB Ballet Master in Chief Peter Martins got word about Severini's talent. "He came up to me backstage and asked me if I wrote music," Severini says with a sense of disbelief. "It was the first time that someone in a position like that had asked to listen to something of mine."
Severini's talent for composition wasn't a secret, but it also wasn't his primary focus. In his childhood, he picked up musical skills from his father, a classical guitarist, and started imitating movie scores and tinkering around on the piano. He started composing his own music at age 8.
Severini managed to squeeze in piano lessons between ballet classes. When his family moved to North Carolina, he took his dance training to another level, studying at the North Carolina School of the Arts for two years.
While Severini identified himself as a ballet dancer, a dancer's very existence includes constant interaction with music. During his adolescence, he found himself plunking out notes to classical ballet scores he learned by ear on studio pianos before class or rehearsal began. But it took moving to NYC and entering class at SAB with legendary teacher Stanley Williams for Severini to hear music in a new way.
"There was so much timing and rhythm," he says of Williams' class. "In other classes, the pianists played big stuff like Don Q, but in his class it was much more minimal (like one chord per tendu sometimes), which was very new and influential."
Fortunately there was an outlet for him to explore the varied styles he was absorbing: All SAB students were required to take a music theory class with Jeffrey Middleton.
"Aaron has an intense energy that comes out in rhythmic propulsion—his music dances," Middleton says. "He's also highly opinionated and not easily satisfied, which I consider an asset. He has figured out how to learn what he needs to know. As a dancer he has been immersed in all kinds of music, feeding his imagination."
While his fellow dancers spent their evenings resting, Severini hunched over a keyboard and worked on compositions he would practice before class the next day. It was because of this that word got back to Martins about the young student's ability, leading to the inquiry backstage at the workshop. On a day where most students are frenzied, hoping for a contract to the main company, Severini managed to begin his unique path as both a dancer and a composer.
Once he entered the company in 2000, Martins' interest in Severini grew. "He said any time I had something I was working on I should drop it by his office," Severini says. "I never expected anything to be taken seriously." Severini wasn't even sure if he took himself seriously. But he kept developing a musical style. Each night that he performed a ballet in NYCB's rep, he got to hear work by musical masters like John Cage, Michael Torke and Steve Reich.
When ballets by these composers filled the program, Severini noticed a shift in himself and his fellow dancers. "There were certain ballets, like Fearful Symmetries, that really got the dancers' blood going, and I wanted to know why," he says. "I wanted to get that kind of feeling in my composition: adrenaline-packed, where once it starts it doesn't stop."
As the inspiration started coming, so did the opportunities. Martins gave him the chance to compose and (choreograph) for the NYCB's Choreographic Institute, which led to composing a piece for a Youth America Grand Prix Gala, a show at the National Arts Club and even scoring an online video clip for Rachael Ray.
The culmination of his hard work was his collaboration with fellow dancer and choreographer Adam Hendrickson, titled "Flit of Fury—The Monarch," which was performed onstage at the State Theater. It gave Severini the ability to demonstrate all he learned from his observations as a dancer and composer: the ability to keep the dancers moving at a frenetic pace, and subsequently keep the audience on the edge of their seats. The New York Times chief critic, Alastair Macaulay, noted "the most remarkable feature seemed to be the rhythmic intricacy of its music, for two pianos, with a nice overlay of jazz elements and Philip Glass–style rapid-fire minimalism."
Hendrickson realized how unique Severini's music was after getting the chance to work with him. "He has a lot of energy bottled up in him, and it's definitely reflected in his music," he says. "It's fun to dance to, because it just makes you move."
All that energy will have the chance to expand over the next year, as Severini plans to explore the world of commercial composition for films, as well as continuing to compose for dance and squeeze in more musical training. Not to mention his career at NYCB.
Phenomenally, he seems poised for as much success in the composition world as he's had in the dance world.
Matthew Murphy is a freelance writer and photographer living in NYC.
Dancer to Dancer
Jun. 15, 2019 10:12AM EST
(From left) Darriel Johnakin, Diego Pasillas, and Emma Sutherland (all photos by Erin Baiano)
Congratulations to Dance Spirit's 2019 Cover Model Search finalists: Darriel Johnakin, Diego Pasillas, and Emma Sutherland! One of them will win a spot on Dance Spirit's Fall 2019 cover. Learn more about the dancers on their profile pages, and then vote for your favorite below. You can vote once a day now through July 15.
We also want you to get social! We'll be factoring social media likes and shares into our final tallies. Be sure to show your favorite finalist some love on Facebook, Instagram, and Twitter, sharing their profile pages and using the hashtag #DanceSpiritCMS.
Cover Model Search
Jun. 13, 2019 02:20PM EST
Photo by Erin Baiano
Imagine attending American Ballet Theatre's prestigious NYC summer intensive, training among classical ballet legends. Imagine taking the stage at New York City Dance Alliance Nationals, competing against some of the country's best contemporary dancers. Now, imagine doing both—at the same time.
Welcome to Madison Brown's world. This summer, she's in her third year as a National Training Scholar with ABT, while also competing for NYCDA's Teen Outstanding Dancer title. (She's already won Outstanding Dancer in the Mini and Junior categories.) The logistics are complicated—ABT's five-week intensive overlaps with the weeklong NYCDA Nationals, which translates to a lot of cabs back and forth across Manhattan—but Maddie is committed to making the most of each opportunity. "I love contemporary and ballet equally," she says. "While I'm able to do both, I want to do as much as I can."
Maddie has an expressive face, endless extensions, and a quiet command of the stage. She dances with remarkable maturity—a trait noted by none other than Jennifer Lopez, one of the judges on NBC's "World of Dance," on which Maddie competed in Season 2. Although Maddie didn't take home the show's top prize, she was proud to be the youngest remaining soloist when she was eliminated, and saw the whole experience as an opportunity to grow. After all, she's just getting started. Oh, that's right—did we mention Maddie's only 14?
Cover Story
Jun. 16, 2019 07:00AM EST
Corbin Bleu in rehearsal for "Kiss Me, Kate" (Jenny Anderson, courtesy Roundabout Theatre Company)
If you're a hardcore Broadway baby, today is the worst Sunday of the year. Why, you ask? The Tony Awards were last Sunday, so basically there's nothing to look forward to in life anymore—no James Corden being James Corden, no teary acceptance speeches from newly minted stars, no thrilling excerpts from the hottest new shows. Oh yeah, and there are 50 more Sundays to go before our humdrum lives are once again blessed with the next annual iteration of Broadway's biggest night.
Musical Theater