You probably already know the dance division at the Boston Conservatory as a top destination for contemporary dancers. But in June 2016, the Conservatory uncovered a new part of its identity when it merged with Berklee College of Music. It's a move that's opening up all kinds of new opportunities for students—especially dancers.
---
According to dean of dance Cathy Young, it was a no-brainer for the schools, now called the Boston Conservatory at Berklee, to join forces. "One of the initial ideas behind the merger was that our campuses
were already wrapped around each other," says Young. "Conservatory students were already eating at the Berklee cafeteria, the dorms are all close, and buildings are literally side by side."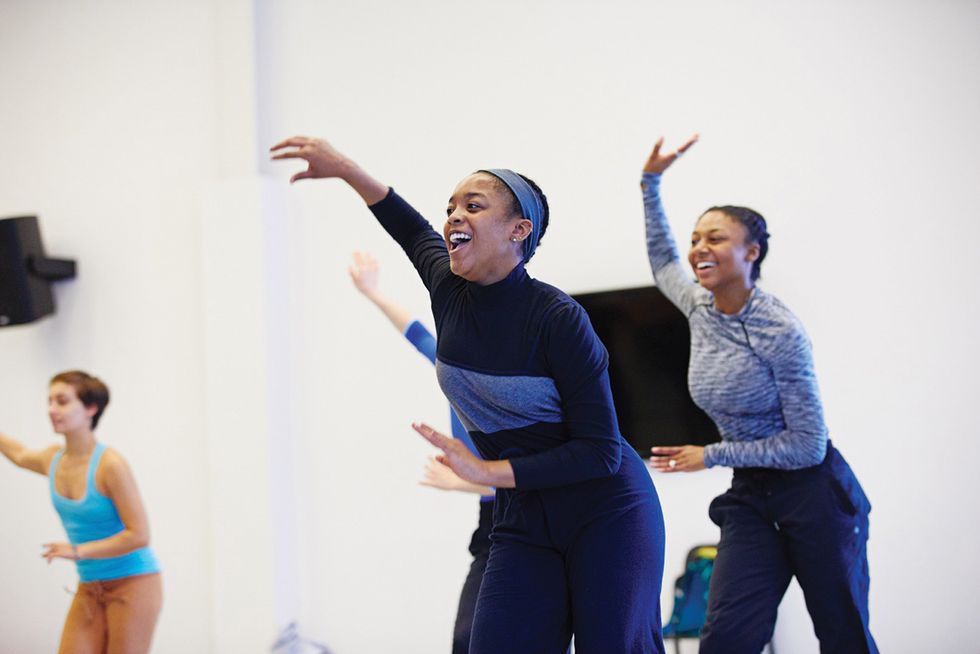 Dance majors taking class at the newly merged institution (Dave Green, courtesy The Boston Conservatory at Berklee)
But it's not just a matter of convenience: Both communities are benefiting from the expanded offerings the merger has enabled. BoCo students can now enroll in liberal arts courses through Berklee, and Berklee musicians have started taking classes from BoCo faculty, including in the dance department—fall 2017 sees the kickoff of a dance minor for Berklee students. And because Berklee College consistently attracts major talent in contemporary music, the merger has prompted cutting-edge collaborations across all the disciplines—dance, theater, and music—that BoCo at Berklee offers. Senior dance student Jazz Bynum says that her work with Berklee music students has led to learning on both sides: "It was very invigorating to be in a different kind of rehearsal process, feeling a new energy around dance. It was also great to open musicians' eyes to the things dancers need, and to learn music from the musician's point of view."
Dancers currently studying at Boston Conservatory at Berklee say that their daily lives haven't changed so much as expanded in scope. As senior Alyssa Markowitz says, "We now perform in more concerts, take new classes, and collaborate with Berklee students on exciting projects, like performing with a huge live band for an audience of stars like Rita Moreno. The merger has opened up so many new channels for collaboration, leaving both student communities richer in their art."
A version of this story appeared in the September 2017 issue of Dance Spirit with the title "Cross-Disciplinary Heaven."