Ballet
Sep. 01, 2013 01:22PM EST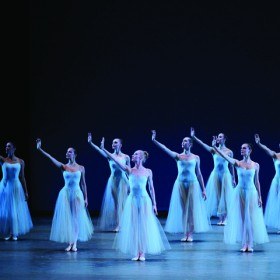 New York City Ballet in George Balanchine's Serenade (by Paul Kolnik)
It's a thrilling moment: My fellow corps members and I rise to our toes and begin hopping on pointe in time to a beautiful Bach violin concerto. As we merge into two lines, we start an intricate canon with our arms—the first line opens one arm every four counts, and the other line opens it every three counts. The result is a visually stunning effect: You can literally see the music. And it happens during the last movement of George Balanchine's Concerto Barocco.
Feeling molded to the music is one of the biggest perks of dancing a Balanchine ballet. But his prolific repertoire (more than 400 works!) ranges from tutu ballets like Symphony in C to neoclassical masterpieces like Agon—and getting the hang of their fleet petit allégro, elongated, off-balance positions and innovative pointework can be tricky. Here's how you can find the freedom in Balanchine's ballets without sacrificing his signature style.
The Man Behind the Moves
Born in St. Petersburg, Russia, Balanchine studied at the Imperial Theater Ballet School and danced for the Maryinsky Ballet before turning his focus towards choreography. After serving as ballet master for Europe's Ballets Russes in the 1920s, Balanchine moved to the United States in the '30s and opened the School of American Ballet with the help of patron Lincoln Kirstein. He choreographed for Broadway, Hollywood and several small ballet troupes before founding the New York City Ballet in 1948, which he directed until his death in 1983.
"Balanchine was a musician who choreographed," says former NYCB principal Jacques d'Amboise. In fact, Balanchine was an expertly trained pianist. He would often stay up late breaking down a musical score into its different components, so that when he choreographed to it he knew, as d'Amboise says, "the orchestration's DNA."
"The work just flowed out of him," says Allegra Kent, one of his foremost ballerinas at NYCB. "He created very quickly and quietly—he never yelled. It was just about the work."
And that work forever changed classical ballet. Many of his ballets lacked a specific story; he wanted to let the dancing speak for itself. For that reason, he frequently did without elaborate costumes and sets, having his dancers perform in simple practice clothes. His choreography often incorporated elements of jazz and unconventional partnering never before seen in the ballet world. Today, Balanchine's ballets are performed in companies worldwide, and he continues to influence choreographers everywhere.
Balanchine's Style
Balanchine developed a distinct technical style to accommodate his choreography. He stressed precise musical timing, and emphasized phrasing and syncopation in his classes. "For example, Balanchine's fondu doesn't have the same timing on the way down as on the way up," says Suki Schorer, a longtime instructor at SAB. "It goes down slower and comes up a little faster. Frappé isn't even—its accent is out and out, while ballonné is in and in."
Balanchine wanted dancers to gobble up space, and gave classical technique a more streamlined look. He asked for longer lines, deeper lunges and a more open arabesque. "He disguised all his preparations," says NYCB principal Teresa Reichlen. "He tried to make the in-between stuff look just as fantastic as the bigger steps."
"There are no boundaries with his technique," says Miami City Ballet soloist Sara Esty. "Everything is stretched to the maximum."
How to Dance It
Speed and musicality are some of the hardest elements of Balanchine technique. "Be in time and on time—that's the most important thing," Schorer says. Developing speed starts at the barre during tendus and dégagés. "You need to stop in fifth position fully each time you close," Schorer says. For greater efficiency, cross your working leg so that it's directly in line with your body's center line, instead of the standing heel. And keep your weight forward over the balls of the feet, "so you're ready to move in an instant," Schorer says.
Rather than preparing for pirouettes with two bent legs in fourth position, the Balanchine style requires a straight back leg to create an element of surprise. "From two bent legs, it's a dead giveaway you're going to pirouette," says Schorer. "But from an elongated fourth you could be about to do anything." During turns traveling on a diagonal, Balanchine dancers spot the front instead of the corner so the audience can see their faces and the turnout of their legs.
In Balanchine works, it's OK to let your elbows and wrists bend and sweep up through the center of the body, and there should be space between each of your fingers. "The elbow picks up the wrist and the wrist brings the fingers," says Schorer. "The arms aren't one unit, but many pieces in motion, responding to the air."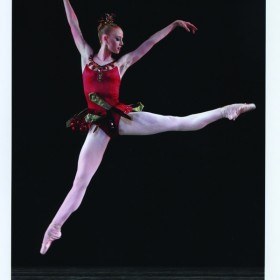 NYCB principal Teresa Reichlen in "Rubies," from Balanchine's Jewels (by Paul Kolnik)
Grasping Balanchine's style requires time and consistent training. "It's a process," says Reichlen. "You have to work to develop the specific muscle groups that his technique stresses." Most importantly, though, don't forget to listen. "Every step he choreographed has a musical purpose," says Esty. "If you really dive into the music, it will lead the way."
Artyon Celestine and Paige Glenn showing their lift skills (photo by Kristin Glenn, courtesy Glenn)
Yes, they're quite possibly the cutest dance duo since, well, ever. But put Paige Glenn and Artyon Celestine onstage, and it's immediately clear they mean business. That was apparent to millions across the country last summer, when Artyon and Paige's unbelievable extensions, fearless turning, and infectious energy propelled them to the quarterfinals of "America's Got Talent." They've also appeared (together or individually) on "Little Big Shots," "Lip Sync Battle Shorties," "The Ellen DeGeneres Show," and "Access Hollywood Live"—not to mention the competition titles they've won as a pair.
"Simon Cowell came backstage during 'AGT' and told us, 'Go out there and do your best. They're going to like you.' "—Artyon
Keep reading...
Show less
Popular
Apr. 02, 2018 10:14AM EST
Showstopper's National Finals Opening Number Performance
Showstopper has been making its impact on the dance world since 1978. Before then, dancers didn't have a stage to perform on, the opportunity to learn from peers, or a competitive outlet like most sports. Debbie Roberts recognized this missing piece in the dance community and that is how America's first and longest running dance competition, Showstopper, was born. Debbie taught dance for over 26 years and owned and operated her own dance studio for 20 years. She is now the owner and National Director of Showstopper, along side her husband, Dave Roberts. Dancer, teacher, business owner, author, and mother, Debbie has made dance her life's career.
Keep reading...
Show less
Lealand Eve
As a teenager, contemporary dancer Eveline Kleinjans felt like nothing she did was good enough. Auditioning for university dance programs paralyzed her: "I was so focused on every move I made and what people would think that I wasn't able to be free, to be myself," she says. And her intense perfectionism had real repercussions. "I'd get negative feedback saying, 'We don't see you.' "
Perfectionism is extremely common in the dance world, because dancers hold themselves to terrifically high standards. It's easy to get a little discouraged when you aren't improving as quickly as you want. But there's a difference between healthy self-criticism and an unhealthy obsession with perfection. How can you tell when your drive to be better has crossed the line—and what can you do to get back on track?
Keep reading...
Show less
Sarah Pippin assisting in a convention class at New York City Dance Alliance (courtesy NYCDA)
To her high school classmates, Sarah Pippin was a regular girl: a good student and a friendly face around campus. But on the weekends—at dance competitions and conventions across the country—Pippin was a bona fide celeb, adored by her fellow competitors and faculty members alike.
By the time she graduated high school, Pippin had racked up major accomplishments, including performances with Janet Jackson and Shaping Sound, a role on Dance Spirit's own reality series "Road to Nationals," titles such as New York City Dance Alliance's National Mini, Junior and Senior Outstanding Dancer, and, most recently, a college scholarship on behalf of Dance Magazine through the NYCDA Foundation.
There's no doubt that Pippin, now a freshman at The Juilliard School, is among a rising generation of competition and convention stars. And while "celebrity" isn't a term they'd give themselves, you know who they are. These dancers are adored by legions of real-life fans hoping to watch and dance alongside them, not to mention the thousands of social media followers ready to double-tap everything they post.
Being so popular on the circuit has its perks—traveling every weekend, internet fame, working with big-name choreographers—but it also comes with its share of struggles. Here's a peek at what it's really like at the top.
Keep reading...
Show less
Moira Shearer as Victoria Page in the 1948 film The Red Shoes
Q: "Why do you want to dance?"
A: "Why do you want to LIVE?"
Ahhh, so iconic! If you know those lines (slash, embody them on a daily basis), you're already a fan of the 1948 film The Red Shoes. The second line, as spoken by Red Shoes heroine Victoria Page, just perfectly captures the kind of crazy, all-consuming love so many of us feel for this incredible art form.
The Red Shoes turns 70 (!) this year. And Harper's Bazaar decided to celebrate that birthday in an oh-so-glamorous fashion: They decked out three of today's most beautiful ballerinas—American Ballet Theatre's Misty Copeland and Isabella Boylston and New York City Ballet's Tiler Peck—in gorgeous couture inspired by the film. (Obviously, Louboutins were involved.)
Keep reading...
Show less
Popular
Mar. 26, 2018 09:50AM EST
Winter is drawing to a close and you know what that means -- It's time to really kick this year into gear! Move U has done the research so you can find your best match, look good, and feel great this season with a twist unique to your team! Here are five looks to put your performance on the map in 2018.
Keep reading...
Show less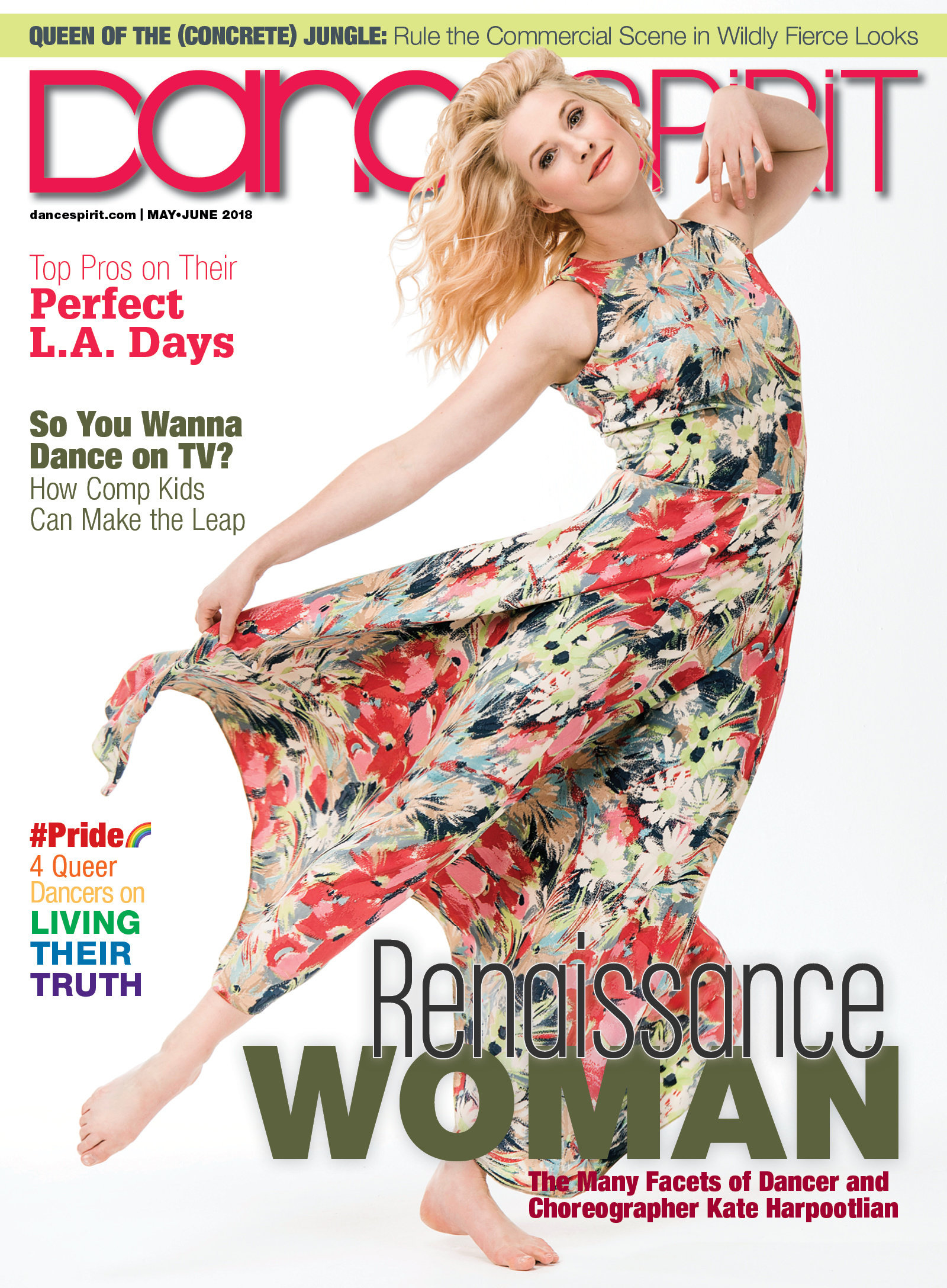 Get Dance Spirit in your inbox