Sep. 01, 2013 01:22PM EST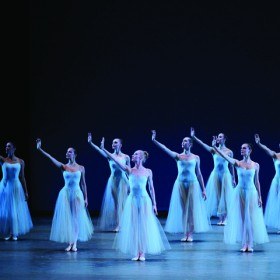 New York City Ballet in George Balanchine's Serenade (by Paul Kolnik)
It's a thrilling moment: My fellow corps members and I rise to our toes and begin hopping on pointe in time to a beautiful Bach violin concerto. As we merge into two lines, we start an intricate canon with our arms—the first line opens one arm every four counts, and the other line opens it every three counts. The result is a visually stunning effect: You can literally see the music. And it happens during the last movement of George Balanchine's Concerto Barocco.
Feeling molded to the music is one of the biggest perks of dancing a Balanchine ballet. But his prolific repertoire (more than 400 works!) ranges from tutu ballets like Symphony in C to neoclassical masterpieces like Agon—and getting the hang of their fleet petit allégro, elongated, off-balance positions and innovative pointework can be tricky. Here's how you can find the freedom in Balanchine's ballets without sacrificing his signature style.
The Man Behind the Moves
Born in St. Petersburg, Russia, Balanchine studied at the Imperial Theater Ballet School and danced for the Maryinsky Ballet before turning his focus towards choreography. After serving as ballet master for Europe's Ballets Russes in the 1920s, Balanchine moved to the United States in the '30s and opened the School of American Ballet with the help of patron Lincoln Kirstein. He choreographed for Broadway, Hollywood and several small ballet troupes before founding the New York City Ballet in 1948, which he directed until his death in 1983.
"Balanchine was a musician who choreographed," says former NYCB principal Jacques d'Amboise. In fact, Balanchine was an expertly trained pianist. He would often stay up late breaking down a musical score into its different components, so that when he choreographed to it he knew, as d'Amboise says, "the orchestration's DNA."
"The work just flowed out of him," says Allegra Kent, one of his foremost ballerinas at NYCB. "He created very quickly and quietly—he never yelled. It was just about the work."
And that work forever changed classical ballet. Many of his ballets lacked a specific story; he wanted to let the dancing speak for itself. For that reason, he frequently did without elaborate costumes and sets, having his dancers perform in simple practice clothes. His choreography often incorporated elements of jazz and unconventional partnering never before seen in the ballet world. Today, Balanchine's ballets are performed in companies worldwide, and he continues to influence choreographers everywhere.
Balanchine's Style
Balanchine developed a distinct technical style to accommodate his choreography. He stressed precise musical timing, and emphasized phrasing and syncopation in his classes. "For example, Balanchine's fondu doesn't have the same timing on the way down as on the way up," says Suki Schorer, a longtime instructor at SAB. "It goes down slower and comes up a little faster. Frappé isn't even—its accent is out and out, while ballonné is in and in."
Balanchine wanted dancers to gobble up space, and gave classical technique a more streamlined look. He asked for longer lines, deeper lunges and a more open arabesque. "He disguised all his preparations," says NYCB principal Teresa Reichlen. "He tried to make the in-between stuff look just as fantastic as the bigger steps."
"There are no boundaries with his technique," says Miami City Ballet soloist Sara Esty. "Everything is stretched to the maximum."
How to Dance It
Speed and musicality are some of the hardest elements of Balanchine technique. "Be in time and on time—that's the most important thing," Schorer says. Developing speed starts at the barre during tendus and dégagés. "You need to stop in fifth position fully each time you close," Schorer says. For greater efficiency, cross your working leg so that it's directly in line with your body's center line, instead of the standing heel. And keep your weight forward over the balls of the feet, "so you're ready to move in an instant," Schorer says.
Rather than preparing for pirouettes with two bent legs in fourth position, the Balanchine style requires a straight back leg to create an element of surprise. "From two bent legs, it's a dead giveaway you're going to pirouette," says Schorer. "But from an elongated fourth you could be about to do anything." During turns traveling on a diagonal, Balanchine dancers spot the front instead of the corner so the audience can see their faces and the turnout of their legs.
In Balanchine works, it's OK to let your elbows and wrists bend and sweep up through the center of the body, and there should be space between each of your fingers. "The elbow picks up the wrist and the wrist brings the fingers," says Schorer. "The arms aren't one unit, but many pieces in motion, responding to the air."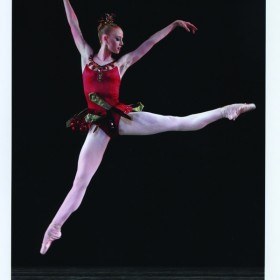 NYCB principal Teresa Reichlen in "Rubies," from Balanchine's Jewels (by Paul Kolnik)
Grasping Balanchine's style requires time and consistent training. "It's a process," says Reichlen. "You have to work to develop the specific muscle groups that his technique stresses." Most importantly, though, don't forget to listen. "Every step he choreographed has a musical purpose," says Esty. "If you really dive into the music, it will lead the way."
Ballet
Apr. 19, 2019 03:37PM EST
Gabriel Figueredo in a variation from Raymonda. VAM Productions, Courtesy YAGP.
This week, over 1,000 young hopefuls gathered in New York City for the Youth America Grand Prix finals, giving them the chance to compete for scholarships and contracts to some of the world's top ballet schools and companies. Roughly 85 dancers made it to the final round at Lincoln Center's David H. Koch Theater on Wednesday. Today, the 20th anniversary of YAGP came to a close at the competition's awards ceremony. Read on to find out who won!

Dance News
Apr. 19, 2019 07:00AM EST
After a string of ballet-company rejections, Jennifer Sydor (here in Laura Peterson's "Failure") found success in other areas of the dance world. (Stephen Delas Heras, courtesy Jennifer Sydor)
In her senior year at Butler University, Jennifer Sydor auditioned for more than a dozen regional ballet companies—and got a string of "no, thank you" responses. "I have an athletic build, and my movement quality isn't the typical ballet aesthetic," Sydor says. "But I'd been laser-focused on ballet. When I didn't get a ballet contract, I was heartbroken."
Her one job offer came from Kim Robards Dance, a small modern company based in Aurora, CO. After attending KRD's summer intensive, Sydor ended up accepting a yearlong position with the troupe. "I was relieved and happy to begin my career," she says. She's been working as a contemporary dancer ever since.
In the dance world, rejection is part of the package. That doesn't make it any more pleasant. But whether you didn't get the Nutcracker role of your dreams or you weren't picked for a job despite feeling like you aced the audition, you can emerge from even the most gut-wrenching "no" smarter and stronger.
Mind
Apr. 18, 2019 07:13PM EST
Ballet West principal Beckanne Sisk as Kitri (Luke Isley, courtesy Ballet West)
Guess who's baaaaack?! Your resident Dance Spirit astrologers! And on the eve of the Youth America Grand Prix awards ceremony, we thought it was the perfect time to pair each zodiac sign with a variation commonly seen during the competition. After many painstaking hours spent researching, consulting the stars, and staring wistfully into the sky, we compiled our data and present you with the definitive list of each star sign as a YAGP variation! As we said last time, don't @ us if you're not happy with your pairing—the stars don't lie, baby!
Dancer to Dancer