Mar. 23, 2017 05:20AM EST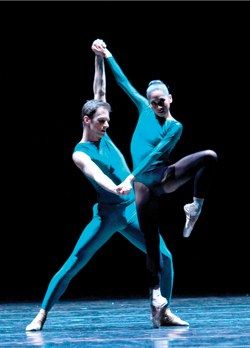 The Joffrey Ballet's Christine Rocas and Rory Hohenstein in In the middle, somewhat elevated (Herbert Migdoll)
There I stood, center stage, during a performance of William Forsythe's In the middle, somewhat elevated. Rehearsals for the ballet had been tricky. I'd felt self-conscious and hesitant about its stretched-to-the-limits choreography—particularly the passages of improvisation—in the studio. I couldn't tell if what I was doing looked right. Yet at that moment during the show, with no mirror and no chance for a "do-over," I was forced to follow my gut instincts. And it felt awesome.
There's nothing like dancing a Forsythe ballet. It's an adrenaline rush, a brain tease and a crazy cardio workout all rolled into one. Your mind and body are challenged in ways you never thought possible. It can definitely be intimidating. But if you stay true to Forsythe's style and surrender yourself to the music, dancing his works could be one of the highlights of your career.
The Man Behind the Moves
Forsythe danced with the Joffrey Ballet and then with the Stuttgart Ballet in Germany, where he was eventually appointed resident choreographer. In 1984, he became director of Ballet Frankfurt. During the next 20 years he created what would become his signature ballets: Artifact (his first full-length while at Ballet Frankfurt), In the middle, somewhat elevated (made for the Paris Opéra Ballet) and The Vertiginous Thrill of Exactitude (maybe the toughest 12 minutes of dancing out there).
Who inspires Forsythe's choreography? For his pointe shoe ballets, it's George Balanchine. "He loves the lightness, speed and musicality of Balanchine," says Laura Graham, who danced for Forsythe in Ballet Frankfurt and now sets his pieces on various companies. "But he has so many inspirations, like art, the news and life. He's also inspired by the dancers he has in front of him."
Today, the dancers in front of him are his own ensemble: The Forsythe Company, based in Dresden and Frankfurt am Main, Germany, which Forsythe founded in 2005. While many of his older pieces are done
by ballet companies around the world, his recent, more theatrical works are performed exclusively by his company.
Forsythe's Style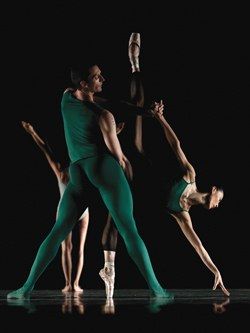 Dresden Semperoper Ballett's Raphael Coumes-Marquet and Yumiko Takeshima in Artifact Suite (Costin Radu)
A Forsythe ballet is easy to recognize but hard to define. One of his style's distinctive qualities is big, long, exaggerated positions. In his take on fifth position en haut, for example, the arms are extended higher than usual, and held farther back, almost behind the ears. "He'll often take a step and flip it backwards, so it's still classical but turned inside out," says Joffrey Ballet dancer Rory Hohenstein.
But there's more to Forsythe than hyperextended classical shapes. "There's an emphasis on energy and attack, on different values and weight changes," explains choreographer Brian Reeder, a former dancer with Ballet Frankfurt. "In his partnering, stretch and pull counterbalance each other." There's also a lot of improvisation. But that doesn't mean you can do whatever you want. "There are always ideas and tasks to work off that keep it structured," Reeder says. "Even if it seems like chaos, it's informed chaos." In In the middle, for example, one of the improvisation passages involves making circles with various parts of your body.
How to Do It
When Graham sets a Forsythe ballet, she tells dancers to "vacuum-clean their technique." She insists on precise footwork, energy through the hands, and—especially—a deliberate focus. Crisp technique helps Forsythe's riffs on classicism read better, but in the end "it's not just about the steps—it's about being present," Graham says.
Classical ballet dancers often have trouble with Forsythe's style of coordination. We're trained to move our arms and legs together, but in Forsythe's work, the arms often have to lead. As an exercise, Graham suggests walking with huge steps and swinging your arms. Before each step, notice how your arms get there a second before your feet. "It's a natural feeling—not forced from the outside in, but from the inside out," she explains. "Understanding that will help you relax so you can play with the musicality." Ultimately you should look loose, almost catlike.
As for the improvisation: Don't worry about "right" or "wrong." What's important is that you move with confidence. "If you second guess yourself, it will read in the body," Reeder says. "That's when things start to look awkward." Forsythe improv usually relates to material you do elsewhere in the ballet, which gives you a vocabulary to fall back on. If you're stuck, try rearranging the steps of an earlier sequence, or dancing the pas de deux material without a partner. Be fearless.
Forsythe ballets are extremely athletic. For Hohenstein, one of the hardest things is learning to not push all the time. "With Forsythe's work, especially In the middle, you have to pick and choose the moments where you can allow yourself to breathe," he says. "Push as hard as you can with one thing and then relax into the next." Dancing with highs and lows like this adds texture to the movement, makes it more interesting to watch and helps you get through the piece without falling over.
Yes, it's tough, but remember that dancing Forsythe should also be fun! "You have freedom to find your individuality as a dancer," Reeder says. If you fully immerse yourself in the style, you'll gain confidence, develop as an artist and have a great time in the process.
Ballet
Jun. 15, 2019 10:12AM EST
(From left) Darriel Johnakin, Diego Pasillas, and Emma Sutherland (all photos by Erin Baiano)
Congratulations to Dance Spirit's 2019 Cover Model Search finalists: Darriel Johnakin, Diego Pasillas, and Emma Sutherland! One of them will win a spot on Dance Spirit's Fall 2019 cover. Learn more about the dancers on their profile pages, and then vote for your favorite below. You can vote once a day now through July 15.
We also want you to get social! We'll be factoring social media likes and shares into our final tallies. Be sure to show your favorite finalist some love on Facebook, Instagram, and Twitter, sharing their profile pages and using the hashtag #DanceSpiritCMS.
Cover Model Search
Jun. 13, 2019 02:20PM EST
Photo by Erin Baiano
Imagine attending American Ballet Theatre's prestigious NYC summer intensive, training among classical ballet legends. Imagine taking the stage at New York City Dance Alliance Nationals, competing against some of the country's best contemporary dancers. Now, imagine doing both—at the same time.
Welcome to Madison Brown's world. This summer, she's in her third year as a National Training Scholar with ABT, while also competing for NYCDA's Teen Outstanding Dancer title. (She's already won Outstanding Dancer in the Mini and Junior categories.) The logistics are complicated—ABT's five-week intensive overlaps with the weeklong NYCDA Nationals, which translates to a lot of cabs back and forth across Manhattan—but Maddie is committed to making the most of each opportunity. "I love contemporary and ballet equally," she says. "While I'm able to do both, I want to do as much as I can."
Maddie has an expressive face, endless extensions, and a quiet command of the stage. She dances with remarkable maturity—a trait noted by none other than Jennifer Lopez, one of the judges on NBC's "World of Dance," on which Maddie competed in Season 2. Although Maddie didn't take home the show's top prize, she was proud to be the youngest remaining soloist when she was eliminated, and saw the whole experience as an opportunity to grow. After all, she's just getting started. Oh, that's right—did we mention Maddie's only 14?
Cover Story
Jun. 15, 2019 10:00AM EST
Photo by Erin Baiano
There's a story Kate Walker, director of dance at Booker T. Washington High School for the Performing and Visual Arts in Dallas, TX, loves to tell about Emma Sutherland, who just graduated from the program. "We were watching the students run a really long, challenging piece," Walker recalls. "Several kids couldn't quite make it through. But Emma did make it all the way to the end, which is when she walked up to us faculty and very politely asked, 'May I please go throw up?' "
Cover Model Search