Not Your Average Dancer: Meet the Deaf Dancer Defying Stereotypes
Deaf dancer Simone Botha Welgemoed poses with her cochlear implant (photo by Vikram Bawa, courtesy Welgemoed)

Simone Botha Welgemoed is the ultimate dancer: She's performed with ballet companies, competed in dance competitions, and toured internationally on commercial gigs. She's currently a member of Bovim Ballet, while also juggling freelance jobs on films in her home of Cape Town, South Africa. But she's missing something essential to most dancers: her hearing.
---
Welgemoed was born with profound bilateral sensory neural hearing loss, meaning she's completely deaf. At 22 months old, she received a cochlear implant, which partially restored her hearing. "Without my cochlear implant. I'd have been lost in a world of silence. I'm forever grateful for the operation that changed my life," she says.
So it's no wonder Welgemoed spoke out when Virgin Active, a fitness brand she models for, Photoshopped her cochlear implant out of an ad. After Welgemoed voiced her frustration, the company apologized and reproduced the photos with Welgemoed's implants intact. Welgemoed is determined to use this experience, along with her accomplished dance career, as an opportunity to educate people about the deaf community.
We talked with Welgemoed to find out how she dances deaf, and which ballet legends have given her the courage to defy the expectations of others.
What drew you to dance?

It has been a part of my life for as long as I can remember. My older sister took ballet classes, and I tagged along with my mother to watch. I kept hopping off my mom's lap to try out the mesmerizing movements. Little did I know that the ballet teacher, Natalie Swanepoel, was watching my every move. Eventually she told my mom that it was obvious to her that my body and soul wanted to be on the dance floor. So I began ballet classes at the tender age of two.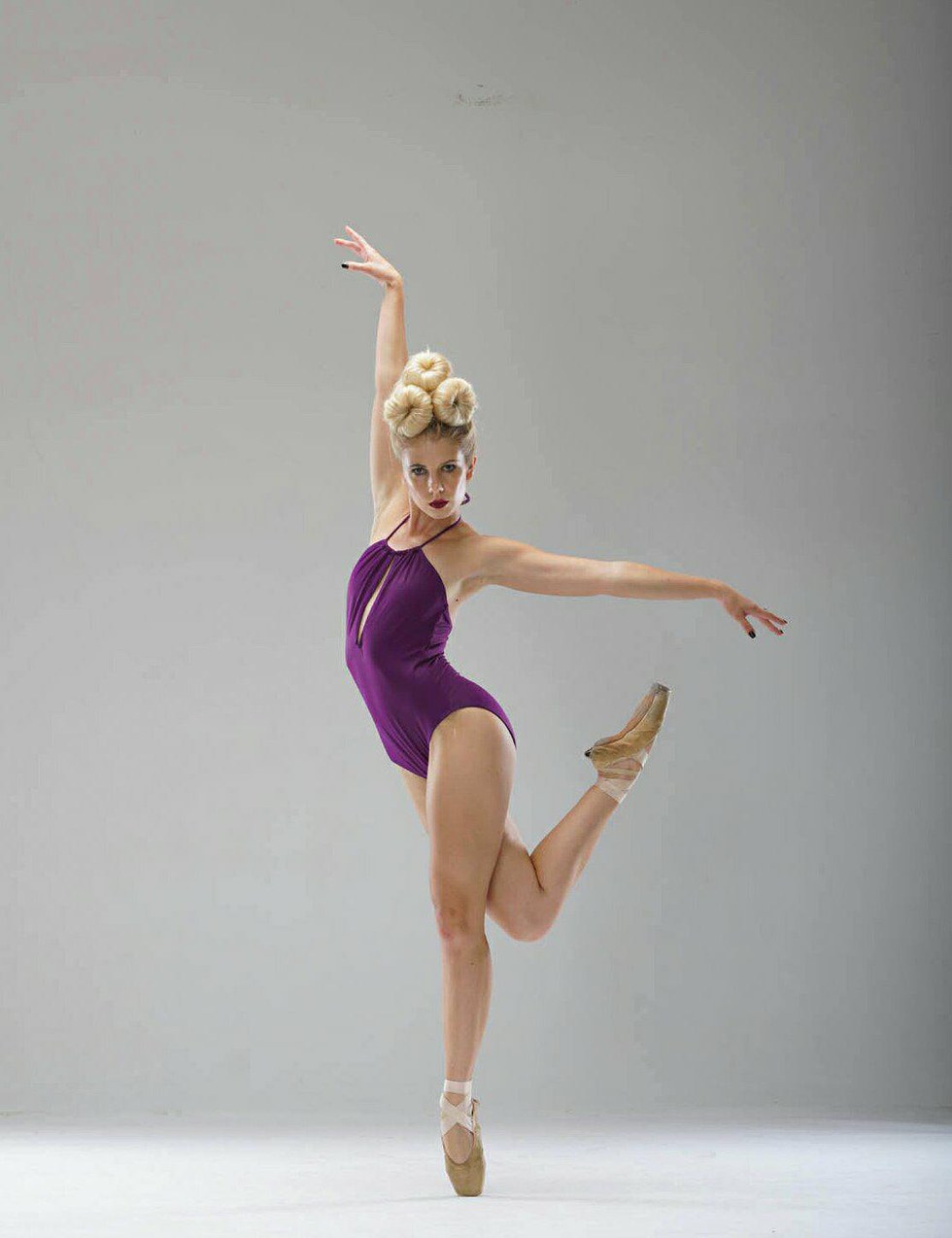 Photo by Vikram Bawa, courtesy Welgemoed
How are you able to dance without hearing the music?
To me, music is really just beautiful background noise. My eyes and sense of touch, along with my body rhythm and muscle memory, are the senses that allow me to perform in time with the music.
In rehearsal, a piece of choreography is rehearsed so many times that my body remembers how fast, slow, or sharp a movement has to be executed. When I'm performing in a group setting, I'm acutely aware of the other dancers. They're my ears.
When I perform a pas de deux, my partner takes charge. Using subtle cues and gestures, he will signal when I might need to speed up or slow down. I especially need this when performing with a live orchestra, as its rhythm and tempo tend to be slightly different with every performance.
During solo performances, I'll ask a dance friend to stand in the wings and direct me, to make sure that I start on time, reach the highlights in the music where the choreographer wants them, and end on time.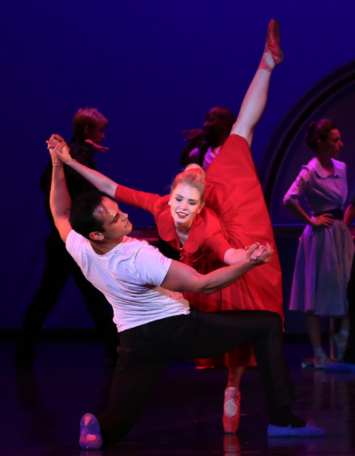 Welgemoed dancing with Henk Opperman in Bovim Ballet's "Private Pressley" (photo by Bill Zurich, courtesy Welgemoed)
Did you ever feel discouraged about pursuing a career in dance as a deaf person?
I've often been disappointed in people's reactions to my career choice, but I've never been discouraged. In fact, negative reactions made me more determined, because I realized I had something to prove.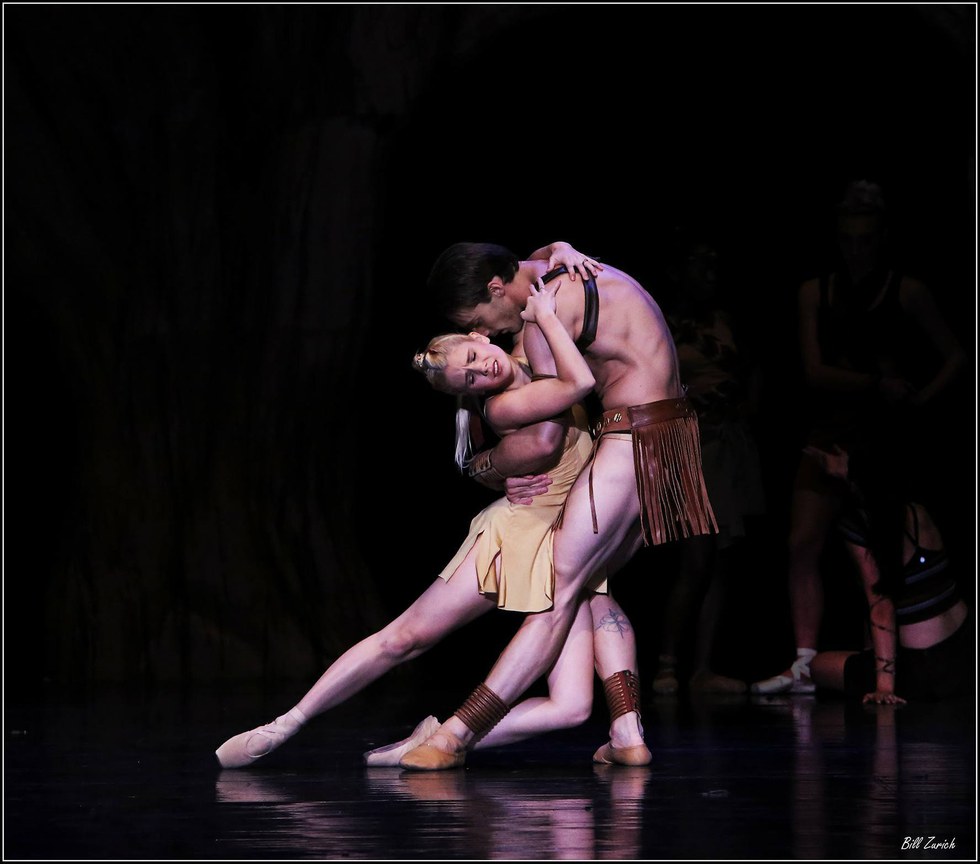 Welgemoed and Casey Swales in "Spartacus" (photo by Bill Zurich, courtesy Welgemoed)
What's one of your greatest accomplishments?
As a hearing impaired dancer, performing various lead roles and corps de ballet parts in Bovim Ballet is something that I take great pride in.
Who's your dance role model?

There are a few dancers I think of as role models. Margot Fonteyn didn't have great feet or technique, and yet she was one of the most captivating beings ever to grace a stage. Michaela DePrince, an abused war orphan with vitiligo, didn't let her circumstances limit her dreams of dancing. Misty Copeland's body was considered too athletic and her skin too dark for ballet, and yet she showed everyone just how beautiful her body was. These dancers not only beat the odds, but rose from them like a phoenix rises from the ashes. That's what I've been striving to do all my life.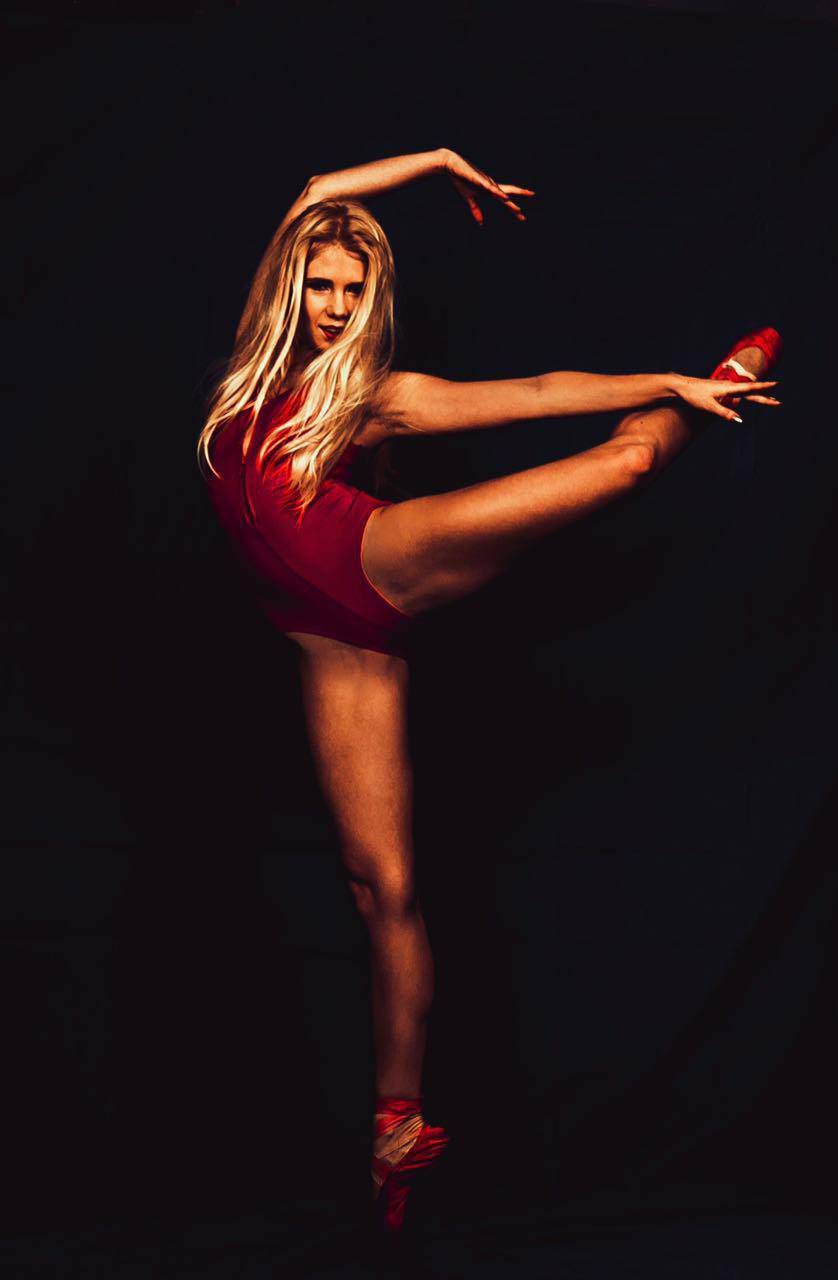 (Photo by Inge Bruwer, courtesy Welgemoed)
What advice would you give to someone who might not fit the typical mold of a dancer but wants to pursue a dance career?
There is so much room for individuality. Don't give up until you find a way to make it work. Create your own opportunities and get creative about ways you can accentuate your strengths.
How can the dance community help make the dance world more inclusive for people with disabilities?
People with disabilities aren't asking for extreme measures to be taken. We just want a chance: a chance at life, a chance to prove ourselves worthy, a chance to show that we can excel in the best way we know how.
Photo by Erin Baiano
Going from your local studio to the big leagues of the the dance industry can be daunting. That's why many dancers chose to work with a talent agent, an expert who's dedicated his or her career to helping clients navigate the world of show biz. Agents assist with everything from finding auditions to submitting resumés and dance reels, and can dramatically ease the process of transitioning from amateur dancer to pro.
But finding an agent who has the right vision for your career takes time and research. We caught up with Go 2 Talent Agency president (and former dancer and choreographer) Terry Lindholm to get the inside scoop on how dancers should go about looking for representation—and what else you can do now to set yourself up for a successful career.
Keep reading...
Show less
Popular
Apr. 24, 2018 03:00PM EST
Looking for your next audition shoe? Shot at and in collaboration with Broadway Dance Center, Só Dança has launched a new collection of shoes working with some pretty famous faces of the musical theater world! Offered in two different styles and either 2.5" or 3" heels, top industry professionals are loving how versatile and supportive these shoes are! Pro tip: The heel is centered under the body so you can feel confident and stable!
(From left) Bryanna, Nicole, Jessica, and Kristen (photo by Jayme Thornton)
T-Swift's girl gang will have nothing on your dance team when you're all decked out in matching rehearsal-wear.
Modeled by Kristen Vasconcelos, Jessica Hofman, Nicole Kelly, and Bryanna Strickland
Photography by Jayme Thornton
Keep reading...
Show less
Moira Shearer as Victoria Page in the 1948 film The Red Shoes
Q: "Why do you want to dance?"
A: "Why do you want to LIVE?"
Ahhh, so iconic! If you know those lines (slash, embody them on a daily basis), you're already a fan of the 1948 film The Red Shoes. The second line, as spoken by Red Shoes heroine Victoria Page, just perfectly captures the kind of crazy, all-consuming love so many of us feel for this incredible art form.
The Red Shoes turns 70 (!) this year. And Harper's Bazaar decided to celebrate that birthday in an oh-so-glamorous fashion: They decked out three of today's most beautiful ballerinas—American Ballet Theatre's Misty Copeland and Isabella Boylston and New York City Ballet's Tiler Peck—in gorgeous couture inspired by the film. (Obviously, Louboutins were involved.)
Keep reading...
Show less
Do you recognize that blurry face in the middle of the back row? (via YouTube)
Because the entire world wants to #DanceWithJanet—and because what seemed like literally half the world just descended on L.A. to audition in person for the icon, at her first open dance call in more than 10 years—we thought we'd take an extra-special walk down memory lane this Thursday. Friends, meet the cast of dancers for Ms. Jackson's 1993 tour.
In a singularly epic throwback video, Jackson introduces us to her dance crew for the Janet World Tour. You'll probably recognize the fabulous Tina Landon, who also choreographed the whole thing. But there's another face in particular that's...well, to call it "familiar" would be a bit of an understatement.
Keep reading...
Show less
Popular
Apr. 02, 2018 10:14AM EST
Showstopper's National Finals Opening Number Performance
Showstopper has been making its impact on the dance world since 1978. Before then, dancers didn't have a stage to perform on, the opportunity to learn from peers, or a competitive outlet like most sports. Debbie Roberts recognized this missing piece in the dance community and that is how America's first and longest running dance competition, Showstopper, was born. Debbie taught dance for over 26 years and owned and operated her own dance studio for 20 years. She is now the owner and National Director of Showstopper, along side her husband, Dave Roberts. Dancer, teacher, business owner, author, and mother, Debbie has made dance her life's career.
Keep reading...
Show less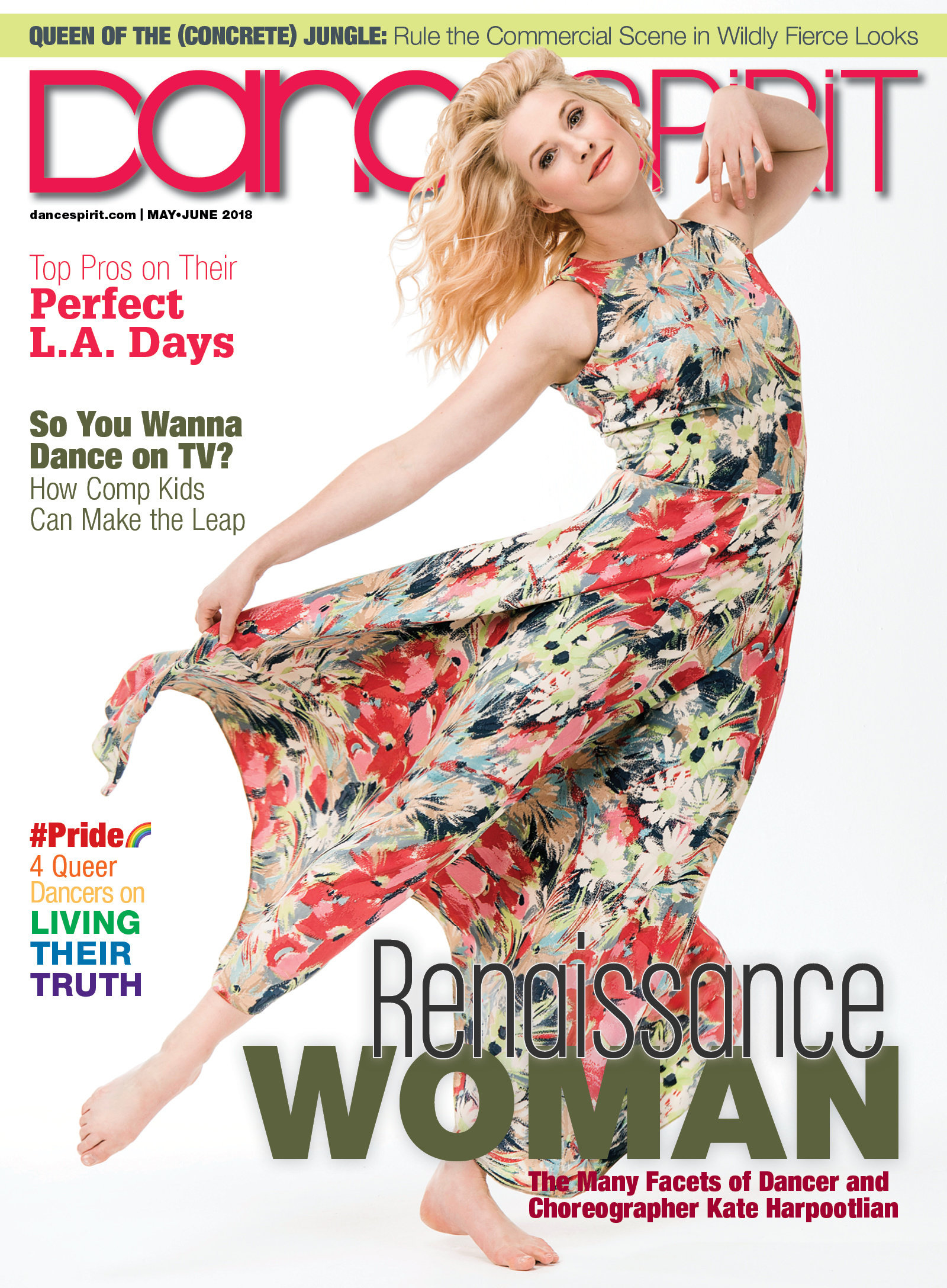 Get Dance Spirit in your inbox