Nailed It: How to Deal with Common Dancer Toenail Troubles
Thinkstock
Toenail trials and tribulations just come with the territory when you're a dancer. They can range from slightly annoying to super-painful, and it's crucial to address them immediately. Dance Spirit turned to Dr. Bryan Hersh, DPM, for a breakdown of the most common toenail woes and the most effective ways to treat them.
---
Bruised Toenails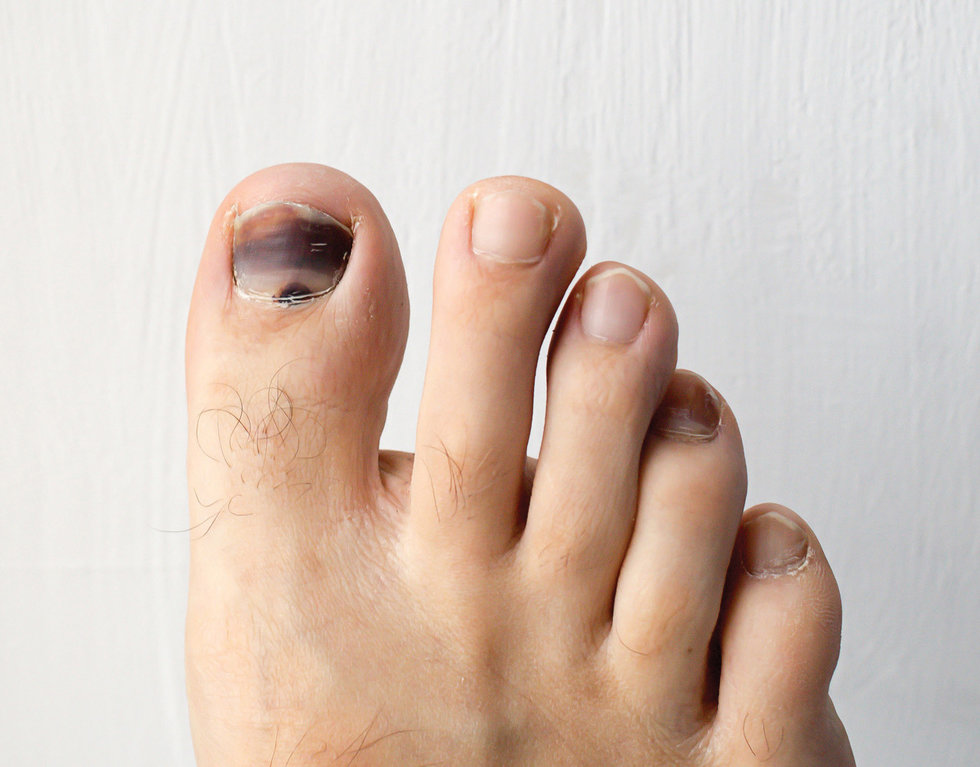 Thinkstock
Doc Talk
"Bruising under the toenail is referred to as a 'subungual hematoma,' or a collection of blood," says Hersh. "It can cause the nail to lift up or fall off. It can be quite painful, and can also become infected."
Causes
"Bruised nails are caused by trauma or repetitive micro-trauma, such as constant pressure from pointe shoes," Hersh says.
Solutions
If there isn't a lot of discoloration under the nail and you aren't experiencing any pain or active bleeding, Hersh suggests leaving it alone and monitoring it. "The bruise will grow out with the nail," he says. If the nail is damaged, clean the area with soap and water, carefully squeeze out any blood that's pooled near the surface, and apply a topical antibiotic cream, followed by a Band-Aid. In more severe cases, make an appointment with your podiatrist.
Ingrown Toenails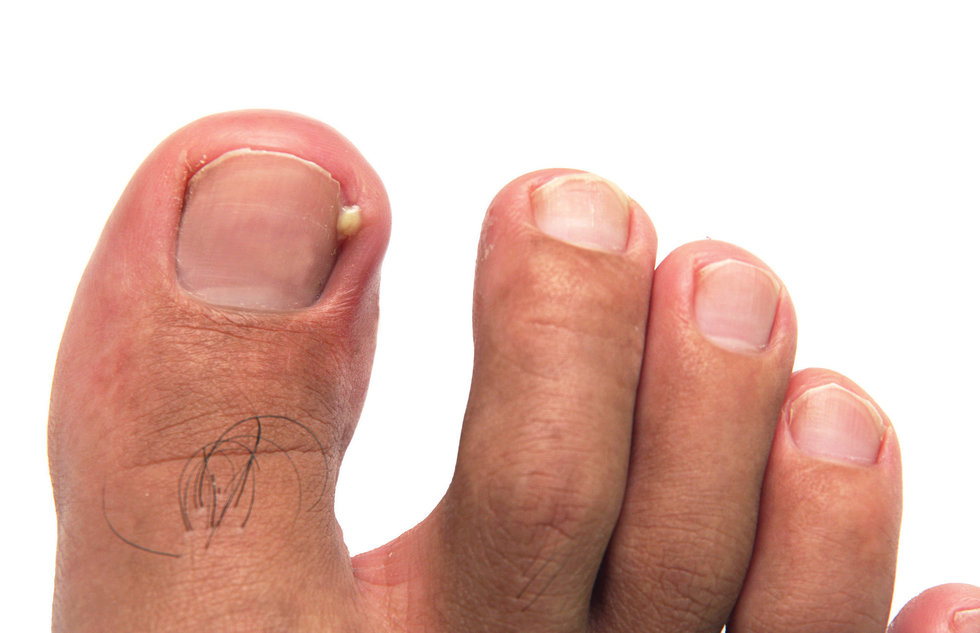 Thinkstock
Doc Talk
"Ingrown toenails (or 'onychocryptosis') occur when the edge of the nail grows into the adjacent skin," Hersh says.
"They can cause inflammation, redness, swelling, and, potentially, infection."
Causes
Improperly cut nails and toes jammed into pointe shoes for hours on end are the main culprits.
Solutions
Make sure your shoes (both soft and pointe) fit properly. Experiment with gel pads, lambswool, or paper towels to find the perfect padding. And always make sure you're cutting your nails correctly—"straight across or following the contour of your toe shape," Hersh advises.
If you're battling an ingrown nail, wash the area with soap and water, and apply an antibiotic cream, followed by a Band-Aid. "Soaking your feet in warm water with Epsom salt can also relieve some of the inflammation," Hersh says. If the pain persists, or the nail becomes infected, head straight to your podiatrist.
Fungal Toenails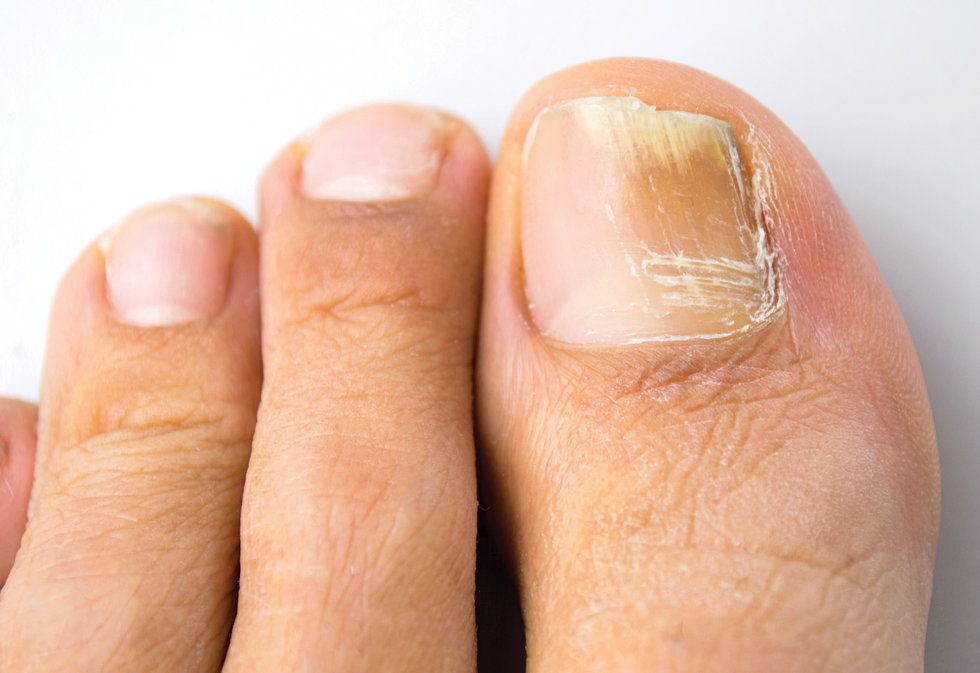 Thinkstock
Doc Talk
"Fungal infections are called 'onychomycosis,' and they cause the nail to become thick, brittle, discolored, and potentially itchy or painful," Hersh says. "They're also prone to spreading to other toenails, or the surrounding skin (also known as 'athlete's foot')."
Causes
According to Hersh, all fungus needs to thrive is "a small opening between the nail and the skin, and a moist, dark, humid environment"—i.e., your dance shoes.
Solutions
Keep your feet dry, remove sweaty socks or tights after dancing, rotate and air out your shoes, and clean between your toes. Hersh recommends over-the-counter medications from your local drugstore, but act quickly—untreated toenail fungus can lead to permanent damage of the nail and nailbed.
A version of this story appeared in the February 2018 issue of Dance Spirit with the title "Nailed It."
American Ballet Theatre principal dancers Sarah Lane and Daniil Simkin (courtesy ABT)
Last May, we told you about a special exhibition of the Mark Ryden artwork that sparked Alexei Ratmansky's sweet-treat of a ballet, Whipped Cream. Well, hold on to your tiaras, bunheads, because there's a brand-new exhibit featuring actual costumes from this megahit production. The Nutcracker's Land of Sweets has some serious competition!
Keep reading...
Show less
via @kyle_vanny on Instagram competing on World Of Dance
Kyle Van Newkirk is a tap dancer you probably remember from the premiere season of NBC's World of Dance. In case you missed it, he is also one of Showstopper's incredible convention teachers. What makes Kyle stand apart from some of today's other incredible tappers? He isn't afraid to change what tap means to his audience and even himself. This modern view of tap dancing is important because it shows us that tap dancers are just as versatile and dynamic as dancers of any other genre. We sat down with Kyle to get his advice on bringing tap dancing into the 21st century.
Keep reading...
Show less
University of Minnesota Dance Team (courtesy University of Minnesota)
They say there's no "I" in "team"—and nowhere is that truer than the world of college dance teams, where precision reigns, uniformity is key, and a single misstep from any given "I" can cost a group a championship trophy. So it's unsurprising that securing a spot on one of the best dance teams in the country is no easy feat.
Members of these highly athletic teams rehearse for hours every week—on top of academic classes and commitments—and perform at football and basketball games, annual concerts, and nationally televised competitions (hi, ESPN). And "no I" rule notwithstanding, each of these top teams is made up of highly trained, highly technical, highly hard-core individuals, who come together to create a ready-for-victory pack.
These six teams aren't one-off success stories—they're consistently strong, and earn the top spots at major competitions like UDA and NDA nearly every year. Up for the challenge? Here's what to know before you go to auditions.
Keep reading...
Show less
How To
Oct. 01, 2010 04:55PM EST
(Nathan Sayers)
Turnout—a combination of rotational flexibility and the strength to properly hold that rotation—is the foundation of ballet. But it's also a source of frustration for many dancers. After all, not everyone (actually, hardly anyone) is born with 180-degree rotation. "When I first started dancing, my hip flexors were strong, but I was forcing my turnout without using the right muscles," remembers Amanda Cobb, a former dancer with The Washington Ballet.
The good news is that it's possible to both improve your turnout and to dance beautifully with less-than-perfect rotation. But there's a lot of misinformation out there about how turnout works and why it's important. To help separate fact from fiction, DS asked the experts to disprove six turnout myths.
Keep reading...
Show less
Lol, same. (Screenshot via YouTube)
Picture this: You've scored tickets to Ellen DeGeneres' hit show, "Ellen." The day has come, the show is as hysterical as ever, Ellen is debating the biggest hot-button issue since the blue/black or white/gold dress, "Laurel vs. Yanny" (side note: it's LAUREL, people), and tWitch is killing it over at the DJ booth, as always. Ellen decides it's the perfect time to single out an audience member and, lo and behold, that person is "SYTYCD" champ ( and December 2017 cover star!) Lex Ishimoto.
Keep reading...
Show less
May. 16, 2018 02:26PM EST
Ema Peter
The Glorya Kaufman International Dance Center is the 54,000 square foot home of the USC Glorya Kaufman School of Dance, one of the largest facilities dedicated to dance on a private university campus. Designed for their innovative new curriculum, that supports a range of dance styles, the school's staff designated Harlequin to provide wall-to-wall flooring for the large 3,500 square foot Performance Studio as well as five dance studios in their new state-of-the-art building.
Keep reading...
Show less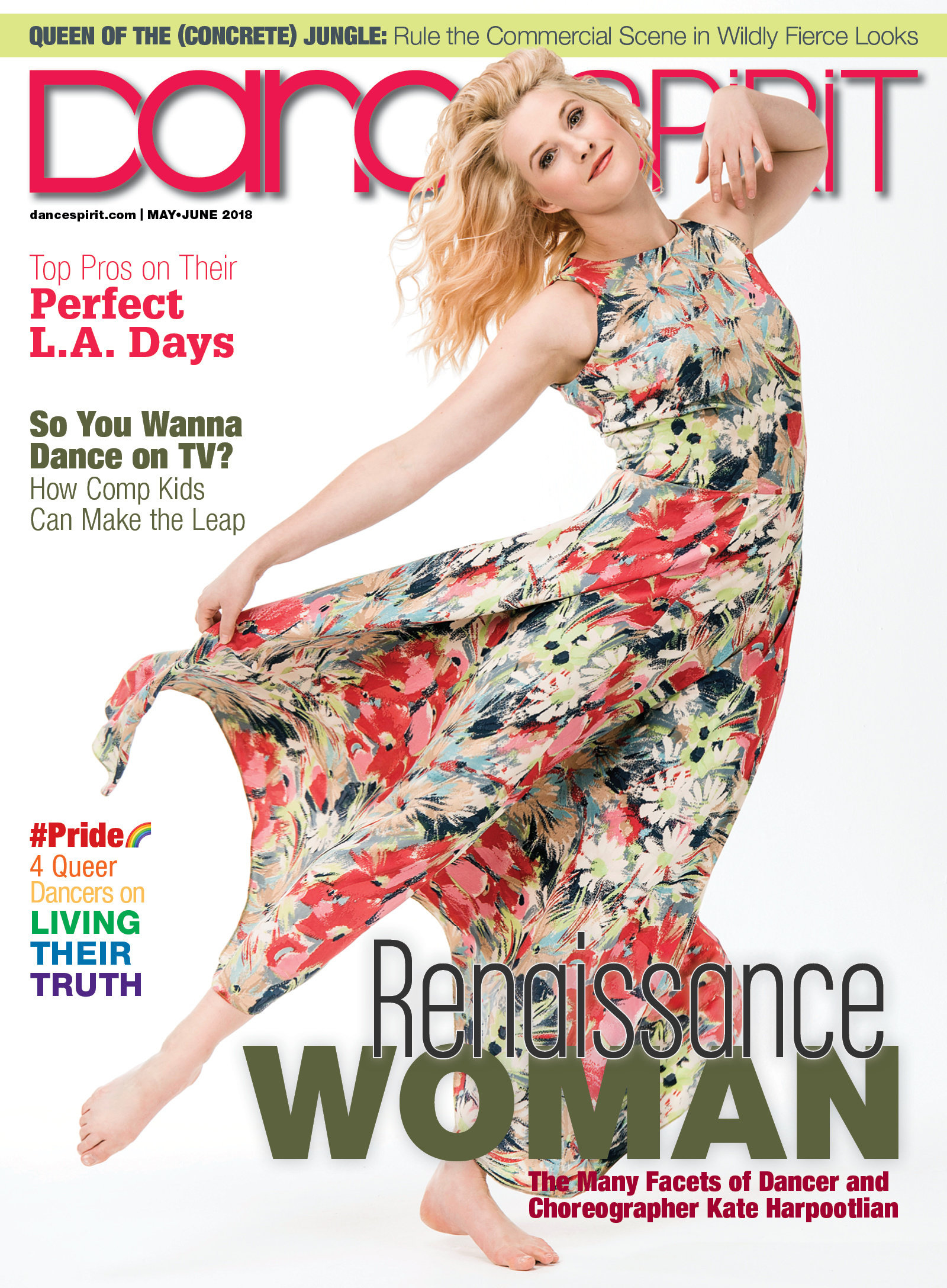 Get Dance Spirit in your inbox