How to Make the Most of Online Dance Training
Dancer and choreographer Matt Steffanina conducting a hip-hop tutorial on his YouTube Channel (courtesy Steffanina)
You're dressed in your favorite gear, ready to dance—but instead of heading to the studio, you take out your smartphone. A dance celeb has posted a new master class online, and you can't wait to dive in. Then, you might watch a popular choreographer's newest step-by-step tutorial. Who doesn't want to get words of wisdom from the best in the biz?
But while video classes and tutorials have definite benefits, they can't compare to in-person sessions with a teacher who knows you and has watched you grow. Here are tips to help you navigate the world of online learning, so you can find supplemental training that helps you become the best dancer you can be.
---
Learn from the Pros
The upsides to online dance training are pretty obvious: Technology can get you closer to the professional dancers you admire. Hearing from working pros can inspire you and help you plan your career. And "the more teachers you learn from, the more diverse your skill set will be," says dancer and choreographer Matt Steffanina, whose hip-hop tutorials and dance videos average millions of views on YouTube.
Some teachers and choreographers, like Steffanina, post free videos. Others charge for their content, but the fee is generally much less than you'd pay to travel to NYC or L.A. to train, or to bring someone out to your area. One company, CLI Studios, operates on a membership model, partnering with dance schools to give students and teachers access to more than 150 hours of classes from popular instructors. (Among the fan faves you'll find on the CLI Studios site and app are Allison Holker, Stephen "tWitch" Boss, Teddy Forance, and Kathryn McCormick.)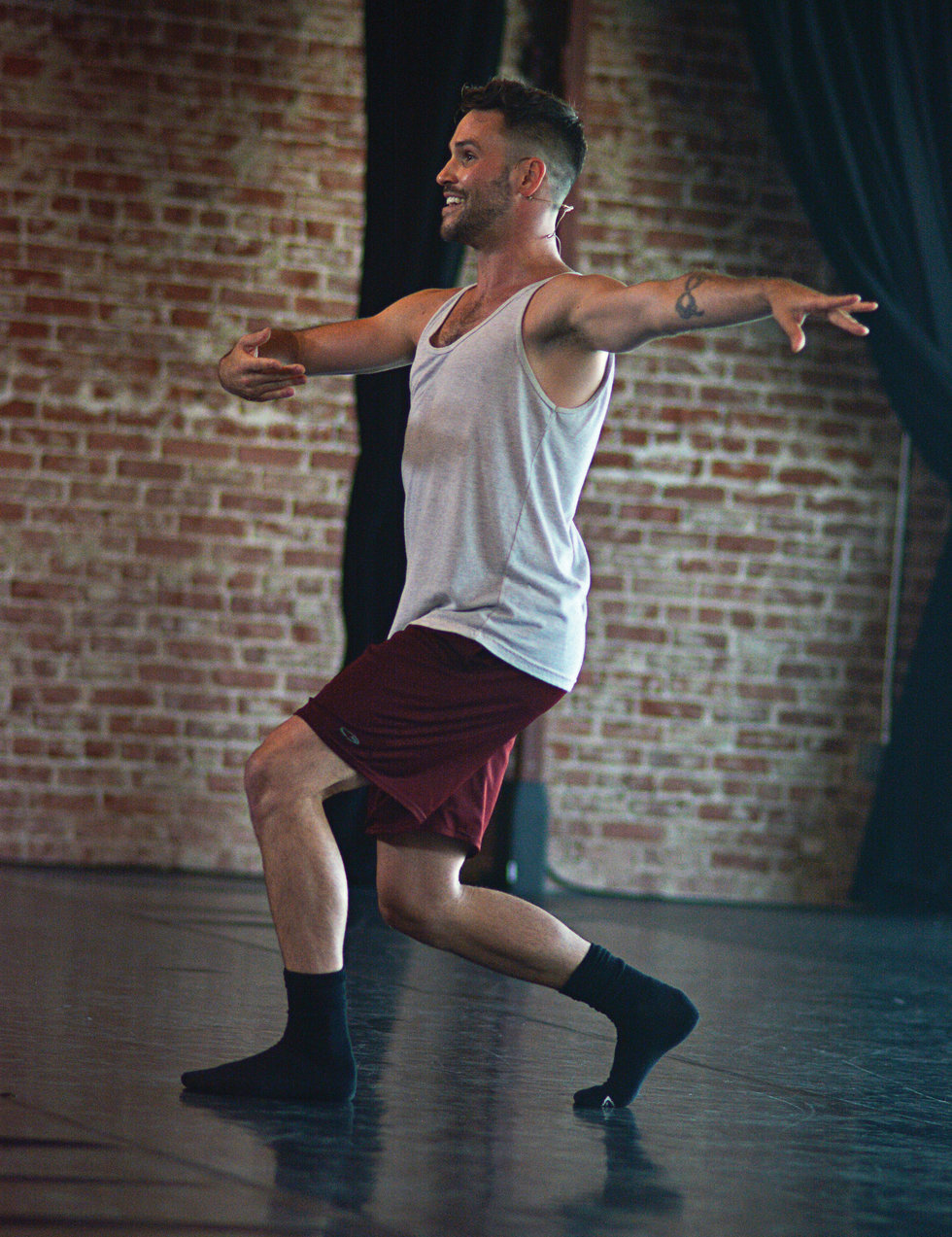 Nick Lazzarini teaching a CLI Studios class (photo by Lee Gumbs, courtesy CLI Studios)
"Our choreographers are in demand around the world, but they can't get to every studio," says Jon Arpino, who co-founded CLI Studios with Forance, tWitch, Holker, and Caitlin Kinney. "We want to put their knowledge out there in an affordable and convenient way." In addition to instructional videos, the company recently added a direct-feedback feature to its app. "You can learn a routine, upload 30 to 60 seconds of yourself dancing, and pay to get written comments from the choreographer," Arpino explains. "Someone like tWitch might say the same things your regular teacher says, but hearing feedback in a different voice can have a big impact."

Take Charge of Your Training
Online resources make for ideal "dance homework" between classes, on weekends, and during vacations. Get the most from this extra-credit time by setting concrete goals. Maybe you want to test out a new style, or you're wondering if you're right for a certain company. Perhaps you want to work on a specific move, like an arm wave, or a quality, like musicality.
Whatever your plan, don't rush things. Steffanina advises dancers to tackle one of his tutorials per week. "Learn the choreography on the first day, clean it up over the next few days, and then film it, watch it, and make more tweaks," he says. "Maybe by the weekend you'll post your own video, to get feedback from your peers." Even if you aren't ready to share your work, Steffanina says, filming yourself weekly is a great way to track your progress over time.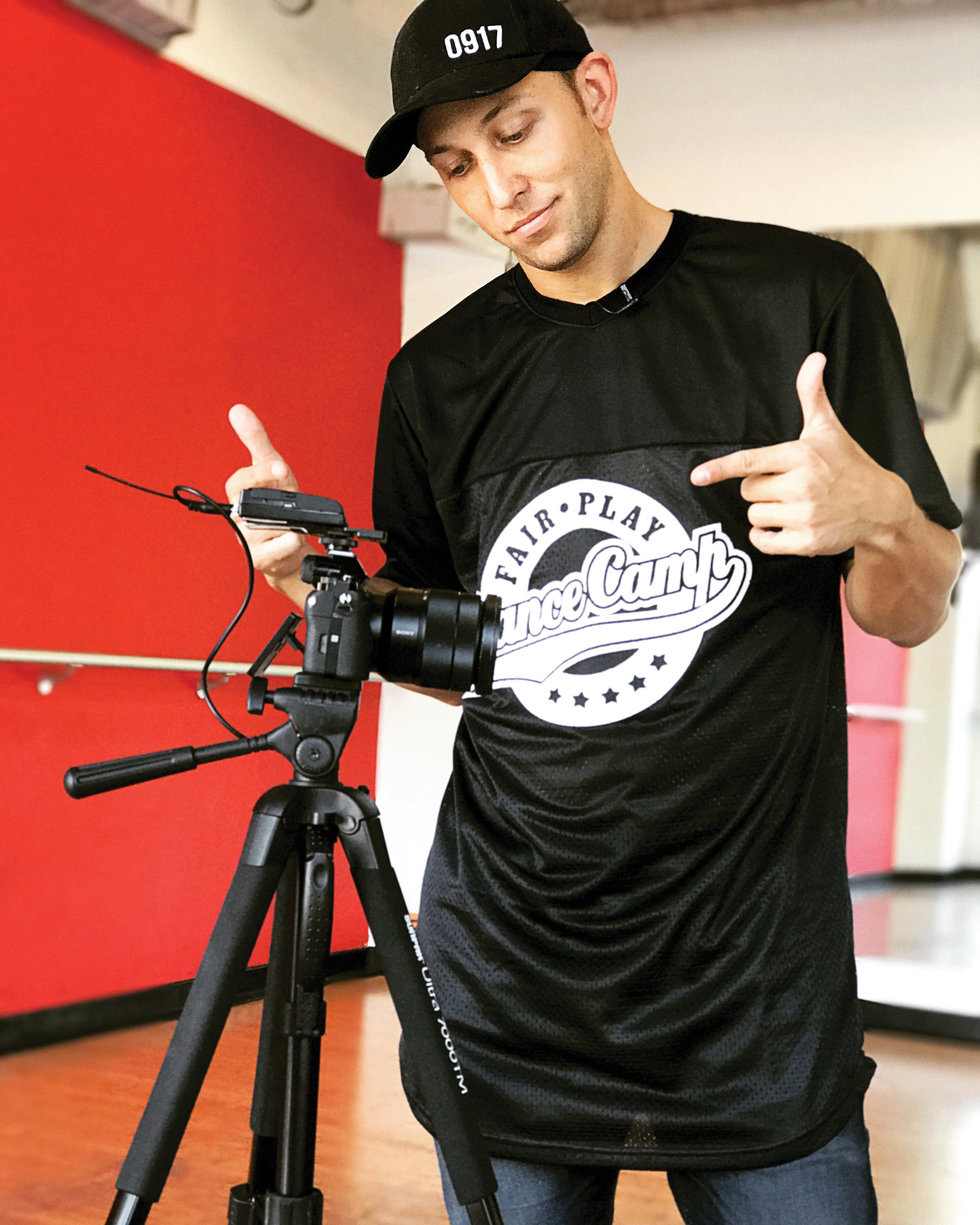 Matt Steffanina with the camera he uses to film tutorials (courtesy Steffanina)
Dancer, choreographer, and recording artist Mandy Jiroux, who posts choreography tutorials on her YouTube channel and has 1.3 million subscribers, recommends taking into account what you need on a given day. "Sometimes, it can be fun to just dance, without the strictness of the studio environment," she says. "Or, doing a video can be a good workout." You might also think of online learning as pre-professional practice. "I've had auditions where I had to get the choreography from a tape, instead of being in the room with the choreographer," Jiroux says. Accurately reproducing what you see, without help, will serve you well in your dance career.

Stick with Your Studio
No matter how excited you are about digital classes, though, don't dial back your dance studio commitment: There are critical benefits that only in-person training can offer. For a start, training face-to-face means getting real-time critiques. Teachers can answer questions and adjust your body to correct you. They can tailor combinations to your needs and abilities. They can also demonstrate or explain steps in another way, if something's not clicking.
"Everyone learns differently," says Jami Artiga, co-owner of The Dance Zone in Henderson, NV. While watching a video might work for some, "for others it makes a big difference to have physical touch, to hear the teacher's tone of voice change, or to see their expression up close," she says.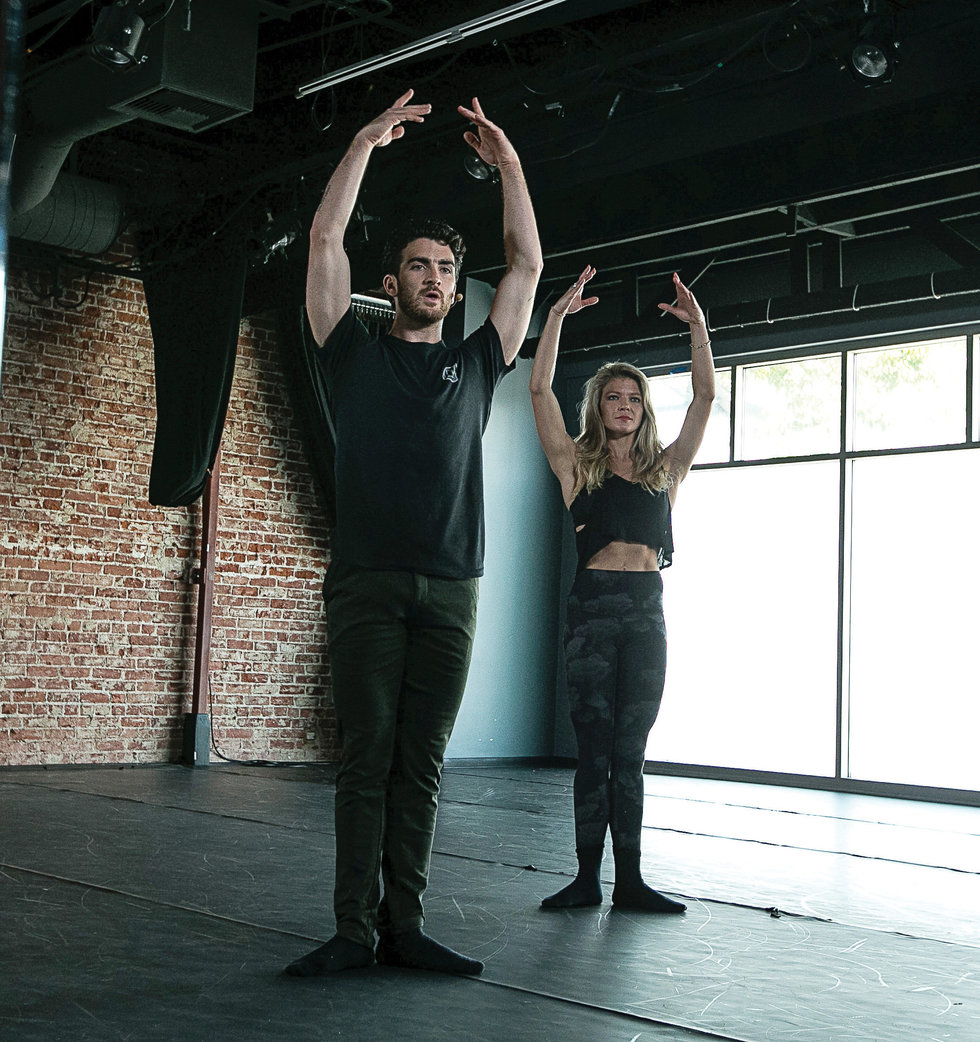 Teddy Forance and Caitlin Kinney lead a CLI Studios class (photo by Lee Gumbs, courtesy CLI Studios)
On top of technique and artistry, Arpino credits the studio environment with fostering discipline, camaraderie, and teamwork. And, Artiga says, "there's so much value in the connections you make at your studio, both with other students and with your teachers." Those friendships and mentorships can last a lifetime.
The internet can be your portal to new and exciting techniques, ideas, and ways of moving. But there's just as much to be said for the consistency of working with the same teachers, year after year. Think of online resources as a bonus, rather than as a replacement for your studio experience, and you'll have the best of both worlds.
A version of this story appeared in the February 2018 issue of Dance Spirit with the title "Dance Class Goes Digital."
Related Articles Around the Web
American Ballet Theatre principal dancers Sarah Lane and Daniil Simkin (courtesy ABT)
Last May, we told you about a special exhibition of the Mark Ryden artwork that sparked Alexei Ratmansky's sweet-treat of a ballet, Whipped Cream. Well, hold on to your tiaras, bunheads, because there's a brand-new exhibit featuring actual costumes from this megahit production. The Nutcracker's Land of Sweets has some serious competition!
Keep reading...
Show less
via @kyle_vanny on Instagram competing on World Of Dance
Kyle Van Newkirk is a tap dancer you probably remember from the premiere season of NBC's World of Dance. In case you missed it, he is also one of Showstopper's incredible convention teachers. What makes Kyle stand apart from some of today's other incredible tappers? He isn't afraid to change what tap means to his audience and even himself. This modern view of tap dancing is important because it shows us that tap dancers are just as versatile and dynamic as dancers of any other genre. We sat down with Kyle to get his advice on bringing tap dancing into the 21st century.
Keep reading...
Show less
What did I just hear you say? You think all dancers are weak and delicate? PLEASE SAUT DE CHAT OUT OF MY LIFE. (Giphy)
Sure, dancers definitely have some unique identifying characteristics. (We're all obsessed with Center Stage? FACT.) But we're also subjected to all kinds of annoying, inaccurate stereotyping. Here are 10 dancer stereotypes that we never want to hear again.
Keep reading...
Show less
University of Minnesota Dance Team (courtesy University of Minnesota)
They say there's no "I" in "team"—and nowhere is that truer than the world of college dance teams, where precision reigns, uniformity is key, and a single misstep from any given "I" can cost a group a championship trophy. So it's unsurprising that securing a spot on one of the best dance teams in the country is no easy feat.
Members of these highly athletic teams rehearse for hours every week—on top of academic classes and commitments—and perform at football and basketball games, annual concerts, and nationally televised competitions (hi, ESPN). And "no I" rule notwithstanding, each of these top teams is made up of highly trained, highly technical, highly hard-core individuals, who come together to create a ready-for-victory pack.
These six teams aren't one-off success stories—they're consistently strong, and earn the top spots at major competitions like UDA and NDA nearly every year. Up for the challenge? Here's what to know before you go to auditions.
Keep reading...
Show less
Lol, same. (Screenshot via YouTube)
Picture this: You've scored tickets to Ellen DeGeneres' hit show, "Ellen." The day has come, the show is as hysterical as ever, Ellen is debating the biggest hot-button issue since the blue/black or white/gold dress, "Laurel vs. Yanny" (side note: it's LAUREL, people), and tWitch is killing it over at the DJ booth, as always. Ellen decides it's the perfect time to single out an audience member and, lo and behold, that person is "SYTYCD" champ ( and December 2017 cover star!) Lex Ishimoto.
Keep reading...
Show less
May. 16, 2018 02:26PM EST
Ema Peter
The Glorya Kaufman International Dance Center is the 54,000 square foot home of the USC Glorya Kaufman School of Dance, one of the largest facilities dedicated to dance on a private university campus. Designed for their innovative new curriculum, that supports a range of dance styles, the school's staff designated Harlequin to provide wall-to-wall flooring for the large 3,500 square foot Performance Studio as well as five dance studios in their new state-of-the-art building.
Keep reading...
Show less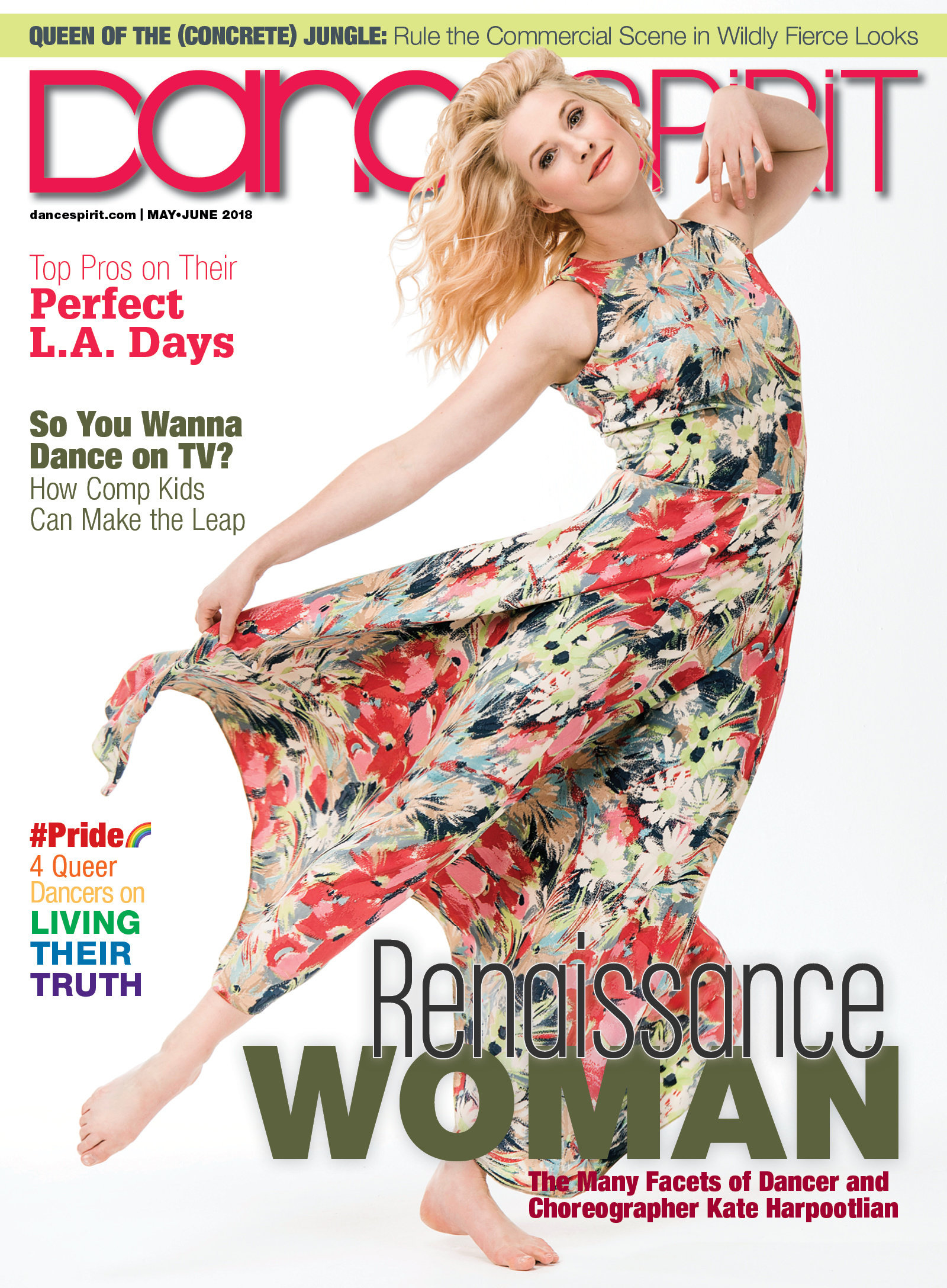 Get Dance Spirit in your inbox