Jan. 31, 2018 02:20PM EST
How to Make the Most of Online Dance Training
Dancer and choreographer Matt Steffanina conducting a hip-hop tutorial on his YouTube Channel (courtesy Steffanina)
You're dressed in your favorite gear, ready to dance—but instead of heading to the studio, you take out your smartphone. A dance celeb has posted a new master class online, and you can't wait to dive in. Then, you might watch a popular choreographer's newest step-by-step tutorial. Who doesn't want to get words of wisdom from the best in the biz?
But while video classes and tutorials have definite benefits, they can't compare to in-person sessions with a teacher who knows you and has watched you grow. Here are tips to help you navigate the world of online learning, so you can find supplemental training that helps you become the best dancer you can be.
---
Learn from the Pros
The upsides to online dance training are pretty obvious: Technology can get you closer to the professional dancers you admire. Hearing from working pros can inspire you and help you plan your career. And "the more teachers you learn from, the more diverse your skill set will be," says dancer and choreographer Matt Steffanina, whose hip-hop tutorials and dance videos average millions of views on YouTube.
Some teachers and choreographers, like Steffanina, post free videos. Others charge for their content, but the fee is generally much less than you'd pay to travel to NYC or L.A. to train, or to bring someone out to your area. One company, CLI Studios, operates on a membership model, partnering with dance schools to give students and teachers access to more than 150 hours of classes from popular instructors. (Among the fan faves you'll find on the CLI Studios site and app are Allison Holker, Stephen "tWitch" Boss, Teddy Forance, and Kathryn McCormick.)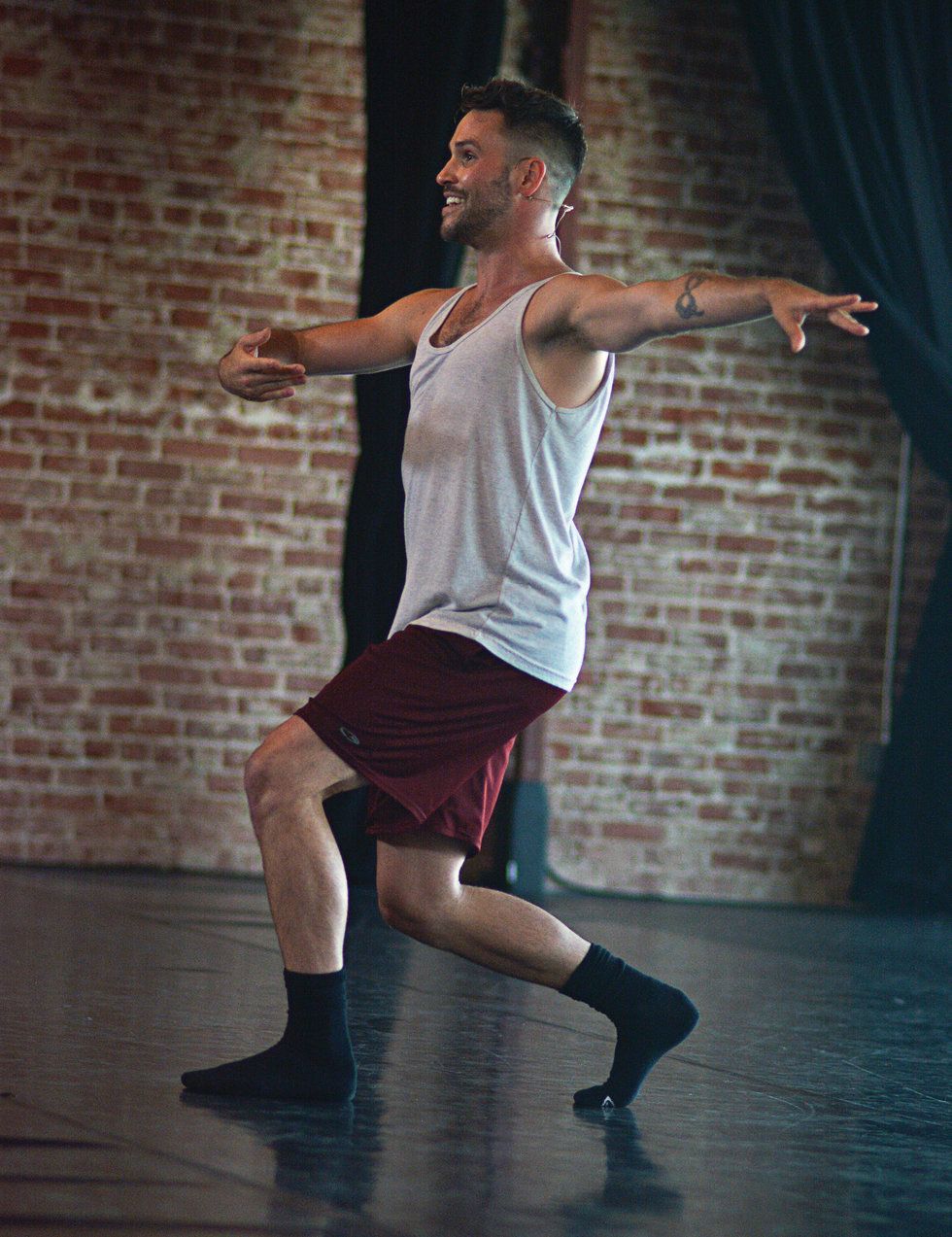 Nick Lazzarini teaching a CLI Studios class (photo by Lee Gumbs, courtesy CLI Studios)
"Our choreographers are in demand around the world, but they can't get to every studio," says Jon Arpino, who co-founded CLI Studios with Forance, tWitch, Holker, and Caitlin Kinney. "We want to put their knowledge out there in an affordable and convenient way." In addition to instructional videos, the company recently added a direct-feedback feature to its app. "You can learn a routine, upload 30 to 60 seconds of yourself dancing, and pay to get written comments from the choreographer," Arpino explains. "Someone like tWitch might say the same things your regular teacher says, but hearing feedback in a different voice can have a big impact."

Take Charge of Your Training
Online resources make for ideal "dance homework" between classes, on weekends, and during vacations. Get the most from this extra-credit time by setting concrete goals. Maybe you want to test out a new style, or you're wondering if you're right for a certain company. Perhaps you want to work on a specific move, like an arm wave, or a quality, like musicality.
Whatever your plan, don't rush things. Steffanina advises dancers to tackle one of his tutorials per week. "Learn the choreography on the first day, clean it up over the next few days, and then film it, watch it, and make more tweaks," he says. "Maybe by the weekend you'll post your own video, to get feedback from your peers." Even if you aren't ready to share your work, Steffanina says, filming yourself weekly is a great way to track your progress over time.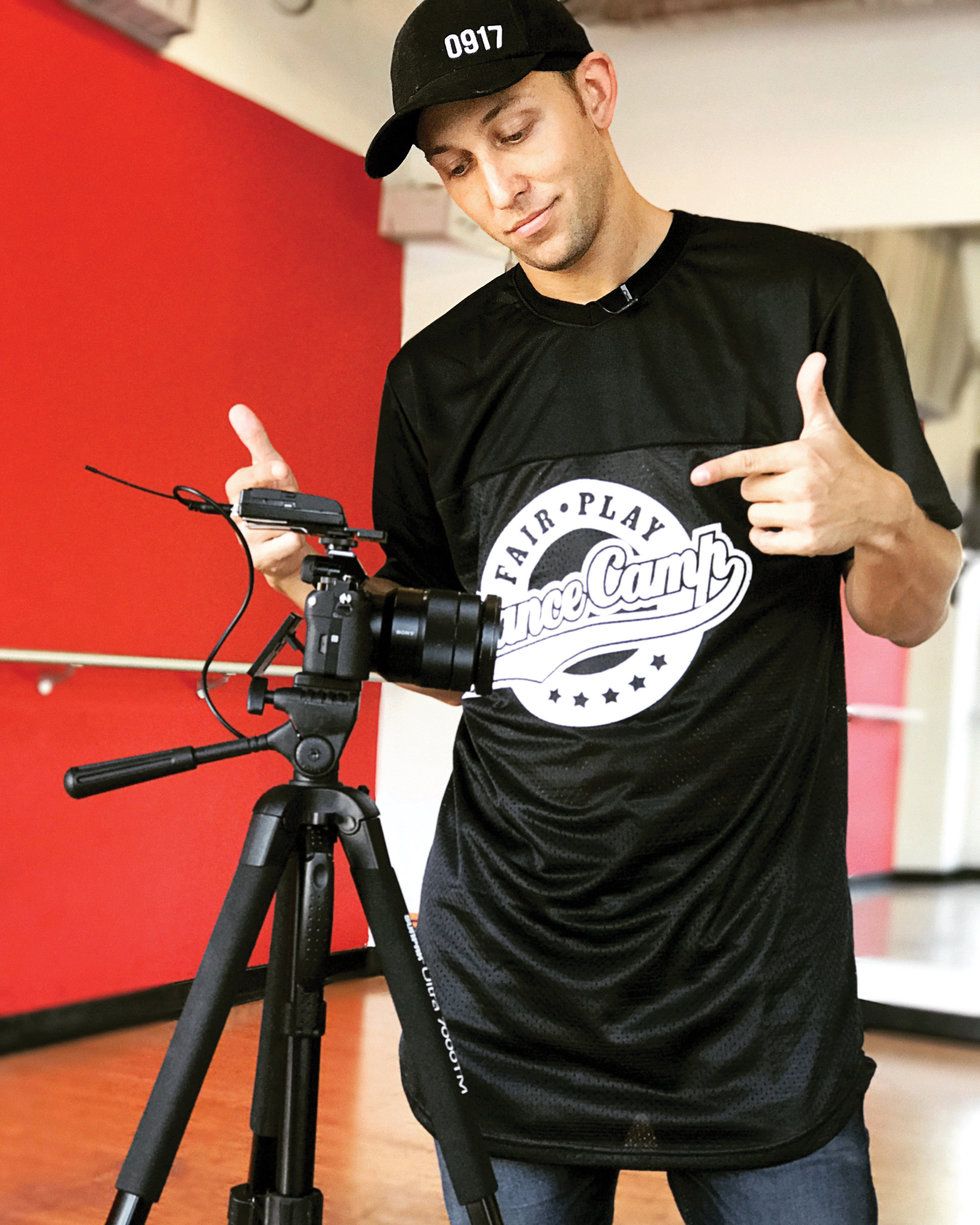 Matt Steffanina with the camera he uses to film tutorials (courtesy Steffanina)
Dancer, choreographer, and recording artist Mandy Jiroux, who posts choreography tutorials on her YouTube channel and has 1.3 million subscribers, recommends taking into account what you need on a given day. "Sometimes, it can be fun to just dance, without the strictness of the studio environment," she says. "Or, doing a video can be a good workout." You might also think of online learning as pre-professional practice. "I've had auditions where I had to get the choreography from a tape, instead of being in the room with the choreographer," Jiroux says. Accurately reproducing what you see, without help, will serve you well in your dance career.

Stick with Your Studio
No matter how excited you are about digital classes, though, don't dial back your dance studio commitment: There are critical benefits that only in-person training can offer. For a start, training face-to-face means getting real-time critiques. Teachers can answer questions and adjust your body to correct you. They can tailor combinations to your needs and abilities. They can also demonstrate or explain steps in another way, if something's not clicking.
"Everyone learns differently," says Jami Artiga, co-owner of The Dance Zone in Henderson, NV. While watching a video might work for some, "for others it makes a big difference to have physical touch, to hear the teacher's tone of voice change, or to see their expression up close," she says.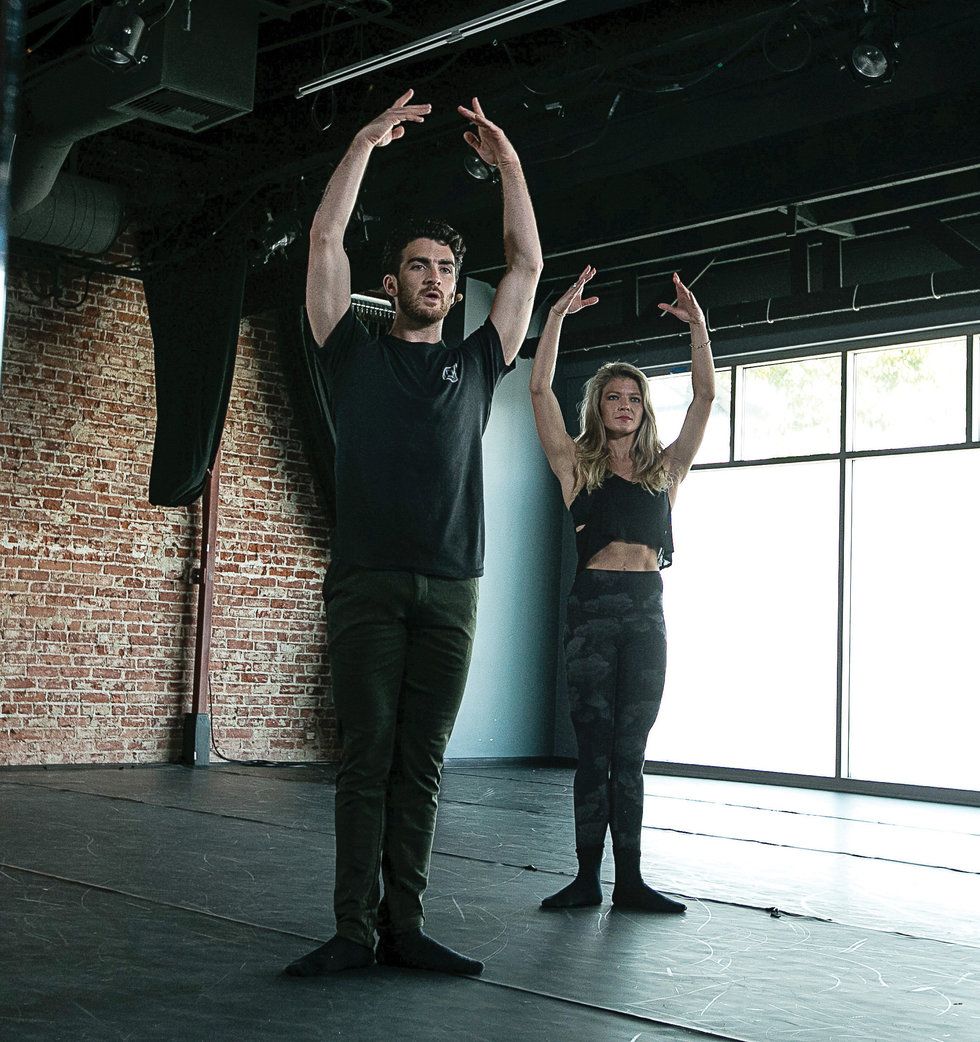 Teddy Forance and Caitlin Kinney lead a CLI Studios class (photo by Lee Gumbs, courtesy CLI Studios)
On top of technique and artistry, Arpino credits the studio environment with fostering discipline, camaraderie, and teamwork. And, Artiga says, "there's so much value in the connections you make at your studio, both with other students and with your teachers." Those friendships and mentorships can last a lifetime.
The internet can be your portal to new and exciting techniques, ideas, and ways of moving. But there's just as much to be said for the consistency of working with the same teachers, year after year. Think of online resources as a bonus, rather than as a replacement for your studio experience, and you'll have the best of both worlds.
A version of this story appeared in the February 2018 issue of Dance Spirit with the title "Dance Class Goes Digital."
Related Articles Around the Web
From Your Site Articles
Dancer to Dancer
Jun. 15, 2019 10:12AM EST
(From left) Darriel Johnakin, Diego Pasillas, and Emma Sutherland (all photos by Erin Baiano)
Congratulations to Dance Spirit's 2019 Cover Model Search finalists: Darriel Johnakin, Diego Pasillas, and Emma Sutherland! One of them will win a spot on Dance Spirit's Fall 2019 cover. Learn more about the dancers on their profile pages, and then vote for your favorite below. You can vote once a day now through July 15.
We also want you to get social! We'll be factoring social media likes and shares into our final tallies. Be sure to show your favorite finalist some love on Facebook, Instagram, and Twitter, sharing their profile pages and using the hashtag #DanceSpiritCMS.
Cover Model Search
Jun. 13, 2019 02:20PM EST
Photo by Erin Baiano
Imagine attending American Ballet Theatre's prestigious NYC summer intensive, training among classical ballet legends. Imagine taking the stage at New York City Dance Alliance Nationals, competing against some of the country's best contemporary dancers. Now, imagine doing both—at the same time.
Welcome to Madison Brown's world. This summer, she's in her third year as a National Training Scholar with ABT, while also competing for NYCDA's Teen Outstanding Dancer title. (She's already won Outstanding Dancer in the Mini and Junior categories.) The logistics are complicated—ABT's five-week intensive overlaps with the weeklong NYCDA Nationals, which translates to a lot of cabs back and forth across Manhattan—but Maddie is committed to making the most of each opportunity. "I love contemporary and ballet equally," she says. "While I'm able to do both, I want to do as much as I can."
Maddie has an expressive face, endless extensions, and a quiet command of the stage. She dances with remarkable maturity—a trait noted by none other than Jennifer Lopez, one of the judges on NBC's "World of Dance," on which Maddie competed in Season 2. Although Maddie didn't take home the show's top prize, she was proud to be the youngest remaining soloist when she was eliminated, and saw the whole experience as an opportunity to grow. After all, she's just getting started. Oh, that's right—did we mention Maddie's only 14?
Cover Story
Jun. 16, 2019 07:00AM EST
Corbin Bleu in rehearsal for "Kiss Me, Kate" (Jenny Anderson, courtesy Roundabout Theatre Company)
If you're a hardcore Broadway baby, today is the worst Sunday of the year. Why, you ask? The Tony Awards were last Sunday, so basically there's nothing to look forward to in life anymore—no James Corden being James Corden, no teary acceptance speeches from newly minted stars, no thrilling excerpts from the hottest new shows. Oh yeah, and there are 50 more Sundays to go before our humdrum lives are once again blessed with the next annual iteration of Broadway's biggest night.
Musical Theater