Summer intensive auditions can be nerve-racking. A panel of directors is watching your every move, and you're not even sure if you can be seen among the hundreds of other dancers in the room. We asked five summer intensive directors for their input on how dancers can make a positive impression—and even be remembered next year.
---
Paul Lightfoot
Artistic director of Nederlands Dans Theater
"People who send in video auditions for our summer intensive shouldn't be trying to make themselves look like anyone else. It's important to not embellish yourself too much in terms of technique. Authenticity in all aspects is super-important. Don't hide the things that you think aren't strong enough. Don't avoid anything—show your weaknesses and be transparent. It's important for us to see how we can work on them. Don't try to camouflage flaws with clothing, such as wearing baggy pants when you know your knees might not stretch enough. Very often it's what people don't say or don't show about their bodies that's their biggest insecurity, and we'll see it. And this is potentially the thing that makes you interesting. It's our imperfections that create our character."
Pet Peeve
"Lifting existing pieces off the internet to learn for video auditions. It shows no initiative or creativity."
Claire Bataille
Director, Lou Conte Dance Studio at Hubbard Street Dance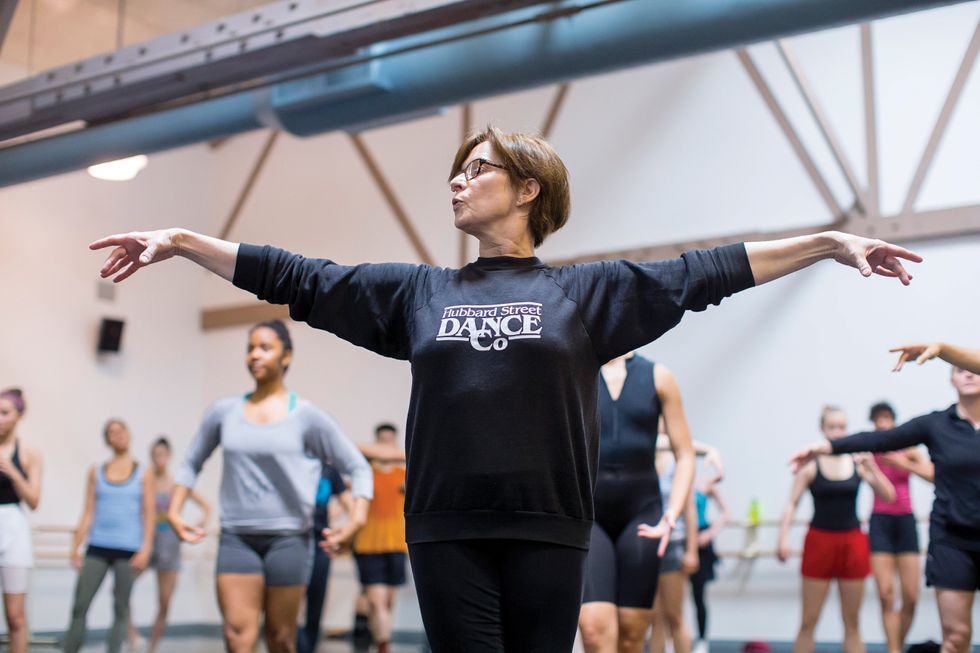 Batille teaching during Hubbard Street's summer intensive (photo by Todd Rosenberg, courtesy Hubbard Street Dance)
"I'm looking for a willingness to be spontaneous, as well as checking out how you relate to other people. For repertory, I'm looking for dancers who can pick up on the subtleties of the phrasing and who can easily move in and out of the floor. I remember dancers who have very open faces—they allow me to make eye contact with them, and they nod their head to show that they're listening."
Pet Peeve
"Bringing your coffee into the audition room"
Jo Matos
Artistic director for the Joffrey Ballet School's children's dance and youth ballet programs and summer intensives in NYC and Miami
"I always tell students to wear something traditional, but to add a bit of flair, like a polka-dot hair bow, that will help you stand out in my mind. The next year, wear that same polka-dot hair bow again and come up to say hello to me at the beginning of the audition—that personal connection might place you in a scholarship position over another student. For audition behavior, being polite is at the top of the list. Thank your teachers and pianists after class. Ask intelligent, appropriate questions by raising your hand. Don't leave the room for any reason, and never check your cell phone or take a picture or video of class. Finally, save your comments for the car ride home. I've been in the bathroom in between auditions and heard someone trashing me or another dancer in the audition, so I made sure I saw their faces and lowered their audition scores."
Pet Peeve
"Walking out of an audition. Don't do it—ever!"
Kay Mazzo
Co-chairman of faculty, School of American Ballet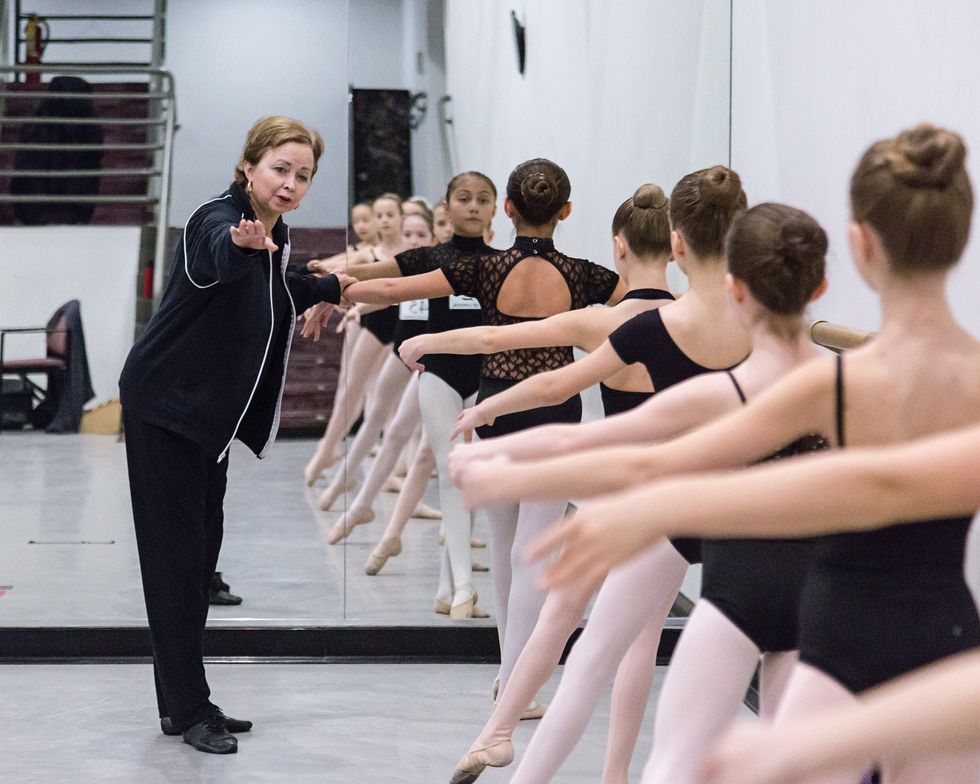 Mazzo directs students in an SAB audition (photo by Sharen Bradford/The Dancing Image, courtesy School of American Ballet)
"You have to be all eyes and ears when you're taking an audition class. It's not just about having pointed feet or doing seven pirouettes—I'm looking for somebody who listens and moves to the music. If I give a student a correction, the other students should be listening and not make that mistake again, too. When you're waiting for your turn, rather than yawning in the back, watch the dancers in the front to listen and learn. I look for people who are eager to be there."
Pet Peeve
"Wearing too much makeup at a young age"
J.R. Glover
Director of The School at Jacob's Pillow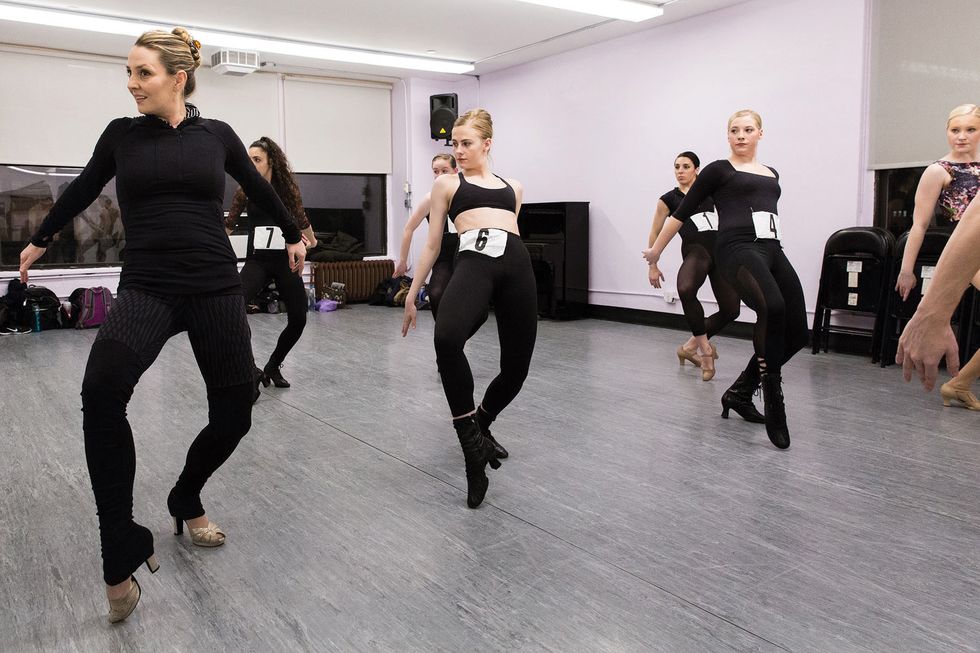 The School at Jacob's Pillow's musical theater dance auditions (photo by Hayim Heron, courtesy Jacob's Pillow)
"I'm watching for students who are leaders, not followers. Leaders are open to being anywhere in the room and executing exactly what has been asked. They are fully invested in performing the movement, rather than glancing at the adjudicators or teachers for approval. And they are aware of the spatial needs of others while waiting on the sides for their turn. Followers are always hanging in the back or hugging the sides so they have someone to watch. They rely on what they already know and can do well, rather than using the audition to show what they can learn. I want leaders who are willing to learn and aren't afraid of encountering new movement styles."
Pet Peeve
"Wearing a flowy shirt and pants when we asked for clothes that really show your body"
A version of this story appeared in the January 2018 issue of Dance Spirit with the title "What Summer Intensive Directors Are Really Thinking at Auditions."