Jun. 11, 2013 03:00PM EST
Visiting NYC this summer? The first thing you'll realize is that the Big Apple is just that: big. Plus, it's jam-packed with dance classes to take, places to eat, stores to shop in and sights to see. How are you supposed to decide what to do?
To help you map out your dream NYC weekend, Dance Spirit spoke to three NYC-based dancers. We had them walk us through a hypothetical Friday, Saturday and Sunday,
giving their recommendations for classes, restaurants, shops and shows you won't want to miss. Happy exploring!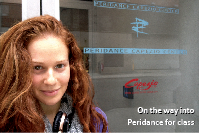 FRIDAY
Emily Oldak
Dancer with KEIGWIN + COMPANY and Aszure Barton & Artists
Has lived in NYC since: age 3 
10 am: Contemporary Class: "Gregory Dolbashian and Loni Landon alternate teaching a Friday morning class at Peridance Capezio Center [E 13th St, between Third and Fourth Aves]. I love it because it feels more like a rehearsal than a class—they do lots of improvisation during the warm-up and across the floor, with a choreographed phrase at the end."
12 pm: Lunch: "Near Peridance, I like eating at The Grey Dog [University Pl, at
E 12th St]. The atmosphere is so hip, and there's good music, with lots of healthy food options. I usually get the veggie press sandwich. While I'm in that area, I might also stop at Argo Tea [University Pl, at E 11th St] and get a vanilla chai latte with almond milk."
1 pm: Book browsing: "If I have time to kill, I love going to Strand Book Store [Broadway, at E 12th St] and looking at the racks of $1 books outside. I can easily spend hours inside the store."
2:30 pm: House Dance class: "Back at Peridance, I like to take house dance with Sekou Heru. He's a founding member of Dance Fusion NYC, which was created by one of the originators of the house movement. It feels special to study with someone who has such a history. Plus, it's a great workout!"
4:30 pm: Shopping: "One of my favorite clothing stores in the city is Buffalo Exchange. There are several locations, but I usually go to the one in Chelsea [W 26th St, at Sixth Ave]. It's a secondhand shop that's a hidden gem. New Yorkers have such great style, and I always find amazing pieces there."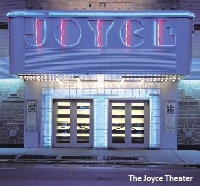 6 pm: Dinner: "Republic, in Union Square [Union Sq West, at E 17th St], isn't too expensive and has a nice ambiance. It serves a mix of different Asian cuisines."
8 pm: Show: "My favorite theaters in NYC are the Joyce Theater [Eighth Ave, at 19th St], Brooklyn Academy of Music [30 Lafayette Ave, Brooklyn] and Baryshnikov Arts Center [W 37th St, at 10th Ave]. Where I go depends on who's performing. Another thing to keep in mind is that in the summer, NYC has so many free outdoor performances. From swing dancing at Lincoln Center [W 62nd to W 66th Sts, between Columbus and Amsterdam Aves] to dance and music festivals in Central Park [W 59th to W 110th Sts, between Fifth Ave and Central Park West], you can be outside enjoying free entertainment." (Visit nycgo.com/free to find out what's going on.)
SATURDAY
Ryan Steele
Ensemble in Matilda: The Musical on Broadway
Has lived in NYC since: 2008
9 am: Breakfast: "I usually grab a cup of coffee and a muffin from Amy's Bread [W 47th St and Ninth Ave]. It's my favorite coffee in NYC."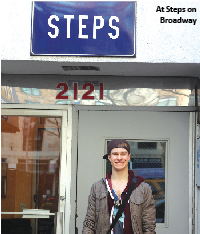 10:30 am: Ballet class: "I like to start my day with ballet class, and Steps on Broadway [W 74th St and Broadway] is my favorite dance studio in the city. Wilhelm Burmann teaches at 10:30 on Saturdays. His class is amazing and fun, but it's also intimidating. It's not uncommon to stand at the barre next to someone like New York City Ballet principal Wendy Whelan."
12:30 pm: Lunch: "Isabella's [Columbus Ave, at W 77th St] is great for brunch or lunch. The sweet potato fries are really good."
1:30 pm: Museum: "Isabella's is near the American Museum of Natural History [Central Park West, at W 79th St], so I might stop by the museum after eating. I like the dinosaur exhibit—it's pretty unreal imagining the world the way it was back then."
3 pm: Park: "I love the High Line [Manhattan's West Side, Gansevoort St to W 30th St]. It's a beautiful park built on a former elevated railroad track, and it's at its best in spring and summer. There are great views of the Hudson River."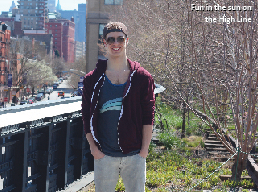 4:30 pm: Snack and shopping: "From the High Line, you can go into Chelsea Market [Ninth Ave, between W 15th and W 16th Sts]. There are lots of small restaurants inside. I love the gelato at L'Arte del Gelato. Chelsea Market also has lots of interesting shops, including Artists & Fleas, a pop-up flea market with items from different artists."
6:30 pm: Dinner: "Nizza [Ninth Ave and W 45th St] is close to any Broadway theater. The staff is friendly, and the food is really great Italian cuisine."
8 pm: Show: "There are so many awesome Broadway shows right now! Besides Matilda: The Musical [Shubert Theatre, W 44th St, between Seventh and Eighth Aves], I really liked Once [Bernard B. Jacobs Theatre, W 45th St, between Broadway and Eighth Ave], and would see it again. Also, I could see The Book of Mormon [Eugene O'Neill Theatre, W 49th St, between Broadway and Eighth Ave] a million times."
11 pm: Dessert: "Around the corner from Nizza is a bakery called Schmackary's
[W 45th St and Ninth Ave] with some of the best cookies in the city. My favorite is the red velvet."
SUNDAY
Tiler Peck
Principal with New York City Ballet 
Has lived in NYC since: 2003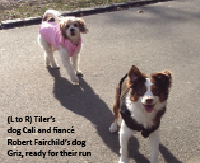 10 am: Park: "I love taking my dogs to Central Park and letting them run off-leash. If it's a beautiful day, I'll sit and people-watch."
11 am: Brunch: "I'm a huge fan of Good Enough to Eat [Amsterdam Ave, at W 83rd St]. It has outdoor seating, so my fiancé, Robert [Fairchild, also a NYCB principal], and I can bring the dogs along. Café Ronda [Columbus Ave, between W 71st and W 72nd Sts] is also great for brunch and lunch."
12:30 pm: Mani/pedi: "I've gone to the same manicure/pedicure spot, An Beauty Nails [W 72nd St, between Columbus and Amsterdam Aves], since I moved to NYC 10 years ago! I try to get my nails done every two weeks."
2 pm: Cross-training: "On a day when I don't have company class at NYCB, I like to do other forms of exercise. I played tennis growing up, and I still enjoy playing. There are courts in Central Park [enter at W 96th St and Central Park West], and also in Riverside Park [at W 96th St, along Riverside Dr]. I've also gotten into Ballet Bungee, a workout system that's Pilates- and ballet-based, but that adds a bungee cord to the mix. My friend Rachel Piskin, a former NYCB dancer, created it. She teaches it at Chaise 23 [E 23rd St, between Park and Madison Aves]."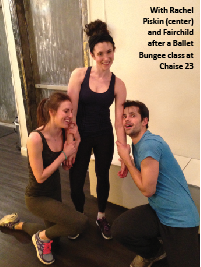 3:30 pm: Shopping: "One of my favorite clothing stores in the city is AllSaints [Broadway, at Spring St]. It's a British brand that can be described as 'British-chic rock and roll.' My style is fun/flirty meets trendy/hip. I like wearing glitzy tops and always love a skinny jean with standout heels."
5:30 pm: Dinner: "Robbie and I are part of a Sunday night dinner party group with three other couples. If we're not cooking at someone's apartment, we'll go out to dinner. One of my favorite restaurants in NYC is Gemma, in the Bowery Hotel [Bowery, at E 3rd St]. It's an Italian restaurant. Everything on the menu is good, but two of my favorite dishes are the baby beet insalate and the focaccia robiola pizze."
8 pm: Show: "I love to see performances, from American Ballet Theatre to Broadway shows. In terms of venues, New York City Center [W 55th St, between Sixth and Seventh Aves] is great because it brings in so many companies. There's always something interesting onstage there."
Jun. 15, 2019 10:12AM EST
(From left) Darriel Johnakin, Diego Pasillas, and Emma Sutherland (all photos by Erin Baiano)
Congratulations to Dance Spirit's 2019 Cover Model Search finalists: Darriel Johnakin, Diego Pasillas, and Emma Sutherland! One of them will win a spot on Dance Spirit's Fall 2019 cover. Learn more about the dancers by clicking on their names here:
And then vote for your favorite below. You can vote once a day now through July 15.
We also want you to get social! We'll be factoring social media likes and shares into our final tallies. Be sure to show your favorite finalist some love on Facebook, Instagram, and Twitter, sharing their profile pages and using the hashtag #DanceSpiritCMS.

Cover Model Search
Jun. 21, 2019 04:00PM EST
Getty Images
Dancers are naturally "in their heads" all the time—but not always in productive ways. Long days of receiving and applying corrections, taking class, and performing can get to even the most composed individuals. What should you do when you feel like your mind is just as busy as your rehearsal schedule? Try meditation. Dance Spirit turned to Adreanna Limbach, a head teacher at NYC-based meditation studio MNDFL, for a breakdown of this highly beneficial practice.
Mind
Jun. 20, 2019 02:41PM EST
Liz Imperio teaching at Hollywood Vibe, Courtesy of Hollywood Vibe
It's an increasingly common scenario: A talented dancer wins big at a competition, is offered an assistantship with a famous faculty member, and ends up leaving her hometown studio to travel with a convention. Convention-hopping has obvious benefits. Every event generates new content for dancers to post on social media, gives them a better shot at ending up on their favorite choreographers' accounts, lets them learn from the best of the best, and helps them make valuable connections. "Traveling is a great way for dancers to gain admirers around the country," says Jen Jarnot, owner of Artistic Fusion Dance Academy in Thornton, CO. "That's something every dancer craves." So it's no surprise that weekend FOMO has been blazing through studios like wildfire.
But is this jet-setter lifestyle really the most effective road to take? Can weekends of dancing with top talent truly replace the bread and butter of daily work at your home studio? The answer, according to most industry experts, is no. We asked five pros to explain why.
Competition