Galen Hooks Hopes Her New Dance Film Will Make People See Dancers in a Whole New Light
Photo by Jeffrey Mac-Nack
You know Galen Hooks as the choreographer who creates the stellar dance moves for dozens of viral videos, and the dancer who's performed for everyone fromthe Biebs to Rihanna. But now she's gearing up for two different roles; director and composer.
Hooks' new dance film, " Wait for Me," was written, composed, directed, styled, and choreographed by the versatile artist. And though the overachiever could've easily danced in it, too, she chose instead to feature an army of all-star dancers including Ashley Everett, Jasmine Harper, Kyle Robinson, Melinda Sullivan, and Kenny Wormald. Read our exclusive interview with Hooks and discover what prompted this shift towards directing.
---
What was your favorite part about directing "Wait for Me?"
I actually really loved not being in it, which is weird to say. Instead of trying to do double duty, it was amazing to just watch the monitor and everything come to life.
One moment that was pretty exciting was when we closed down a street in Beverly Hills. That was a big deal. There were police blocking off the street.
What was the toughest part of this project?
I shot the whole film in one day at two locations, so we just did one or two takes of each scene. That was hard, but since I had such a great cast, they were able to really nail it. It was amazing to see these talented dancers deliver.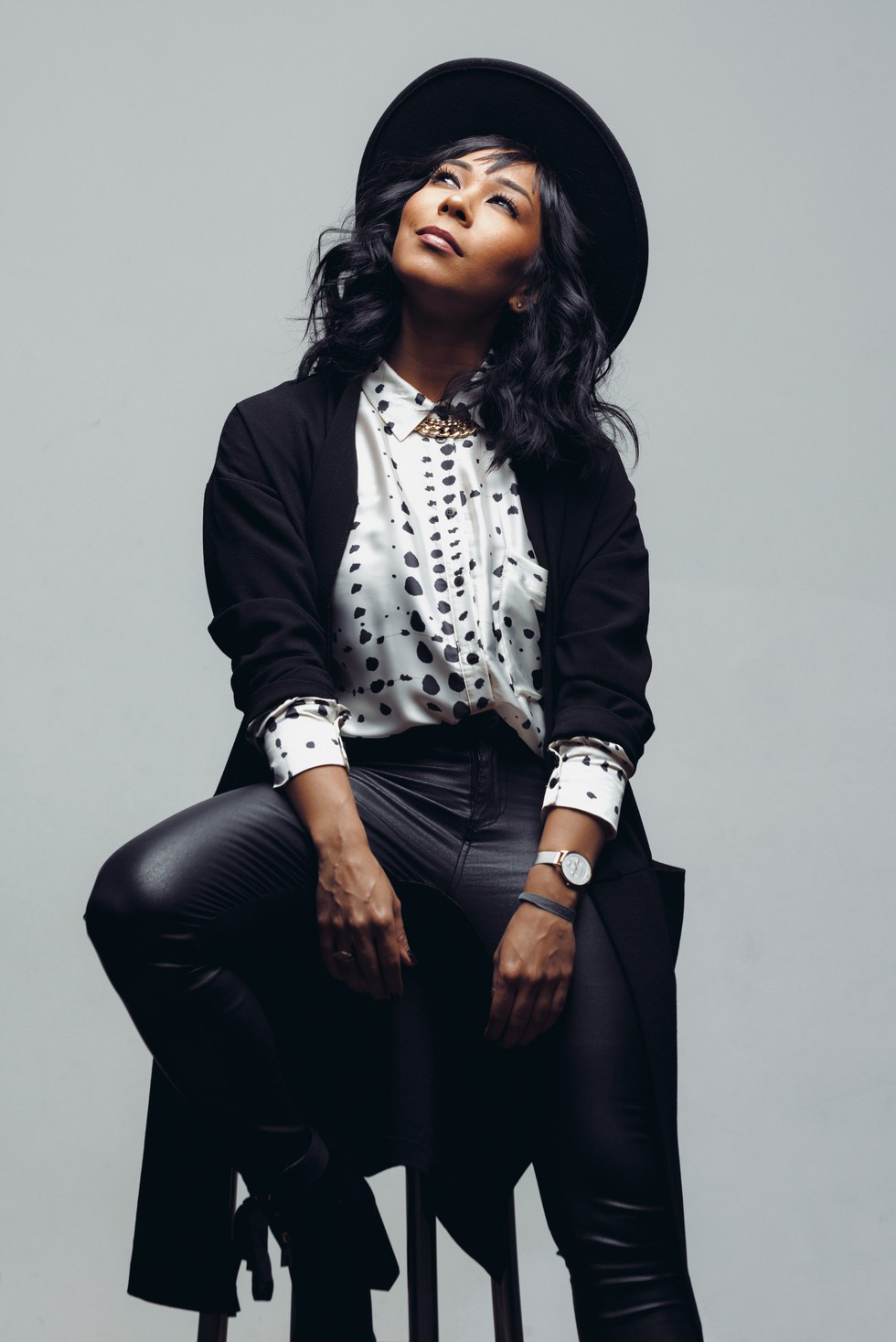 Photo by Jeffrey Mac-Nack
What made you transition towards directing?
I've had a very long fulfilling career in front of the camera and am extremely satisfied with that. Now I'm getting a lot of joy watching people bring dance to life and helping them with that process.
I also wanted to challenge myself. To create a song and do all these things that I'm not used to doing gave me the opportunity to have full ownership of something, that's 100 percent me and my intellectual property. I knew that I was capable of doing more, and I wanted to be prepared to make that transition. This video is that opportunity.
Every time I choreograph a combination, the routine in my head is more extensive. I can picture wardrobe, lighting, camera angles. It's only natural to want to fully realize that creation.
How did being a choreographer prepare you for directing?
Actually, being a choreographer is very much like being a director. In fact, most choreographers would refer to themselves as directors, because we're the ones creating order in a scene, counting out where and when movement happens. The timing, the placement of people in a routine, that's all the choreographer's job. So the role of director is just like a choreographer's, except on a larger scale. Running a set felt natural.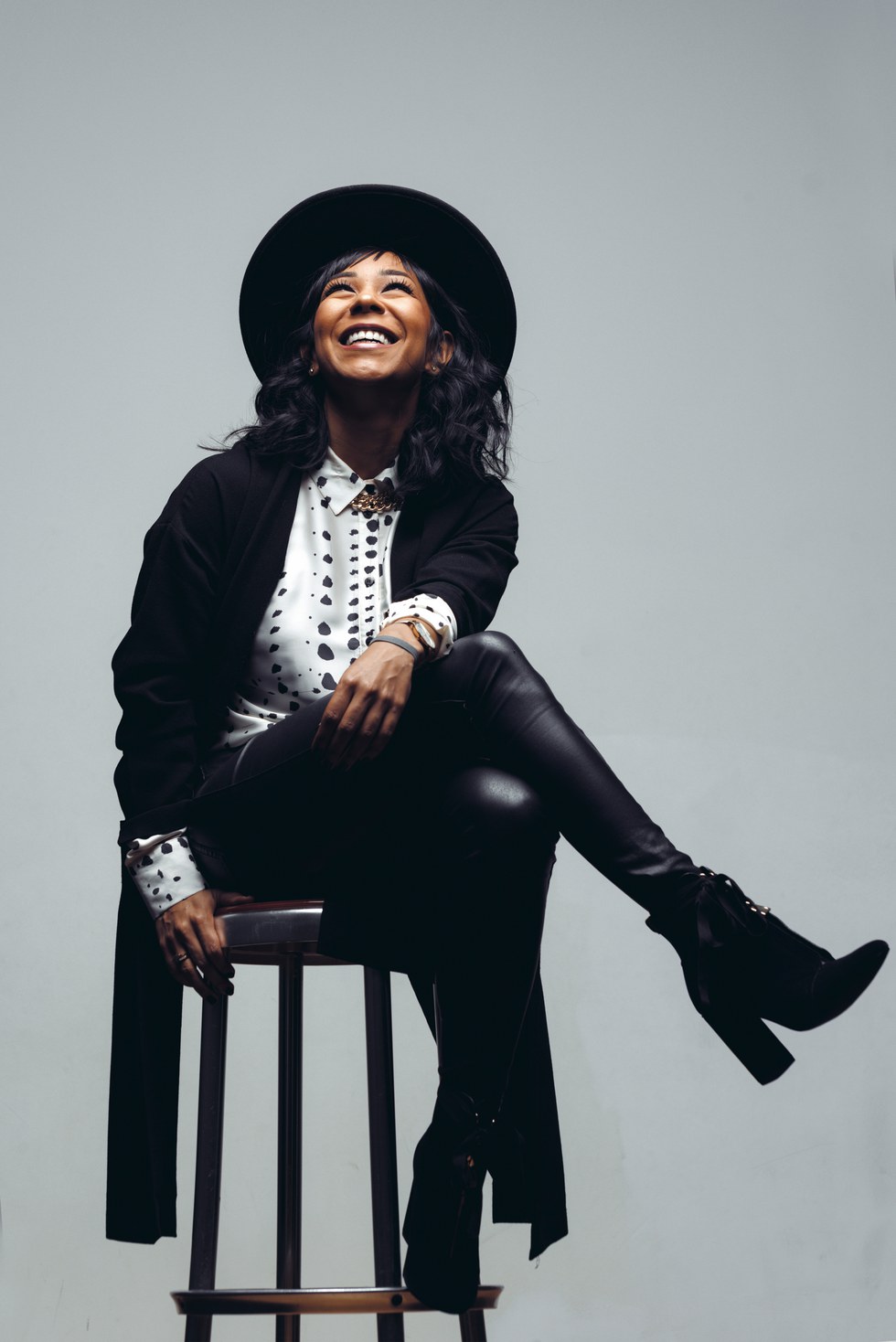 Photo by Jeffrey Mac-Nack
Do you have any advice for young dancers looking to become choreographers and or directors?
Choreographing is so much more than making up steps. It really is. It's about people skills, knowing how to execute your vision, and getting people to fight for that vision. You have to take charge, pick your battles, and develop an aptitude for teamwork and leadership. You have to be a really good leader. I would encourage people to pay attention to what the choreographer is doing when they're not at the front of the class. That's where the real work is.
What do you hope people take away from "Wait for Me"?
I really liked showing that these artists are more than dancers. The dance is almost secondary to the expressions. Dancers can be extremely compelling onscreen, without showing off technique. Their charisma alone can bring a lot to a character and I wanted to show that aspect of the artistry. When people watch "Wait for Me," I want them to go, 'That girl's a star.' Not just, 'That's a really good dancer.' I want the audience to see these dancers in a new light—to see beyond the movement.
Dec. 03, 2018 04:07PM EST
Showstopper sees all different dancers from across the world at their dance competitions. They understand sometimes it can hard to know how to stand out among the 100s of dancers that perform on their stages.
Keep reading...
Show less
Sky Brown and JT Church in the finale of "Dancing with the Stars: Juniors" (via @dancingabc on Instagram)
Last night was a Christmas miracle of epic proportions for one lucky couple on "Dancing with the Stars: Juniors" as they took home the Mirror Star Trophy. But we're getting ahead of ourselves. Four couples competed for the title of champion and each and every performance was lit! With two routines—one holiday themed freestyle and one repeat dance from the season that included their mentors (plot twist!), these dance darlings battled it out on the dance floor. It was truly a night to remember as we enjoyed some of the best performances of the season that got us in the holiday spirit.
Keep reading...
Show less
Josefina Scaglione as Maria (with Jeremy Jordan as Tony) in the 2008 Broadway revival of "West Side Story" (via @thelightsonbroadway on Instagram)
Every scrap of news coming from the highly-anticipated West Side Story remake has been nothing short of thrilling, tbh. First, there was the open casting call here in NYC for dancers to play the Jets and Sharks. Next, we heard the unsurprising-yet-awesome news that Justin Peck will choreograph the new movie. Now, there's possibly the most exciting news flash yet: You (yes, YOU) could play the star-making role of Maria opposite the dreamy Ansel Elgort as Tony!
Keep reading...
Show less
When Hannahlei Cabanilla rolled up to her Dance Spirit cover shoot—just 36 hours after being named the "So You Think You Can Dance" Season 15 champion—she looked impossibly fresh-faced and well-rested. The Anaheim Hills, CA, native may have had "about eight blisters," as she joked, on her feet; she may barely have slept since the big win; and she may have just performed on "Live with Kelly and Ryan." But she jumped right on set, and quite literally didn't stop jumping for the next five hours. The fabulous technique, irresistible personality, and (especially) boundless energy that earned her the title of America's Favorite Dancer were all on full display.
So what was it actually like for Hannahlei to compete on the show she'd watched since she was a tiny dancer—and what's next for the now–19-year-old? Read on.
Keep reading...
Show less
Photo by Gage Crismond, courtesy Cogliandro
Cat Cogliandro's genius is turning paradoxes into powerful art. In her gestural contemporary choreography, vulnerability becomes strength and imperfection is beauty. Born and raised in Houston, TX, Cogliandro earned a BFA in dance from SUNY Purchase before moving to L.A. Cogliandro now teaches in L.A. and nationally, and choreographs for her company CATASTROPHE!, which was the second runner-up at the 2015 Capezio A.C.E. Awards. Here, Cogliandro tells DS where she finds inspiration. —Helen Rolfe
Keep reading...
Show less
Get Dance Spirit in your inbox
Just for Fun
Jun. 29, 2018 10:00AM EST
Colder weather is (finally) here, which means it's time for a good dance movie binge. But which iconic films should you put on? To narrow your search, we went ahead and ranked 30 of the greatest dance movies of all time.
Of course, we know a list like this is bound to be controversial—so if you disagree with our lineup, have at it in the comments!
Keep reading...
Show less
Courtesy MSG Entertainment
For some it's a holiday tradition, for others its an iconic spectacle, but no matter the reason, more than 1 million people will watch the Rockettes perform in the Radio City Christmas Spectacular each year. And though the production has been around since 1933, much of what goes on behind those velvety curtains and intricate sets remains a mystery. To curb our curiosity and find out what ensues when these leggy ladies aren't doling out their sky-high kicks, we got a backstage tour from the legends themselves.
From hair and makeup, to warm-up exercises, and costume quick changes (the fastest quick change in the show is a #mindblowing 75 seconds, by the way) we got a glimpse into the glamorous (and sometimes not so glamorous) world of the Rockettes.
Keep reading...
Show less
Nia Sioux and her co-star from North Carolina Theatre's production of Aladdin and His Winter Wish (courtesy North Carolina Theatre)
Nia Sioux has been entertaining audiences with her fab dance skills since 2011, when "Dance Moms" first aired. Now, two music videos and an acting gig (on the daytime TV series "The Bold and the Beautiful"), later Sioux is proving that she's more than just a triple threat—she's a star. And last week when Sioux debuted in North Carolina Theatre's production of Aladdin and His Winter Wish, she was every bit that star. Sioux opened up to Dance Spirit about her transition from comp kid to a triple threat and offered advice for young dancers hoping to follow in her footsteps.
Keep reading...
Show less
Isabelle Lapierre in a still from Finding Clara. Courtesy Justice Studios.
Last winter, we told you all about "Finding Clara," a YouTube series produced by tween clothing brand Justice. It followed four BalletMet Academy students cast in BalletMet's The Nutcracker. This year, it gets even better: The heart-melting show has been turned into a full-length documentary. Finding Clara was released today for rental and purchase on Amazon, Google Play and iTunes.
Keep reading...
Show less
Getty Images
It's pretty much undeniable that today's social-media-obsessed culture expects you to build your brand online—even as you're still building your skills in the studio. The positives of gaining exposure as a student are obvious, and posting your dance accomplishments may feel natural if you're already personally prolific on platforms like Instagram, YouTube, or Facebook.
Keep reading...
Show less
Alvin Ailey American Dance Theater dancer and choreographer Hope Boykin shares the best tips she learned. (via Instagram, @hbdance)
Alvin Ailey American Dance Theater recently hosted their first Choreography Unlocked Festival, where artists in the business of creating dance gathered to immerse themselves in workshops, performances, and panel discussions. Young choreographers learned tips, tricks, and all about the creative process of choreographing from Ailey's Artistic Director Robert Battle and other choreography experts, including Jawole Willa Jo Zollar.
Keep reading...
Show less
(via @diegopasillas_ on Instagram)
Congratulations to the November Cover Model Search Editors' Choice video winner, Diego Pasillas! Catch his solo below, and enter the Cover Model Search here!
Keep reading...
Show less