Check out a cutting-edge NYC dance performance, and it's likely you'll find Reid Bartelme's name in the program. But you won't see him onstage. The costume designer has worked with countless choreographers, bringing work by artists such as
Kyle Abraham, Marcelo Gomes and, most notably, Justin Peck to life. (Bartelme is featured in the Peck documentary Ballet 422—he and partner Harriet Jung made the costumes for Peck's Paz de la Jolla.)
Why is Bartelme in such demand? He creates high-fashion designs—sleek, simple, modern—constructed with dance in mind. And he knows a few things about dancing: He's performed professionally for years. Though Bartelme's been steadily establishing himself as the dance world's go-to costume designer, his path to the top wasn't a straight one.
Sketching It Out
Originally from NYC, Bartelme had extensive music training growing up. But it wasn't until he was in high school at Interlochen Arts Academy, in Michigan, that he took his first dance class. He caught the bug, and after a year and a half at SUNY Purchase, he left for Seattle to train at the Pacific Northwest Ballet School. As he grew professionally, Bartelme hopped around the continent, dancing with BalletMet in Columbus, OH, with Canada's Alberta Ballet, and finally with Shen Wei Dance Arts back in NYC.
While he enjoyed working with choreographers around the Big Apple, he had some doubts, too. "I felt like Shen Wei wasn't the right place for me," he recalls. "But I also realized that I didn't think any dance company was going to be the right place. I felt like I'd already fulfilled my professional aspirations as a dancer."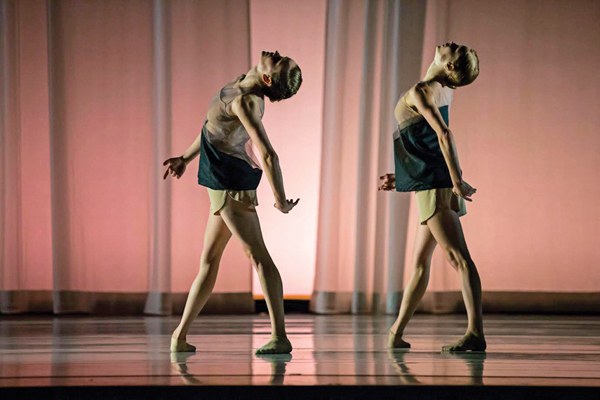 Hubbard Street Dance Chicago Dancers wear Bartelme's designs in Kyle Abraham's Counterpoint (photo by Todd Rosenberg, courtesy Bartelme)
Pinning It in Place
Bartelme was looking for his next step when he picked up a copy of Julia Cameron's The Artist's Way, a guide to creativity. The book inspired him to apply to design school. "I come from a family of designers and artists, and I've always been interested in making things," he says. "I just hadn't thought about pursuing a more formal education in design."
In 2009, Bartelme enrolled at the Fashion Institute of Technology in Manhattan to study fashion design. (He didn't stop dancing: He joined the Lar Lubovitch Dance Company that same year, and continued to perform throughout his schooling.) Bartelme wasn't even through his first year of college when his friends in the dance world, including choreographer Jack Ferver, started asking him to make costumes for their productions.
"I didn't know what I was doing," Bartelme says. "I'd just say yes, and figure it out as I went. The first costumes I made involved pants. But you don't learn how to make pants in the first semester at FIT, so I just kind of improvised. I'm sure the stitching was a disaster." Nevertheless, the requests—from artists such as Andrea Miller and Matthew Prescott—kept on coming.
Bartelme balanced school, dance and design the whole time he was at FIT, but he wasn't sure what to pursue as a career. His first big design project came a few months before graduation. Justin Peck, then an NYCB corps member, asked Bartelme to design costumes for Furiant, a duet Peck made for NYCB principals Teresa Reichlen and Robert Fairchild for the 2012 Youth America Grand Prix gala. Bartelme decided to work with another designer on the project, FIT classmate Harriet Jung. Though Jung isn't a professional dancer, the two clicked as collaborators, and the costumes' success helped them forge an ongoing relationship with Peck.
Sewing It Together
By the time Bartelme and Jung worked on another Peck ballet, Paz de la Jolla for NYCB in 2013, they had cemented their creative partnership and began pursuing their new business full-time: Reid & Harriet Design. Now, their minimalist, ethereal costumes grace stages around the country. They love experimenting with construction and materials, but always keep the shapes simple, allowing the dancers to shine. "Our process is totally collaborative," Bartelme says. "We look for inspiration, draw and source fabrics together. After the primary design decisions are made, Harriet tends to take on more of a business role while I manage production."
What's next for Bartelme? "I love the fantasy that exists within dance, so I'd like to design a full-length ballet," he says. Bartelme and Jung are also considering stepping outside the dance world with a swimwear and a streetwear collection.
Reid Bartelme's Tips for Aspiring Costume Designers
Do your homework. "It's important to know other
designers' voices," he says. "Research what's already been done, and get a feel for where trends are headed."
Watch live dance. "See as many shows in as many different styles as you can. This helps
you discover your own vision within a broader community."
Learn the basics. "I'm a believer in classical education. Just like in dance, you need to know technique to be successful. Even if you don't go to school for fashion, take a few classes or learn from someone in the field."
Experiment. "Don't worry about being good when you first start drawing or sewing. Play with your materials and explore whatever feels best. You'll never get better if you don't just start!"
American Ballet Theatre principal dancers Sarah Lane and Daniil Simkin (courtesy ABT)
Last May, we told you about a special exhibition of the Mark Ryden artwork that sparked Alexei Ratmansky's sweet-treat of a ballet, Whipped Cream. Well, hold on to your tiaras, bunheads, because there's a brand-new exhibit featuring actual costumes from this megahit production. The Nutcracker's Land of Sweets has some serious competition!
Keep reading...
Show less
via @kyle_vanny on Instagram competing on World Of Dance
Kyle Van Newkirk is a tap dancer you probably remember from the premiere season of NBC's World of Dance. In case you missed it, he is also one of Showstopper's incredible convention teachers. What makes Kyle stand apart from some of today's other incredible tappers? He isn't afraid to change what tap means to his audience and even himself. This modern view of tap dancing is important because it shows us that tap dancers are just as versatile and dynamic as dancers of any other genre. We sat down with Kyle to get his advice on bringing tap dancing into the 21st century.
Keep reading...
Show less
How To
Oct. 01, 2010 04:55PM EST
(Nathan Sayers)
Turnout—a combination of rotational flexibility and the strength to properly hold that rotation—is the foundation of ballet. But it's also a source of frustration for many dancers. After all, not everyone (actually, hardly anyone) is born with 180-degree rotation. "When I first started dancing, my hip flexors were strong, but I was forcing my turnout without using the right muscles," remembers Amanda Cobb, a former dancer with The Washington Ballet.
The good news is that it's possible to both improve your turnout and to dance beautifully with less-than-perfect rotation. But there's a lot of misinformation out there about how turnout works and why it's important. To help separate fact from fiction, DS asked the experts to disprove six turnout myths.
Keep reading...
Show less
University of Minnesota Dance Team (courtesy University of Minnesota)
They say there's no "I" in "team"—and nowhere is that truer than the world of college dance teams, where precision reigns, uniformity is key, and a single misstep from any given "I" can cost a group a championship trophy. So it's unsurprising that securing a spot on one of the best dance teams in the country is no easy feat.
Members of these highly athletic teams rehearse for hours every week—on top of academic classes and commitments—and perform at football and basketball games, annual concerts, and nationally televised competitions (hi, ESPN). And "no I" rule notwithstanding, each of these top teams is made up of highly trained, highly technical, highly hard-core individuals, who come together to create a ready-for-victory pack.
These six teams aren't one-off success stories—they're consistently strong, and earn the top spots at major competitions like UDA and NDA nearly every year. Up for the challenge? Here's what to know before you go to auditions.
Keep reading...
Show less
Lol, same. (Screenshot via YouTube)
Picture this: You've scored tickets to Ellen DeGeneres' hit show, "Ellen." The day has come, the show is as hysterical as ever, Ellen is debating the biggest hot-button issue since the blue/black or white/gold dress, "Laurel vs. Yanny" (side note: it's LAUREL, people), and tWitch is killing it over at the DJ booth, as always. Ellen decides it's the perfect time to single out an audience member and, lo and behold, that person is "SYTYCD" champ ( and December 2017 cover star!) Lex Ishimoto.
Keep reading...
Show less
May. 16, 2018 02:26PM EST
Ema Peter
The Glorya Kaufman International Dance Center is the 54,000 square foot home of the USC Glorya Kaufman School of Dance, one of the largest facilities dedicated to dance on a private university campus. Designed for their innovative new curriculum, that supports a range of dance styles, the school's staff designated Harlequin to provide wall-to-wall flooring for the large 3,500 square foot Performance Studio as well as five dance studios in their new state-of-the-art building.
Keep reading...
Show less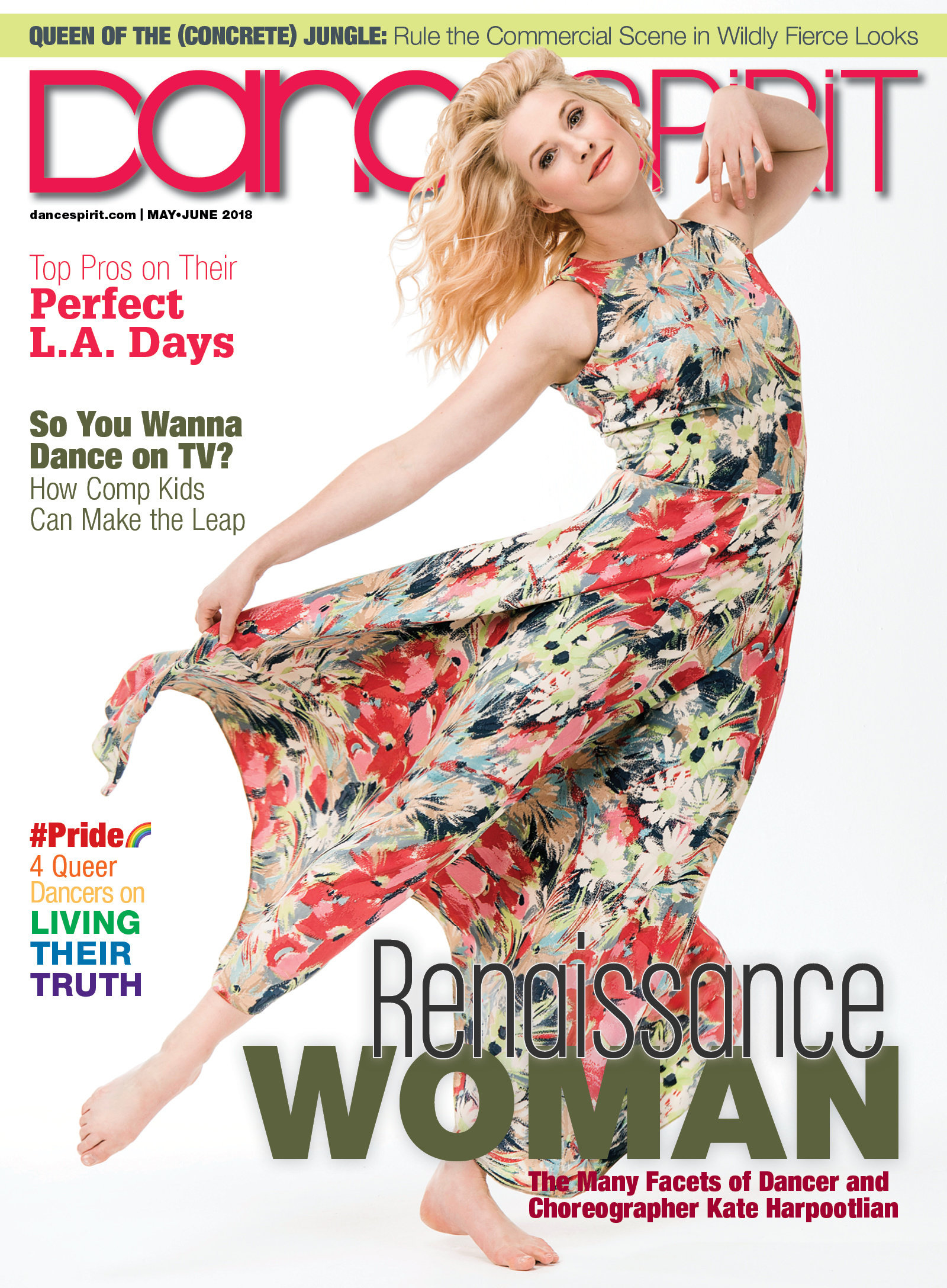 Get Dance Spirit in your inbox