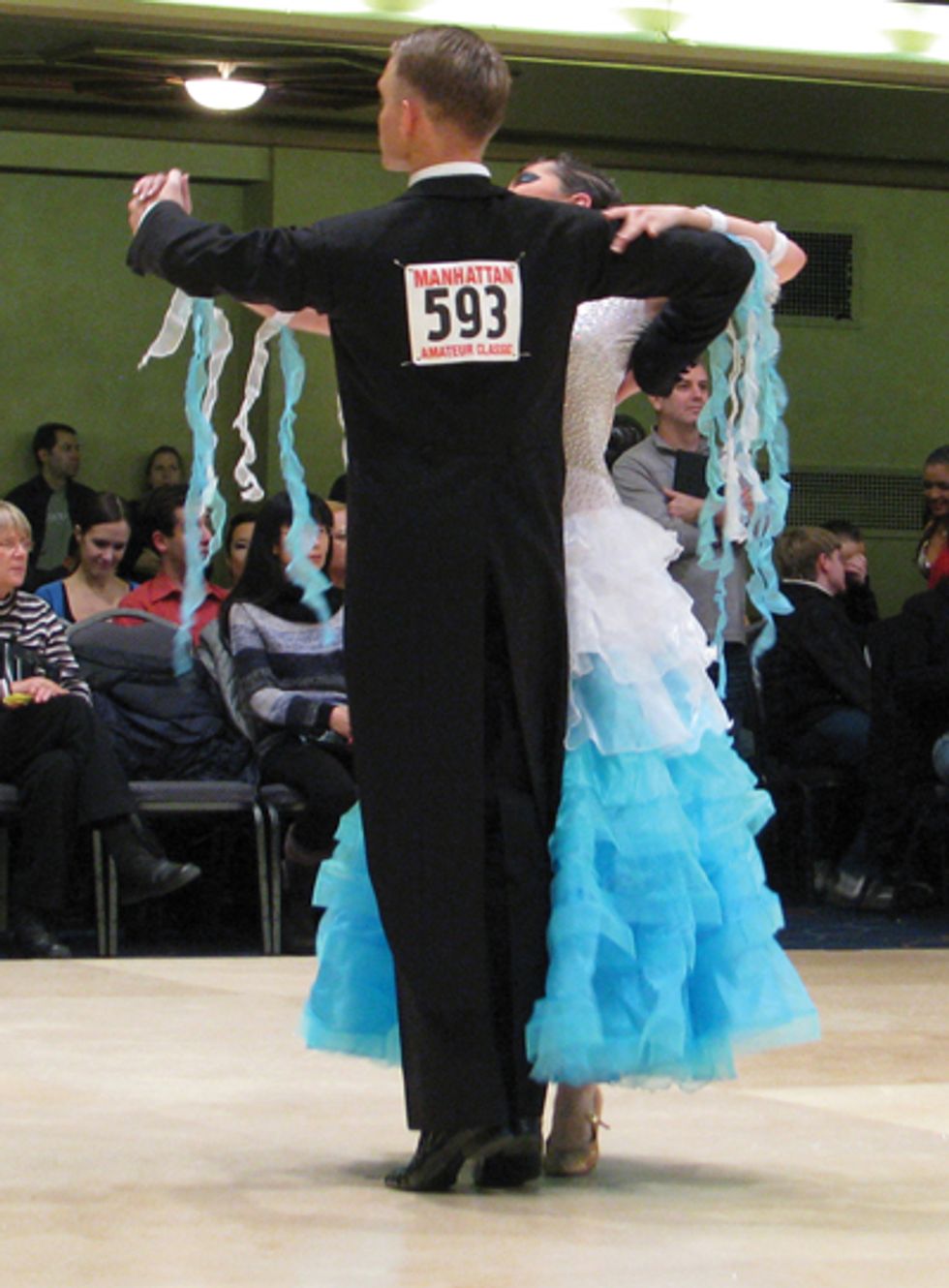 by Krista Fogle
When reality TV star Kristin Cavallari stepped onto the dance floor to perform during the second week of "Dancing with the Stars" Season 13, she seemed like an early front-runner. She and her professional partner, Mark Ballas, had prepared a glamorous quickstep number they thought was sure to dazzle. Though judges Len Goodman and Bruno Tonioli noted that she had improved since the first week, they still singled out Cavallari for not holding proper frame throughout the dance. "Your beautiful lines got lost," Tonioli told her.
Dance newbies—celebrities or not—aren't the only ones who have trouble grasping ballroom frame. Even dancers highly trained in other styles sometimes find it challenging to master the arm positioning and stance required for ballroom styles. For example, ballet dancers "understand posture brilliantly, but don't always get that you need a certain amount of grounding," says "DWTS" pro Chelsie Hightower. "Most dancers learn visually, so they'll try to mimic proper body position, but often they don't understand the roots of where it's coming from."
So what is frame, exactly? "Frame" is the word used to describe a dancer's body position in terms of how she stands, holds her arms and physically connects with her partner.
Hightower says traditional rules of frame apply more to standard ballroom dance styles (like the waltz and foxtrot) than to Latin ballroom styles (like the cha-cha and rumba). "Frame is so important in the standard styles. Not only is it something you're judged on, but having the right frame can also improve your dancing, whereas not having it can seriously hinder you," she says. "Without frame, dancers' bodies aren't able to connect. Lopsided, sloppy frame means you're not able to move together as one. Plus, it can really throw off your center of balance."
Here, Hightower and ballroom expert John Cassese share their tips for mastering proper standard ballroom frame:
Understand the basics. According to Hightower, correct frame begins with the four points of connection: the guy's left hand to the girl's right hand, the guy's right hand to girl's left lat (the muscles in your upper back), the girl's left forearm to the guy's right elbow, and the girl's left hand to the man's right bicep.
For stable frame, Hightower says you should picture a long, strong line stretching between your elbows ("almost as if there were two muscle men pulling your arms out"). She also suggests "locking down your lats," which means keeping your shoulders back and down.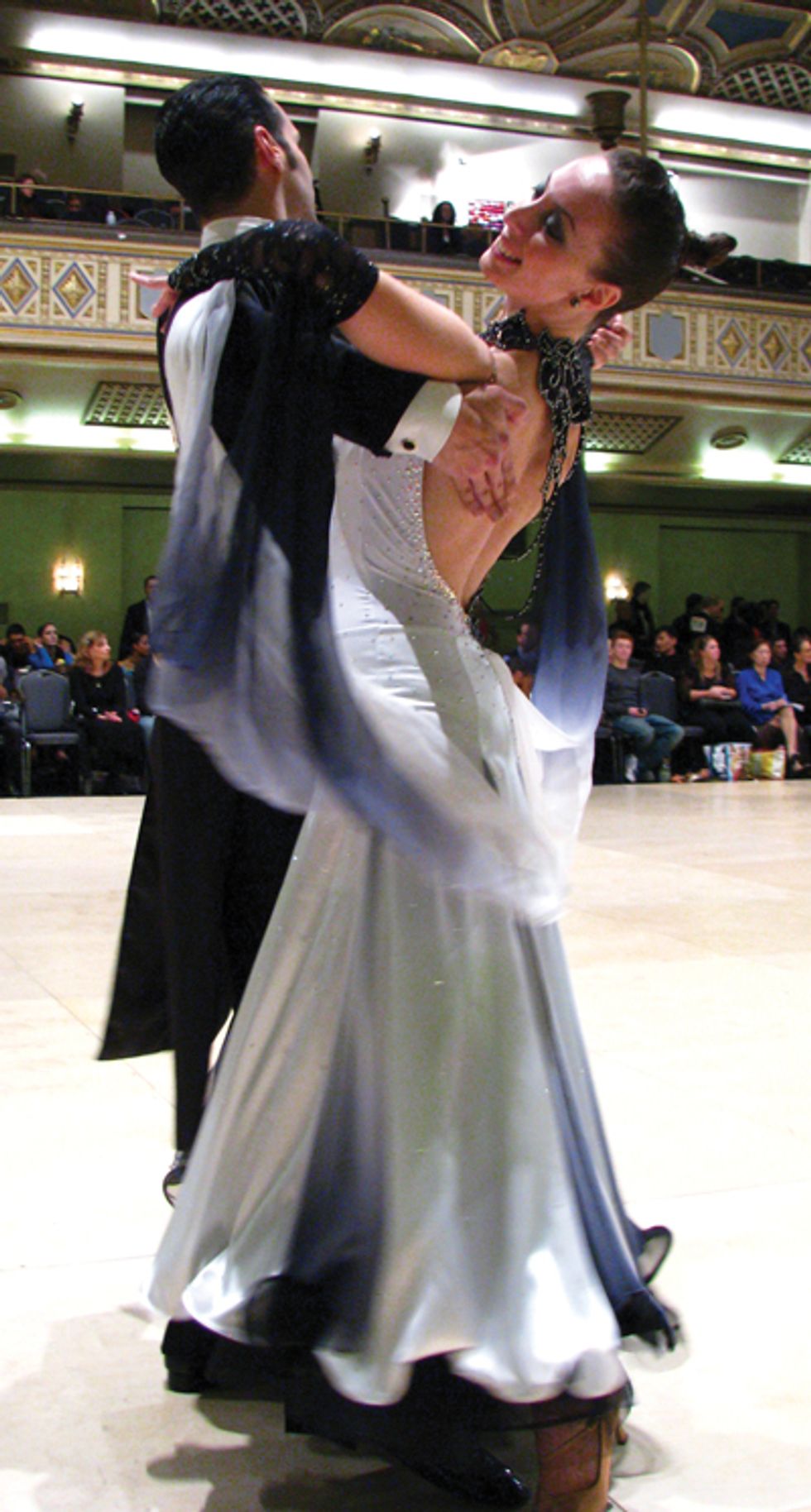 by Krista Fogle
Perfect your posture. Upright posture is a major part of proper frame. When Cassese teaches new students at his Santa Monica studio, The Dance Doctor, he always starts with one simple exercise. "Stand with your back against the wall, pressing your feet, calves, buttocks, shoulders and head against it, and then walk away and try to maintain that position—now you're in perfect posture," says Cassese, who has trained celebs including Elizabeth Hurley, Adam Sandler and U2's The Edge. "The stretch in your abs should feel like an elastic band, pulling both up and down from the waist." Cassese advises beginning ballroom dancers to do that exercise several times a day so the correct posture begins to feel more natural.
Resistance is key. Remember the "spaghetti arms" from Dirty Dancing? They're a major don't in ballroom. "If both partners are limp, there's no connection and you can't travel as a unit," Cassese says.
To avoid noodle limbs, add a touch of resistance to your frame. Typically, the male partner sets the tone by applying slight pressure in the connected palm, and the female partner follows his lead by giving the same amount back. "The female has to be very precise so that she's not overly resistant," adds Cassese. "If you over-resist, you can't be led. If you under-resist, you can't be led. It has to be the perfect flow of energy, like electricity traveling from one person into the other."
Let it bloom. For a great overall visual of what frame is supposed to look like, Hightower and Cassese tell their students to picture a flower blossoming. "We use the visual of a rose opening up in full blossom because it brings to mind a very narrow stem and a big flower," Cassese  says. "From the diaphragm down is the stem; from the diaphragm up forms the flower."
Confused? Basically, the man's right leg should go between the woman's legs, and they should stay intertwined throughout the dance. Partners should stay close from the kneecap to the chest (like a stem) and then blossom outward with their upper bodies. "Think of the legs as puzzle pieces—the middle of her body should line up with the right side of his body," says Hightower. "One of the difficulties of learning to do ballroom well is figuring out how to dance while keeping that connection. The frame is what holds it all together—it's the glue."