Jun. 27, 2018 03:43PM EST
How to Follow Your NYC Dance Dreams—on a Budget
Photo by NYC & Company, courtesy Kate Glicksberg
There's a reason (or a million reasons) so many young dancers set their sights on the city that never sleeps: NYC is an artists' haven, with opportunities to create and grow everywhere you look. But pursuing a dance career in NYC can also be downright expensive, and a steady company paycheck is basically a unicorn. "I really wish I'd sat down and mapped out all the expenses before making the big move," says NYC freelancer Krissy Harris. "After about a year or so, I got in the swing of things. But it was a process!" Here's advice from Harris and four other New York dance pros on how to survive the grind.
---
Securing a Roommate
Whether you're making the move for a summer, a semester or a career, you're going to need a place to call home, and for most dancers, living alone isn't a financially viable option. "The easiest way to find compatible roommates is to look within your own networks," says Patch Schwadron, senior career counselor of Career Transition For Dancers at The Actors Fund. "Seek out acquaintances from school who may also be moving to the city."
If that doesn't work, Harris recommends expanding your network through social media. "Lots of people find housing by posting on Facebook, or by asking a friend who's already in NYC to post for them," she says.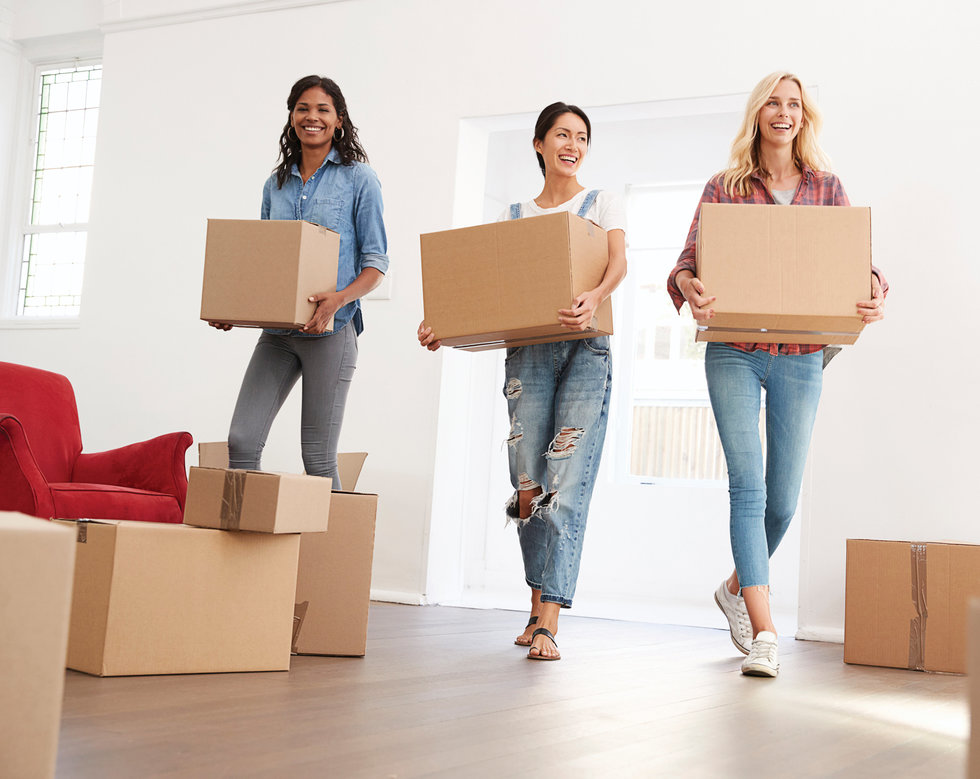 Thinkstock
Many dancers also have success with Ghostlight Housing, a Facebook page for artists seeking affordable housing in NYC. Allison Piccone, a freelance dancer with Rebecca Kelly Ballet, has found most of her roommates through the page. "NYC artists have similar lifestyles, working several jobs with potentially odd hours, and I find that really important in a roommate," she says.
Of course, you want to be safe and smart about the process. "Do your research, check your sources, and make sure an apartment is safe and actually exists before you put any money down," says Emily Collin, director of educational programs at Broadway Dance Center.
If you decide to couch-surf friends' apartments while you find housing, consider attending the Actors Fund's weekly affordable housing seminar, where you can get up-to-date rental information while connecting with fellow dancers and artists in the same situation.
Taking Class
Like most things in NYC, dance class isn't free. Even if you take just one $20 class per weekday, that's already $100 a week. Piccone recommends investing in a class card at your favorite studio, which will offer a block of classes at a discounted rate. She frequents Mark Morris Dance Center in Brooklyn because it has more-affordable rates than most major NYC studios.
Work-study is also a great option if you find yourself taking most of your classes at a single studio. "It's basically an unpaid internship, where you get credit towards classes in exchange for administrative work," Harris says. But do your homework: "I've seen dancers commit to so many hours of work-study they can't get time off to take the classes that drew them to the studio," she says. "Confirm with your supervisor that you'll be able to schedule your hours around those classes."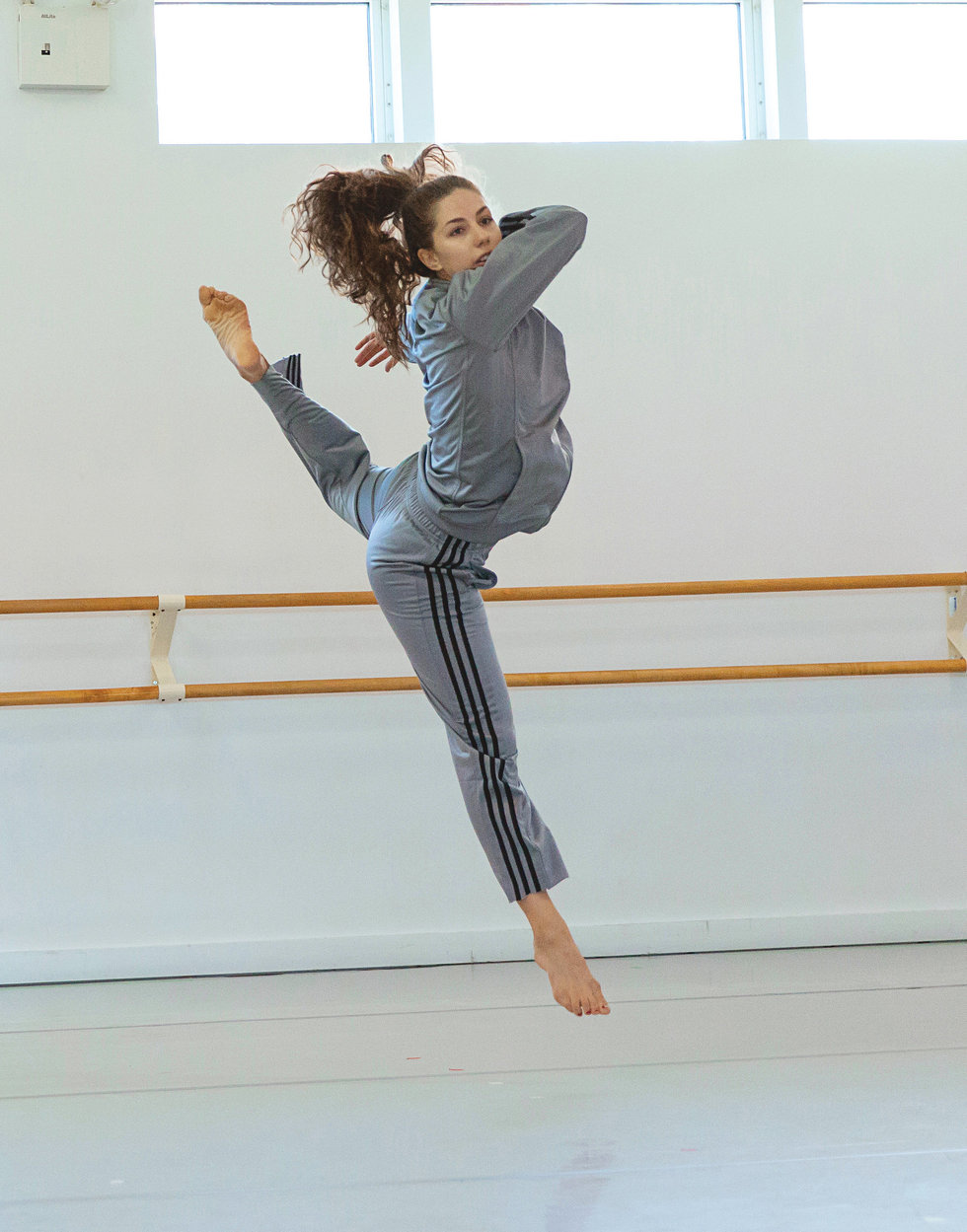 Krissy Harris in "Tinsel Time," by Harris and Sarah Lass (photo by Scott Shaw, courtesy Harris)
Harris has also found several studio spaces available for rent at approximately $10 per hour, such as Movement Research on the Lower East Side. While she typically reserves these spaces for choreography and rehearsal, on occasion she'll give herself what she calls a "power class." "I'll block off an hour to warm up and work on something specific, especially something that I feel isn't being addressed in the more formal class setting," she says.
Getting Around
Thinkstock
When it comes to affordable transportation in NYC, you can't beat the subway. A $2.75 swipe can get you pretty much anywhere in the city. The real question is whether to go for the unlimited monthly card, which currently costs $121, or to pay per ride. "It really depends on where you're taking class and rehearsing in relation to your apartment," Piccone says. As a rule, if you're taking the subway at least twice a day, five days a week, the monthly card will save you money. So if you know you're going to commute to and from class each day, it's probably worth it. Piccone recommends that dancers with irregular schedules calculate on a month-to-month basis.
Finding Fuel
When you're running from class to rehearsal to your second job, squeezing in the time to cook a healthy meal for yourself can seem impossible. The fact that grocery store prices are likely much higher than you're used to doesn't exactly help the cause. "I was appalled at how expensive produce was when I first moved here," says Kelli Erdmann, who moved to NYC last summer to join the cast of Wicked on Broadway. "Trader Joe's has been a real lifesaver in terms of price." She recommends going around 10 am on a weekday to avoid the notorious wraparound lines. "If I can take a bit of time to meal-prep for the week, I end up saving so much money and eating much healthier than if I were constantly grabbing food in Times Square," she says.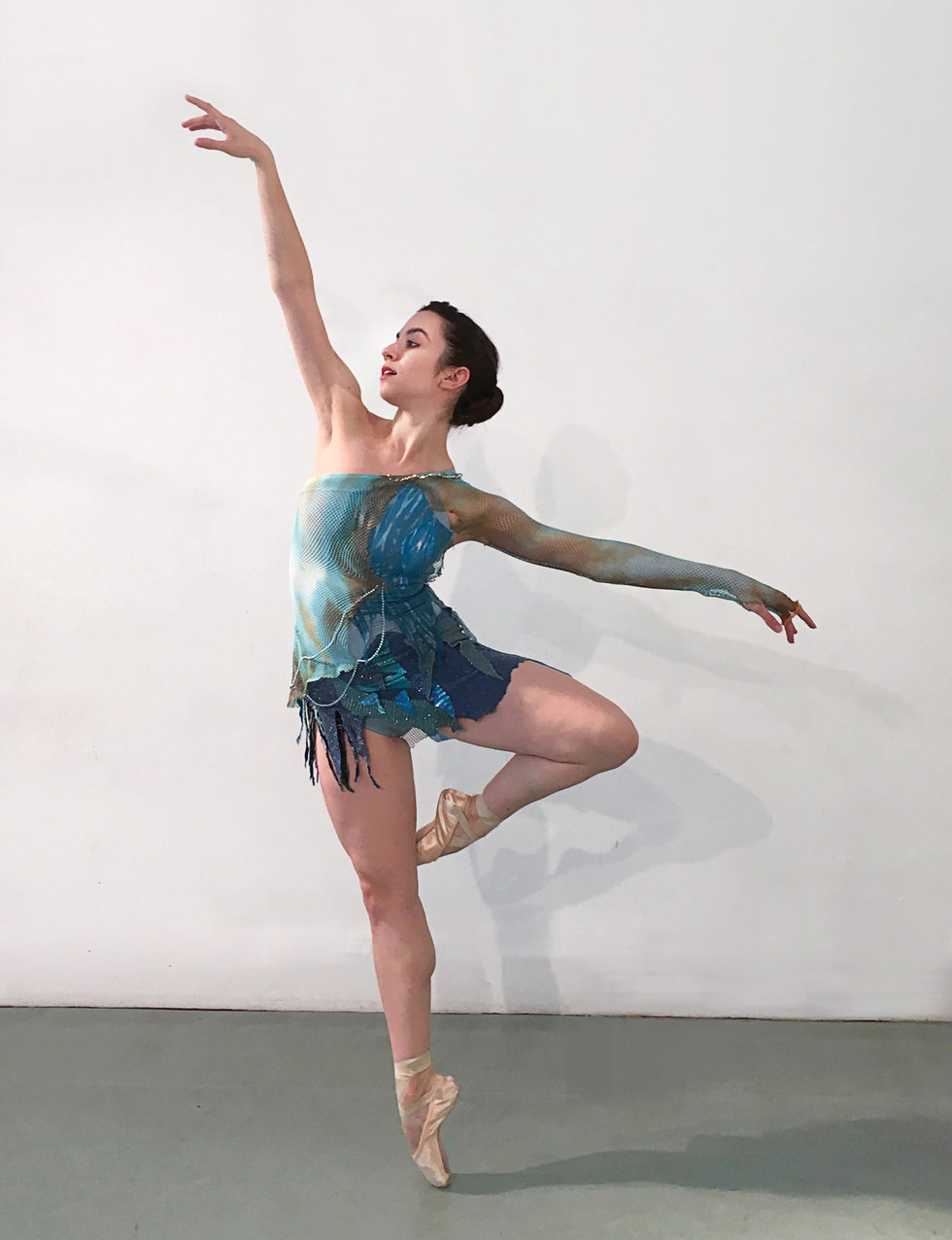 Allison Piccone (photo by Appleby, courtesy Piccone)
Of course, there's no harm in picking up a prepared meal here and there. "I try to always eat breakfast at home," Piccone says. "If I'm going to eat out, I save it for lunch because there are a lot of great, healthy lunch specials throughout the city." For a quick dinner when she doesn't have time for a big grocery shop, she'll pick up a few ingredients from a neighborhood bodega.
Seeing Shows
"Spending some time as an audience member is so important for staying inspired," Erdmann says. She makes it a point to see another Broadway show anytime she has a matinee or evening performance off. "If you have the time, go from box office to box office to see if there are any rush tickets," she says. "That's how you'll get the best deals." Alternatively, you can scroll through the TodayTix app on your phone. "And be on the lookout for Broadway Week, when you get two-for-one ticket deals," Erdmann adds. Make sure to visit nycgo.com and search Broadway Week to sign up for email alerts on when the next one is happening.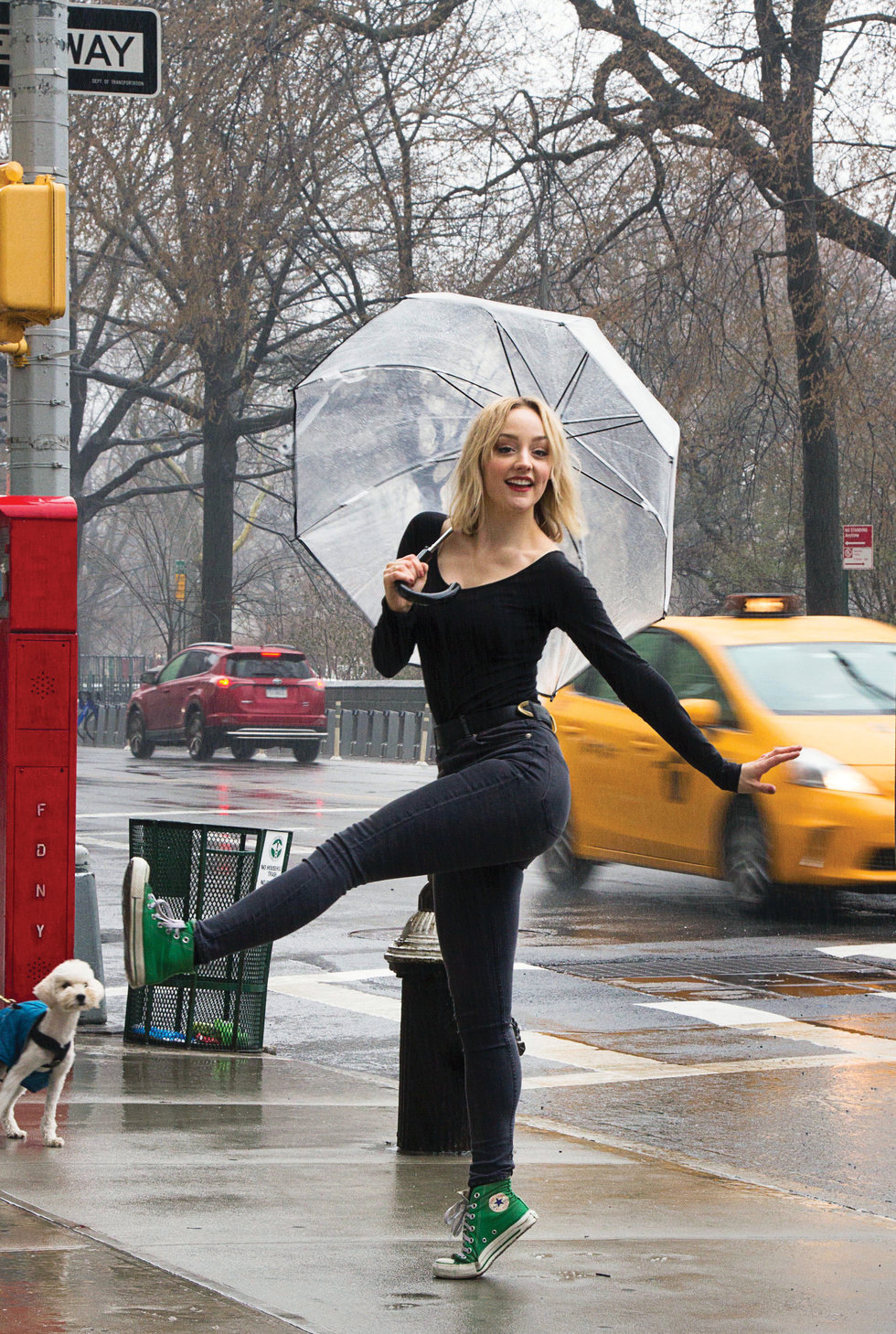 Kelli Erdmann (photo by Erin Wilson, courtesy Erdmann)
Bunheads can take advantage of New York City Ballet's "30 under 30" tickets—$30 tickets for anyone under the age of 30. "You can also see a lot of smaller shows for free by offering to usher," Piccone says. She also finds that a lot of freelance companies will offer dancer discounts to their shows. If you're a high school or college student, Collin recommends keeping your student ID handy. "Many theaters, such as The Joyce, offer student discounts," she says.
The NYC grind may seem intimidating at first, but take comfort in the fact that thousands of dancers are making it work every day. "Moving here can be daunting, but it's so worth taking the chance," Piccone says. "It's actually a pretty small dance community, which makes it feel like you have a family supporting you every step of the way.
A version of this story appeared in the July/August 2018 issue of Dance Spirit with the title "The Big Apple on a Bite-Sized Budget."
How To
Mar. 20, 2019 04:56PM EST
Ballet Academy East student Stella MacDonald (Erin Baiano)
It's the rite of passage every young ballerina dreams of: getting her first pair of pointe shoes. But it's important to remember that a lot (and we mean a lot) of hard work and technique-honing leads up to this moment—not to mention getting the green light from your teacher. Dance Spirit turned to Jenna Lavin, former Miami City Ballet dancer and principal of the pre-professional division at Ballet Academy East in NYC, for three exercises meant to strengthen, train, and stabilize the muscles you'll be using once you're on pointe.
Fitness
Mar. 06, 2019 11:29AM EST
Rochelle Mendoza-Axle, Courtesy Stiskin
In today's dance world, versatility is key. It's not enough to be a master of one style—even when they specialize in one area, dancers are frequently asked to fuse multiple genres, or step out of their comfort zone for specific projects. With their wide variety of summer programs, Joffrey Ballet School aims to prepare dancers for the demands of a professional career. We asked five faculty members to share how they do this:
Sponsored by Joffrey Ballet School
Mar. 19, 2019 04:50PM EST
Kendra Oyesanya, Marcus Mitchell, and Carlito Olivero (courtesy YouTube/Lionsgate)
Happy "Step Up: High Water" eve, y'all! Everyone's favorite internet dance show makes its triumphant Season 2 return tomorrow, March 20th, on YouTube. In anticipation of the premiere, we turned to Kendra Oyesanya (Poppy), Marcus Mitchell (Dondre), and Carlito Olivero (Davis) for the scoop on all things "Step Up"—from on-set shenanigans, to embarrassing stories, to scenes to watch out for this season (hint: Episode 2's dance battle, and the season finale's final number!).
Dance News
Mar. 19, 2019 01:00PM EST
The cast of "Oklahoma!" during last year's run at St. Ann's Warehouse (Teddy Wolff, courtesy DKC/O&M)
You may think you know Oklahoma!, the classic Rodgers and Hammerstein musical that made history when it first opened in 1943 and is best known for Agnes de Mille's groundbreaking dream ballet. But the latest Broadway iteration of the musical isn't your average trip to the frontier. Opening April 7, the revival features new choreography by Mark Morris alum John Heginbotham, and swaps the traditional windswept-prairie set and full orchestra for an intimate, minimalistic staging and a bluegrass band. Coming fresh off an acclaimed run at St. Ann's Warehouse in Brooklyn, the daring, unconventional production is sure to turn heads when it begins previews on Broadway tonight. Dance Spirit caught up with Heginbotham to get all the details on the dancing, and what it was like choreographing his first Broadway show.
Trending-posts
Mar. 19, 2019 10:00AM EST
BLACKPINK has worked with A-list choreographers, including Kyle Hanagami and Parris Goebel.
K-pop is in the middle of a stateside takeover. South Korea's boy bands and girl groups can always be counted on to produce catchy, upbeat songs—and, most importantly for us dance fans, to feature colorful choreography prominently in their music videos. Over the past few years, the K-pop machine has been churning out a seemingly endless stream of talented groups with choreography worth watching on repeat, and some of them are starting to make names for themselves in the U.S. Check out our list of the dancetastic K-pop bands you need to know.

Commercial
Mar. 18, 2019 11:14AM EST
Briar Nolet did NOT come to play. (NBC)
Have you ever felt that the Duels round on NBC's "World of Dance" was a bit unfair? During the Duels, each act's success hinges not on how objectively good they are, but on how good they are relative to a single challenger. Which means that mediocre acts can move forward if they best slightly-more-mediocre opponents, while frontrunners who're given tougher matchups end up knocked out.
Newly-engaged goddess J.Lo and her team get that. Which is why, last night, "WOD" introduced a twist designed to make the Duels more just: a redemption round. Formerly, five acts were eliminated in each division during the Duels. But from here out, the two highest scorers of those five will go head-to-head to earn a wild card spot. And that made last night's Upper Division Duels significantly more exciting.
Who just dueled it? Who was redeemed? Who made Derek Hough scream like a teenage girl? Onward to the episode highlights!
Dance on TV
Mar. 18, 2019 10:43AM EST
American Ballet Theatre principal Devon Teuscher (left) meeting with Bloch owner David Fox (right) in NYC. (Marius Bugge for Bloch)
For professional ballet dancers, the search for the perfect pointe shoe is a lifelong quest. Even the smallest adjustment in manufacturing can make the difference between a shoe that allows a ballerina to soar and a shoe that detracts from her dancing. So what goes into creating the perfect fit? A lot of hard work, patience, and masterful attention to detail. We got the inside scoop on how a Bloch pointe shoe is made from beginning to end, and went inside one of American Ballet Theatre principal Devon Teuscher's touch-up fittings with Bloch owner David Fox in NYC.
Ballet
Mar. 15, 2019 01:03PM EST
Martina Sandionigi as Giselle
We updated your favorite story-ballet tutus with modern details that'll please any 21st-century prima ballerina. Who needs a cavalier, anyway?
Dance Fashion
Get Dance Spirit in your inbox
Feb. 22, 2019 10:53AM EST
Mar. 20, 2019 04:56PM EST
Ballet Academy East student Stella MacDonald (Erin Baiano)
It's the rite of passage every young ballerina dreams of: getting her first pair of pointe shoes. But it's important to remember that a lot (and we mean a lot) of hard work and technique-honing leads up to this moment—not to mention getting the green light from your teacher. Dance Spirit turned to Jenna Lavin, former Miami City Ballet dancer and principal of the pre-professional division at Ballet Academy East in NYC, for three exercises meant to strengthen, train, and stabilize the muscles you'll be using once you're on pointe.
Fitness
Aug. 30, 2018 09:52AM EST
The ultimate dance mom: Debbie Allen with her daughter, Vivian Nixon (courtesy Nixon)
Dance moms: Where would we be without them? We all know how much support and help they give us—in addition to loads of love. Here are 10 reasons real-life dance moms are undeniably the best.
Dancer to Dancer
Mar. 08, 2019 01:15PM EST
Photo by Samantha Little
It's the fall of 2018. As the Brigham Young University Cougarettes step onto the field at LaVell Edwards stadium in Provo, UT, a crowd of nearly 64 thousand erupts into cheers. The dancers take their places, and a feeling of anticipation hangs in the air: Their reputation precedes them.
The music—Ciara's banger "Level Up"—begins, and unbelievable precision ensues. Eighteen dancers attack the highly technical choreography, which nods at viral social-dance sensations and continuously builds in energy. The school's mascot, Cosmo the Cougar, joins the team on the field, and the audience goes wild. As the piece ends, the sound in the stadium is deafening. The 16-time national-title-winning group has proved once again why they're the standard for college dance team success—they're just that good.
Dance Team
Mar. 15, 2019 11:33AM EST
Paloma Garcia-Lee (center, in gold) and the cast of "Fosse/Verdon" (FX)
The extraordinary Paloma Garcia-Lee, who's danced in no fewer than five Broadway shows, can adapt to any choreographer's style. And before heading back to Broadway this spring in Moulin Rouge! (choreographed by Sonya Tayeh), she's tackling the work of one of the most iconic choreographers of all time: Bob Fosse.
Garcia-Lee plays Adrienne in the new FX limited series "Fosse/Verdon," premiering April 9, which follows the romantic and creative relationship of Fosse (Sam Rockwell) and his muse Gwen Verdon (Michelle Williams). Hamilton's Lin-Manuel Miranda, Thomas Kail, Steve Levenson, and Andy Blankenbuehler serve as executive producers, with Kail directing and Blankenbuehler choreographing.
With the exception of performing on The Tony Awards, "Fosse/Verdon" marks Garcia-Lee's TV debut. "I'm really setting my sights on more on-camera work," she says. "Getting the chance to flex my muscles as an actress in this different medium, but still have the dance part, is all really exciting." (She's got real acting chops, too: While a student at the North Carolina School of the Arts, she actually quit dance briefly to study acting instead.)
Dance Spirit spoke to Garcia-Lee about "Fosse/Verdon"'s epic final callback, how she got cast, and the transition from stage to screen.
Dance on TV