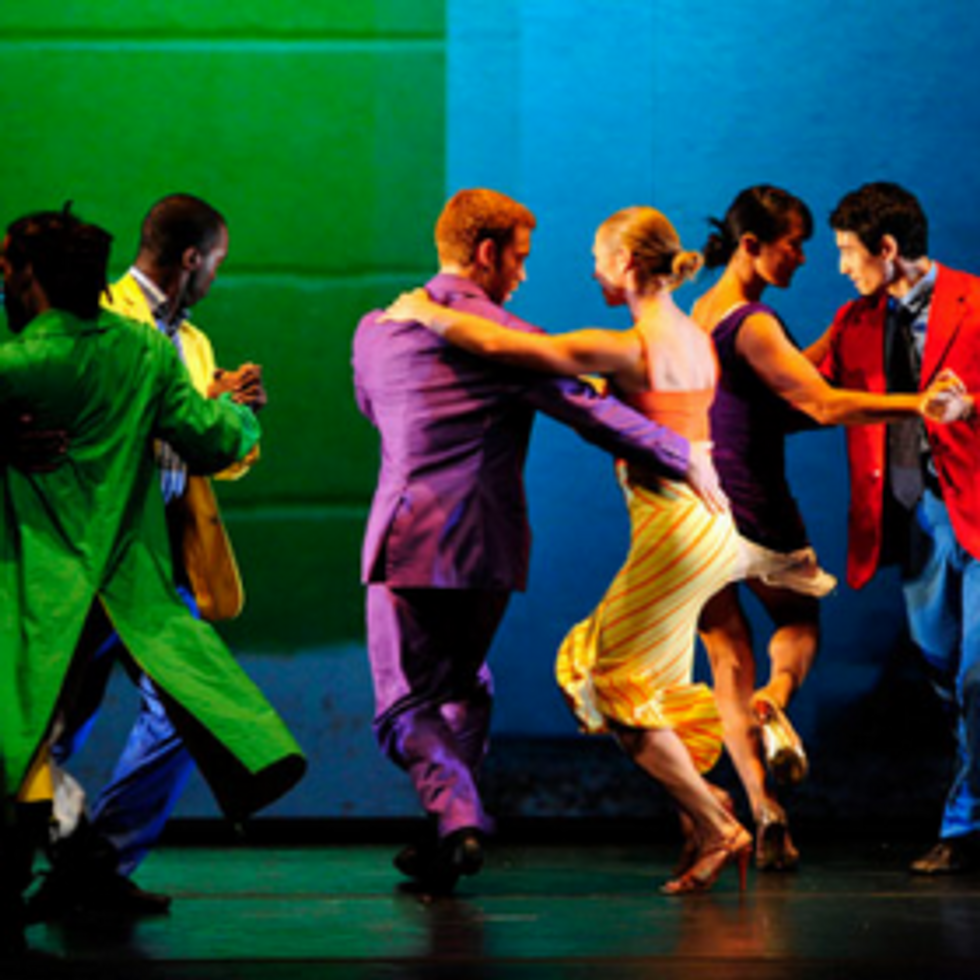 Pilobolus in Skyscrapers
It's safe to say that when you hear about Pilobolus Dance Theater, one word will come up often: collaboration. Yes, dance is by definition a collaborative art, but the creative minds behind Pilobolus take this idea to a whole new level. By integrating the art of movement with tons of other disciplines and organizations, they create results that push past what you'd normally think of as dance to something much, much bigger. How do I know this? Last week, I saw Pilobolus live at the Joyce Theater in NYC (the company performs there through August 4), and I was blown away by the results of their unique teamwork.
Much of the company's repertoire revolves around challenging partnering. The comedic piece Molly's Not Dead, for instance, has company members in shiny red unitards carrying each other upside down in a rather, um, compromising position. (Let's just say there's a fair amount of chin-butt contact.) But this totally unexpected configuration makes for hilarious choreographic possibilities, as the tomato-like pairs of dancers roll, bounce and squat to the jaunty strains of folk music.
But Pilobolus's spirit of collaboration doesn't just make itself known onstage—it starts in the rehearsal room and sometimes even before then. Take for example Pilobolus's International Collaborators Project. The ICP's aim is to bring together artists from all kinds of creative backgrounds to make daring and entertaining new work. And when they say all kinds of artists, they really mean it—past participants in the program include alt-rock band OK Go, children's book author Maurice Sendak and even the MIT Distributed Robotics Laboratory! In fact, another piece on Pilobolus's program at the Joyce, Skyscrapers, started its life as a music video for OK Go. It features ballroom-esque steps and lightning-fast costume changes, all in front of a constantly changing video backdrop. It was like a dance metaphor for modern life in the big city!
The company is constantly reaching out into the wider world of pop culture, exposing new audiences to the utter amazingness of dance. Pilobolus even appeared in an Emmy-nominated teaser promoting Sunday Night Football on the NFL Network. Football and dance, together at last?! Only in Pilobolus's crazily creative world.
Catch a sneak peek at the company's ultra-cool repertory at The Joyce—brought to you by the power of collaboration—in this video!