Letting Go of the Barre: How to Keep from Falling Apart in Center
Students of the Jacqueline Kennedy Onassis School at ABT working at the barre (Rosalie O'Connor, courtesy ABT)
She just retired as a principal with Pacific Northwest Ballet, but as a teenager, Maria Chapman struggled to gain control of her flexibility. "I looked pretty good at the barre," she says, "but I was relying on it way too much, and focusing exclusively on what my legs and feet were doing." Without the barre's support, she became a wobbly mess. "It wasn't until I figured out how to use my back and core that I was able to be successful in center, too," she says.
---
If you work well at barre but fall apart in center, chances are there's a hole somewhere in your technique. But it can be hard to figure out exactly what the culprit is. Here's how to pinpoint and fix your bad barre habits so you can stand strong throughout the whole class.
Leaning on the Barre
The barre is like a partner: It's there for you when you need it. But many dancers overuse its support and become dependent. "You see this problem even with professionals," says Cynthia Lucas, artistic director of Marin Ballet in San Rafael, CA. "They're much stronger at barre than in center, and usually it's because they're relying on the barre too much."
To find out if this is your problem, first check your hand position. "Your thumb shouldn't be underneath, but on top," Lucas says. "Your fingers shouldn't be curled around like a claw." Avoid the "death grip"—that tight clench that makes your knuckles turn white. Instead, touch the barre with the pads of your fingertips, as if you're playing the piano. Test your balance every once in a while by lifting your hand off.
If you're having trouble letting go, take time after class to work out your core, which will help stabilize your whole body. Overdependence on the barre can actually weaken those critical core muscles. Franco De Vita, director of the Jacqueline Kennedy Onassis School at American Ballet Theatre, says Pilates and Gyrotonic classes can be especially helpful.
Standing Incorrectly
It's difficult to move in a balanced, coordinated way in center if your body isn't properly aligned—a flaw the barre can camouflage. "Even though the barre is there, you have to be able to stand up as if you're in the center," Lucas says.
Chapman suggests using the mirror and watching yourself on video to make sure that your shoulders are over your hips and your spine is straight while you're working at the barre. "My back used to shift in all directions," she says. "Once I figured that out, I learned how to control my body." And make sure you're not crowding the barre, which can skew your alignment. To promote proper placement of the arms and shoulders, "there should be one person's distance between you and the barre," Lucas says.
Forcing Your Turnout
You might be able to hold a forced perfect fifth position when you have the barre's support. But you definitely won't be able to hold it in center—and that can lead to all kinds of problems.
Rather than aiming for 180-degree turnout at all times, focus on working with your natural rotation from the beginning of class. "Ninety degrees is enough," De Vita says. "You don't have to push it." Make sure your pinky toes are on the floor and your arches aren't dropped forward. "If you're feeling pressure in your ankles or knees, that's a sign that something is wrong," Chapman says.
If you're used to forcing at the barre and are having trouble finding your natural turnout, Lucas suggests thinking about opposition. "That's how you hold true rotation—by feeling the resistance between right and left, up and down, from the tops of your hips to your feet," she says. "Push into the floor, rotate, engage your back, lock and load."
JKO School students in center (Rosalie O'Connor, courtesy ABT)
Fraser dancing in the NYC Subway (photo by Underground NYC, courtesy Fraser)
Paige Fraser has performed on world-class stages and alongside Beyoncé—yet some of her most meaningful dance moments happened in tiny classrooms on a small island 1,000 miles from America. This past spring, Fraser, who's danced with Ailey II and is a founding member of Visceral Dance Chicago, teamed up with the non-profit Milk Carton on a String to bring dance to underprivileged children in Haiti. Fraser taught daily ballet and modern dance classes and used YouTube videos and social media to introduce the students to other aspects of dance they hadn't been exposed to.
Now, Fraser plans to continue to use dance to give back through her own newly-funded non-profit, The Paige Fraser Foundation. But instead of traveling outside the country, Fraiser will be helping kids in her childhood home: the Bronx. She wants her foundation to assist aspiring dancers no matter their color or abilities.
Read our interview with the dancer and do-gooder—and discover the life-changing diagnosis that inspired her to help other dancers achieve their dreams.
Keep reading...
Show less
via @kyle_vanny on Instagram competing on World Of Dance
Kyle Van Newkirk is a tap dancer you probably remember from the premiere season of NBC's World of Dance. In case you missed it, he is also one of Showstopper's incredible convention teachers. What makes Kyle stand apart from some of today's other incredible tappers? He isn't afraid to change what tap means to his audience and even himself. This modern view of tap dancing is important because it shows us that tap dancers are just as versatile and dynamic as dancers of any other genre. We sat down with Kyle to get his advice on bringing tap dancing into the 21st century.
Keep reading...
Show less
What did I just hear you say? You think all dancers are weak and delicate? PLEASE SAUT DE CHAT OUT OF MY LIFE. (Giphy)
Sure, dancers definitely have some unique identifying characteristics. (We're all obsessed with Center Stage? FACT.) But we're also subjected to all kinds of annoying, inaccurate stereotyping. Here are 10 dancer stereotypes that we never want to hear again.
Keep reading...
Show less
University of Minnesota Dance Team (courtesy University of Minnesota)
They say there's no "I" in "team"—and nowhere is that truer than the world of college dance teams, where precision reigns, uniformity is key, and a single misstep from any given "I" can cost a group a championship trophy. So it's unsurprising that securing a spot on one of the best dance teams in the country is no easy feat.
Members of these highly athletic teams rehearse for hours every week—on top of academic classes and commitments—and perform at football and basketball games, annual concerts, and nationally televised competitions (hi, ESPN). And "no I" rule notwithstanding, each of these top teams is made up of highly trained, highly technical, highly hard-core individuals, who come together to create a ready-for-victory pack.
These six teams aren't one-off success stories—they're consistently strong, and earn the top spots at major competitions like UDA and NDA nearly every year. Up for the challenge? Here's what to know before you go to auditions.
Keep reading...
Show less
You can never go wrong with a classic black leotard. Discount Dance's long-sleeve mesh leo will add a sleek edge to your studio style. Pair it with tights and a skirt for ballet class, or layer some leggings and sweats for contemporary class. Enter below for your chance to win it!
Keep reading...
Show less
May. 16, 2018 02:26PM EST
Ema Peter
The Glorya Kaufman International Dance Center is the 54,000 square foot home of the USC Glorya Kaufman School of Dance, one of the largest facilities dedicated to dance on a private university campus. Designed for their innovative new curriculum, that supports a range of dance styles, the school's staff designated Harlequin to provide wall-to-wall flooring for the large 3,500 square foot Performance Studio as well as five dance studios in their new state-of-the-art building.
Keep reading...
Show less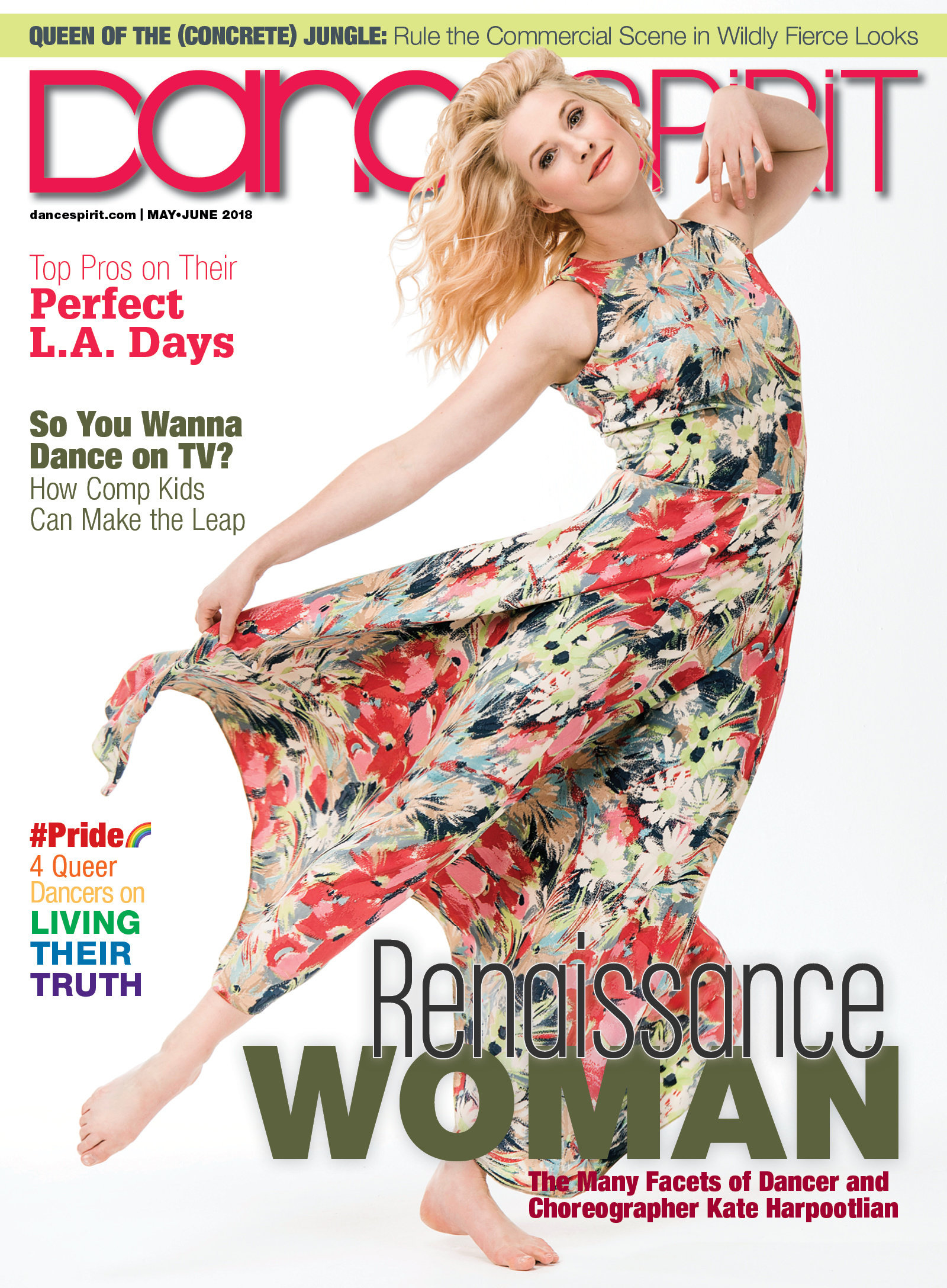 Get Dance Spirit in your inbox