From Tutus to Wedding Dresses: Meet the Ballet-Dancer-Turned-Wedding-Dress-Designer
Wedding dress designer Janay Robison brings her passion for dance to her wedding dress line, modeled by Chloe Bennett. (Kali Poulsen, Courtesy Janay Robison)
Tulle is the common thread (or should we say fabric?) that has woven its way through the course of Janay Robison's life: She's handled the delicate netting in one way or another since the age of 7. Once a soloist on her university's ballet company, she's now an emerging designer in the wedding dress industry, and has seamlessly transitioned from tutus to big-day gowns.
Robison is currently one of Utah's leading ladies in fashion. She launched Utah Fashion Week in 2014, an event that has grown to incorporate over 50 local designers and hundreds of models, make-up artists, and hair stylists, and has had her gowns featured in several magazines. But she's found ways to pay homage to her past life as a dancer—and to use her dance knowledge in her new business. From her work ethic to her designs, Robison says ballet has given her a solid foundation from which to launch a successful wedding dress line. Check out our interview with this talented artist, and discover how she's combined her passion for dance and her love of fashion.
---
Tell us about your dance experience.

My parents enrolled my little sister (who was the girliest of girls) in ballet classes, not thinking that I (a bit of a tomboy at the time) would be interested. When I expressed interest, too, they put me in ballet classes, and I've loved it ever since. I focused on ballet, but I tried my hand at contemporary, jazz, tap, and a few other styles. I studied ballet at Brigham Young University, and performed with the school's ballet companies. I got to a point in my early twenties where I realized I needed to decide if ballet would become my life, or if I would pursue my other passions, keeping dance as a hobby. I shed some tears over the decision, but looking back, I made the right one for me. And I didn't completely give up dance: I take a couple of classes a week, when I'm not busy designing gowns and being there for my sweet husband and daughter. Ballet will always be a big part of my identity.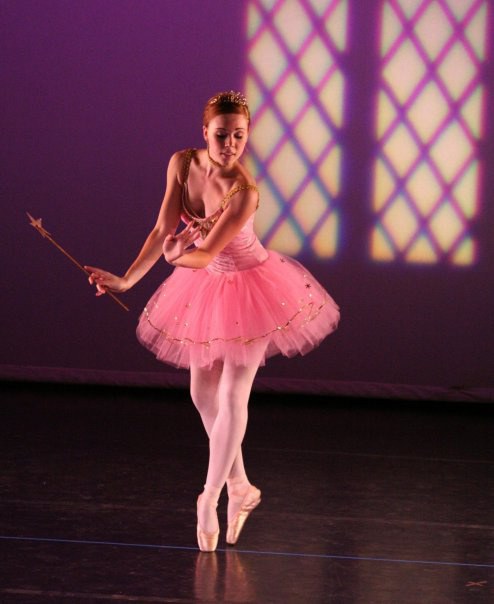 Robison performing the role of Sugar Plum Fairy for Utah Valley Civic Ballet Company in 2006. (Ron Frank, courtesy Janay Robison)
What drew you to ballet?
Ballet makes me feel free, graceful, and ethereal. There's a type of joy I only feel when I'm dancing.
Have you always been interested in fashion?
I sewed dresses for my dolls starting at age 6, if you can call that fashion. Throughout my childhood and teenage years, I loved designing and making clothing for myself. As a poor college student, I'd go to thrift stores and find clothes to cut apart or upcycle. So, I guess the answer is yes!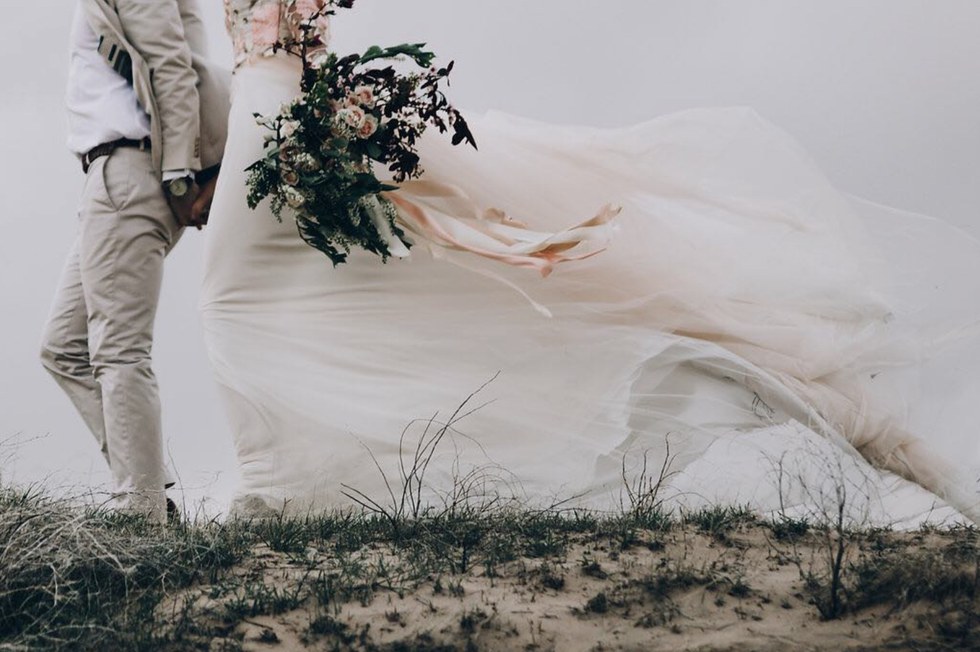 (Courtesy Robison)
How did your wedding dress line start?

I loved sketching out formal and bridal gowns as a teenager, but besides a few prom dresses, I never felt like I had a reason (or the funds) to create my designs. But I ended up working as a bridal consultant and seamstress through my college years, and I discovered a love for the bridal industry. Working with beautiful women to make something perfect for their wedding is so rewarding.
How has your dance experience influenced your designs?
I love gowns with a lot of movement— skirts that twirl and move and flow. Some of my pieces are definitely inspired by costumes I've worn through the years. Dance also gave me an appreciation for the human body that plays into my designs. I like to create dresses that are shaped by the body, rather than forcing the body to be shaped by the dress. I love using fluid and even stretchy fabrics (thank you leotards and wrapped chiffon skirts). Many of my brides are ecstatic when they put on their dresses and realize they can dance and bend and move in them; because I'm a dancer, that's a huge priority to me!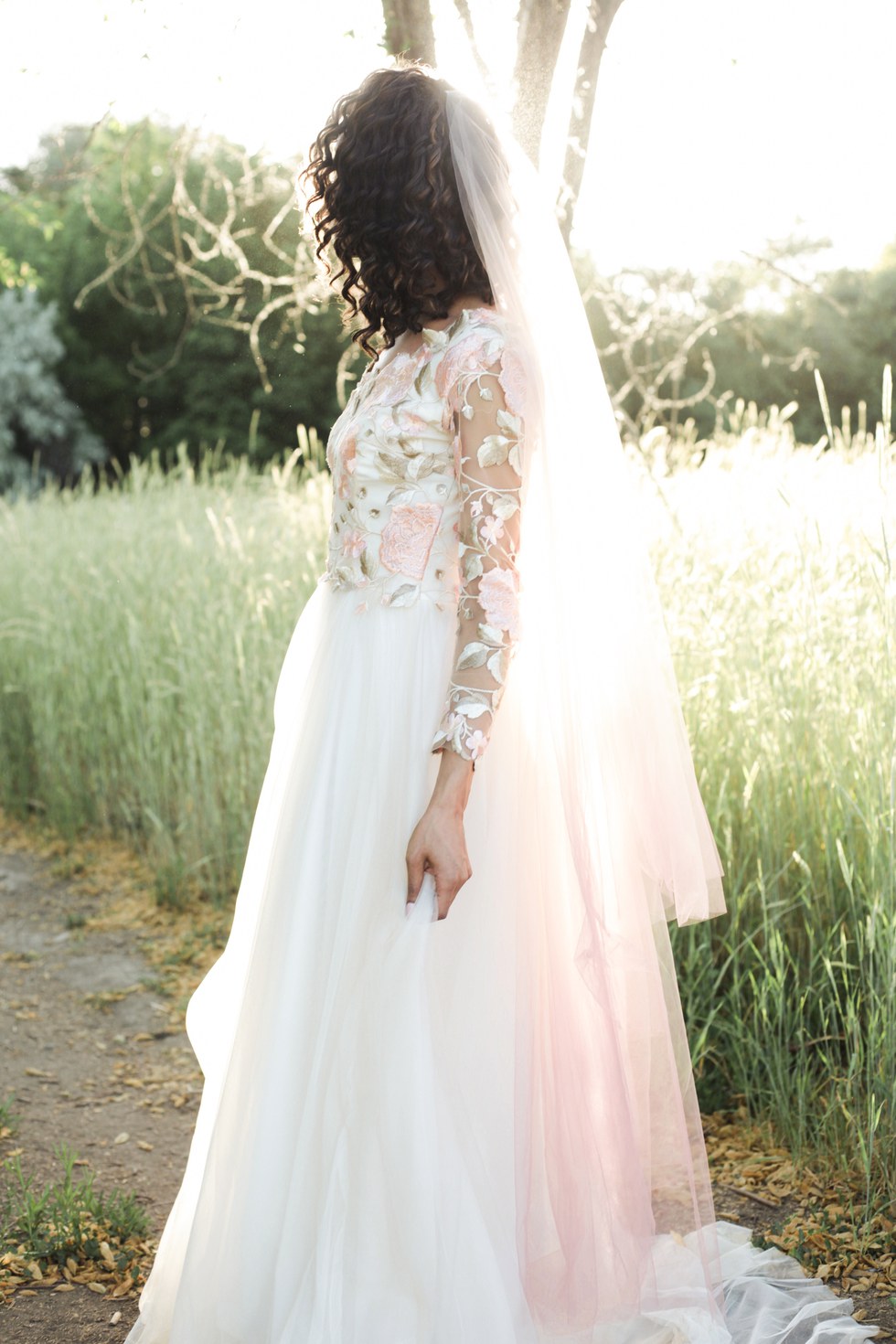 Many of Robison's wedding dresses are inspired by ballet costumes and dancewear. (Courtesy Robison)
What ballet skills have helped you as a designer?

Dance really teaches you how to get your creative juices flowing. It also teaches you to "make it work." I think dancers probably used that phrase long before "Project Runway" and Tim Gunn popularized it in the fashion world. Something's not working? Change the angle of your pelvis, or change the angle of that seam...make it work.
Has your dance training carried over to the business side of things too?

Dance definitely teaches you to work hard and not give up. I don't think I've ever met a lazy dancer, or one who throws in the towel easily. Having a business requires a lot of work and tenacity, and those are skills that dance helped me develop.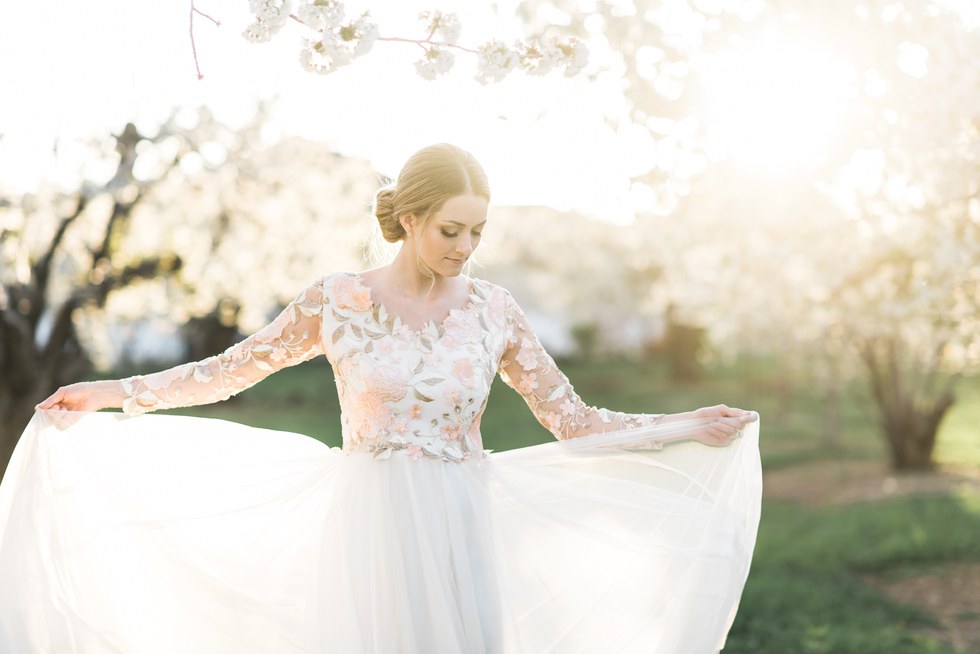 Robison's wedding dresses allow brides to dance and move on their wedding day. (Courtesy Robison)
Ballet influences can be seen on catwalks and in editorials throughout the fashion world. Why do you think designers are so into ballet?

I don't think I can pinpoint a specific reason, but I've definitely experienced it. I contributed to an editorial recently where we had ballerinas modeling wedding gowns from several designers. The photographer and designers participating were enamored of the ballerinas on pointe; everyone was in awe. There really is something magical about ballet that designers love to tap into. I think that dance is becoming more mainstream, which makes it it becomes a more easily accessible for designers and other artists.
What are the similarities and differences between the worlds of fashion and ballet?
I think there are more similarities than differences. I find that many dancers and designers have similar personalities— they're creative, ambitious, tenacious, artistic, and able to think outside the box. Both dance and fashion are powerful mediums of self-expression. There're even similar issues when it comes to bodies and body image. As far as differences go, dance is a lot harder on your feet; sewing is a lot harder on your hands!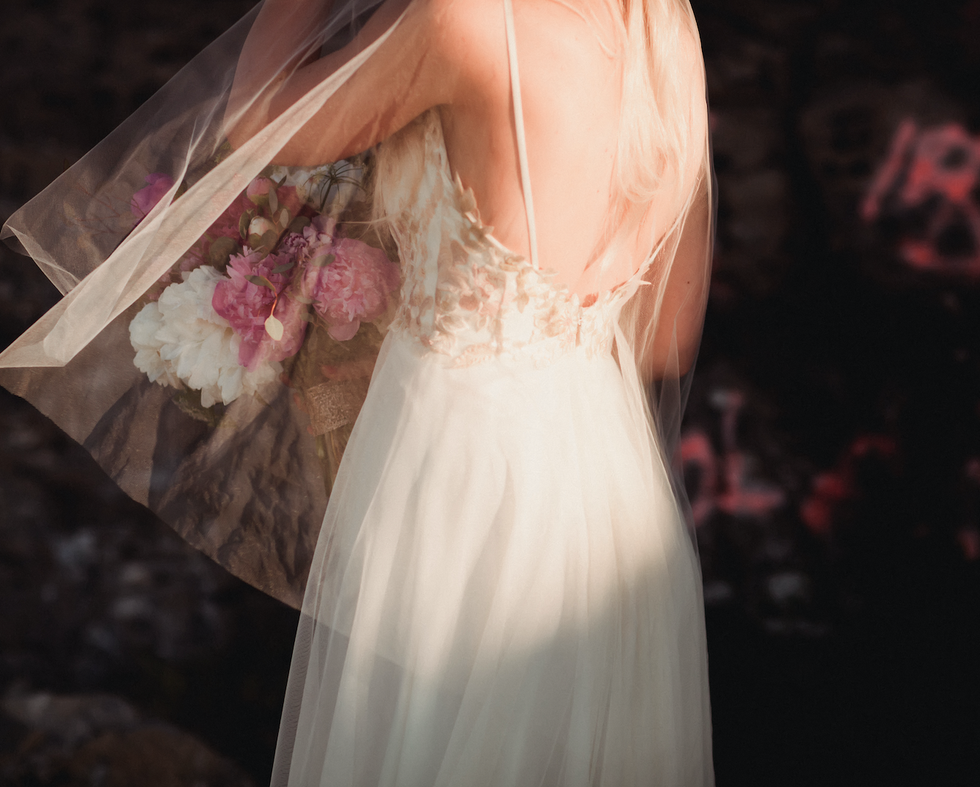 (Courtesy Robison)
Would you ever think about doing a line of tutus or dance dresses?

I'd love that! I went through phases where all I wanted to do was sketch ballet costumes and tutus. I'd watch videos of ballets and envision costumes for specific characters. So while wedding gowns seem to be my current calling, costuming a ballet would be a dream!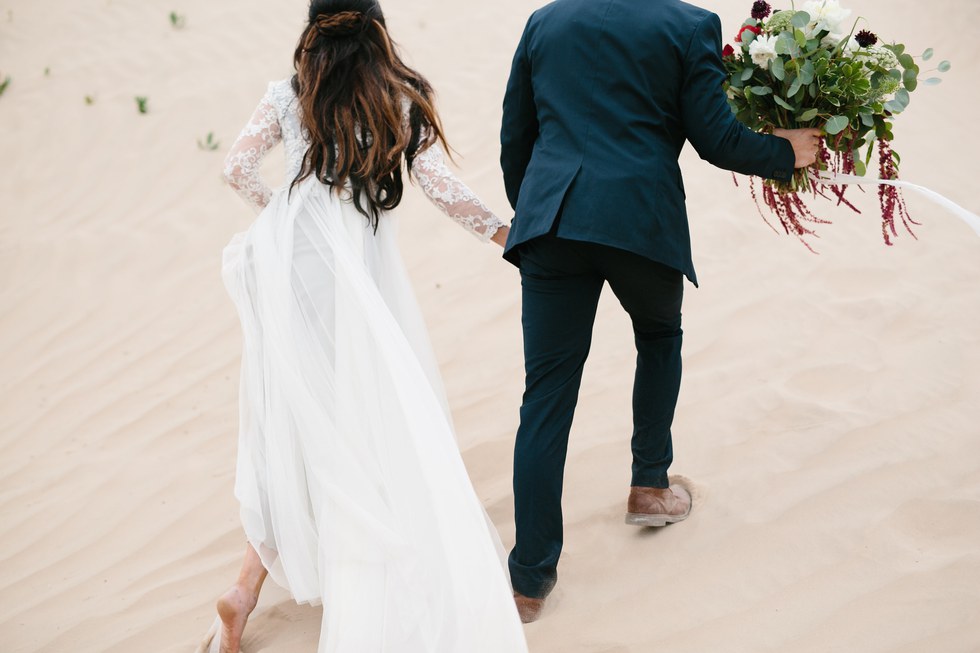 (Courtesy Robison)
American Ballet Theatre principal dancers Sarah Lane and Daniil Simkin (courtesy ABT)
Last May, we told you about a special exhibition of the Mark Ryden artwork that sparked Alexei Ratmansky's sweet-treat of a ballet, Whipped Cream. Well, hold on to your tiaras, bunheads, because there's a brand-new exhibit featuring actual costumes from this megahit production. The Nutcracker's Land of Sweets has some serious competition!
Keep reading...
Show less
via @kyle_vanny on Instagram competing on World Of Dance
Kyle Van Newkirk is a tap dancer you probably remember from the premiere season of NBC's World of Dance. In case you missed it, he is also one of Showstopper's incredible convention teachers. What makes Kyle stand apart from some of today's other incredible tappers? He isn't afraid to change what tap means to his audience and even himself. This modern view of tap dancing is important because it shows us that tap dancers are just as versatile and dynamic as dancers of any other genre. We sat down with Kyle to get his advice on bringing tap dancing into the 21st century.
Keep reading...
Show less
How To
Oct. 01, 2010 04:55PM EST
(Nathan Sayers)
Turnout—a combination of rotational flexibility and the strength to properly hold that rotation—is the foundation of ballet. But it's also a source of frustration for many dancers. After all, not everyone (actually, hardly anyone) is born with 180-degree rotation. "When I first started dancing, my hip flexors were strong, but I was forcing my turnout without using the right muscles," remembers Amanda Cobb, a former dancer with The Washington Ballet.
The good news is that it's possible to both improve your turnout and to dance beautifully with less-than-perfect rotation. But there's a lot of misinformation out there about how turnout works and why it's important. To help separate fact from fiction, DS asked the experts to disprove six turnout myths.
Keep reading...
Show less
University of Minnesota Dance Team (courtesy University of Minnesota)
They say there's no "I" in "team"—and nowhere is that truer than the world of college dance teams, where precision reigns, uniformity is key, and a single misstep from any given "I" can cost a group a championship trophy. So it's unsurprising that securing a spot on one of the best dance teams in the country is no easy feat.
Members of these highly athletic teams rehearse for hours every week—on top of academic classes and commitments—and perform at football and basketball games, annual concerts, and nationally televised competitions (hi, ESPN). And "no I" rule notwithstanding, each of these top teams is made up of highly trained, highly technical, highly hard-core individuals, who come together to create a ready-for-victory pack.
These six teams aren't one-off success stories—they're consistently strong, and earn the top spots at major competitions like UDA and NDA nearly every year. Up for the challenge? Here's what to know before you go to auditions.
Keep reading...
Show less
Lol, same. (Screenshot via YouTube)
Picture this: You've scored tickets to Ellen DeGeneres' hit show, "Ellen." The day has come, the show is as hysterical as ever, Ellen is debating the biggest hot-button issue since the blue/black or white/gold dress, "Laurel vs. Yanny" (side note: it's LAUREL, people), and tWitch is killing it over at the DJ booth, as always. Ellen decides it's the perfect time to single out an audience member and, lo and behold, that person is "SYTYCD" champ ( and December 2017 cover star!) Lex Ishimoto.
Keep reading...
Show less
May. 16, 2018 02:26PM EST
Ema Peter
The Glorya Kaufman International Dance Center is the 54,000 square foot home of the USC Glorya Kaufman School of Dance, one of the largest facilities dedicated to dance on a private university campus. Designed for their innovative new curriculum, that supports a range of dance styles, the school's staff designated Harlequin to provide wall-to-wall flooring for the large 3,500 square foot Performance Studio as well as five dance studios in their new state-of-the-art building.
Keep reading...
Show less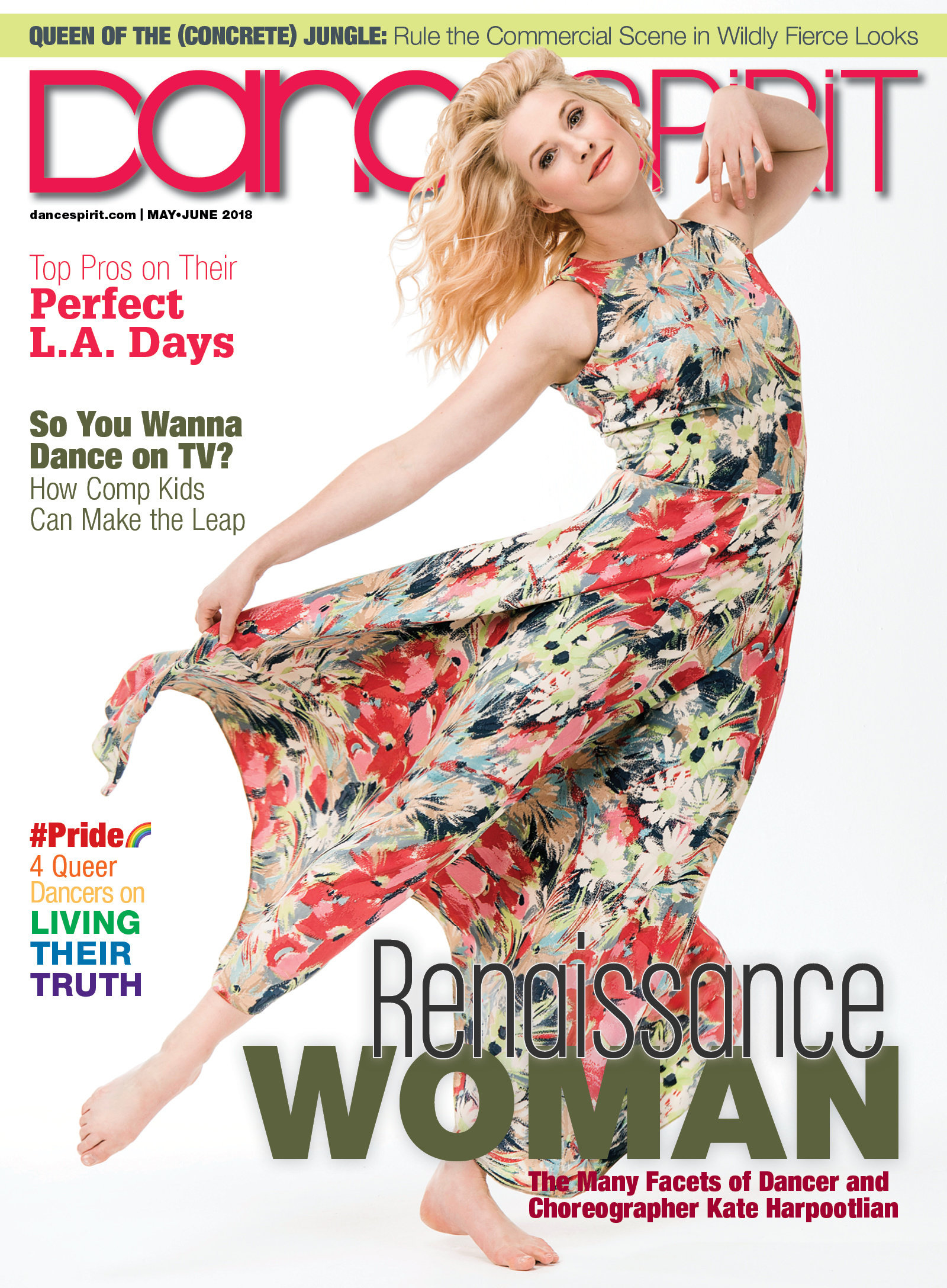 Get Dance Spirit in your inbox