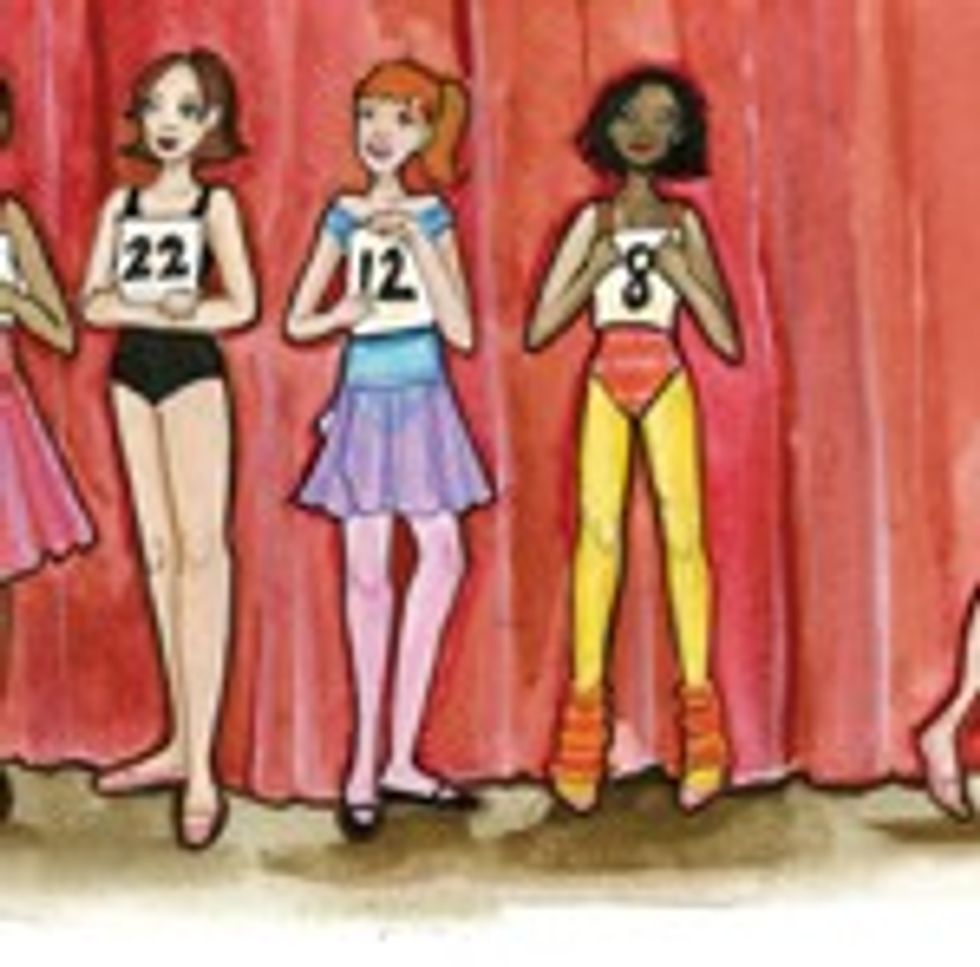 When Rylyn Juliano moved to NYC in October 2009, everything was going according to plan. She had graduated early from Syracuse University with a BFA. She had an agent, she was going to auditions and she was even getting callbacks.
But after a few months, her good fortune slowly started to shift. Not only did the callbacks dry up, but at auditions, she generally stopped getting noticed altogether. Rylyn's confidence was shaken, and that made her question herself as a dancer. "I was freaking out that I wasn't going to have a good audition before I even got there," she says. But, despite her emotional struggle, Rylyn didn't give up.
Finally, she reached a turning point when she messed up a very simple combination at an audition. It had been about four weeks since she'd been in class, mainly because of a lack of time and money. But as she observed the other dancers, she realized that her own technique had fallen behind. "I looked at their technique and said, 'I should be able to do that!' " she says. "Seeing them bumped up my game." She started budgeting for training and threw herself into ballet classes at The Ailey Extension and Broadway Dance Center. Now, nearly a year after what she calls "the slump"—she attended more than 90 auditions over a period of six months before she was offered her first job—she is dancing her dream role of Cassie in the touring production of A Chorus Line! Rylyn's slump taught her an important lesson—never stop training—and she'll draw on that knowledge throughout her career.
Whether you've been skipped over for a role you wanted, scored poorly at a competition or fallen flat on your derrière at an audition, you've most likely had a few setbacks of your own. They are a normal part of any dancer's life. But once you learn to cope with these inevitable disappointments, they can actually be valuable learning experiences. Here are five ways your losses can make you a better dancer.
You Learn Your Limitations and How to Work Around Them
"Having a realistic view of your abilities is helpful," says Dr. Toby Diamond, a Seattle-based psychologist who works with dancers at Pacific Northwest Ballet School. If you understand your strengths and weaknesses, you will be better equipped to manage your own training and career. You can use an unsuccessful audition or a poor competition score as an opportunity to be honest with yourself about what you need to work on. What are your weak areas? Perhaps you struggle with flexibility or your fouettés are wobbly. Ask a teacher or coach for feedback. If your issue is something that can't be fixed, like low arches, your teacher can help you learn to work around it.
You Learn to Accept Criticism and Use It to Your Advantage
Dancers are more able to accept criticism when their sense of self-worth isn't wrapped up in winning. And constructive criticism helps a dancer grow technically and artistically. When you get negative feedback, "it's OK to be hurt and upset and even go home and cry a little at first," says Diamond. But then you have to learn to use that criticism rather than ignore it. Keep a diary of the corrections you receive, and focus on recurring critiques during class. As you progress, you'll also be able to look back and appreciate how much you've improved. 
You Learn the Value of Hard Work
At age 13, Montana Efaw was selected as a finalist at a Monsters of Hip Hop event and found herself competing for a spot in an annual show the convention produces in L.A. "I was up against some of the best dancers out there at the time," she remembers. Unfortunately, she didn't make the show. Instead of giving up, Montana spent the next year training more intensely and in a wider variety of styles. Her work paid off: She was nominated again the following year and earned a place in the show. The discipline she developed after that setback has served her well throughout her career—today she dances for Lady Gaga!
"If you realistically face disappointment, you can use it as a springboard to work harder or take a different direction," says Diamond. "For example, if you keep falling out of a pirouette en dehors, instead of saying 'I can't do pirouettes,' you might get a teacher or a peer to watch you and help you figure out why you keep falling." 
You Learn That It's Not Always About You
After failing to land your dream role, it might feel like the world has ended. But over time you'll discover that casting decisions involve many factors beyond your control. " 'I have failed' is so bottom line," says Diamond. "There are many reasons why you might not have gotten the part." For example, a casting director may be looking for a certain ethnicity, height or body shape. Instead of dwelling on things you can't change, try to stay positive and look for roles that are a better fit for you. 
You Learn to Push Past Your Fear
Dancers who aren't afraid to fail are more likely to try new things. "People who take risks grow a good deal more than those who don't," Diamond says. "And how can you be an artist and not experiment?" Face your fears by trying a new dance style or taking class from a new teacher.
The next time you face a setback, remember that it's OK to cry and be frustrated. Just don't let those feelings keep you from facing your fears and stepping into the studio the next day with the discipline, perspective and open mind that will make you the best dancer you can be.