Jan. 26, 2019 07:00AM EST
Rogue Ballerina Georgina Pazcoguin Writes a Letter to Her Teenage Self
Rachel Neville Photography, courtesy Pazcoguin
New York City Ballet soloist Georgina Pazcoguin's vivacious energy and fiery passion infuse her ballet roles, but her effervescent presence also proves perfect for the Great White Way. In 2015 she made her Broadway debut as Ivy Smith in On the Town, and she played the white cat Victoria in the 2016 revival of CATS. An Altoona, PA, native, she started training at age 4 at the Allegheny Ballet Academy. In 2001, she enrolled in the School of American Ballet; in 2002 she became an NYCB apprentice; and one year later she joined as an official corps member. She was promoted to soloist in 2013. Currently, she's performing with the company and can be found curating her brand, The Rogue Ballerina, on her social media channels. —Courtney Bowers
---
Dear 16-year-old Gina Ballerina,
My introverted, intuitive, intense little self: Take heart. The fact that you're an outlier will always be a challenge emotionally. But you'll come to value this and spin it into an incredibly positive trait. It's a good thing that you like challenges, because the future will be fraught with them. Each one will need your determination, drive, and humor to overcome.
You're a clever, funny little girl destined to become a witty, fierce woman and artist. Listen to your intuition. It's your strongest gift and I promise you it is always right. Be kind to and respect your body. She's your vessel through which your spirit shines. Beware of that inner voice. She's a definite part of you: We all have her/him. But that voice always wants more… thinner, higher, better. She thinks she knows it all but she's just an ideal version of yourself that you created. She may never shut up completely, but she can become just a sounding board. Something you can control. The sooner you recognize this, the sooner you'll start to evolve into a master of the mental game that is performance.
Surround yourself with the people who will support the best version of you. Not sure what that is yet? That's OK. You'll know when you feel balanced. Remember you have a loving family that will always be proud of you and love you even when you don't love yourself enough.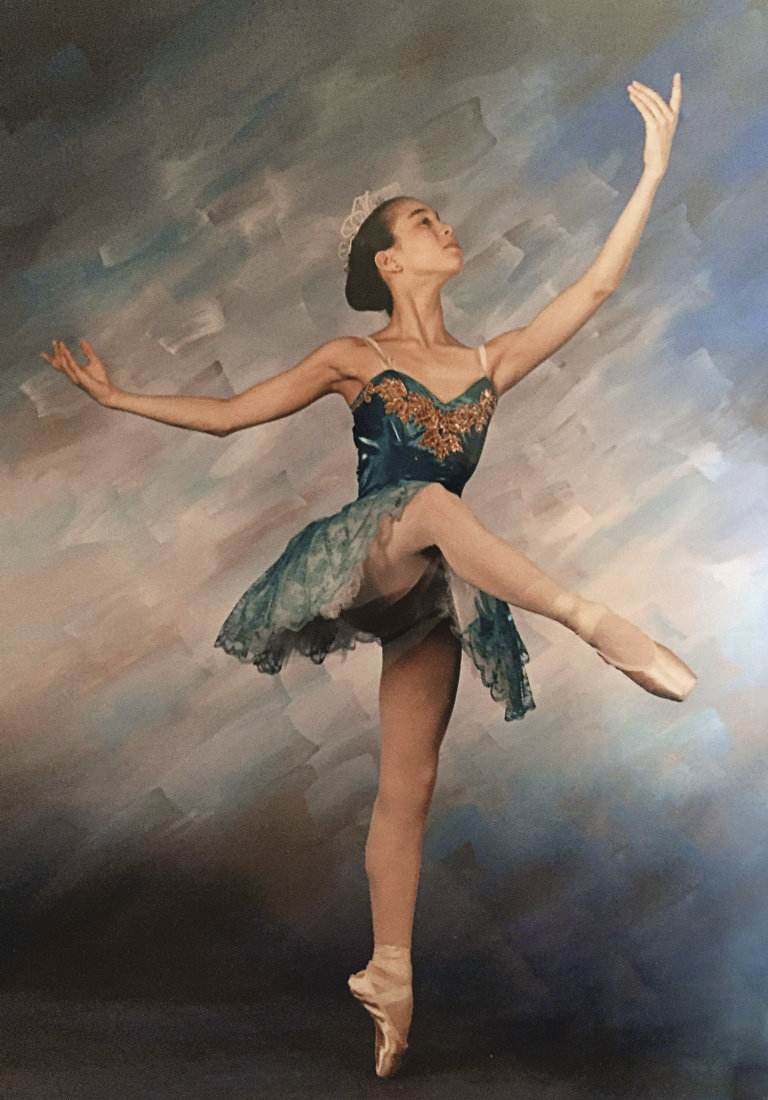 At age 13 (courtesy Pazcoguin)
Learn to meditate now, please. Laugh at least once a day. Compare yourself to no one. You, dear, are unique and the gifts that you bring to the table are vast, honed, and powerful. Speaking of honed, cross-train. Listen to your body. Subscribe to training that works for you. Own your extra-ness. Own the loving, generous soul that's just waiting to burst through your expertly fashioned, mysterious exterior. Define your boundaries. You'll have to defend them. Keep your fearlessness and desire for adventure. It'll guide you to the career choice that will change your life.

Realize now that being afraid of hearing the word "no" is an absolute nonstarter. Seek out your "yes." You'll get it eventually in your career, life, and love. Believe without a doubt there is a place for you in this ballet world because of the exact reasons you're told there might not be.
Your intensity is a gift. Your creativity and willingness to learn from scratch over and over will fuel inspiration in others. The dancers will be many, but there's always room for you if you want it hard enough. You do. You'll forge a brand-new path for not only you, but for the young women following in your footsteps. You'll have an amazing ballet career. Not one littered with awards or titles, but one bolstered by the respect of your colleagues. That's what truly impresses.
Lastly, never let anyone or anything dim your light. It blazes brightly for a reason. I know you feel it even now. This reason has yet to emerge into consciousness for you, or for me, for that matter, but trust that you deserve to be here. You also deserve all the gifts this next career chapter brings.
With love,
The Rogue Ballerina
A version of this story appeared in the February 2019 issue of Dance Spirit with the title "Letter to My Teenage Self: Georgina Pazcoguin."
Dancer to Dancer
Apr. 19, 2019 03:37PM EST
Gabriel Figueredo in a variation from Raymonda. VAM Productions, Courtesy YAGP.
This week, over 1,000 young hopefuls gathered in New York City for the Youth America Grand Prix finals, giving them the chance to compete for scholarships and contracts to some of the world's top ballet schools and companies. Roughly 85 dancers made it to the final round at Lincoln Center's David H. Koch Theater on Wednesday. Today, the 20th anniversary of YAGP came to a close at the competition's awards ceremony. Read on to find out who won!

Dance News
Apr. 19, 2019 07:00AM EST
After a string of ballet-company rejections, Jennifer Sydor (here in Laura Peterson's "Failure") found success in other areas of the dance world. (Stephen Delas Heras, courtesy Jennifer Sydor)
In her senior year at Butler University, Jennifer Sydor auditioned for more than a dozen regional ballet companies—and got a string of "no, thank you" responses. "I have an athletic build, and my movement quality isn't the typical ballet aesthetic," Sydor says. "But I'd been laser-focused on ballet. When I didn't get a ballet contract, I was heartbroken."
Her one job offer came from Kim Robards Dance, a small modern company based in Aurora, CO. After attending KRD's summer intensive, Sydor ended up accepting a yearlong position with the troupe. "I was relieved and happy to begin my career," she says. She's been working as a contemporary dancer ever since.
In the dance world, rejection is part of the package. That doesn't make it any more pleasant. But whether you didn't get the Nutcracker role of your dreams or you weren't picked for a job despite feeling like you aced the audition, you can emerge from even the most gut-wrenching "no" smarter and stronger.
Mind
Apr. 18, 2019 07:13PM EST
Ballet West principal Beckanne Sisk as Kitri (Luke Isley, courtesy Ballet West)
Guess who's baaaaack?! Your resident Dance Spirit astrologers! And on the eve of the Youth America Grand Prix awards ceremony, we thought it was the perfect time to pair each zodiac sign with a variation commonly seen during the competition. After many painstaking hours spent researching, consulting the stars, and staring wistfully into the sky, we compiled our data and present you with the definitive list of each star sign as a YAGP variation! As we said last time, don't @ us if you're not happy with your pairing—the stars don't lie, baby!
Dancer to Dancer