Sep. 01, 2013 01:00PM EST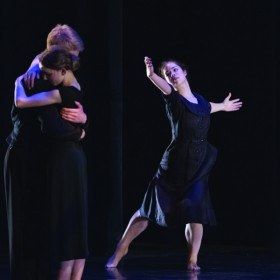 Josie Moseley's "When I Close My Eyes" (by Blaine Covert)
As the curtain rises on Josie Moseley's "When I Close My Eyes," a dancer in black moves with desperation, her gestures and face conveying that she has just experienced horrible loss. Choreographed on students at The Portland Ballet, the contemporary piece depicts the stories of Holocaust survivors.
Teenagers dancing about genocide? It sounds like a stretch, but it's become common to see contemporary dances that address social concerns like discrimination, abuse, disease or addiction. Frequently made for competitions, they offer dancers a chance to stretch artistically and stand out to judges. But mistakes like over-emoting can trivialize a serious issue and make a performance fall flat. Here's how you can approach a "heavy" piece in a way that's resonant, illuminating and gratifying.
PREPARATION: What Am I Dancing About?
Bree Hafen's "Terminal Soul" (second runner-up at the 2012 Capezio A.C.E. Awards) tells the true story of a young girl suffering from a terminal illness and her family's daily struggle with that reality. From the start, Hafen made sure her dancers understood the "why?" of the dance by having them meet the girl they would be dancing about. "It's very important that they're aware of how deep and sensitive the story is," she says. "Although I'd told them why we were doing this piece, taking it a step further to let them meet her and hear from her mom about her struggles helped them understand that this isn't 'just a dance'—this is something that happens to people every day."
Your teacher may not give you a back story, so try to create one for yourself—something you connect to personally. And if the piece is about a specific event, your dancing will be better if you know what you're dancing about. Even a little online research can go a long way. "The more dancers explore and know about what they're performing, the better," says choreographer Stacey Tookey. "Some of my best work was taken to another level simply because dancers researched what the piece was about and felt more connected to it."
REHEARSALS: Digging Deeper
To get comfortable with heavy subject matter during rehearsals, it helps to let go of your technique (it's not going anywhere) and focus on the reason for the movement. "It's important for dancers to take a healthy amount of time to explore, and find the layers, message or question within the piece," says Moseley, who sometimes asks her dancers to contribute gestures or words so they feel empathy for the subject. Hafen helps dancers move beyond merely executing choreography by specifically explaining every gesture:  "Make sure each movement is really defined in your mind, so you're always thinking, 'What am I trying to say right here? Why are we pulling her this way, or touching her this way?' " If you're not sure about the intention behind a specific movement, ask. Chances are there's a reason the choreographer chose it. Then, think of that description every time you dance it.
PERFORMANCE: True Emotion
When judging competitions, Hafen can sense when a piece is trying too hard to tug at her heartstrings to win points. "In my opinion, the most important thing is to depict a serious issue for the right reasons—to share a story to promote awareness or healing, not to win a trophy." Onstage, the best dancers go from finding basic facial expressions, to feeling an emotion, to performing so sincerely that the audience feels that emotion themselves. If you're having trouble feeling something authentic, Tookey advises surrendering to the moment: "Stop thinking about performing it. Forget there's an audience at all. Simply be the character." Nathan Makolandra, whose piece "It Gets Better" addresses discrimination, agrees: "Remain conscious of the message, but remember that the most important thing is the absolute presence of the artist."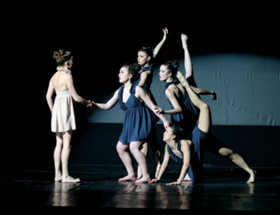 Bree Hafen's "Terminal Soul" (by Propix)
The opportunity to share an important message through dance is powerful, and valuable. Jillyn Bryant, who danced the role of the terminally ill child in "Terminal Soul," says the experience gave her new appreciation for the beauty and fragility of life. Makolandra describes dancing a piece about death as therapeutic, since his own father passed away from cancer. "That's what art does: It allows you to be changed by something because you feel it," Moseley says. "It attaches to you in a physical way."
Contemporary
Jun. 15, 2019 10:12AM EST
(From left) Darriel Johnakin, Diego Pasillas, and Emma Sutherland (all photos by Erin Baiano)
Congratulations to Dance Spirit's 2019 Cover Model Search finalists: Darriel Johnakin, Diego Pasillas, and Emma Sutherland! One of them will win a spot on Dance Spirit's Fall 2019 cover. Learn more about the dancers on their profile pages, and then vote for your favorite below. You can vote once a day now through July 15.
We also want you to get social! We'll be factoring social media likes and shares into our final tallies. Be sure to show your favorite finalist some love on Facebook, Instagram, and Twitter, sharing their profile pages and using the hashtag #DanceSpiritCMS.
Cover Model Search
Jun. 13, 2019 02:20PM EST
Photo by Erin Baiano
Imagine attending American Ballet Theatre's prestigious NYC summer intensive, training among classical ballet legends. Imagine taking the stage at New York City Dance Alliance Nationals, competing against some of the country's best contemporary dancers. Now, imagine doing both—at the same time.
Welcome to Madison Brown's world. This summer, she's in her third year as a National Training Scholar with ABT, while also competing for NYCDA's Teen Outstanding Dancer title. (She's already won Outstanding Dancer in the Mini and Junior categories.) The logistics are complicated—ABT's five-week intensive overlaps with the weeklong NYCDA Nationals, which translates to a lot of cabs back and forth across Manhattan—but Maddie is committed to making the most of each opportunity. "I love contemporary and ballet equally," she says. "While I'm able to do both, I want to do as much as I can."
Maddie has an expressive face, endless extensions, and a quiet command of the stage. She dances with remarkable maturity—a trait noted by none other than Jennifer Lopez, one of the judges on NBC's "World of Dance," on which Maddie competed in Season 2. Although Maddie didn't take home the show's top prize, she was proud to be the youngest remaining soloist when she was eliminated, and saw the whole experience as an opportunity to grow. After all, she's just getting started. Oh, that's right—did we mention Maddie's only 14?
Cover Story
Jun. 16, 2019 07:00AM EST
Corbin Bleu in rehearsal for "Kiss Me, Kate" (Jenny Anderson, courtesy Roundabout Theatre Company)
If you're a hardcore Broadway baby, today is the worst Sunday of the year. Why, you ask? The Tony Awards were last Sunday, so basically there's nothing to look forward to in life anymore—no James Corden being James Corden, no teary acceptance speeches from newly minted stars, no thrilling excerpts from the hottest new shows. Oh yeah, and there are 50 more Sundays to go before our humdrum lives are once again blessed with the next annual iteration of Broadway's biggest night.
Musical Theater