Nov. 14, 2012 10:20AM EST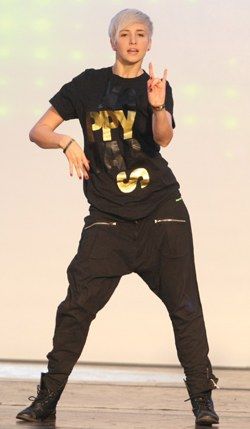 Aimee Otte performing at The PULSE On Tour, where she was first spotted by her eventual agent.
You hear stories about now-famous actors and models being "discovered"—but does that happen to dancers, too? As Aimee Otte can attest, the answer is an emphatic "yes." She got her big break last year at The PULSE On Tour, where she was competing for the Elite Protégé award. After her audition, Otte was approached by Clear Talent Group's Shayna Brouillard, who later extended an invitation to sign with the agency. Since doing so, Otte has snagged a recurring spot on "Glee" as a member of the Cheerios and performed with Rihanna at the 2012 MTV Video Music Awards. (She got Elite Protégé, too!)
"I'm from a small town, so just being at The PULSE in NYC was huge for me," says Otte, who hails from Brunswick, GA, and now lives in L.A. "I never thought I'd get an agent. You dream, but in the back of your mind, you don't know if it's possible. When Shayna approached me, my dreams got a master plan."
Getting an agent can shoot your career to new heights. But how do you land on an agency's radar? DS spoke with several agents to get their top tips.
Getting One
Like Otte, many dancers make valuable connections on the competition and convention circuit. According to Steve Chetelat of Bloc, agents are often tapped to judge or speak at conventions and will scout for new talent during that time. "I'll keep my eye on dancers until they graduate high school if I've judged them in a competition," he says.
Also, don't discount choreographers and instructors. Go 2 Talent Agency co-owner Terry Lindholm says teachers will often refer talented dancers to agencies. "Thank the choreographer after a convention class and introduce yourself to the assistant," says Lindholm, who also worked at McDonald/Selznick Associates for eight years. "Then ask, 'Do you have five minutes to talk to me about L.A. or NYC? Do you have an agency recommendation?' "
Aimee with her agent, Shayna Brouillard of Clear Talent Group
Open auditions are another way to break in, as most dance agencies hold at least one annually. This year, Bloc's summer audition in L.A. attracted more than 600 people, of which 25 were signed. "We split the dancers into two groups based on age and we have technical and hip-hop auditions," Chetelat says. Dancers are judged on ability, stage presence and look, and they do across-the-floor progressions, choreography and freestyling. "It mirrors an actual industry audition," he says.
Though it may seem like L.A. and NYC are the only places to get representation, that's not the case. According to Chetelat, Bloc has a third office in Atlanta which reps dancers from Nashville and Florida. "Cities like Dallas, Houston and Cincinnati have big commercial markets," Lindholm adds. "If your town doesn't have a dance agency, seek out a commercial agency nearby." A commercial agency may not have a dance division, but its agents can help prepare you for larger industry opportunities and get you audition experience.
Online representation is another viable option. Four years ago, Elena Grinenko, who has been a professional dancer on "Dancing with the Stars," created Grinya Talent Agency, which accepts dancers from all over the world via the internet and creates online profiles producers can use to search for suitable talent. "If you send us your resumé, we'll review it and put you on our site if we think you're a fit for future jobs," says agent Miranda Eldridge. Grinya agents have placed dancers on Michael Jackson's THE IMMORTAL World Tour and "DWTS" spin-offs in France and India.
No matter how you plan to break in, do your homework first. Most agency websites will provide information on what they're looking for and how to submit your materials—so read it all thoroughly before you reach out. It's also smart to see which choreographers and dancers are with the agency, so you can gauge the success level of its clients. And always confirm that the agency is reputable—Lindholm suggests consulting the Association of Talent Agents (ATA) website or the SAG-AFTRA website for union-approved agency listings.
Choosing One
You got an offer to sign with an agent—now what? First, explore your options. "Meet with at least three agents before making a final decision," Chetelat says. "See what relationship would be best. Don't settle for something just because it's in your lap."
Otte says she considered several agencies before signing with Clear Talent Group. "When I met with CTG's agents, I felt the connection—they made it feel like a family," she says. "I'm very religious, and they respected my values, which is hard to find."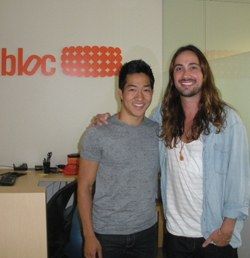 Alex Wong with his agent, Steve Chetelat of Bloc
Once you find the right fit, make sure you understand what you're signing. At Bloc, dancers sign a one-year exclusive contract for all movement-based work and can renew annually; at Grinya, dancers don't get a contract unless they're booked for a job. By signing, you generally agree to give the agency a standard commission (no more than 10 percent at Bloc unless negotiated with your agent) on every job you book—no matter who finds it. "A misconception with dancers is that if they find a job on their own the contract doesn't apply, but the agent should always do the deal," Chetelat says.
Keeping One
It's essential to remember that the work doesn't end once you sign with an agency. Maintaining a healthy relationship with your agent is key to long-term career
success. "I firmly believe it's 50/50 teamwork," says Lindholm, who reps Kathryn McCormick, Lauren Gottlieb and Anya Garnis. "It's our job to get you in front of people while making sure you're protected and paid on time. It's your job to work hard, meet as many people as you can and build a reputation for being professional."
Staying in close contact is another must. Dancers are expected to be available for auditions, keep an agent abreast of their schedule and return calls and emails in a timely manner. "The only time we drop a client is when he or she isn't communicating with us," Chetelat says. "That's the biggest factor that can break down the agent/client relationship."
Finally, remember that an agent is looking out for your best interests. (After all, if you succeed, so do they!) Chetelat says dance agents will often help their clients tweak their look to fit into the L.A. or NYC scenes, find the right headshot photographer and give referrals for everything from physical therapists to dermatologists. "A lot of what we do exceeds the normal agent role for actors and other professions," Chetelat says. "It's a business relationship, but we work together to achieve success."
Jun. 15, 2019 10:12AM EST
(From left) Darriel Johnakin, Diego Pasillas, and Emma Sutherland (all photos by Erin Baiano)
Congratulations to Dance Spirit's 2019 Cover Model Search finalists: Darriel Johnakin, Diego Pasillas, and Emma Sutherland! One of them will win a spot on Dance Spirit's Fall 2019 cover. Learn more about the dancers on their profile pages, and then vote for your favorite below. You can vote once a day now through July 15.
We also want you to get social! We'll be factoring social media likes and shares into our final tallies. Be sure to show your favorite finalist some love on Facebook, Instagram, and Twitter, sharing their profile pages and using the hashtag #DanceSpiritCMS.
Cover Model Search
Jun. 20, 2019 02:41PM EST
Liz Imperio teaching at Hollywood Vibe, Courtesy of Hollywood Vibe
It's an increasingly common scenario: A talented dancer wins big at a competition, is offered an assistantship with a famous faculty member, and ends up leaving her hometown studio to travel with a convention. Convention-hopping has obvious benefits. Every event generates new content for dancers to post on social media, gives them a better shot at ending up on their favorite choreographers' accounts, lets them learn from the best of the best, and helps them make valuable connections. "Traveling is a great way for dancers to gain admirers around the country," says Jen Jarnot, owner of Artistic Fusion Dance Academy in Thornton, CO. "That's something every dancer craves." So it's no surprise that weekend FOMO has been blazing through studios like wildfire.
But is this jet-setter lifestyle really the most effective road to take? Can weekends of dancing with top talent truly replace the bread and butter of daily work at your home studio? The answer, according to most industry experts, is no. We asked five pros to explain why.
Competition
Jun. 19, 2019 03:55PM EST
WilldaBeast and…a car? They may be unusual duet partners, but this new ad proves they're a pretty sweet match.
Dance Videos