Gisele Bethea Is Soaring at American Ballet Theatre
(Nathan Sayers)
Gisele Bethea stands in the center of a rehearsal studio at American Ballet Theatre's headquarters, breathing hard. The ABT apprentice (who was then a member of the ABT Studio Company) and her partner have just finished running a pas de deux from La Bayadère. With her impossibly long legs and regal bearing, Gisele makes a picture-perfect Gamzatti, the ballet's spurned princess. But while she executes the choreography beautifully, the good-natured dancer has a harder time capturing Gamzatti's devious personality. "Remember, she's not sweet," says ballet mistress Nancy Raffa. "She just came out of a big catfight!"
---
Gamzatti's nastiness may not come naturally to Gisele, but the character's drive and inner strength does. "Gisele is incredibly self-possessed," says Kate Lydon, artistic director of the ABT Studio Company. "She's extremely focused and motivated, but also gentle and kind. And she absolutely loves to dance."
This year marks a huge turning point for the 17-year-old prodigy. Born and raised in Mesa, AZ, Gisele studied for years at a local studio, opting to work one-on-one with her loyal coaches rather than moving to a big-name ballet school. Though she's won all kinds of competition titles, she's kept her ego in check, maintaining a healthy sense of perspective on the frequently crazy ballet world. Now, though, she's left her quiet, sheltered life in Mesa for bustling NYC and a spot in one of the world's most elite ballet companies. Is she ready for the challenge? "If I want to make it happen and trust my directors and coaches here," Gisele says, "I know I'll be able to succeed."
From Jazz Baby to Bunhead
Gisele wasn't always a ballet fanatic. She initially trained at Danceworks by Dannis, a local competition studio, and was more excited about jazz, contemporary and hip hop. At one point, she lost interest in dance altogether and quit for nine months. "But I was so sad," she says. "I missed it so much that I realized I needed to come back."
When she returned, she started ballet classes with Olga Tarasova, a strict Russian teacher. "She told me, 'You have a lot of potential, but you're going to have to work really hard,' " says Gisele, who credits Tarasova with giving her a strong technical foundation. Inspired, Gisele soon grew to love—and prefer—ballet. "I realized that if I wanted to pursue it seriously, I'd have to put in a lot of time and dedication," she says. "It wasn't just for fun anymore."
At age 12, Gisele enrolled at the Master Ballet Academy, a vigorous Vaganova-based school in Scottsdale run by Slawomir Wozniak and his wife, Irena. She began an intense training regimen that included private lessons on top of her regular classes. By eighth grade she was being homeschooled to accommodate her heavy dance schedule. Wozniak also started preparing his talented student for major ballet competitions. "I wanted to expose her to as many opportunities, people and audiences as possible," he says.
Nathan Sayers
With her superbly arched feet and sky-high extensions, Gisele generated a lot of buzz on the competition circuit. By age 14, she'd won top awards at Youth America Grand Prix, International Dance Festival Tanzolymp, the Beijing International Ballet Invitational for Dance Schools and the Moscow International Ballet Competition (where she was the youngest-ever competitor). "It was so exciting to travel all over the world," she says. "Before that, I knew nothing about other cultures and their appreciation for dance."

A Slow, Steady Road to ABT
Gisele first caught ABT's eye at the YAGP finals when she was 13. That year and the following year, she received scholarships to ABT's Jacqueline Kennedy Onassis School summer intensive. Though she couldn't attend due to her busy competition schedule, JKO wasn't about to let her get away. After she declined the second time, the school invited her to take classes for two weeks during the academic year to see if she liked the program.
Gisele took them up on their offer in October 2013. The trip left a deep impression on her. "I loved the way they looked at you as a whole dancer," she says. "They were concerned with how you were doing as a person, how you coped with the stress." But as much as she admired JKO and ABT ("It's always been my dream company"), she wasn't ready to leave her family yet.
Nathan Sayers
Her star-crossed relationship with ABT was far from over. A year later, Gisele's performance at the prestigious USA IBC in Jackson, MI, earned her the gold medal—and a contract with ABT Studio Company. Despite her success, a part of her felt she was still too young, at 15, to leave home. "I knew this was an amazing opportunity, and I didn't want to lose it," she remembers. "I thought, 'The only way I'll know for sure is if I pray about it.' "

Gisele and her parents, who are devout Mormons, prayed together as a family and discussed her dilemma. "We decided that I needed to finish another year of school, solidify my relationships with my family and grow up a bit more," says Gisele. Telling ABT wasn't as scary as she feared: They offered her a standing invitation to join the following year. Surprised and relieved, Gisele spent the intervening months with her nose to the grindstone. "I had to train hard and fix some things before I left," she says. "Plus, there was a lot I didn't understand about the world yet. I needed to find out who I was not just as a dancer, but as a person."
Backstage at the 2014 USA IBC (Jim Lafferty, courtesy Gisele Bethea
Living the ABT Dream

All of Gisele's preparation paid off when she finally moved to NYC last September. As luck would have it, familiar faces were on hand to help her ease into her new surroundings: She lives with her mother's cousin in an apartment a few blocks from Lincoln Center. She remains deeply involved with her church, attending seminary class every morning in addition to Sunday services.
At ABT—where she was named a company apprentice in January—she adjusted to long days, high expectations and fierce competition. As a Studio Company member, her day started with a two-hour technique class, followed by additional classes and up to six hours of rehearsals; as an apprentice, her schedule is equally packed. Gisele admits that the style is slightly different from what she's used to, and that she's had to pace herself to avoid feeling overwhelmed. "Sometimes I'm really hard on myself, because I want everything to be perfect, especially now that I'm at ABT," she says. "But then I think, 'They're not giving me anything they don't already think I'm capable of.' "
With BFF Larisa Nugent (courtesy Gisele Bethea)
When Gisele isn't in the studio, you'll find her watching Netflix, cooking dinner or hanging out at her favorite smoothie place with one of her best friends, School of American Ballet student Larisa Nugent. "We met at YAGP, and we were going through the same journey, just at two different schools," Gisele says. (They even share wardrobes. That red velvet leotard Gisele is wearing in some of her DS photos? It's Larisa's!)

While there's no question that Gisele has big-time ambition, her ultimate goal, she says, is to be happy: "Even when I have bad days, I want to bring happiness to other people." That ability to maintain a positive perspective seems to be the key to her success. "Yes, she has the facility, but her mind is set up the right way to achieve any goal in her life," Wozniak says. "She was born to be a ballerina. Soon, the whole world will know her about her."
Family Matters
In the Bethea household, family is everything. In addition to her brothers J.D. and Josh, Gisele has a little sister, Cienne, who's forging her own dance path at the Master Ballet Academy. And while her mom and dad are unwavering in their support, they've also kept her grounded. "My parents have helped me to realize how to have humility and to be my own person," she says. "One of the reasons I think I've been able to succeed is because my home life was so stable."
Corps Support
One of Gisele's biggest role models is ABT corps member Scout Forsythe. "She's incredibly positive," Gisele says. "She's figured out how to maintain happiness in a stressful environment. I can ask her about anything company-related, and she's open to helping me understand."
Nathan Sayers
Fun Facts
Birthday: January 31, 1999
Dream roles: Aurora and (no surprise here) Giselle. "I like Kitri, too, but I'm not that sassy by nature, so it takes me longer to get into her character."
Secret talent:
"I love to sing! I sing in the church choir. I'm a second soprano."
Favorite book:
"I just finished Magic Study, from the Poison Study series. It's super- teenagery—so dramatic and romantic."
Extreme-sport hobbies: The Betheas are a "crazy outdoor family," says Gisele. On weekends you'll find them wakeboarding, tubing, surfing, motor biking in the desert sand dunes—even skiing. "My coaches weren't so happy to know about that last one."
Dance bag must-have: Perfume. "I switch it up all the time. Right now I'm wearing Kate Spade."
Dance idols: Iana Salenko, Sylvie Guillem and Lucia Lacarra

Via @chelshightower on Instagram
From competing on "So You Think You Can Dance" to performing on "Dancing with the Stars" for seven seasons (and earning an Emmy nomination for her work on the latter), Chelsie Hightower has lived the pro dance dream. Though Hightower retired from "DWTS" several years ago and now teaches and choreographs in her home state of Utah, she admits that her dance career exceeded even her own high expectations. "I've accomplished things that I didn't know were possible," she says.
But most fans of "DWTS" would never have guessed that while filming, the talented and seemingly fearless ballroom pro was facing her fiercest competitor off-camera. Hightower has struggled with anxiety for most of her life, but the issue became especially severe during her years on the show.
With the help of therapy and other coping exercises, Hightower has found healthy ways to manage her anxiety. Now, she hopes that sharing her experience will inspire other dancers struggling with mental illness to get help.
Keep reading...
Show less
Popular
Jan. 15, 2019 12:01PM EST
Past "SYTYCD" hopefuls at The Academy (Adam Rose/FOX)
More fabulous TWall routines. More passengers on the Hot Tamale Train. MORE CAT DEELEY BEING DELIGHTFUL.
That's right, y'all: "So You Think You Can Dance" was just renewed for a 16th (!) season, to air this summer on Fox. And audition dates have already been announced.
Keep reading...
Show less
It includes this familiar face! (Erin Baiano)
Something's coming, I don't know when
But it's soon...maybe tonight?
Those iconic lyrics have basically been our #mood ever since we first heard a remake of the West Side Story film, directed by Steven Spielberg and choreographed by Justin Peck, was in the works. THE CASTING. THE CASTING WAS COMING.
Well, last night—after an extensive search process that focused on finding the best actors within the Puerto Rican/Latinx community—the WSS team finally revealed who'll be playing Maria, Anita, Bernardo, and Chino (joining Ansel Elgort, who was cast as Tony last fall). And you guys: It is a truly epic group.
Keep reading...
Show less
Dancer Tony Bellissimo on the field at Super Bowl LII (via Instagram)
The Super Bowl is America's most-watched television event. Last year, when the incomparable Justin Timberlake took center field for the halftime show, more than 106 million viewers were watching his every move—and that's not even a record!
What's it like to perform for such an incredibly huge audience? Dancer Tony Bellissimo has plenty of experience with high-pressure dance gigs, having worked with artists including Rihanna, Britney Spears, John Legend, and Chris Brown. But stepping out alongside Timberlake during last year's halftime show was a next-level experience. We talked to Bellissimo about how he scored such a coveted job—and how he handled the pressure.
Keep reading...
Show less
screenshot via @donte.colley on Instagram
Y'all, it's time to call a spade a spade: The first month of any New Year kind of sucks. It's way too cold, you're probs failing at one or two of those ambitious resolutions, and spring (with its exciting performing opportunities) feels so very far away. And yet, in the midst of so much darkness, a hero has emerged. His name is Donté Colley, and you're about to double-tap every single thing he's ever posted.
Keep reading...
Show less
Photo by Joe Toreno
It's almost 2019 and the ballroom dance scene is positively booming! From prestigious world championships to TV shows, kids are at the core of all this hip-shaking action—and we're so here for it. These eight up-and-comers in particular are shaping the field. They're the next generation of superstars to make the leap from technically exquisite ballroom-ites to bona fide celebrities.
Keep reading...
Show less
Just for Fun
Jan. 11, 2019 02:28PM EST
Dance Teacher
Jan. 11, 2019 12:37PM EST
Joanne Chapman teaching turns (photo by Dan Boskovic, courtesy Joanne Chapman School of Dance)
Think back to your newbie dancer days. Can you remember your introduction to spotting? It might've involved staring hard at your own reflection in the mirror as you wrestled with your first pirouette. Or maybe your teacher had you put your hands on your shoulders as you attempted a series of half-chaînés across the floor.
Keep reading...
Show less
Get Dance Spirit in your inbox
Just for Fun
Aug. 17, 2018 12:29PM EST
Thinkstock
Dance teachers have to deal with a lot. While open communication with your teacher is obviously key, lame excuses for less-than-great behavior are guaranteed to get on her nerves. Always avoid these seven excuses that will 100 percent get your dance teacher's blood boiling.
Keep reading...
Show less
It includes this familiar face! (Erin Baiano)
Something's coming, I don't know when
But it's soon...maybe tonight?
Those iconic lyrics have basically been our #mood ever since we first heard a remake of the West Side Story film, directed by Steven Spielberg and choreographed by Justin Peck, was in the works. THE CASTING. THE CASTING WAS COMING.
Well, last night—after an extensive search process that focused on finding the best actors within the Puerto Rican/Latinx community—the WSS team finally revealed who'll be playing Maria, Anita, Bernardo, and Chino (joining Ansel Elgort, who was cast as Tony last fall). And you guys: It is a truly epic group.
Keep reading...
Show less
Just for Fun
Jan. 11, 2019 02:28PM EST
via @dynamicdancestudios on Instagram
There are dance routines, and then there are dance routines. Andrew, a 21-year-old dancer with Down Syndrome, performed the latter on the new British reality dance show "The Greatest Dancer." He brought the audience to tears as he unabashedly freestyled to Justin Timberlake's "Can't Stop The Feeling."
Keep reading...
Show less
The Broadway cast of Hamilton (Joan Marcus, courtesy Sam Rudy PR)
Today, January 11, is #AlexanderHamiltonDay: A very happy 264th birthday to Alexander Hamilton! Thanks to this most unlikely of Founding Fathers—a brilliant and ballsy orphaned immigrant who dramatically rose, then fell, then rose again—we have possibly the most successful musical of all time. We also, of course, got priceless GIFs such as this one: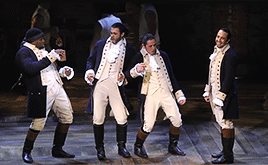 *When your crush walks over and you're trying to act natural but your friends are all like*
Aaaaaaaaaaanyway, while we can't get you "in the room where it happens" with tickets to the show's current Broadway, touring, or Puerto Rico productions—the last of which opens tonight!—we CAN offer up some fun ways to fête A.Ham's day of birth. Just you wait:

Keep reading...
Show less
Screenshot via YouTube
Every once in a while, the stars align, things fall precisely into place, and the perfect marketing campaign is born. Such is the case with New York City Ballet's new trailer for their upcoming run of The Sleeping Beauty, which was conceived and directed by company soloist Sean Suozzi.
Keep reading...
Show less
via @torysport on Instagram
Washington Ballet's Nardia Boodoo is turning heads these days, and not just at the barre. The brilliant ballerina shines in Tory Sport's latest commercial and we can't help but feel a little bit of pride as our March 2018 cover star brings ballet to the masses. What better way to show off stylish and comfy athletic wear than with Boodoo's strong and luminous dancing?
Keep reading...
Show less
Hall works with students at Dance Conservatory of Charleston. (courtesy Dance Conservatory of Charleston)
As the name suggests, summer intensives are, well, intense, encouraging you to eat, sleep, and breathe dance for a significant chunk of the summer. But they're not for every dancer—or every summer. Maybe you're not ready to be away from home just yet, or you want to spend your last summer with family before going off to college. Intensives can also be expensive, and not every household has the financial flexibility to cover the high cost of auditions, travel, room and board, and tuition. Whatever your reasons for seeking alternatives, it's important to recognize that, when it comes to summer study, it doesn't have to be all or nothing. "The most important thing is to keep dancing," says Lindy Mandradjieff, owner of the Dance Conservatory of Charleston in South Carolina. "Without the added stress of school, you can improve as much in one summer as you would in an entire school year." Here's how to keep up your training even if you don't plan on attending an intensive.
Keep reading...
Show less