Mar. 01, 2015 10:30PM EST
Pro dancers have all had their share of nutty jobs—anything from ridiculous choreography to hilarious costumes. After all, if it's fun and harmless, why not make a little extra cash? And sometimes, those kooky gigs can be surprisingly rewarding.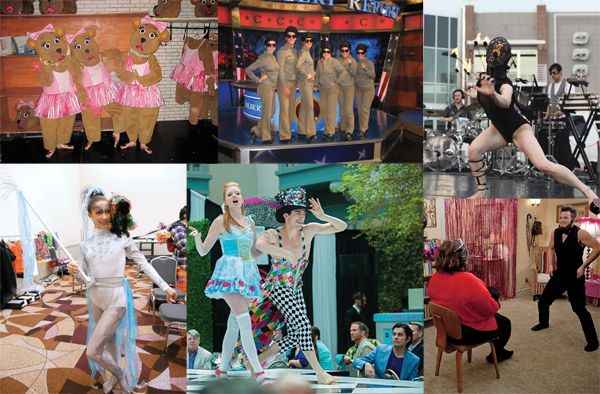 Clockwise from left: Jolina Javier (courtesy Javier); Hillary-Marie Michael (courtesy Michael); Mollie Sansone (Wheatphoto.com, courtesy Sansone); Kyle Robinson (Colleen Hayes/NBC/NBCU Photo Bank via Getty Images); Michael Gross (courtesy Ingrid Bonne); Francesca Forcella (courtesy Forcella)
Jolina Javier, FREELANCE DANCER
Wacky work: Performed as a dancing bear in the Radio City Christmas Spectacular
"I was a ballerina bear for four years. The costume wasn't too heavy—it was sort of like dancing in a Snuggie. You stepped into the bear body, and the head went on top. The snout was right in front of your face, so it was like looking through a screen. At first, it was a little scary. I'm claustrophobic, and when the head was on, you could hear yourself breathing. Not being able to fully see was the most disorienting—especially when on pointe. Pointework is hard enough without a big suit! On my first opening night, I fell onstage. It was so embarrassing. I couldn't believe I fell—in a bear suit—in front of 6,000 people.
"When you're growing up, you always imagine yourself in a tiara, or as a Rockette. But looking back on the experience, I love that I got to be a part of something bigger than myself."
Hillary-Marie Michael, tap dancer and Jersey Tap Fest director
Wacky work: Tapped dressed as Kim Jong-il on Comedy Central's "The Colbert Report"
"A colleague's husband works on the show, and she told me they needed a few tap dancers for one episode. I immediately said yes—no questions asked. It was going to be my first
experience on TV, so I dropped everything to do it. All I knew was the piece had to do with a North Korean ban on imported Italian tap shoes. The six of us got to hair and makeup and we saw our costumes: We were going to be dressd as Kim Jong-il—green jumpsuit, wig, glasses and all. The experience was pretty cool: Colbert is a tap super-fan, and he came out and did a few shuffles with us. But when you're expecting an artistic performance, a 20-second shtick in a silly costume can seem pretty disappointing. That was the day I learned to always ask questions before signing or agreeing to anything."
Mollie Sansone, Nashville Ballet
Wacky work: Performed as a fire dancer
"During Nashville Ballet's off season last year, I danced with Quixotic, a multimedia performance company that's sort of like Cirque du Soleil. For one section of the show, I wore metal clamps on my fingers. The clamps attached to metal skewers with wicks on the tips that were lit on fire. My immediate reaction was pure excitement—I'm a bit of a daredevil."
"I performed barefoot, wearing a leotard with a hood to cover my hair. The work was very grounded—not a lot of jumps and no partnering—so I felt safe with the flames. Of course, I had to be careful: If my fingers pointed downward, the fire would shoot up and burn my hands. And if I moved my hands too fast, the flames would go out. The first rehearsal was a little scary, but after that I loved it. What a rush!"
Kyle Robinson, Shaping Sound Dance Company
Wacky work: Played an exotic dancer dressed as Abraham Lincoln on NBC's "Parks and Recreation"
"I was the last appointment at the audition for the part, and when I walked into the waiting room, it seemed like every guy in L.A. between 5'10" and 6'4" with brown hair and muscles was there. I thought by the time I got into the room, the agents would have already seen a million abs.
"Finally, it was my turn. I tried my best moves: I ripped open my shirt and I threw my head back as I landed on my knees, channeling Flashdance. I did a headroll, a handstand with a twist—and as I pretended to remove my belt, I heard yelling: 'Stop, stop! Mr. President, put your pants back on!' They loved it! Two days later, I heard I'd booked the gig. Being on the show was an incredible experience."
Michael Gross, Hubbard Street Dance Chicago
Wacky work: Performed as the Mad Hatter from Alice in Wonderland at a fundraiser for the Chicago House and Social Service Agency
"For the benefit performance, I wore a black and white checked singlet, an oversize hat that kept falling over my eyes and patent leather white go-go boots with two-inch heels. It wasn't my favorite choreography—but it was for a good cause and I figured I wouldn't know anyone in the audience. Right before I went on, though, Hubbard Street's artistic director, Glenn Edgerton, approached me. At the time, I wasn't in Hubbard Street, but I had auditioned for the company a couple times and had yet to make the final cut. I kept thinking, Please don't stay and watch this! He did, of course. Little did I know that about a year later, he'd be my boss. We haven't actually talked about the show yet…it might be better that way!"
Francesca Forcella, BalletX
Wacky work: Danced in a circus-themed fashion show for Macy's
"When I was in Houston Ballet II, three dancers from the company were chosen for a fashion show. We assumed we were going to model—and we were so excited! On the day of the show, however, a Macy's representative brought us to what she called the 'talent room.' The talent room? We walked in and saw a bearded lady and another woman with a monkey. It turned out the show was circus-themed, and we had to dress up as faux Cirque du Soleil performers. My friend was the ringleader, and I danced down the zigzagging runway in a silver unitard and full-footed tights. They didn't have shoes for us, so we performed in stocking feet, trying not to slip. It was a crazy day, but it ended up being fun: I was with my friends, and we made the best of it."
Jun. 15, 2019 10:12AM EST
(From left) Darriel Johnakin, Diego Pasillas, and Emma Sutherland (all photos by Erin Baiano)
Congratulations to Dance Spirit's 2019 Cover Model Search finalists: Darriel Johnakin, Diego Pasillas, and Emma Sutherland! One of them will win a spot on Dance Spirit's Fall 2019 cover. Learn more about the dancers on their profile pages, and then vote for your favorite below. You can vote once a day now through July 15.
We also want you to get social! We'll be factoring social media likes and shares into our final tallies. Be sure to show your favorite finalist some love on Facebook, Instagram, and Twitter, sharing their profile pages and using the hashtag #DanceSpiritCMS.
Cover Model Search
Jun. 19, 2019 03:55PM EST
WilldaBeast and…a car? They may be unusual duet partners, but this new ad proves they're a pretty sweet match.
Dance Videos
Jun. 19, 2019 02:12PM EST
Isabella Boylston in "The Bright Stream" (Rosalie O'Connor, courtesy American Ballet Theatre)
Beloved by ballet fans for her lucid technique and onstage effervescence, by her Instagram followers for the deftly curated photos and videos she shares of her glamorous life, and by fangirl Jennifer Garner for all of the above, American Ballet Theatre principal Isabella Boylston is one of the rare ballet stars who's achieved mainstream fame. A native of Sun Valley, ID, Boylston trained at the Academy of Colorado Ballet and the Harid Conservatory before joining the ABT Studio Company in 2005. She entered the main company as an apprentice in 2006, and attained principal status in 2014. In addition to her successes with ABT, where she dances nearly every major ballerina role, Boylston has served as artistic director of the annual Ballet Sun Valley Festival, which brings high-level performances and classes to her hometown. And speaking of famous Jennifers: Boylston recently appeared as Jennifer Lawrence's dance double in the film Red Sparrow. Catch her onstage with ABT as Manon, Odette/Odile, and Princess Aurora during the company's Metropolitan Opera House season this summer in NYC. —Margaret Fuhrer
Dancers Dish