How To
Mar. 19, 2009 12:03PM EST
As a dancer and choreographer, Martha Graham broke the rules. She created a dance technique that, along with her groundbreaking choreography, helped spark the revolution known as modern dance. With close to 200 dances in her repertory, Graham was among the most prolific and significant choreographers in dance history, and works such as Appalachian Spring have made her an American cultural icon. Her unique dance vocabulary evolved over the years to meet her changing choreographic needs, but was eventually codified into a standard syllabus, and now, Graham-based movement is taught in studios around the world.
How To Prepare
If you're new to Graham, spend a day paying attention to your breathing and how it changes with different activities, recommends Christine Dakin, former principal dancer with the Martha Graham Dance Company and co-artistic director from 2002-2005. In class, those observations will help you better understand how to use breath efficiently as you move through fundamental concepts like contraction and release. Additionally, since Graham Technique emphasizes spirals in the body, observing the form and energy of spirals in nature—in plants, for instance—may help you understand how the pelvis and spine work together in twisting and curving the torso.
Class Structure
While Graham's is a codified technique, with a set series of seated floor exercises, standing exercises and across-the-floor sequences, there are various ways of presenting material from the syllabus. When teaching a master class to students who are unfamiliar with Graham, Dakin sometimes adjusts exercises to hone in on one concept at a time. "In the regular exercises, there are multiple principles at play, but I might modify an exercise to just focus on the way the pelvis moves in contraction. Then later I'll focus an exercise on spirals," she explains. That way students can experience each concept individually, rather than trying to grasp many ideas at once.
Key Concepts
Fundamental principles in Graham Technique include contraction and release, opposition, shift of weight and spirals. (See "Listen Up and Move," for a list of terms you're likely to hear.) You should also be prepared for movement that is dramatic—even in the opening exercises—because Graham's choreography is filled with vibrant, powerful characters. Don't be afraid to bring your own experiences and emotions into the movement. "Martha and other early modern dancers were experimenting to find individual ways of creating art," Dakin says. "Be daring every time you move. You're not there to reproduce what someone else did. Individual exploration is inherent to class and Martha's movement."
Take risks in class—it's key in Graham Technique to move with volume and energy. "It's important that dancers not simply see themselves as objects in space. They need to expand their body, energy and focus so they are amplified enough to fill that space," Dakin says. "Martha said that dance is never a competition. You're only in competition with the person you know you can become. So, it's important to move big—especially in a master class—and make big mistakes. Don't be afraid, and don't watch other people. You're there to focus on developing yourself."
Joshua Legg is a technique instructor and rehearsal director for Harvard University's Dance Program. He holds an MFA in dance choreography and performance from Shenandoah University.
American Ballet Theatre principal dancers Sarah Lane and Daniil Simkin (courtesy ABT)
Last May, we told you about a special exhibition of the Mark Ryden artwork that sparked Alexei Ratmansky's sweet-treat of a ballet, Whipped Cream. Well, hold on to your tiaras, bunheads, because there's a brand-new exhibit featuring actual costumes from this megahit production. The Nutcracker's Land of Sweets has some serious competition!
Keep reading...
Show less
via @kyle_vanny on Instagram competing on World Of Dance
Kyle Van Newkirk is a tap dancer you probably remember from the premiere season of NBC's World of Dance. In case you missed it, he is also one of Showstopper's incredible convention teachers. What makes Kyle stand apart from some of today's other incredible tappers? He isn't afraid to change what tap means to his audience and even himself. This modern view of tap dancing is important because it shows us that tap dancers are just as versatile and dynamic as dancers of any other genre. We sat down with Kyle to get his advice on bringing tap dancing into the 21st century.
Keep reading...
Show less
University of Minnesota Dance Team (courtesy University of Minnesota)
They say there's no "I" in "team"—and nowhere is that truer than the world of college dance teams, where precision reigns, uniformity is key, and a single misstep from any given "I" can cost a group a championship trophy. So it's unsurprising that securing a spot on one of the best dance teams in the country is no easy feat.
Members of these highly athletic teams rehearse for hours every week—on top of academic classes and commitments—and perform at football and basketball games, annual concerts, and nationally televised competitions (hi, ESPN). And "no I" rule notwithstanding, each of these top teams is made up of highly trained, highly technical, highly hard-core individuals, who come together to create a ready-for-victory pack.
These six teams aren't one-off success stories—they're consistently strong, and earn the top spots at major competitions like UDA and NDA nearly every year. Up for the challenge? Here's what to know before you go to auditions.
Keep reading...
Show less
How To
Oct. 01, 2010 04:55PM EST
(Nathan Sayers)
Turnout—a combination of rotational flexibility and the strength to properly hold that rotation—is the foundation of ballet. But it's also a source of frustration for many dancers. After all, not everyone (actually, hardly anyone) is born with 180-degree rotation. "When I first started dancing, my hip flexors were strong, but I was forcing my turnout without using the right muscles," remembers Amanda Cobb, a former dancer with The Washington Ballet.
The good news is that it's possible to both improve your turnout and to dance beautifully with less-than-perfect rotation. But there's a lot of misinformation out there about how turnout works and why it's important. To help separate fact from fiction, DS asked the experts to disprove six turnout myths.
Keep reading...
Show less
Lol, same. (Screenshot via YouTube)
Picture this: You've scored tickets to Ellen DeGeneres' hit show, "Ellen." The day has come, the show is as hysterical as ever, Ellen is debating the biggest hot-button issue since the blue/black or white/gold dress, "Laurel vs. Yanny" (side note: it's LAUREL, people), and tWitch is killing it over at the DJ booth, as always. Ellen decides it's the perfect time to single out an audience member and, lo and behold, that person is "SYTYCD" champ ( and December 2017 cover star!) Lex Ishimoto.
Keep reading...
Show less
May. 16, 2018 02:26PM EST
Ema Peter
The Glorya Kaufman International Dance Center is the 54,000 square foot home of the USC Glorya Kaufman School of Dance, one of the largest facilities dedicated to dance on a private university campus. Designed for their innovative new curriculum, that supports a range of dance styles, the school's staff designated Harlequin to provide wall-to-wall flooring for the large 3,500 square foot Performance Studio as well as five dance studios in their new state-of-the-art building.
Keep reading...
Show less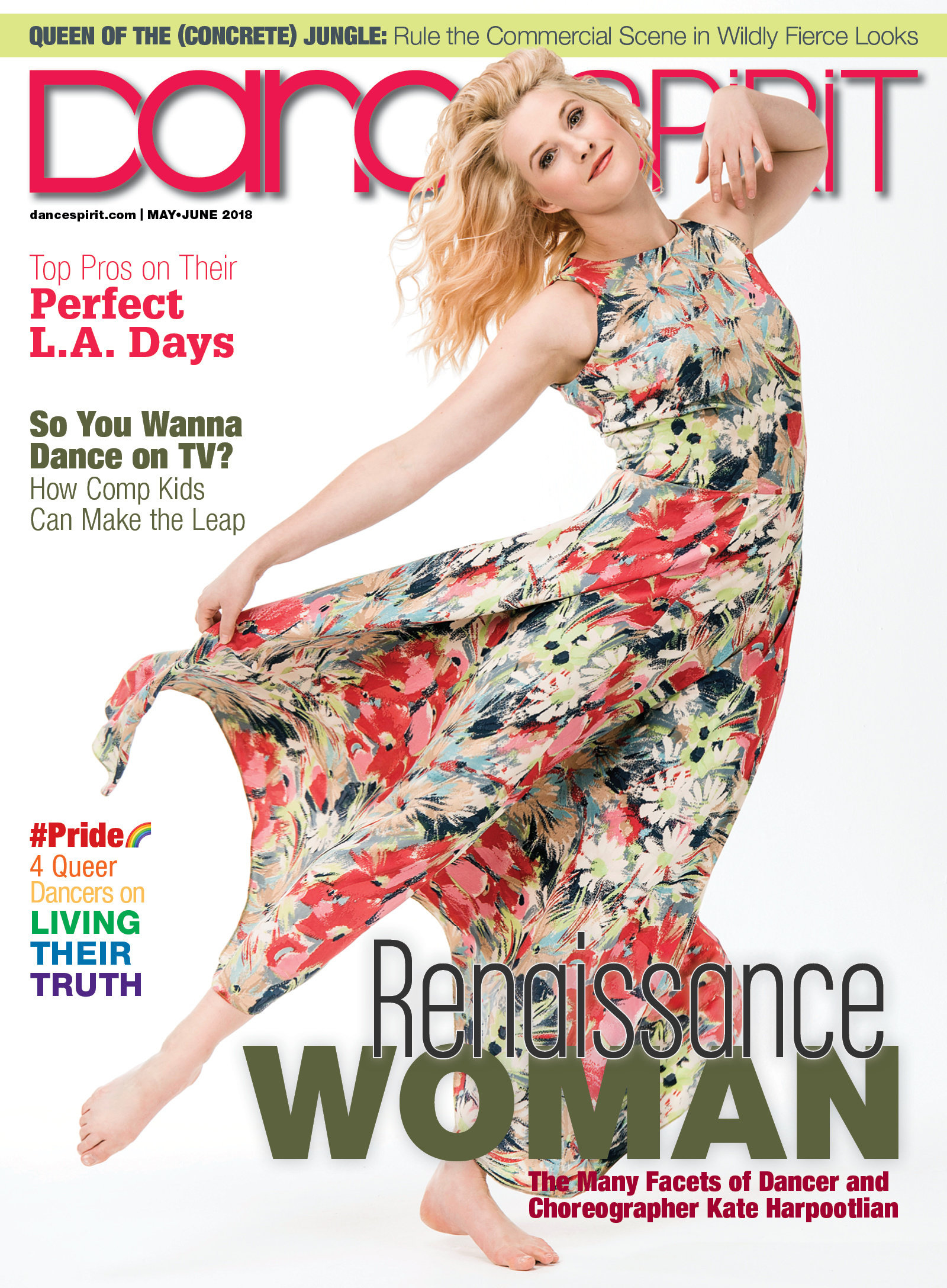 Get Dance Spirit in your inbox