Every now and then, one of my non-dance friends will see a picture (or, better yet here in NYC: a real-life sighting) of Mikhail Baryshnikov, and she'll say, "It's the guy from Sex and the City!"
I mean yeah, OK. But also, it's Mikhail Baryshnikov! Only one of the greatest dancers of all-time. He did play a coolly seductive Aleksandr Petrovsky, though.
Whether people recognize him as Carrie Bradshaw's Paris-bound love on TV or they realize he's one of the dance world's major heavy-hitters, Baryshnikov is a legend worth knowing. I'll never forget the first time I saw him in person at a New York City Ballet gala. It was the first time I was ever starstruck and I just stood there staring at him, secretly hoping he'd burst into spontaneous choreography in the middle of the David Koch Theater lobby.
Now, you can get your own glimpse at stardom on Wednesday, September 5: I know exactly where Mikhail Baryshnikov will be that night—and where you should be, too.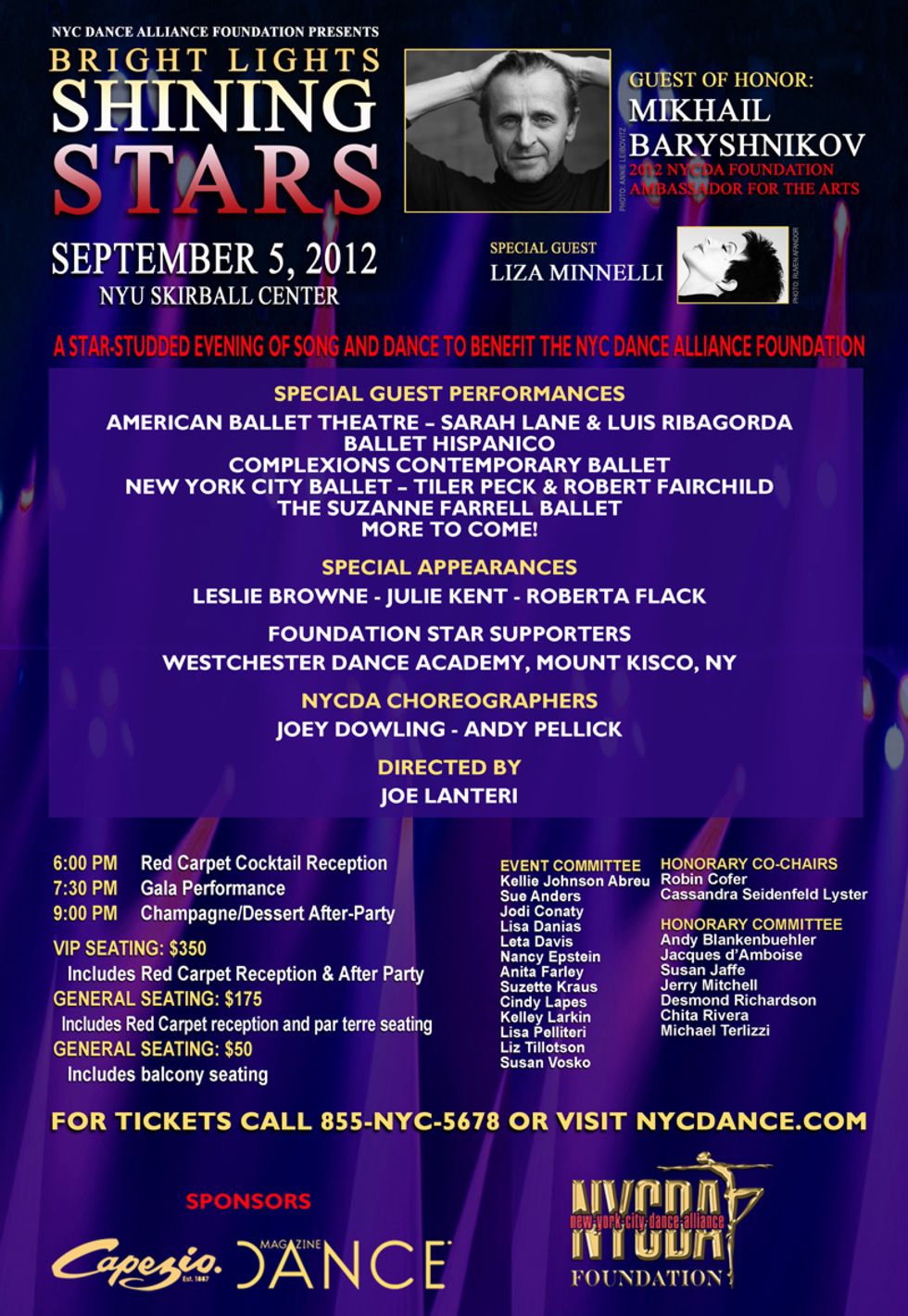 Next Wednesday, the New York City Dance Alliance Foundation will feature two dance dynamos at its annual "Bright Lights Shining Stars" gala. Mikhail Baryshnikov is the night's guest of honor, and he'll be presented with the NYCDAF Ambassador for the Arts Award. Handing over the trophy? Baryshnikov's longtime friend Liza Minnelli!
The lineup for the rest of the night is star-studded and spectacular, including guest performances by American Ballet Theatre, Complexions Contemporary Ballet, New York City Ballet and more.
Like I said, I'll be there. Mikhail Baryshnikov will be there. Liza will be there. And you should make your way there, too.
Click here to snag a 25% off discount on your ticket. The show starts at 7:30 pm at NYU's Skirball Center for the Performing Arts in NYC.
Hope to see you there!