Whether He's in Pink Stilettos or Ballet Slippers, Harper Watters Is Unapologetically Himself
Photo by Jayme Thornton
Harper Watters is a ballet dancer for today's generation. A social media maestro and a charismatic performer, the Houston Ballet soloist is equally at home in front of the camera hosting his hit YouTube series, "The Pre Show"; interacting with fans on his crazy-popular Instagram account; or showing off his beautiful classical technique onstage. It's a multifaceted identity that's proven to be invaluable to his career—and it's taking him to places he never even dreamed of.
---
Baby Boy
Watters was born in Atlanta, GA, but was adopted at two weeks old and raised in Dover, NH. He started tap and jazz classes at an early age. "I was a constant mover as a kid," he says. But his first exposure to ballet wasn't in the classroom—it was via a VHS tape of New York City Ballet's production of The Nutcracker. "I watched it 10,000 times," he says. "I even choreographed my own one-man Nutcracker over a holiday break."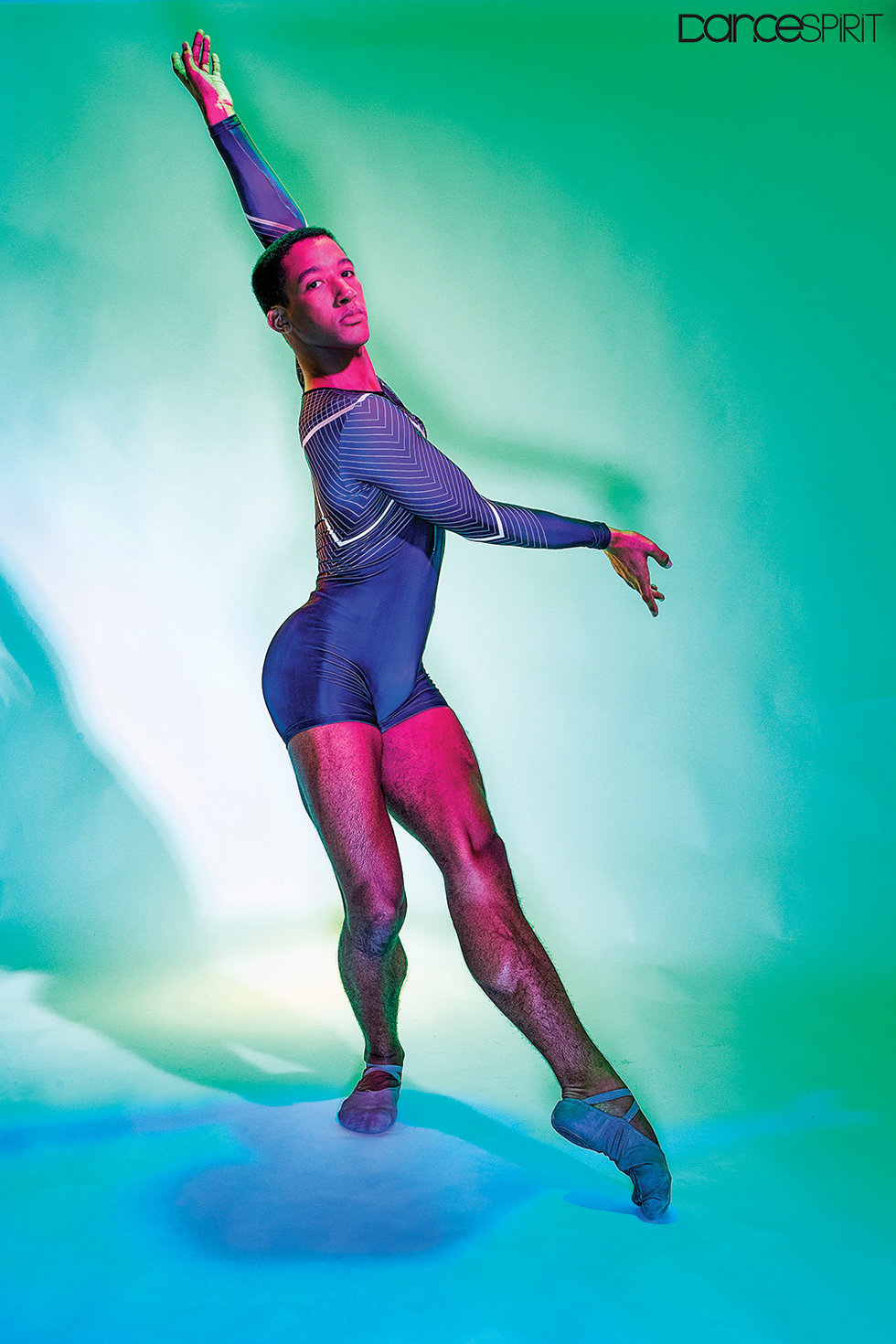 Photo by Thornton
However, becoming a ballet dancer wasn't his end goal. "I was set on joining Alvin Ailey American Dance Theater," Watters says. "They were the first professional company I saw perform, and I was so inspired by the fact that dancers who looked like me were up on that stage. I researched how to get into the company, and found out that a ballet class was part of the audition. So, it was set—I had to become better at ballet to join Ailey." Watters started training at the Portsmouth School of Ballet in Portsmouth, NH, where he learned the fundamentals and "most importantly," he jokes, "the proper way to put on a dance belt."
Schoolin' Life
After Watters spent his sophomore and junior years at the Walnut Hill School for the Performing Arts, and attended the Washington Ballet summer intensive, a career in classical dance seemed more real. "I attended the Houston Ballet summer intensive the following year, and they placed me in the highest level, so I basically thought I was the next Carlos Acosta," Watters says. "The first day proved I was highly delusional."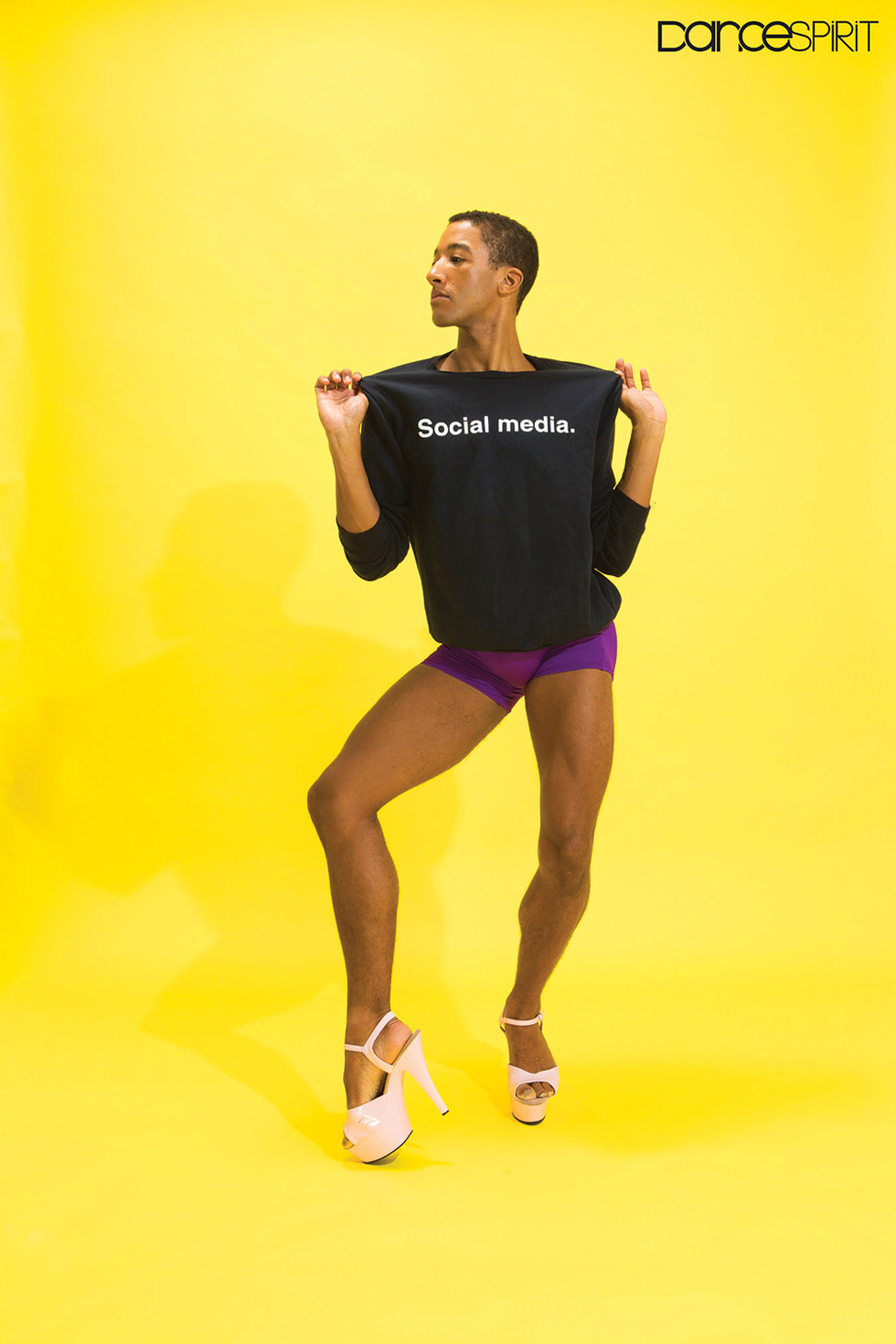 Photo by Thornton
At the end of that summer, he was offered a contract with Houston Ballet's second company. "I loved that Houston Ballet was dancing amazing rep, and that their dancers had this incredible mix of finesse, confidence, and artistry," Watters says. In 2012, he was promoted to the main company, and by 2018, he was a soloist.
Me, Myself, and I
These days, Watters is also a bona-fide social media star. But his internet fame didn't happen overnight. "When I first started my YouTube channel, I was only copying things I'd seen—viral challenges, trends—and those videos weren't doing very well," he says. "I just kept reminding myself that Beyoncé wasn't built in a day."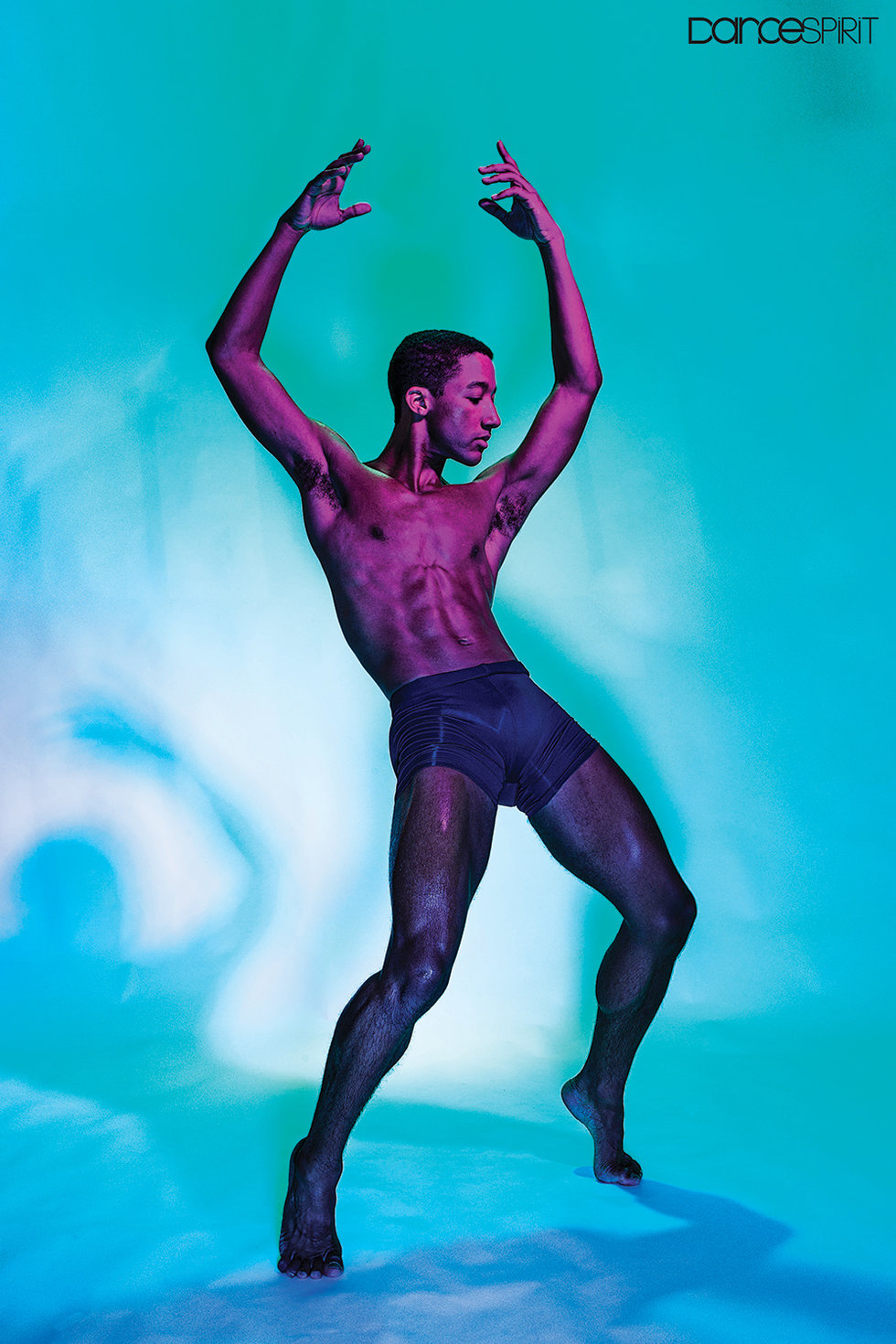 Photo by Thornton
Enter "The Pre Show," Watters' hilarious, honest, and unfiltered view into his dressing room shenanigans. " 'The Pre Show' started out of pure boredom. The conversations that happened between my dressing-room mates and I were too funny to not film," he says. Viewers agreed, and "The Pre Show" took off. "I think it resonated with people because they saw these unique dancers who werevocal and breaking stereotypes," he says.
Watters recognized how powerful and positive social media could be. " 'The Pre Show' happened organically, and the response was incredible," he says. "Building a community of people was so rewarding, and that's what keeps me going. People follow me for me, for what I'm doing and who I am. And that taught me how crucial it is to be 100 percent authentic."
Six-Inch Heels
That authenticity is on full display in the now-viral video of Watters and former Houston Ballet company member Rhys Kosakowski strutting their stuff on treadmills while wearing sky-high pink stilettos. It's been viewed over a million times, and it became the first in a series of heels videos that have brought Watters one opportunity after another. "People might see these videos and think, 'Oh, that's funny,' but it's way more than that," Watters says. "They embody this long journey towards self-acceptance." The social media success was also a big boost to his confidence. "In the heels videos I was projecting this persona that was sassy and fabulous, and I was like, 'Why don't I do this every day?' You have to own it, and once I did, I was able to explore new movement, shake off little things that used to really irritate me, and come into my own."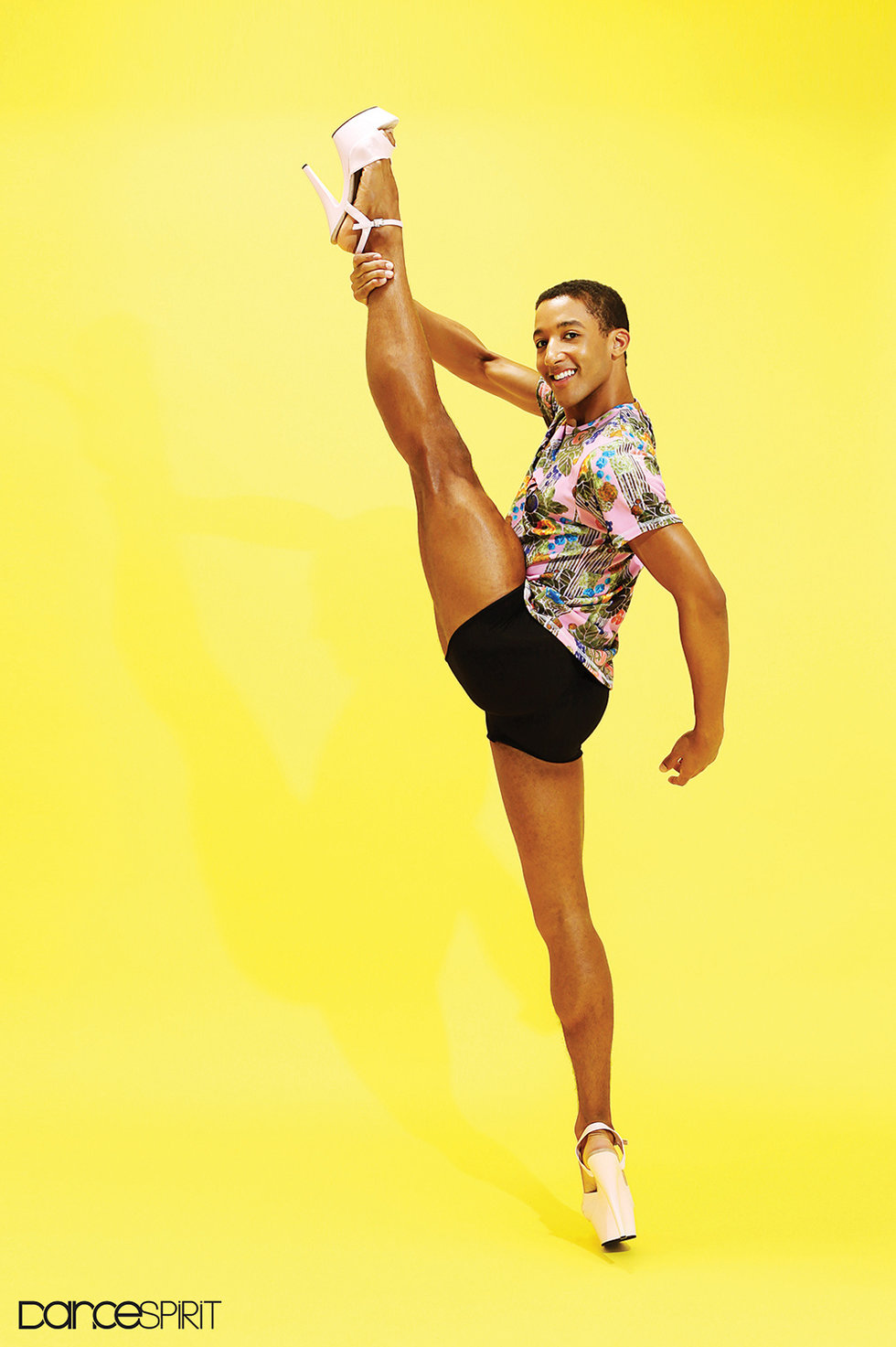 Photo by Thornton
Kosakowski, who's a mainstay on "The Pre Show," agrees. "Harper's showing people not to be afraid of who they are," Kosakowski says. "If you want to put on makeup and heels, do it. His message is exactly what this generation of ballet boys, and the whole ballet community, needs right now."
He Came to Slay
Despite the success of the heels series, Watters is quick to clarify that he is first and foremost a classical ballet dancer. But that doesn't mean he isn't seizing every opportunity he gets, especially when it comes to educating the general public about the ballet world. "The treadmill video has been picked up by everyone from the TV show 'Broad City' to Elle.com, and their audiences don't know much about dance," he says. "Using these opportunities to shatter ballet stereotypes is important to me."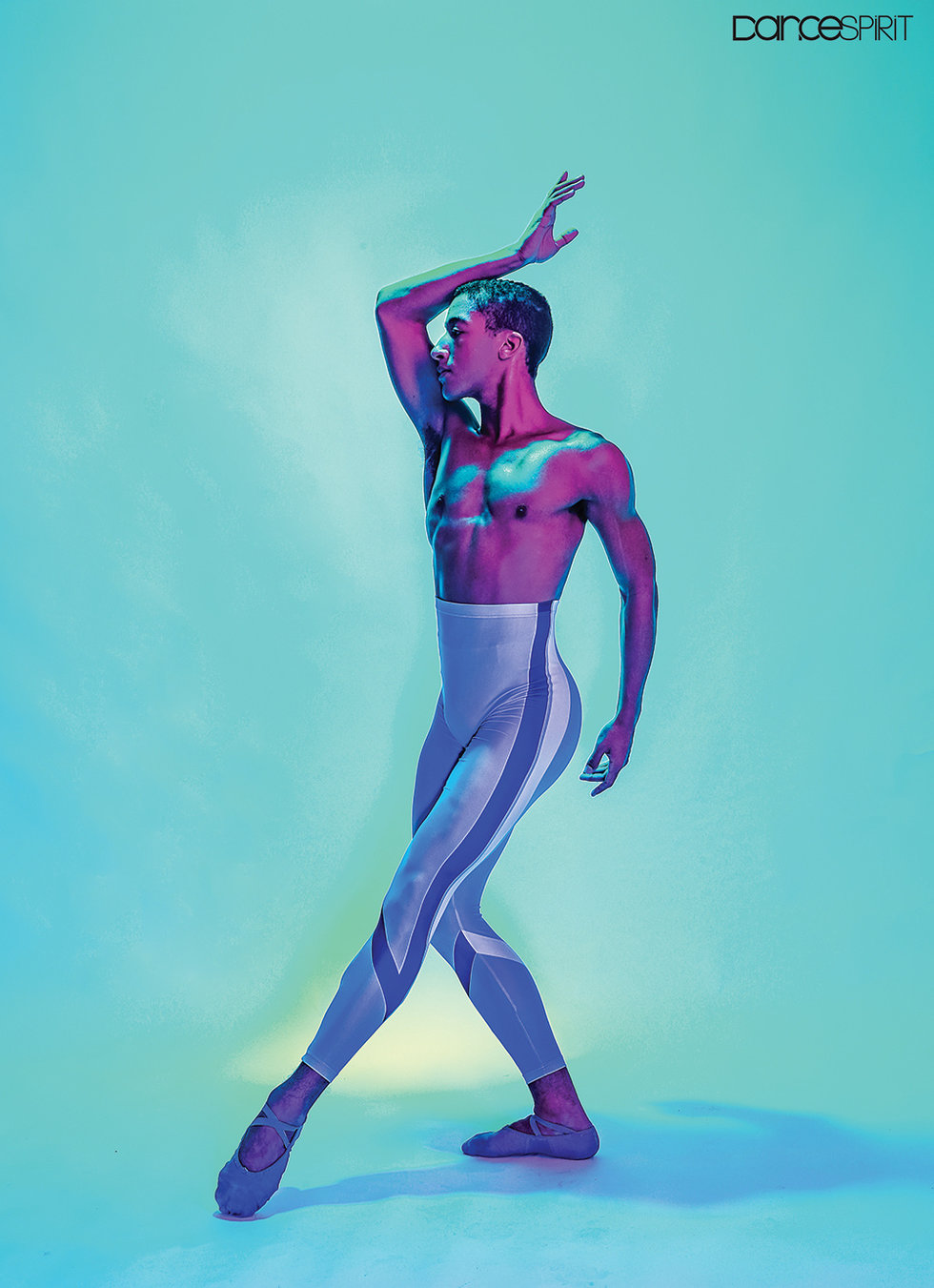 Photo by Thornton
One particularly special collaboration was with Urban Outfitters for its #UOPride campaign, which launched last June in honor of Pride month. "I think Harper shows that professionalism and authenticity don't have to be mutually exclusive," says Jason Donahoe, former senior content editor for UO. "To do what he does, onstage and online, requires an openness and vulnerability, a lot of self-knowledge, and a lot of self-acceptance. Dancer or not, I think everybody can learn from that."
Who Run the World?
Unsurprisingly, Watters' dream project is totally original—and totally him. "I'd love to have a talk show, but with a performance aspect, like if Wendy Williams and Beyoncé had a child," he says. "I don't want to do anything that's already been done."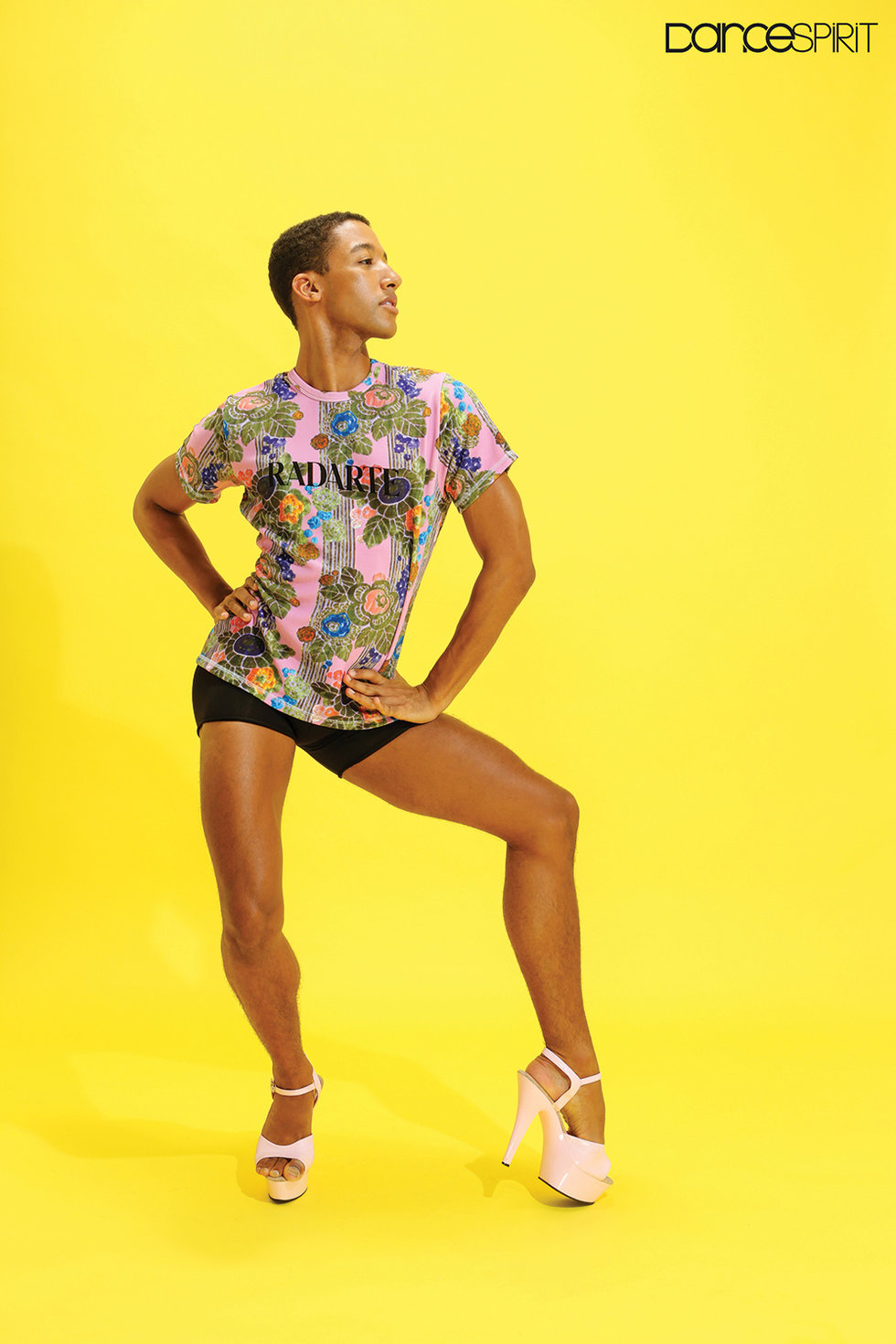 Photo by Thornton
In the meantime, his priority is continuing his ballet career, while remaining tapped into pop culture and social media. "When I first started using Instagram, everyone laughed it off," he says. "But look at everything it can bring you, and all the ways you can use it. We're living in a time where the most powerful thing you can be is yourself. So, own it."
Want to hear more from the social media sensei? Click here!
A version of this story appeared in the February 2018 issue of Dance Spirit with the title "He Ain't Sorry."
Photo by Joe Toreno
It's almost 2019 and the ballroom dance scene is positively booming! From prestigious world championships to TV shows, kids are at the core of all this hip-shaking action—and we're so here for it. These eight up-and-comers in particular are shaping the field. They're the next generation of superstars to make the leap from technically exquisite ballroom-ites to bona fide celebrities.
Keep reading...
Show less
Low-quality screenshot, high-quality dancing. (via TheaterMania)
Well, we knew on an abstract level that Broadway's-golden-age guru Warren Carlyle would produce incredible choreo for the upcoming Broadway revival of Kiss Me, Kate! We just didn't know it would be THIS incredible.
Keep reading...
Show less
Photo by Camryn Elizabeth, courtesy Djouliet Amara
At age 23, Djouliet Amara is a successful professional dancer signed with a talent agency in NYC. She's studied at The Ailey School and even danced in "Memoria" with The Alvin Ailey American Dance Theatre. Having performed at City Center and appeared in numerous commercial campaigns for brands like Forever 21, Refinery29, and Danskin, it would appear that Amara is living a life most dancers only dream of. But as glamorous and successful as her career has been, Amara's journey to this point has not been an easy one. Her biggest challenge was her battle with an eating disorder that nearly cost Amara her career. Find out how this dancer found body acceptance and, in so doing, uncovered a dream she never knew she had. —Katherine Beard
Warning: This story may be triggering for those who have suffered or are suffering from disordered eating.
Keep reading...
Show less
How To
Dec. 14, 2018 12:56PM EST
Photo by Kaitlin Marin, courtesy American Repertory Ballet
"Lame duck." It sounds like nothing else in the classical ballet vocabulary, right? Also known as step-up turns or step-over turns—or, more technically, as piqués en dehors—these tricky pirouettes show up all over the classical ballet repertoire, perhaps most famously in Odette's Act II variation in Swan Lake. Here's how to keep your lame ducks from looking, well, lame.
Keep reading...
Show less
Fashion
Dec. 08, 2017 02:45PM EST
Matthew Bourne's "Nutcracker" (photo by Simon Annand, courtesy Raw PR)
When most of us think of The Nutcracker, we imagine a growing Christmas tree, dancing mice, and a little girl named Clara (or Marie) traveling to the Land of Sweets. But companies around the world have been reinventing the holiday classic, changing the storyline or adding their own spectacular sets and characters. To get in the Nutcracker spirit this season, check out these out-of-the-box productions.
Keep reading...
Show less
Jasmine Harper with Neil Haskell on "So You Think You Can Dance." (Photo by Adam Rose/FOX, courtesy FOX)
Every year, our friends over at Dance Magazine select 25 standout dancers, choreographers, and companies for their "25 to Watch" feature. The list is always overflowing with talent, but this year's iteration was especially exciting—four of the featured dancers have graced the pages of DS at one point or another: former cover star Aran Bell, DS Cover Model Search semi-finalist Sophie Miklosovic, Jasmine Harper, and "You Should Know" alum Easton Payne. It was a totally full-circle moment to see each of them score a coveted spot on this list. Check out their profiles below (which originally appeared in Dance Magazine), and major congratulations to everyone else selected this year!
Keep reading...
Show less
(screenshot via YouTube)
Maddie Ziegler is the kween of dance these days and it seems like there's no move this teen dancing machine can't do...or is there? In a recent video with Teen Vogue, Maddie shows us just how lit her dance skills are by demonstrating 10 iconic music video dance routines. From Britney Spears to Michael Jackson, the "Dance Moms" star gets her groove on as she dissects some of the most popular dances of all time. Though Maddie is a great dancer, it's pretty entertaining watching her do moves that might be a little outside of her comfort zone.
Keep reading...
Show less
Get Dance Spirit in your inbox
Giphy
It's the age-old debate: Is dance a sport? The answer is, without a doubt, YES. Of course, dance is much more than just a sport. But when we get down to the logistics of it all, it's impossible not to recognize it as the athletic endeavor it is. Here are 10 reasons why dance absolutely qualifies as a sport.
Keep reading...
Show less
Just for Fun
Jun. 29, 2018 10:00AM EST
Colder weather is (finally) here, which means it's time for a good dance movie binge. But which iconic films should you put on? To narrow your search, we went ahead and ranked 30 of the greatest dance movies of all time.
Of course, we know a list like this is bound to be controversial—so if you disagree with our lineup, have at it in the comments!
Keep reading...
Show less
Photo by Joe Toreno
It's almost 2019 and the ballroom dance scene is positively booming! From prestigious world championships to TV shows, kids are at the core of all this hip-shaking action—and we're so here for it. These eight up-and-comers in particular are shaping the field. They're the next generation of superstars to make the leap from technically exquisite ballroom-ites to bona fide celebrities.
Keep reading...
Show less
Getty Images
The Nutcracker has become an essential part of the holiday season—not to mention a part of most dancers' DNA. These days, the ballet is a beloved tradition, and the lifeblood of many dance companies, whose budgets depend on its reliably great ticket sales. But did you know that it was a flop when it first premiered in Russia? Or that George Balanchine himself once played Drosselmeyer on TV? Here's a timeline of the rich history of The Nutcracker.
Keep reading...
Show less
Courtesy MSG Entertainment
For some it's a holiday tradition, for others its an iconic spectacle, but no matter the reason, more than 1 million people will watch the Rockettes perform in the Radio City Christmas Spectacular each year. And though the production has been around since 1933, much of what goes on behind those velvety curtains and intricate sets remains a mystery. To curb our curiosity and find out what ensues when these leggy ladies aren't doling out their sky-high kicks, we got a backstage tour from the legends themselves.
From hair and makeup, to warm-up exercises, and costume quick changes (the fastest quick change in the show is a #mindblowing 75 seconds, by the way) we got a glimpse into the glamorous (and sometimes not so glamorous) world of the Rockettes.
Keep reading...
Show less
Dec. 03, 2018 04:07PM EST
Showstopper sees all different dancers from across the world at their dance competitions. They understand sometimes it can hard to know how to stand out among the 100s of dancers that perform on their stages.
Keep reading...
Show less
Photo by Donna Ward, courtesy Alvin Ailey American Dance Theater
On March 30, 1958, at the 92nd Street Y in NYC, dancer Alvin Ailey and a group of African-American dancers performed onstage together for the first time. Since then, Alvin Ailey American Dance Theater, the company Ailey formed, has become legendary in the dance world. To commemorate its 60th anniversary, Ailey has dubbed its annual City Center season "Ailey 60." From Nov. 28–Dec. 30 choreographers including Ronald K. Brown, Jessica Lang, and Rennie Harris will present premieres, alongside the works of current artistic director Robert Battle, Judith Jamison, and over two dozen pieces by Alvin Ailey himself. We asked a few of the company members to share what the anniversary means to them.
Keep reading...
Show less
When Hannahlei Cabanilla rolled up to her Dance Spirit cover shoot—just 36 hours after being named the "So You Think You Can Dance" Season 15 champion—she looked impossibly fresh-faced and well-rested. The Anaheim Hills, CA, native may have had "about eight blisters," as she joked, on her feet; she may barely have slept since the big win; and she may have just performed on "Live with Kelly and Ryan." But she jumped right on set, and quite literally didn't stop jumping for the next five hours. The fabulous technique, irresistible personality, and (especially) boundless energy that earned her the title of America's Favorite Dancer were all on full display.
So what was it actually like for Hannahlei to compete on the show she'd watched since she was a tiny dancer—and what's next for the now–19-year-old? Read on.
Keep reading...
Show less
via @wholenessmom on Instagram
The holidays are just around the corner and that means it's time to get your wish lists finalized. And while we have no doubt that stylish leos and cozy warm-ups will find their way onto your list, we think you'll want to consider adding some of these lit dance books to your holiday lineup, too. From revamped Nutcracker tales to biographies of your favorite dance stars, we've rounded up the latest and greatest books that every dancer will want to see in their stockings this season.
Keep reading...
Show less