Jun. 14, 2013 11:59PM EST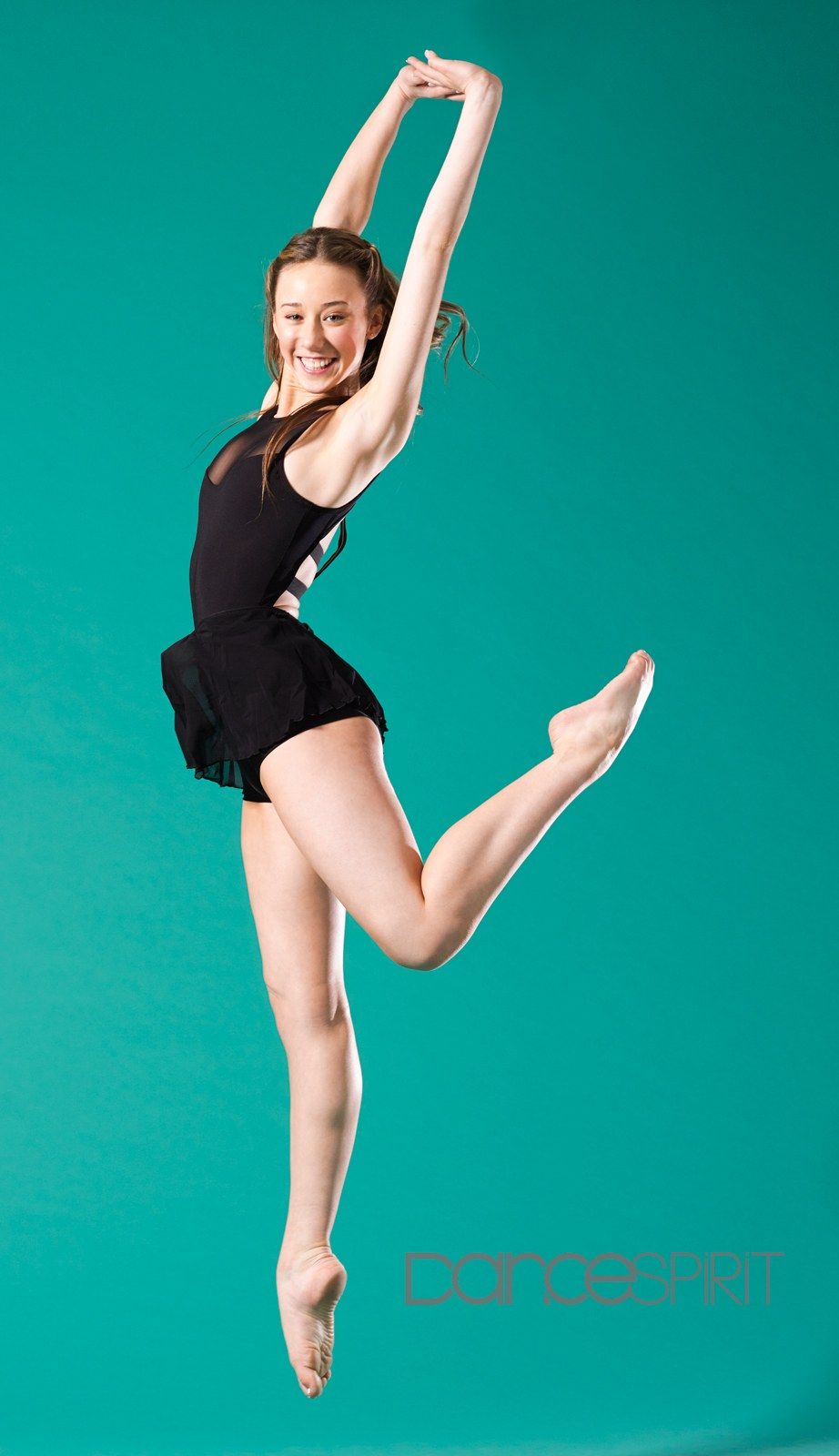 Hayden Hopkins (by Nathan Sayers)
Hayden Hopkins, with her long, wavy hair, dream-dancer figure and legs that comprise 70 percent of her body, moves with intention, passion and a slyly sweet smirk. She teeters across the floor on a relevé so high you think her feet just might snap—but she has the strength to stay on balance while bringing her other leg into a développé extending far beyond her head.
It's not surprising that picture-perfect Hayden, 16, has developed a cult following online, with more than 10,000 Facebook followers and an overwhelming number of dancers creating fan pages and reaching out to her through Twitter. She posts photos from competitions, shows off her impossibly bendy body and shares snapshots of her alongside fellow superstar friend Sophia Lucia. But Hayden wants her admirers to know there's more to her seemingly charmed life beyond her Instagram filter.
"People see pictures of me and think I have this perfect life," Hayden says. Despite the pretty pictures, though, Hayden hasn't always had it easy, and the past few years have proven especially difficult.
Hayden started dancing at 2 in her home state of Washington. She delved into the competition scene early, but by 13 decided it wasn't for her. "I wanted to get away and work on my training," she says. Plus, things at home were taking a turn: Hayden's parents had just been through a divorce, and finances became a struggle, especially with Hayden's sister, Lennox, pursuing a competitive rhythmic gymnastic career. So Hayden, who is home-schooled and lives with her sister and their mom in Puyallup, WA, took her training into her own hands. She takes classes at various area studios when possible (primarily Westlake Dance Center in Seattle), travels with conventions when she's awarded scholarships to cover the costs, and watches YouTube videos in her living room to guide her through barre and center-work exercises.
"I make my own connections," Hayden says. She attends 10 to 12 conventions each year independently (including JUMP, NUVO and West Coast Dance Explosion) in an effort to meet as many choreographers as she can—and the relentless networking has paid off. At WCDE's Las Vegas Nationals in 2010, Hayden met the owners of a studio based in Sydney, Australia. They loved Hayden—they had seen her on YouTube first, naturally—and offered to fly her Down Under to act as a guest teacher and choreographer. Hayden has been back for another monthlong stay to work with the studio, and that trip ended just two days before she flew to NYC for the Cover Model Search competition.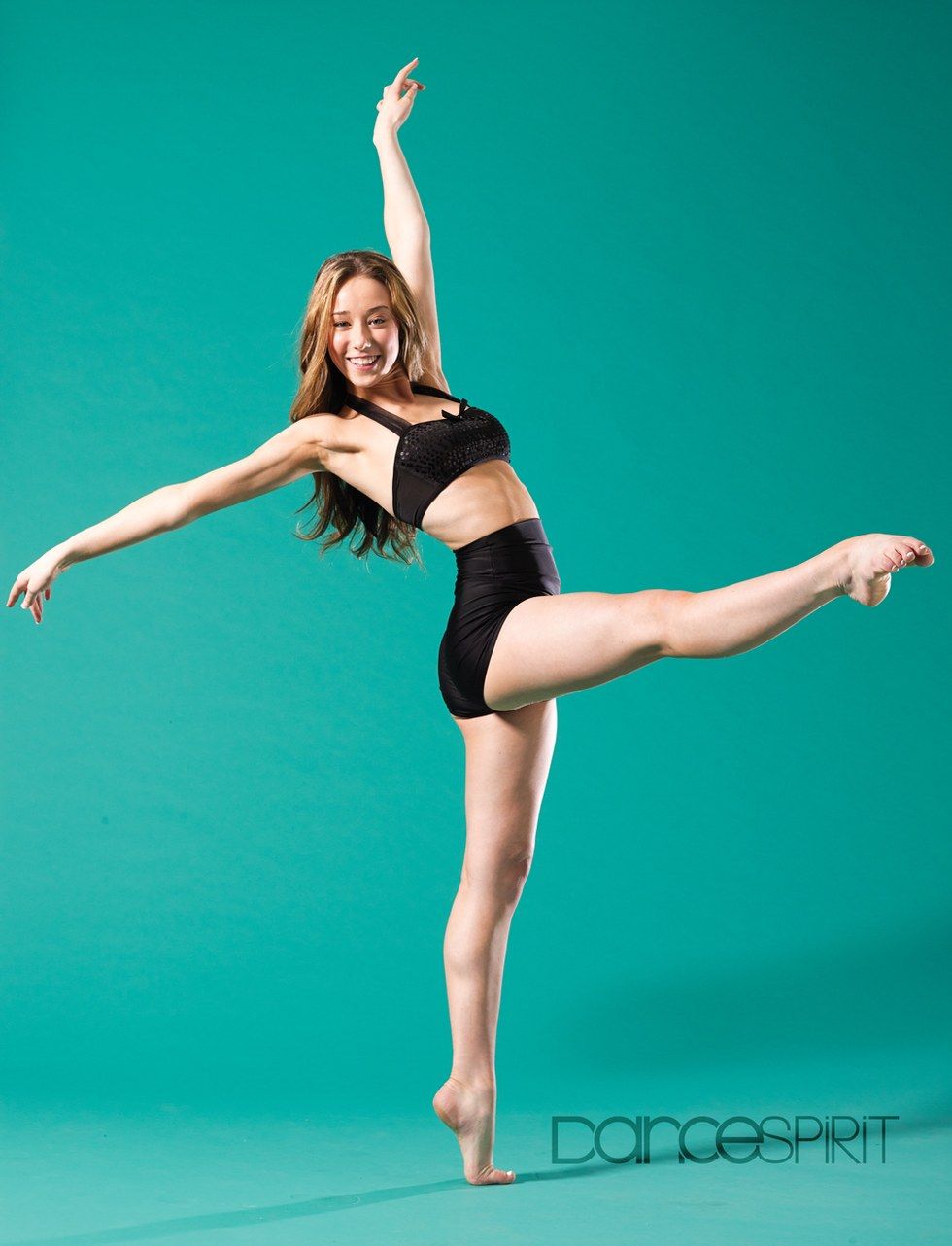 Hayden Hopkins (by Nathan Sayers)
"I love meeting people who recognize me from the internet," she says. "I don't know why people started to follow me, but hopefully it's because they see something positive I'm putting out there." As for the inevitable haters? "There will always be people who look for negatives, whether about my body or what I'm wearing—it's easy for people to judge while they're hiding behind their computers. But I'm proud of who I am."
WHAT PEOPLE ARE SAYING ABOUT HAYDEN
Stacey Tookey, convention instructor: "Hayden is a very talented young dancer with an incredible facility and a magnetic passion for dance. She stands out as a bright light, even in a class with hundreds of dancers. I adore her and I know she'll go far."
Greg Zane, ballet instructor at Broadway Dance Center: "Hayden has beautiful extensions and feet. She's very strong. Her dancing reminds me of Sylvie Guillem's—she has control over her extensions, so she doesn't just whack her leg, she shows the line and
the energy through the body. It's very pretty."
FAST FACTS
Birthday: July 5, 1997
Most-played on her iPod: Lana Del Rey
Who would play her in a movie: Troian Bellisario, who plays Spencer on "Pretty Little Liars." "I think she looks like me!"
Favorite actor: Leonardo DiCaprio
Dance goals: "I just want to be the person who's always traveling. I always want
to be in a different state
or a different country."
Favorite dancers of all time: Stacey Tookey, Nick Lazzarini, Travis Wall and Jason Parsons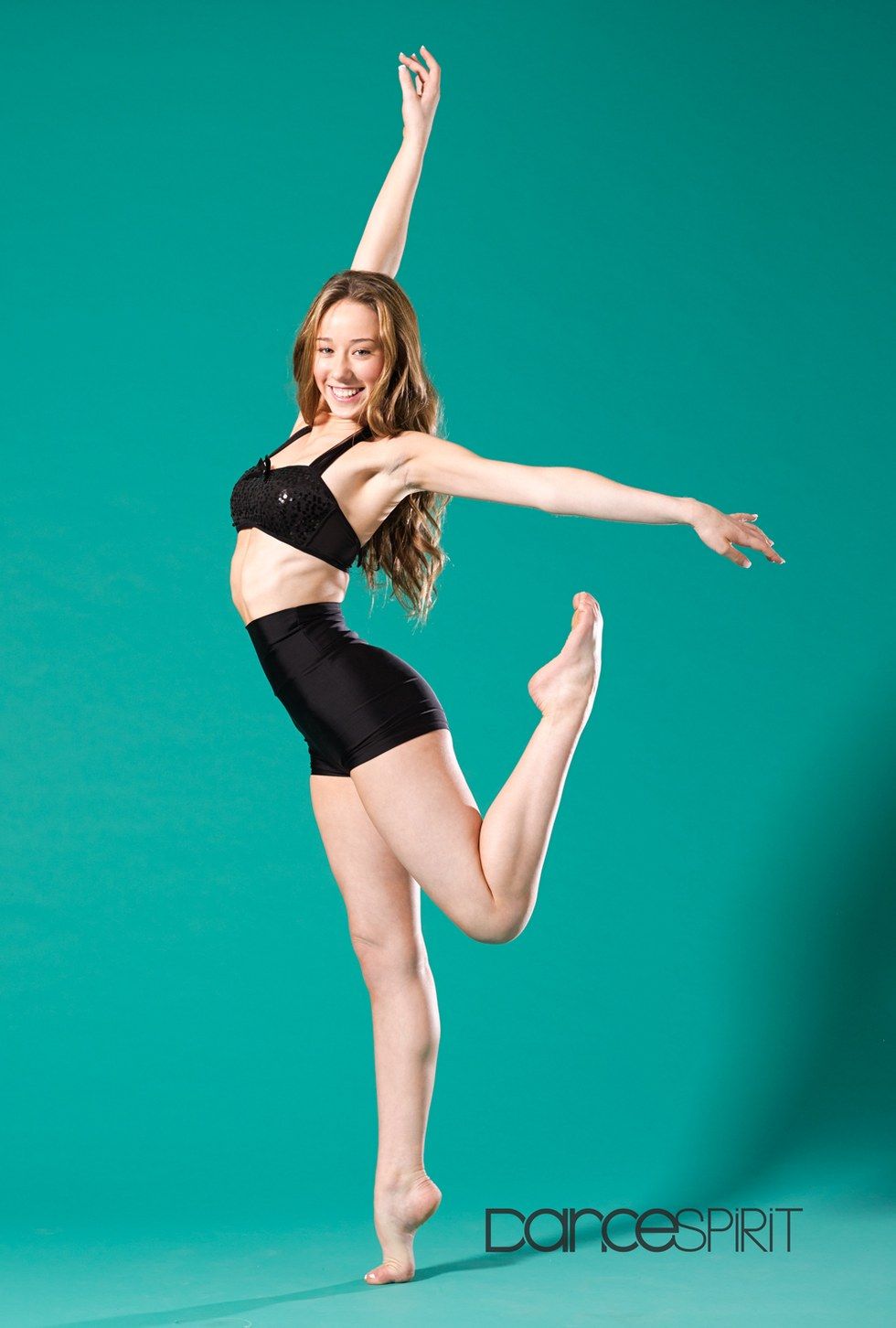 Hayden Hopkins (by Nathan Sayers)
Favorite meal: Spaghetti and garlic bread
Strangest thing in her dance bag: "A rotten orange I keep forgetting to take out"
Favorite movie: Garden State
Must-see TV shows: "Pretty Little Liars"
and "Keeping Up with the Kardashians." "Kourtney's my favorite."
If she could be a superhero, her power would be: "Invisibility, so
I could spy on people. And I know it sounds weird, but I'd spy on my best friend to see what she's doing when I'm not around!"
LOVE HAYDEN? Click here to vote.
Back to Cover Model Search Intro
Jun. 15, 2019 10:12AM EST
(From left) Darriel Johnakin, Diego Pasillas, and Emma Sutherland (all photos by Erin Baiano)
Congratulations to Dance Spirit's 2019 Cover Model Search finalists: Darriel Johnakin, Diego Pasillas, and Emma Sutherland! One of them will win a spot on Dance Spirit's Fall 2019 cover. Learn more about the dancers on their profile pages, and then vote for your favorite below. You can vote once a day now through July 15.
We also want you to get social! We'll be factoring social media likes and shares into our final tallies. Be sure to show your favorite finalist some love on Facebook, Instagram, and Twitter, sharing their profile pages and using the hashtag #DanceSpiritCMS.
Cover Model Search
Jun. 13, 2019 02:20PM EST
Photo by Erin Baiano
Imagine attending American Ballet Theatre's prestigious NYC summer intensive, training among classical ballet legends. Imagine taking the stage at New York City Dance Alliance Nationals, competing against some of the country's best contemporary dancers. Now, imagine doing both—at the same time.
Welcome to Madison Brown's world. This summer, she's in her third year as a National Training Scholar with ABT, while also competing for NYCDA's Teen Outstanding Dancer title. (She's already won Outstanding Dancer in the Mini and Junior categories.) The logistics are complicated—ABT's five-week intensive overlaps with the weeklong NYCDA Nationals, which translates to a lot of cabs back and forth across Manhattan—but Maddie is committed to making the most of each opportunity. "I love contemporary and ballet equally," she says. "While I'm able to do both, I want to do as much as I can."
Maddie has an expressive face, endless extensions, and a quiet command of the stage. She dances with remarkable maturity—a trait noted by none other than Jennifer Lopez, one of the judges on NBC's "World of Dance," on which Maddie competed in Season 2. Although Maddie didn't take home the show's top prize, she was proud to be the youngest remaining soloist when she was eliminated, and saw the whole experience as an opportunity to grow. After all, she's just getting started. Oh, that's right—did we mention Maddie's only 14?
Cover Story
Jun. 16, 2019 07:00AM EST
Corbin Bleu in rehearsal for "Kiss Me, Kate" (Jenny Anderson, courtesy Roundabout Theatre Company)
If you're a hardcore Broadway baby, today is the worst Sunday of the year. Why, you ask? The Tony Awards were last Sunday, so basically there's nothing to look forward to in life anymore—no James Corden being James Corden, no teary acceptance speeches from newly minted stars, no thrilling excerpts from the hottest new shows. Oh yeah, and there are 50 more Sundays to go before our humdrum lives are once again blessed with the next annual iteration of Broadway's biggest night.
Musical Theater